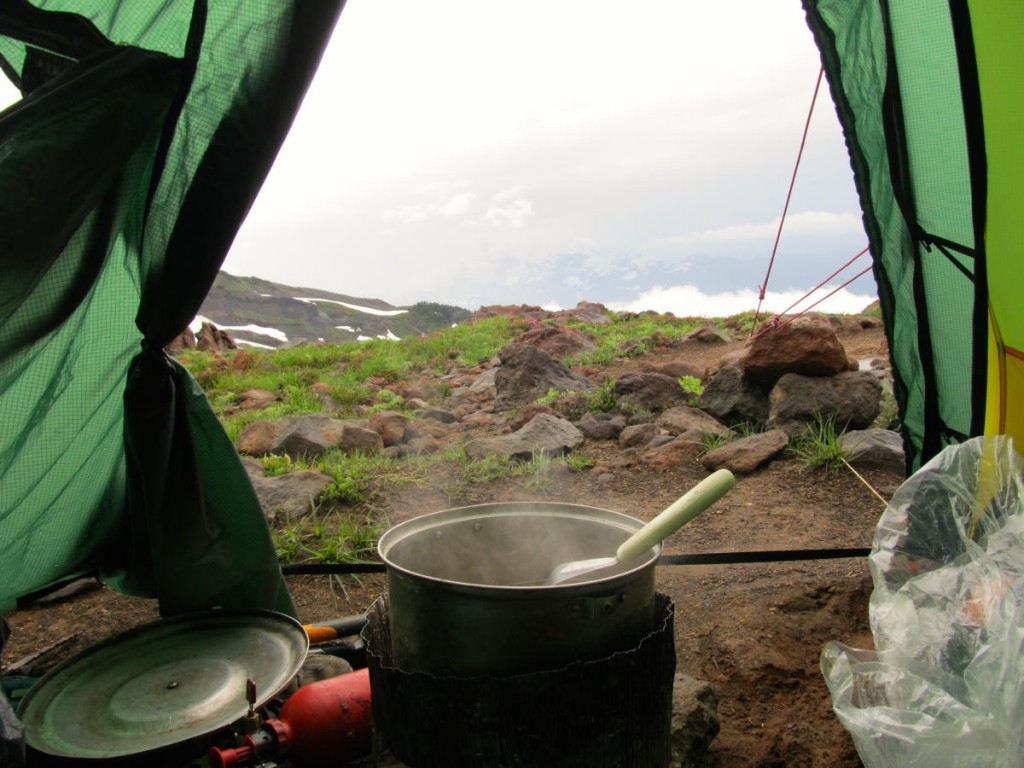 This classic noodle dish with peanut sauce is a treat at the end of a long day of adventuring! Better yet, it can be eaten hot or cold, so you could even save some for lunch the next day. The credit for this popular NOLS Cookery recipe goes to Donna Orr, a former NOLS employee, and previous Cookery co-author.
Here's the original recipe!
Gado-Gado Spaghetti
Ingredients
1/2 lb. (2 cups) spaghetti or 2 packages of ramen noodles
4 cups water
3 Tbs. + 1 tsp. oil
2 Tbs. sunflower seeds
1 Tbs. dried onion, rehydrated
1/2 Tbs. or one packet broth
3 Tbs. brown sugar
1 tsp. garlic
3 Tbs. vinegar
3 Tbs. soy sauce
3 Tbs. peanut butter
Optional ingredients
1/2 tsp. black pepper
1/2 tsp. hot sauce
1/2 tsp. spike
sliced green or wild onions, if available
Directions
Cook the pasta or ramen in boiling water and 1 teaspoon of oil. When done, drain and set aside, reserving 3/4 cup of water from cooking.
Heat the remaining oil in your frying pan, then add the sunflower seeds and rehydrated onions. Cook over medium heat for two minutes.
Next, add the broth, brown sugar, garlic, and other desired spices, and add the reserved 3/4 cup of water.
Then, add the vinegar, soy sauce, and peanut butter and stir to combine. Be careful not to burn the sauce!
Finally, stir in your pasta and serve topped with green onions, if you have them. This dish can be fairly salty, so to reduce saltiness, reserve the broth or some soy sauce and add to your liking at the end.
Variations
This recipe is quite flexible and you should adapt it to your own tastes! You could try crushed peanuts instead of sunflower seeds, use a different type of nut butter, add Sriracha or another chili sauce, or a touch of sesame oil. Another option is to cook rice noodles instead of wheat. The possibilities are endless!
If you are car camping (or making at home!) add fresh veggies such as broccoli, onions, carrots, or cabbage. Just sauté lightly and mix into the pasta. You can also add tofu or another protein.
Make it instant!
You can make this recipe as an instant backpacking meal you can prepare ahead of time.
In a freezer zip-top bag, place one pack of ramen noodles, any desired dry spices, freeze-dried veggies, and nuts or sunflower seeds. Then, add two packets of soy sauce and one single-serve packet of peanut butter (unopened!) to the bag as well. To serve, remove the packets of soy sauce and peanut butter, and add just enough boiled water to cook the noodles and rehydrate the veggies. When noodles and veggies are soft, add 1 1/2 to 2 packets of soy sauce and your packet of peanut butter and stir to combine. You can experiment with the sauce to get it just to your liking.
Bon appétit!
Watch: Making Gado-Gado Spaghetti
Written By
Katherine is an Alaska Backpacking graduate and was the NOLS Social Media Coordinator. When she's offline she enjoys running, backpacking, hiking, and cooking.