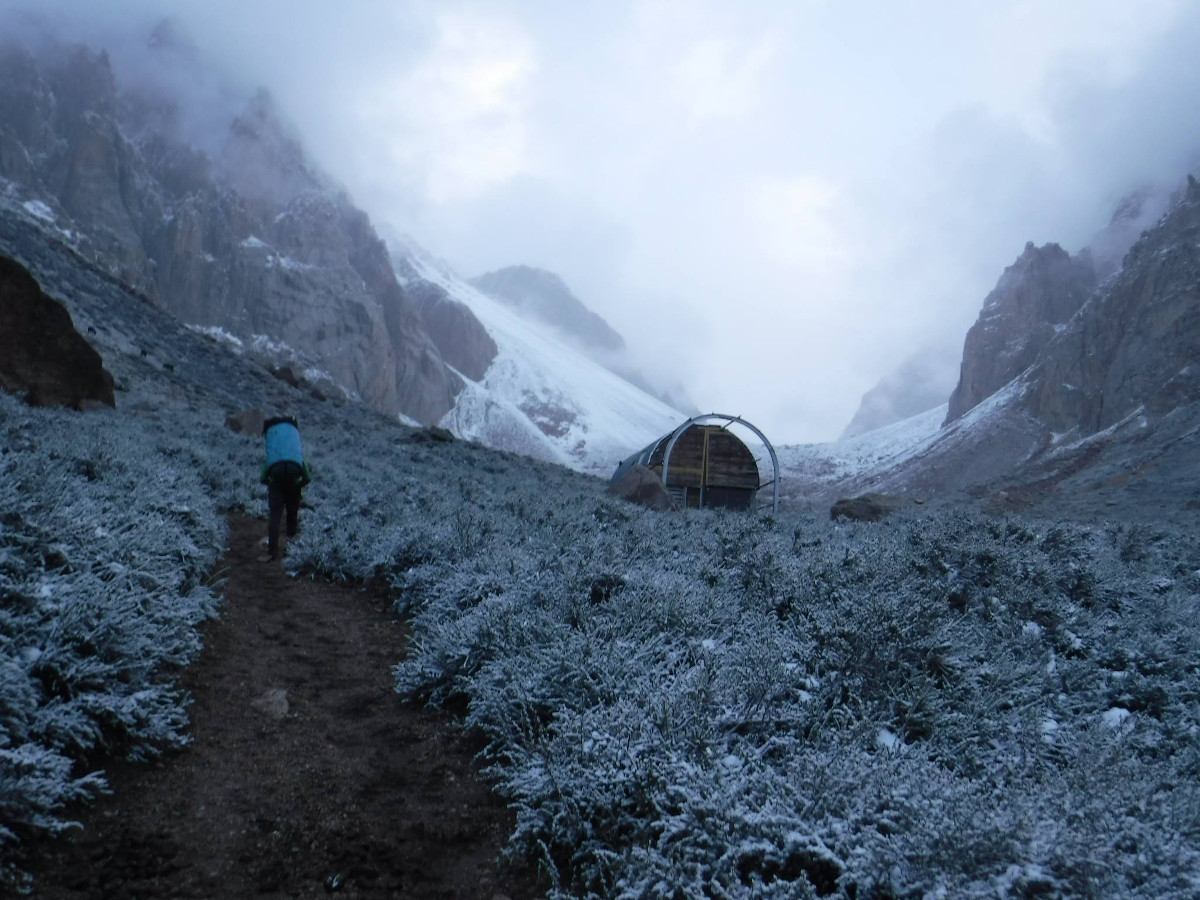 I grimaced slightly as I rolled onto my side, stretching the sunburnt skin on my back and shoulders. After the mild pain subsided I couldn't help but laugh at this new source of discomfort, and its stark contrast to the bite of the frigid wind in Frey and the raw chill of the fog in Los Arenales.
We were nearing the end of a monthlong climbing trip in the southern Andes of Argentina and Chile to hone our skills as climbers and instructors. The trip had featured weeks of challenging weather. During that time, I would never have imagined that we'd wrap up the trip with a week of sunny sport climbing.
Yet when I unzipped the door to my tent, I saw the sun rising over distant snow-capped peaks, painting the sky shades of pale pink, orange, and blue, and beginning to warm the beautiful basalt crags 50 yards away from camp. It felt like the sun was rewarding our monthlong effort to adapt our plans to fit changing conditions.
The NOLS curriculum teaches seven leadership skills, one of those being tolerance for adversity and uncertainty. The foundation of this skill is readily taking on challenges, as persevering through adversity can result in the most spectacular feelings of accomplishment and the most profound moments of self-discovery. The skill does not, however, suggest that we need to "suffer at all costs." Part of its description is to "Live in rhythm with what you cannot control," and "Control what you can." It's a balancing act, deciding when you should push through discomfort or when you should change the situation.
---
We started our trip climbing in Frey, an idyllic alpine cirque featuring more than a dozen granite towers surrounding a crystal blue lake. Unfortunately, the rainy season followed us there. Of the seven days that we camped in the cirque, we only climbed three. Even those three involved a bit of time spent climbing in rain, wind, and cold. So we found other ways to occupy our time, going for hikes, playing cards, cooking tasty food, and generally enjoying the simplicity of life in such a beautiful place. But as our ration began to run out, and we heard from some hikers that a snowstorm was in the forecast, we decided to explore a new location.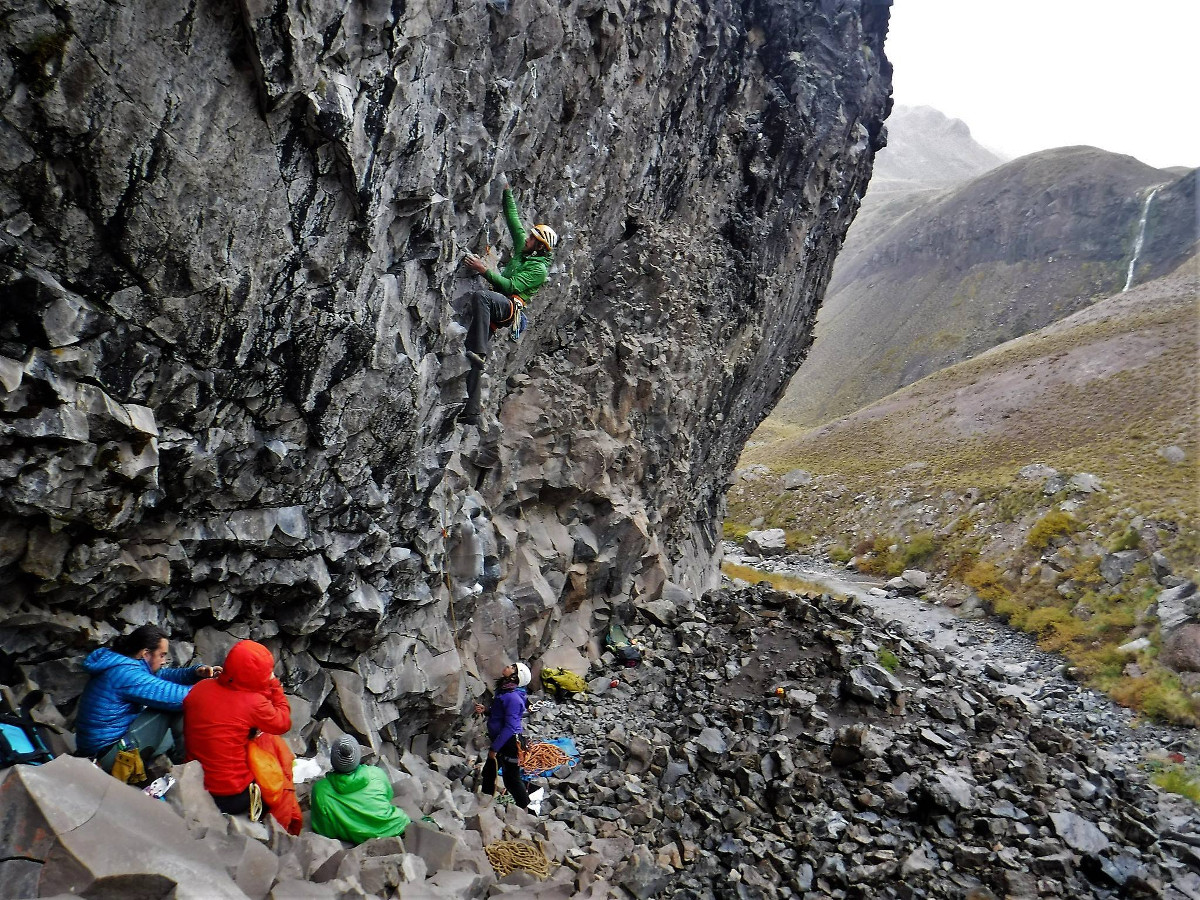 We took a bus to Mendoza, Argentina. After resupplying food and fuel in the city, we made our way to an alpine climbing area called Los Arenales. We spent the last couple of hours of the approach hiking through a mix of rain, snow, and fog, causing us to question our choice of location. But the forecast was calling for a few days of clear weather to follow, so we pushed on in hopes that we would be rewarded for our effort.
Dawn the next morning was clear, and we could finally see the foothills of the high Andes that clouds and fog had obscured the day before. We were nestled in the bottom of a canyon near a large creek that cascaded down from a collection of four- and five-thousand meter peaks miles up the valley. On either side of the canyon were granite walls and spires, with beautiful 3- to 6-pitch alpine routes.
We climbed for the next five days and, despite noticing that the mountains had a nasty habit of socking in with cold, midday fog, enjoyed the quality rock and inspiring location. After five days a new forecast warned of a large snowstorm coming. The next morning, we again decided to descend and move to a new area. Soon after we started hiking down, a cold rain began, and we heard later that the region received 18 inches of snow.
---
From Los Arenales we traveled to Valle de los Cóndores, Chile, planning on spending our last week there before flying home. We were lucky enough to enjoy the valley's vast selection of single-pitch basalt sport routes, as well as a beautiful section of crack climbing on basalt columns in nearly perfect weather.
After weeks of enduring inclement mountain weather, basking in the sun while climbing on walls just a few minutes from our tents was euphoric. And the contrast between dealing with the sunburn stinging my back compared to weeks of wearing at least three layers of clothing was borderline comical.
As a NOLS instructor and general outdoor enthusiast I frequently end up in challenging and uncomfortable situations in wild places. This is the nature of the wilderness—it is under no obligation to provide us with comfortable temperatures, fair weather, or predictable conditions. One of the most memorable moments from my NOLS instructor course was weathering an early-August snowstorm at 12,000 feet in the Wind River Mountains. While enduring these wet and cold conditions was physically uncomfortable, hanging out with my coursemates under our kitchen fly and making a hot meal stands out as one of my fondest memories from the expedition.
Challenges like these are what make the wilderness such an incredible classroom. Life is just as unpredictable as the mountain weather, and being able to both tolerate discomfort and change plans based on unexpected events are skills I try to use every day.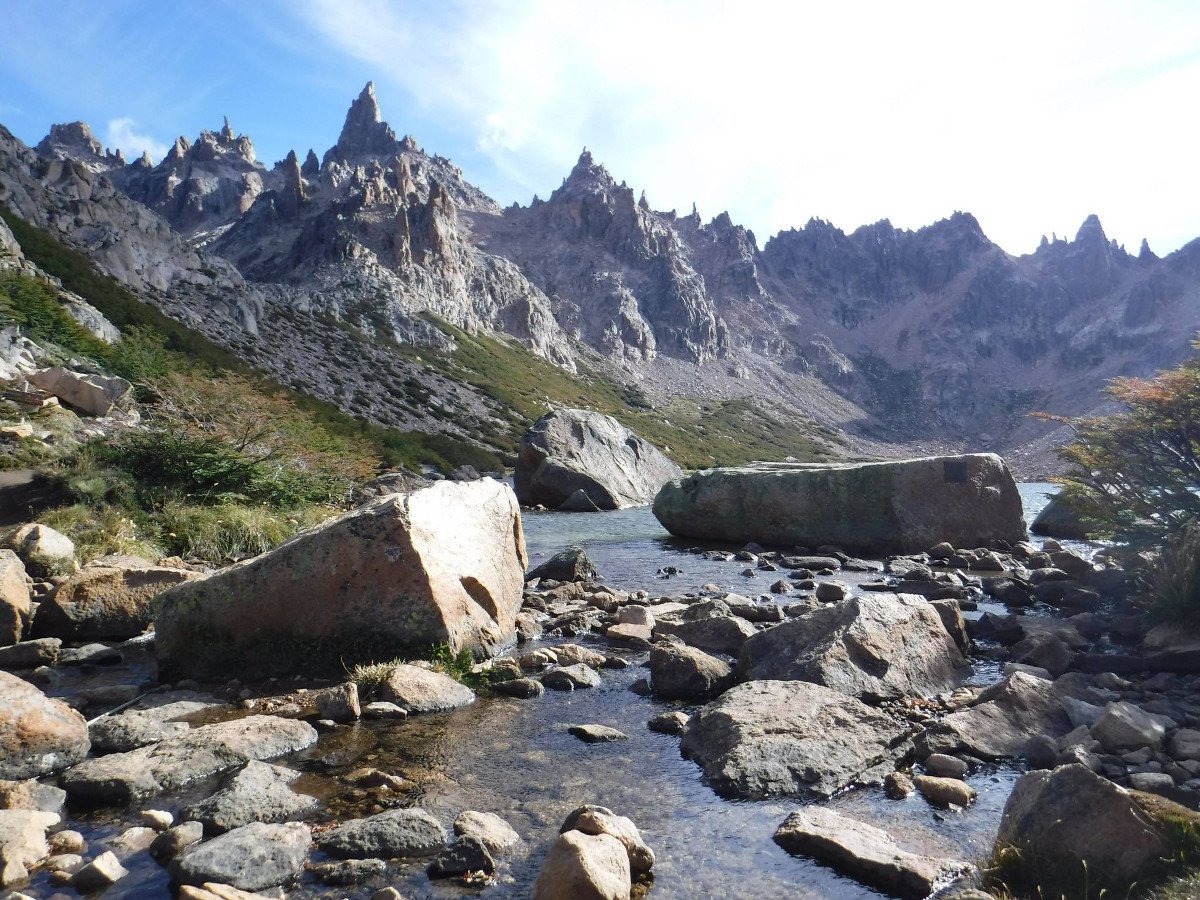 Find your own adventure on a NOLS expedition.
Interested in a Rock Climbing Course?
Conquer the challenges of the Southern Andes while honing your tolerance for adversity and uncertainty through NOLS' Rock Climbing Courses. Our courses are designed to instill resilience and adaptability, crucial traits for climbing in challenging environments. Enroll today and prepare for unforgettable mountaineering experiences.
Written By
Brett moved to Salt Lake City, Utah from Connecticut six years ago, where his lifelong enjoyment of skiing and hiking transformed into a passion for all things outdoors. He has been an instructor for NOLS for two years, and spends his free time backcountry skiing when there is snow and rock climbing when it's warm.