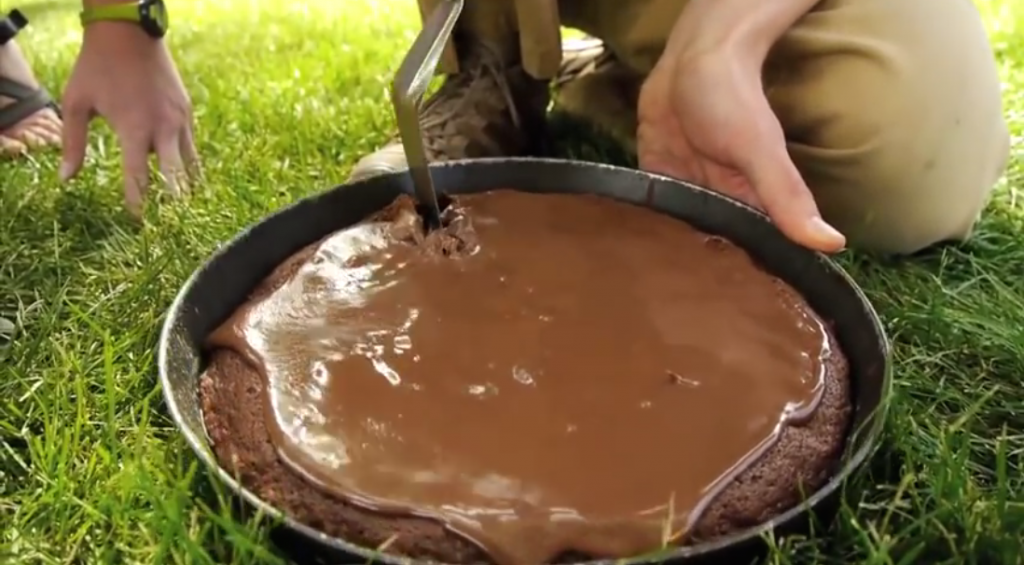 There's nothing better than enjoying a well-prepared dessert in the backcountry! Over the years, a few favorites have stood out on NOLS courses. These range in difficulty from mix-and-eat to baking with a twiggy fire. We encourage you try—and enjoy—them all!
1. Chocolate Cake with Chocolate Frosting
Cake Ingredients:
1 ½ cups baking mix*
½ cup flour
¾ cup cocoa mix
2 Tbs. powdered egg
pinch salt
4 Tbs. brown sugar or honey
2-3 Tbs. butter, melted
1 tsp. vanilla
1 ½ cups cold water (approximate—for a pourable batter)
Frosting Ingredients:
½ cup cocoa mix
¼-½ cup brown sugar
4 Tbs. butter, melted
2 Tbs water (or coffee, for a stronger flavor)
Cooking Directions
Combine all dry ingredients together. Add liquid ingredients and mix together until lumps are gone. Grease and sprinkle a little flour on your Fry-Bake, then carefully pour in the batter. Cover and bake, using a twiggy fire, for 15-25 minutes, or until done. See this post for tips on perfecting your baking techniques!
Combine all frosting ingredients and cook in a pot over low heat, stirring constantly. Pour over cooled cake and serve to your hungry campmates!
*Make baking mix ahead of time for easy biscuits, pancakes, quick breads and cakes. To make, combine 4 cups flour, 2 ½ Tbs baking powder, ¼ cup powdered milk, and 2 tsp. salt.
2. Cheesecake
Crust Ingredients:
3 Tbs. butter
1 Tbs. brown sugar
1 ½ cups Grape-Nuts or granola
3-4 Tbs. water
Filling Ingredients:
2 cups cheesecake mix
6 Tbs. powdered milk (any kind)
2-2 ½ cups water
Directions
To make the crust, melt together the butter and sugar in your Fry-Bake. Add Grape-Nuts or granola and cook for 2-3 minutes. Add water and stir for another minute.
Take the pan off of the stove and use a spatula or back of spoon to press the mixture into the bottom of the pan.
In a separate bowl, add water to your cheesecake mix and powdered milk, stirring out any lumps. Add vanilla and mix well.
Pour over the crust and allow to set in a cool place before serving. You can also add ⅓ cup cocoa to your mixture if you'd like a chocolate cheesecake!
3. Scrambled Brownies or Gingerbread
Ingredients:
2 cups brownie or gingerbread mix
6 Tbs. water (or more, if batter is dry)
Directions:
This recipe is an alternative to baking with a twiggy fire, and earned its name because the end product never seems to get cooked completely. But in our opinion, brownies taste better gooey anyway!
Simply mix all ingredients together, spread in an oiled Fry-Bake and cook on low heat for around 15 minutes.
Remove from heat and use a spatula to scrape the dessert out of the pan and into bowls. Allow the finished product to sit for a few minutes to set before eating.
Ingredients:
1 cup oatmeal (instant or regular)
6 Tbs. butter
6 Tbs. brown sugar
3 Tbs. cocoa mix
½ tsp vanilla
½ Tbs. water
Directions
This one's easy—just mix all the ingredients together and form into bite-sized balls. Eat right away or keep in a cool place to munch on later.
Perfect your baking technique by watching this video!
Written By
Katherine is an Alaska Backpacking graduate and was the NOLS Social Media Coordinator. When she's offline she enjoys running, backpacking, hiking, and cooking.