While many folks at NOLS know Paul Petzoldt as the founder of the outdoor school, he was a ripe 57 years old by the time he started the school in 1965. What did he do in the 57 years before arriving in Lander, Wyoming?
Besides summiting the Grand Teton at the age of 16 and climbing in Europe and the Himalaya, part of that time was spent with the 10th Mountain Division. We learned a little more about this division of the Army during a live demonstration put on by its members during the 2015 NOLS 50th anniversary celebrations.
Inspired by Finnish soldiers' ability to fight in the mountains during World War II, the American military established the 10th Mountain Division in 1941. Two years later, young and eager recruits saw an "old guy" enter their camp in Leadville, Colorado.
Paul Petzoldt, who at 36 seemed ancient to the 18-year-old recruits, had arrived to put his mountaineering skills into practice in the context of the military. Rather than teach recruits how to fight, Petzoldt focused on survival and rescue skills.
Private Frank Chuk, one of the first recruits trained by Petzoldt, remembers that "The purpose of [Petzoldt] being there was to give us expertise in how to evacuate people, how to move equipment at high altitudes, and then just how to survive in those altitudes, out in the weather all the time."
Petzoldt emphasized risk management and leadership, practicing the skills he would later bring to NOLS. Chuk reflects that, "[Petzoldt] built a reputation of safety…You don't get people out there and jeopardize them. You got to make it fun, but you got to make it safe."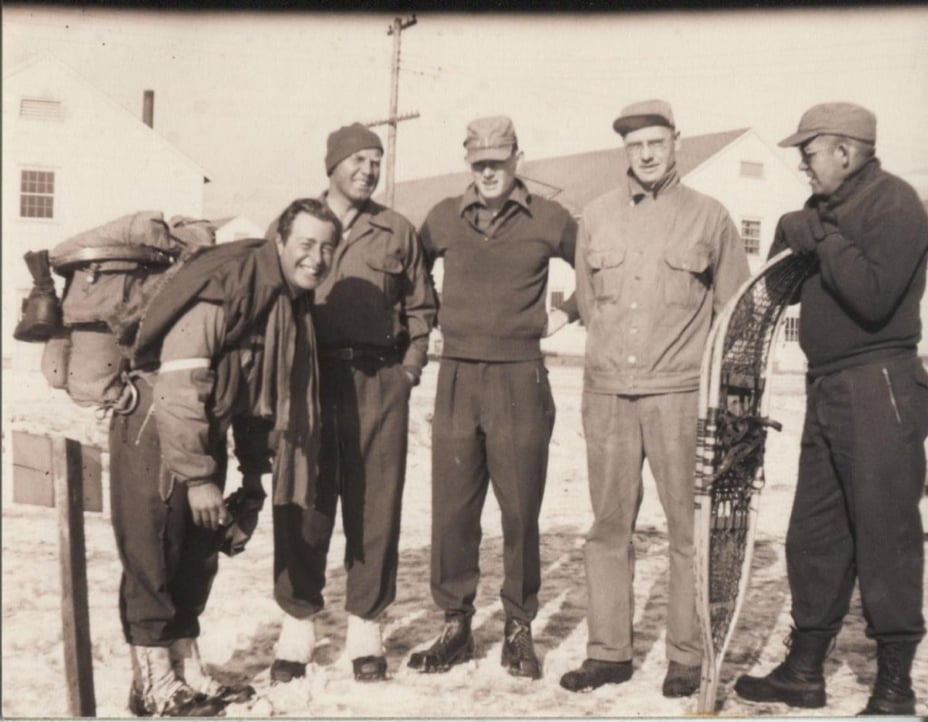 The 10th Mountain Division in the 1940s (Paul Petzoldt second from the left). Photo courtesy of Frank Chuk and the NOLS Archives.


At the 50th anniversary live history display, visitors were able to touch and see the equipment used by this group, including mountaineering equipment, skis, and climbing boots that Petzoldt helped develop.
Some NOLS grads even commented that the gear looked identical to what they took on their courses in the school's early days.
While equipment may have gotten lighter and more streamlined over the years, the skills and principles behind the equipment—leadership, taking care of yourself and others, and risk management—remain alive and well at the school. And today, NOLS continues to serve veterans, active duty military members, and service academy students.
Learn more about funding a course using veterans benefits and how a NOLS course can complement your military training.
Our thanks to Madelyn Wigle for information about Paul Petzoldt's role in the 10th Mountain Division. Her original article, "Petzoldt's War," can be found in the Fall 2013 issue of the Leader.
Written By
Molly is a NOLS instructor and writer. She loves the smell of her backpack and does her best writing before 7:00 am. When she's not scouting the next post for the NOLS Blog, she's running and climbing on rocks in Wyoming. Follow her on Instagram @mgherber