The Numbers:
People on the expedition: 4
Expedition members who are former or current NOLS instructors: 4
Nights in the mountains: 20 (+ the Bahia Murta bivy)
Kilometers spent crammed in pickup trucks: about 400
Hours spent crammed in pickup trucks: about 8
Days spent hiking: 12–14
Days spent shuttling gear i.e. moving half our load: 9
Mileage walked: 57–78
Camps used: 4 (+ the Bahia Murta bivy)
Other people seen: 1
Climbing days: 4
Pitches climbed: 22
Pitches climbed on South Avellano Tower: 8
Routes established: 1
Pitches rappelled: 21
Stoppers or hexes left behind: 10
Number of #5 Camalots brought to trailhead: 3
Number of #5 Camalot placements: 2
Average packages of cookies eaten per day: 4
Kilos of manjar (dulce de leche) consumed: 3
Days it precipitated on us: 14
Number of North American weather correspondents: 2
Video clips taken: 500 (20 hours)
Stories that started "One time I was working this NOLS course...": 518, approximately
Photos taken: 850 (Dave: 700, me: 150)
Grants received: 4
Times we cursed Donnini's name: countless
Books read: 8
The Story Behind the Numbers:
In late 2013 Dave Anderson, with Szu-ting Yi, concocted the idea of making an attempt on the north face of the South Avellano Tower, one of Patagonia's largest unclimbed walls. This would be his second expedition to the region.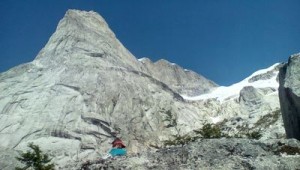 He recruited me. I recruited Matt Hartman.
From our respective places in the United States, we traveled to and gathered in Coyhaique, the capital of Chile's Aisen region. We prepped, then trucked to the town of Bahia Murta, a paltry 14 miles from the base of our objective. The four of us hiked into the Avellano Valley via way of Rio Resbalon. We humped heavy loads over rough-trailed and un-trailed terrain. We crossed snow-covered boulder fields, steep snow couloirs, and steep wet slabs. We bushwacked and river walked. We endured the hot Patagonian sun, the cold Patagonian rain, the relentless Patagonian wind, the obligatory Patagonian summer snowstorm, and the poor seating options of the 30-degree slope of our base camp.
Only Dave possessed the knowledge that had we hiked in via another way would we have had miles of gently rolling hills and little to no bushwacking. We marveled at the beauty and we cursed ourselves for not asking the right beta questions. We put our gear in the right spots, positioned ourselves correctly, stayed well fed with good food, and climbed when the weather Gods granted us permission.
But in the end, it was not enough to grant us passage up the north face of the South Avellano Tower. We were forced to leave the beautiful sweeps of granite for those with more talent, time, and drive than us. So I left that beautiful valley with a heavy heart. My friendships were still intact and smiles were still shared, but while others may have had realistic thoughts about our chances I can't help but feel that as we rappelled in the heat of the late afternoon sun I had not left it all on the mountain. While it is important to have the reserves to make the descent, that day, I know I walked away with more. Coach Randy Edgerly always told me to leave it all on the court. "You can sleep on the bus ride home," he would say. So I feel like I cheated myself and my mates.
And that is a feeling I do not enjoy.
With that in my mind and heart, Matt Hartman and I made a successful attempt at opening a new route on the southwest ridge of the Tooth. Filo Suroeste (305 meters, 5.10) was established in the howling winds of an incoming low-pressure system and served, for me at least, as a somewhat adequate consolation prize. The true consolation prize however, was the exploration of a remote Patagonian valley that still holds vast potential for first ascents of all kinds. I do not doubt that I will return.
So, if we define success by objectives met (and that is a pretty common way of defining it) then indeed this expedition was a failure. (I have written about this in the past, and you can find those musings here.)
But did it fail as much as one in which there was petty bickering over trivial items or where communication and the group dynamic fell apart? That is hard for me to say. We walked out of the woods sharing smiles and laughs. Maybe that is the difference between an F and an F+. Or perhaps the difference between an A and an A- for us is climbing our objective versus not having climbed it.
Regardless, there is a long list of people and organizations that helped us make this expedition upon which I am still reflecting and to which I plan to return. So without further adieu, here it goes. We would like to thank, in no particular order: The Mugs Stump Award, The Todd Skinner Foundation, The NOLS Instructor Development Fund, The Mazamas, NOLS Rocky Mountain, NOLS Patagonia, MSR, Black Diamond, Daren Opeka, Anna Haegel, Marcelo Mascerano, Phil Henderson, Dave Brown, Andy Harris, Jim Donnini and all those who have offered encouragement, support, and beta along our individual journeys that have put us where we are.
Read more ways NOLS instructors are expanding their skills on the Educators Notebook page of our blog.