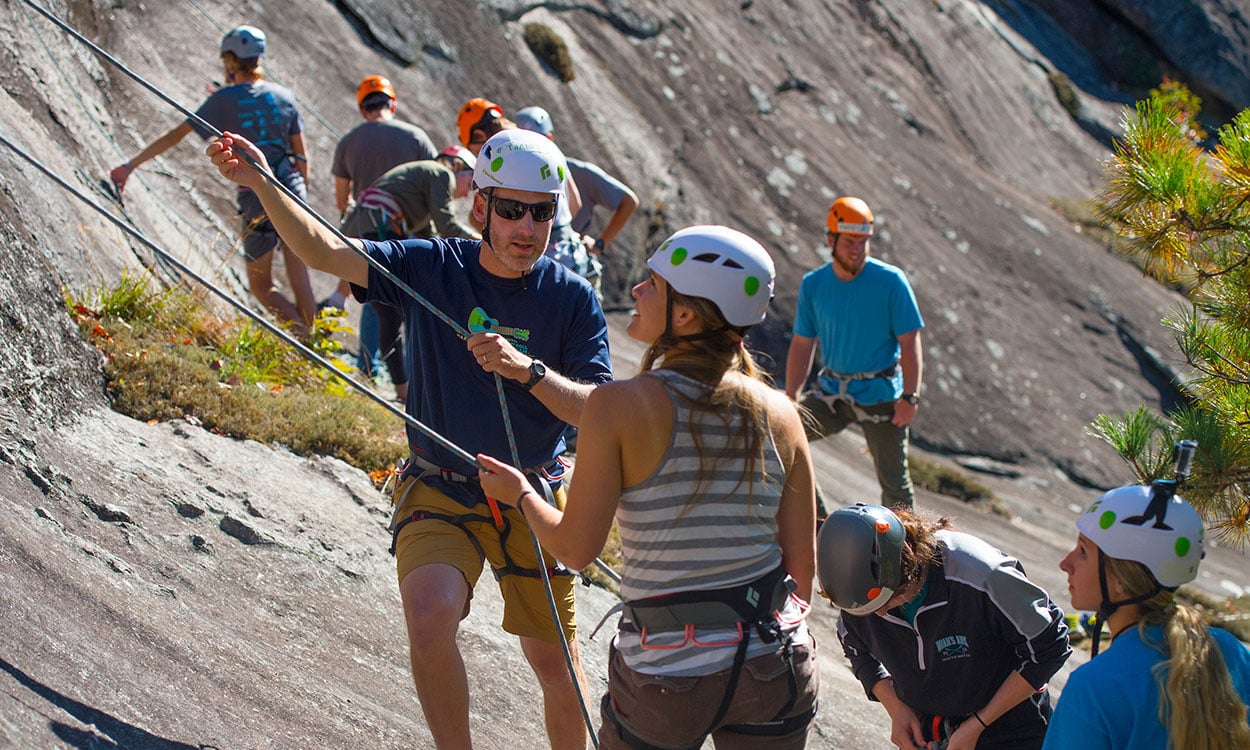 As an undergrad studying outdoor education, Andrew Bobilya didn't aspire to be a professor. He didn't plan on going into academia. Like many expeditions, his career didn't follow exactly the path he expected.
He still remembers the day he made up his mind to take a NOLS course. A student at Montreat College, he did some research on NOLS for a class project—and got hooked while interviewing an enthusiastic representative at NOLS World Headquarters. He didn't go on a course right away, but kept looking for an opportunity.
It paid off. In fall 1994, Andrew hopped on a plane and headed to Baja California, Mexico to go sea kayaking. As an outdoor education major, he'd decided to take a semester off to gain field experience. Part one of that semester was a month-long kayaking course in Baja.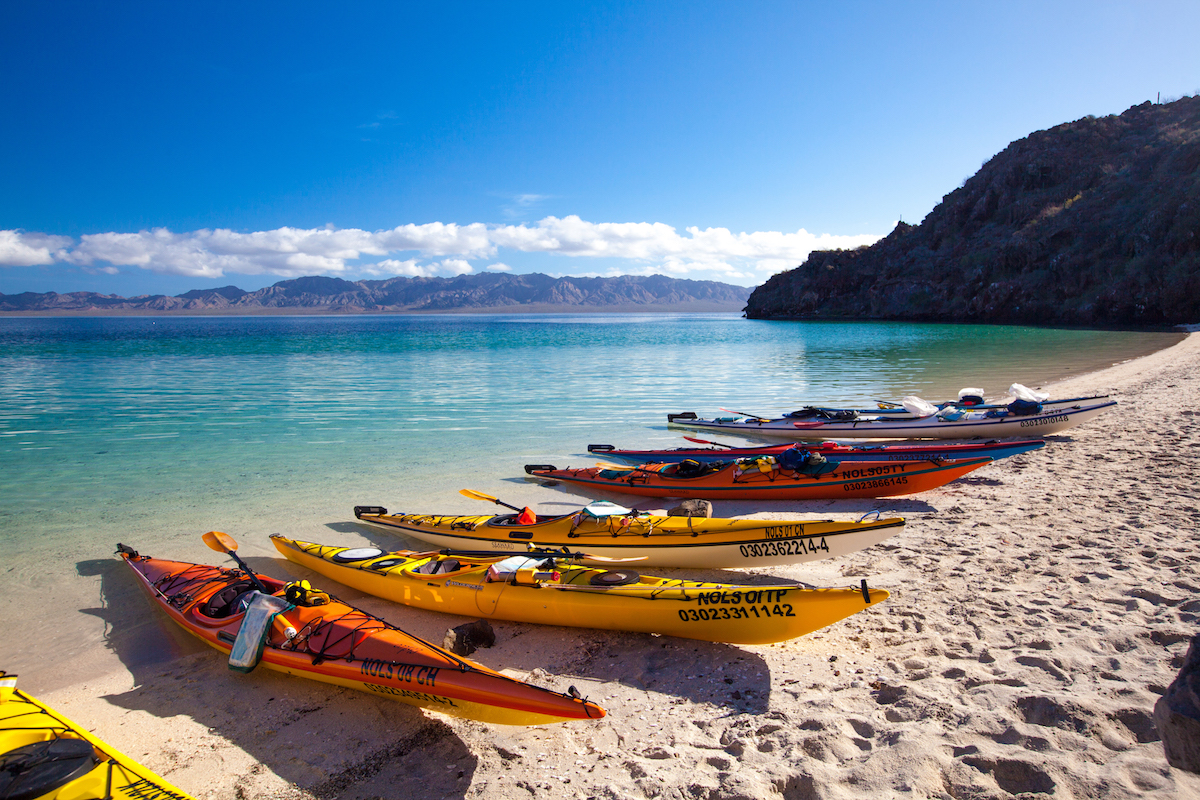 When it came to choosing a NOLS course, it was no surprise that Andrew picked sea kayaking. He grew up on the water, tracing his love of the outdoors back to childhood canoeing trips with his dad in Minnesota's Boundary Waters. Years after these early outings, he eagerly prepared for an adventure on the coast of Mexico.
As he paddled sparkling blue waters in the Sea of Cortez, Andrew joined what he describes as "a community of learners and instructors that helped create space for me to try things I wouldn't necessarily have done had I not been at NOLS." A thoughtful but quiet 21-year-old, Andrew found himself having to step up and take his turn leading the team. In the backcountry, he had to take responsibility for things like planning the day's paddling route—decisions with real-life consequences.
Though he started his course with a solid background in outdoor leadership, Andrew still faced new challenges each day, "whether they were related to the environment, a physical task, or interpersonal skills. I was a fairly quiet and reserved person, and still am today, but my NOLS course helped stretch me." Slipping away and flying under the radar simply wasn't an option. Instead, Andrew rose to the occasion and developed leadership skills he uses every day as a parent, educator, and expedition leader.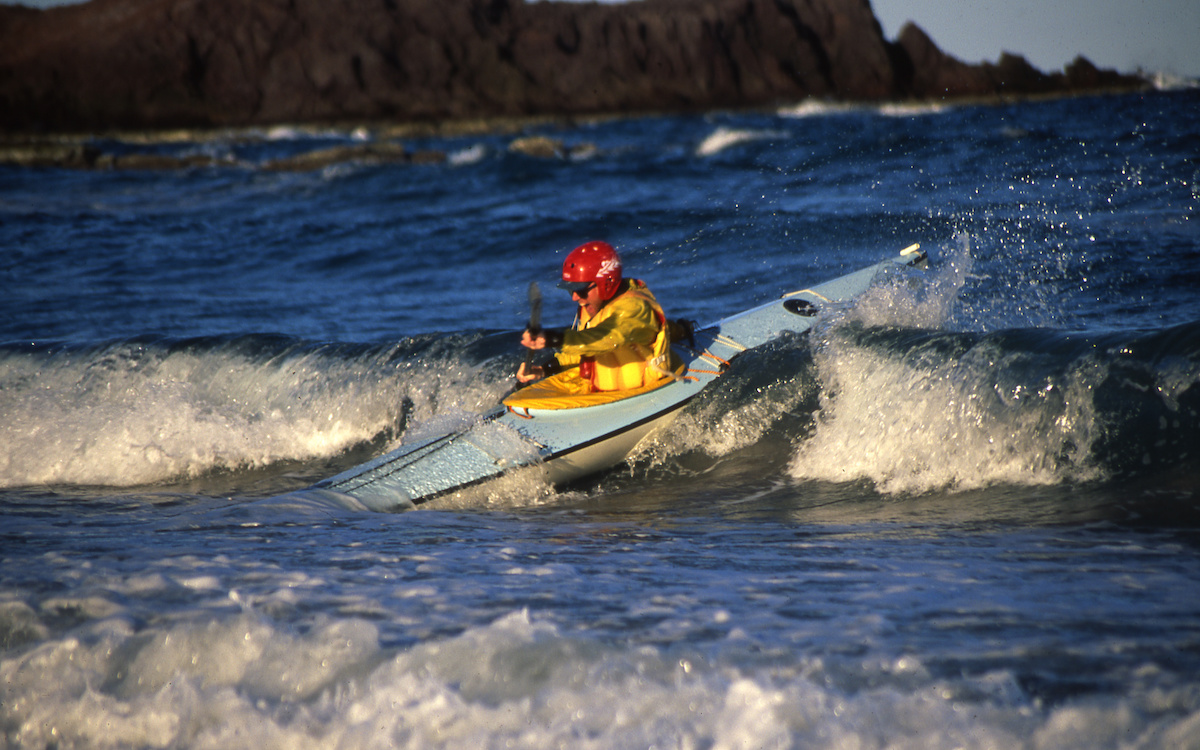 At the end of his kayaking expedition, he stepped off a plane in snowy Jackson, Wyoming. He was in for a surprise: the friend who picked him up informed him that NOLS founder Paul Petzoldt would be speaking that night at the nearby National Elk Refuge. Clearly, they needed to head straight there.
Retelling the story, Andrew smiles at the thought of his younger self showing up at the event still dressed for warm, sunny Baja. Wearing shorts and sandals in the Wyoming cold, he was thrilled by the opportunity to chat with Paul after the talk.
He remembers that, fresh off his course and heady with the amazing experience he'd had in Baja, "you can only imagine my fascination and the timing of all this!" Full of enthusiasm, he headed off on the next adventure of his action-packed semester away from college, a Wilderness EMT course at the Teton Valley Science School.
Andrew was drawn to outdoor education, but still didn't picture himself as a professor. Back at school, though, something clicked. He became inspired by several incredible mentors at Montreat College, role models who helped him figure out his "place in the world and how I might contribute." Their guidance has had a lasting impact on Andrew's life—it's one of the main reasons he's devoted his career to teaching and supporting students in the outdoors.
Today he's an associate professor and the program director of Parks and Recreation Management atWestern Carolina University, as well as the director for Training and Education at 2nd Nature TREC (Training, Research, Education and Consulting).
As an educator, Andrew aspires to "help students develop curiosity and build skills that will serve them well whether they go into Parks and Rec or not." He recently received the 2018 Outdoor Educator Award from the Wilderness Education Association for his outstanding contributions to the field.
Andrew believes that the "freedom to struggle, fail, and receive feedback" in a supportive community is key to learning—and developing leadership skills. It's the kind of culture he found on his NOLS expedition. As an educator, he works hard to foster a similar environment on outdoor trips and in the classroom.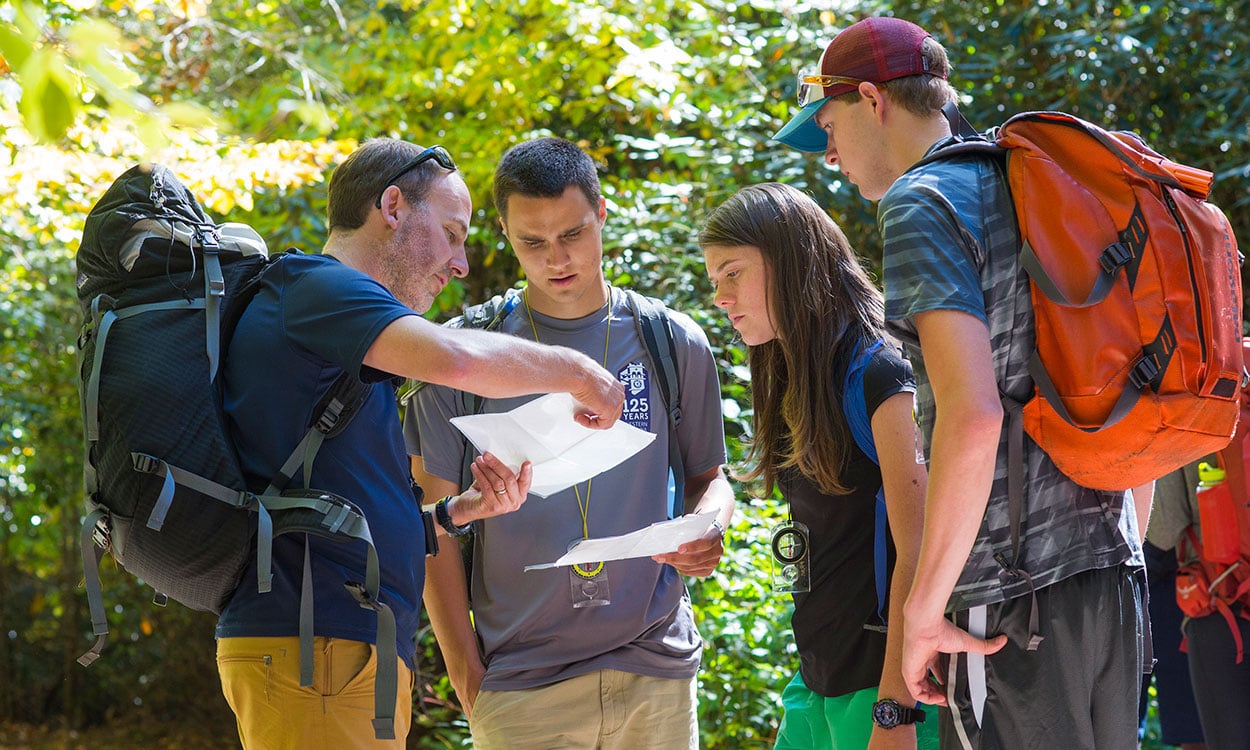 In more recent years, Andrew has continued his NOLS education by attending the annual Wilderness Risk Management Conference (WRMC). Led by NOLS, in partnership with Outward Bound USA and the Student Conservation Association (SCA), the WRMC is an opportunity for outdoor industry leaders to come together and think critically about managing the risks inherent in working, teaching, and recreating outdoors.

Andrew says the conference has been a "rewarding place to bring research focused on autonomous student experiences." He's interested in finding ways to balance "allowing students to have experiences where instructors are less present" with upholding responsible risk management practices.
As with NOLS, many of the courses Andrew teaches at Western Carolina focus on skills that transfer across disciplines. He's taught everything from backpacking and winter camping to classroom courses on expedition management and research methods. He wears many hats, supporting students inside and outside the classroom as a professor, academic advisor, and expedition leader.
He considers it an "honor to walk alongside students during these formative years." Whether he's teaching rock climbing during an "Intro to Outdoor Pursuits" course or helping a student plan their schedule for next semester, Andrew finds fulfillment in his work. While it might not be the life he expected, it's clear he loves his job.
For incoming freshmen, connecting with peers in a new environment can be a challenge. In Andrew's experience, outdoor expeditions are a great way to help build community and he enjoys introducing first-year students to their new home in the mountains of North Carolina. He recently helped found an outdoor adventure-themed learning community, designed to support first-year students as they adjust to university life.
Students who choose to join the Outdoor Adventure Learning Community take several classes together throughout the year, including an outdoor skill-based course that Andrew teaches. He says it's fun to work with new, less experienced students—seeing their excitement on their first hike or the satisfaction of successfully navigating their first whitewater rapid. These experiences not only open the door to future outdoor trips; they also give students a chance to "make connections and feel like they belong."
When he's not mentoring students or leading expeditions, you'll find Andrew happily exploring the mountains and rivers of North Carolina with his wife and daughters. With two kids, two dogs, and an abundance of state and federal lands nearby, the family spends a lot of time outside. Following in his dad's footsteps, Andrew started sharing his love of the outdoors with his daughters early on.
At ages 9 and 11, Lilyanne and Anika have already caught the adventure bug. He thinks they'd probably enjoy taking a NOLS course when they're older, commenting that "I'd love for them to have that wonderful challenging experience as they get to know a diverse group and figure out how to work together." He's looking forward to planning more family trips for next summer.
Andrew has found that lessons learned in the wilderness apply equally well to the frontcountry. Together, he and his wife, Kirsten DeWitt-Bobilya, use their outdoor experience to make family life a successful expedition. "As simple as it sounds," Andrew says, "when the going gets tough, in whatever the context, we know that there's so much more in us than we might think in the moment."
It's something he realized on his NOLS course and took to heart. It's something that he shares with his daughters when they spend time in the backcountry together. And it's something that he hopes his students take away from their own outdoor experiences.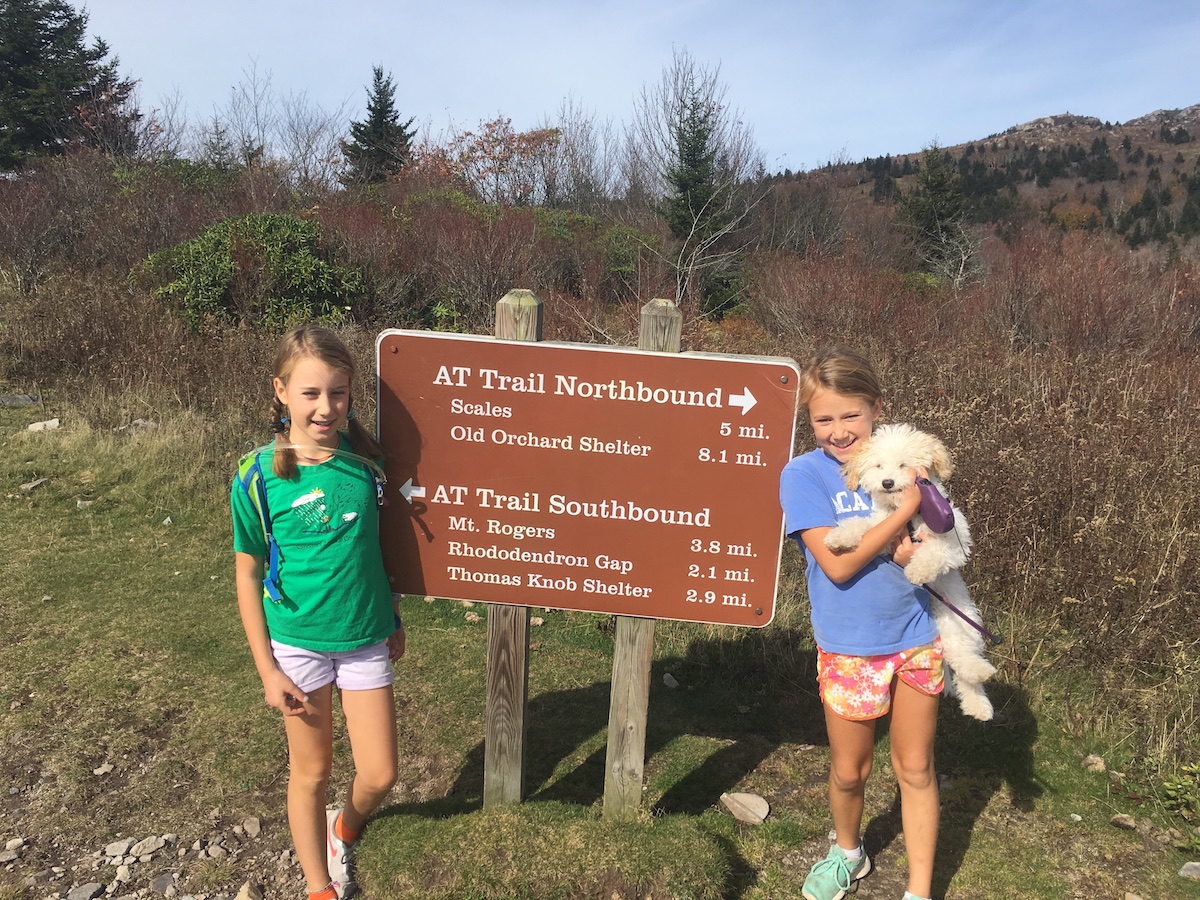 Written By
Brooke is a runner and writer who enjoys finding adventure in the everyday. True to her island roots, she loves sunshine, that salty ocean smell, and the sound of waves against the shore.