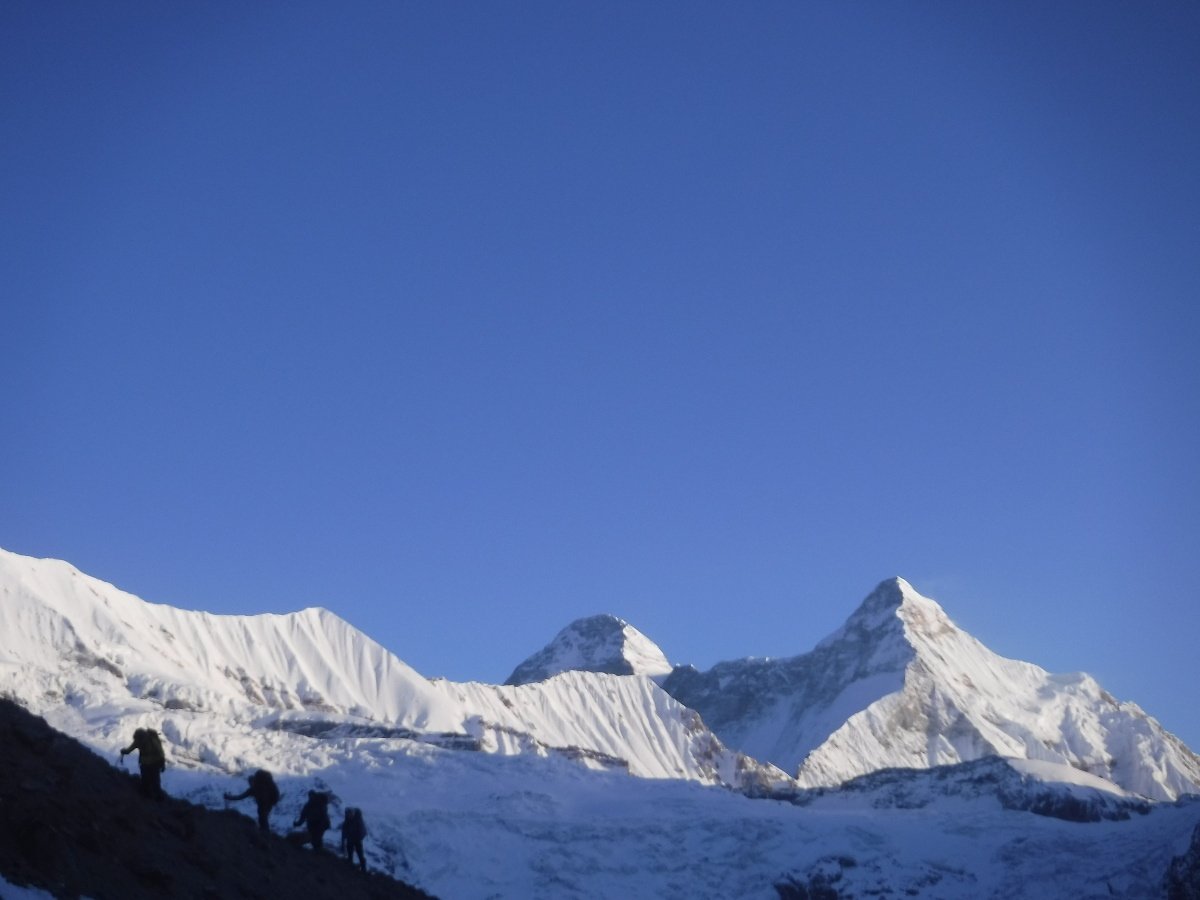 Nanda Devi, according to the legend of villagers in the Garhwal and Kumaon regions of India, was a beautiful princess. When a prince fell in love with her and asked to marry her, she refused, sending him into a rage. The prince declared war and forced Nanda Devi to flee to the mountains. She climbed to the heights of a snow-covered peak in search of refuge. When she could go no higher, she rested, looking down from the top of the world. This summit proved to be her final resting place as she merged with the mountain, leaving behind only her spirit, present in the wind and snow, and her name, which now belongs to the place that took her: Nanda Devi.
When I first saw Nanda Devi, barely visible beyond a jagged ridge, I didn't know any of its history. But in an area where every peak and valley seemed to hold so many stories, the sight left me with questions and a strong sense of curiosity.
I saw Nanda Devi on a NOLS Himalaya Mountaineering course—six weeks among the world's tallest mountains with eight fellow students and three instructors. Our goals were to develop alpine climbing skills and learn about local culture—religion, food, lifestyle—as well as complete a challenging traverse of the mountains.
We began by trekking up the rugged Pindari Valley, moving slowly to ease the acclimatization process. Each day climbing higher, we began to see rock replaced by ice, rain by snow. One afternoon as we went about setting up camp, one of our instructors made a comment that really interested me.
"Living up here is difficult and tiring," he said, "and I know the idea of retreating inside our tents is tempting. But make sure you find time to watch the sun rise over Nanda Devi."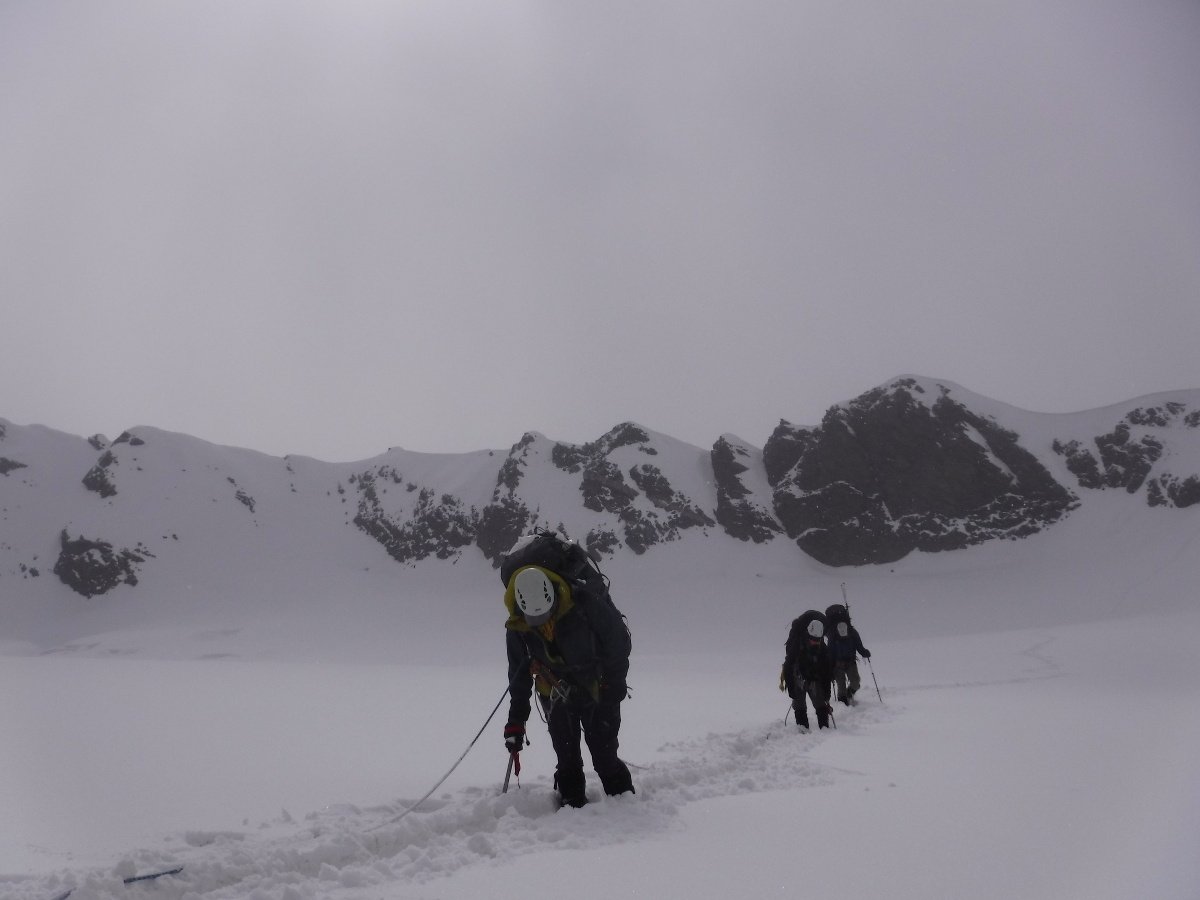 Nanda Devi is known as the highest peak in the Uttarakhand Himalaya, standing at 7,816 meters (25,643 feet). Closed to climbers since 1988 when it was established as a national park, the view can only be taken in from a distance.
I appreciated my instructor's message—a call to practice the art of dancing in the rain. Inspired, I decided I would do it.
We were used to waking up in the shadow of the large peaks that surrounded us. While Nanda Devi collected first light at 5 a.m., it wasn't until two hours later that our camp was warmed by the sun. The days, thanks to the reflective snow, were bright and hot, but mornings were long, dark, and cold.
The next morning, when my watch alarm started beeping quietly at 4:30 a.m., I knew the hardest part had arrived. Once layered in warm clothes, the stunning cold outside the tent would be manageable, but the long process of leaving my sleeping bag and letting its warmth drain away left me with curled toes and fumbling fingers. Knowing that I could go peacefully back to sleep for another two hours made things worse—but I knew the sunrise wouldn't wait.
I unzipped the tent and the fresh night air whooshed in, quickly waking my tired eyes. It was still dark—I had time to make tea before settling onto a comfortable rock. Warm steam swirling from my cup, I watched the sky get lighter and turn milky white as the stars gradually went away.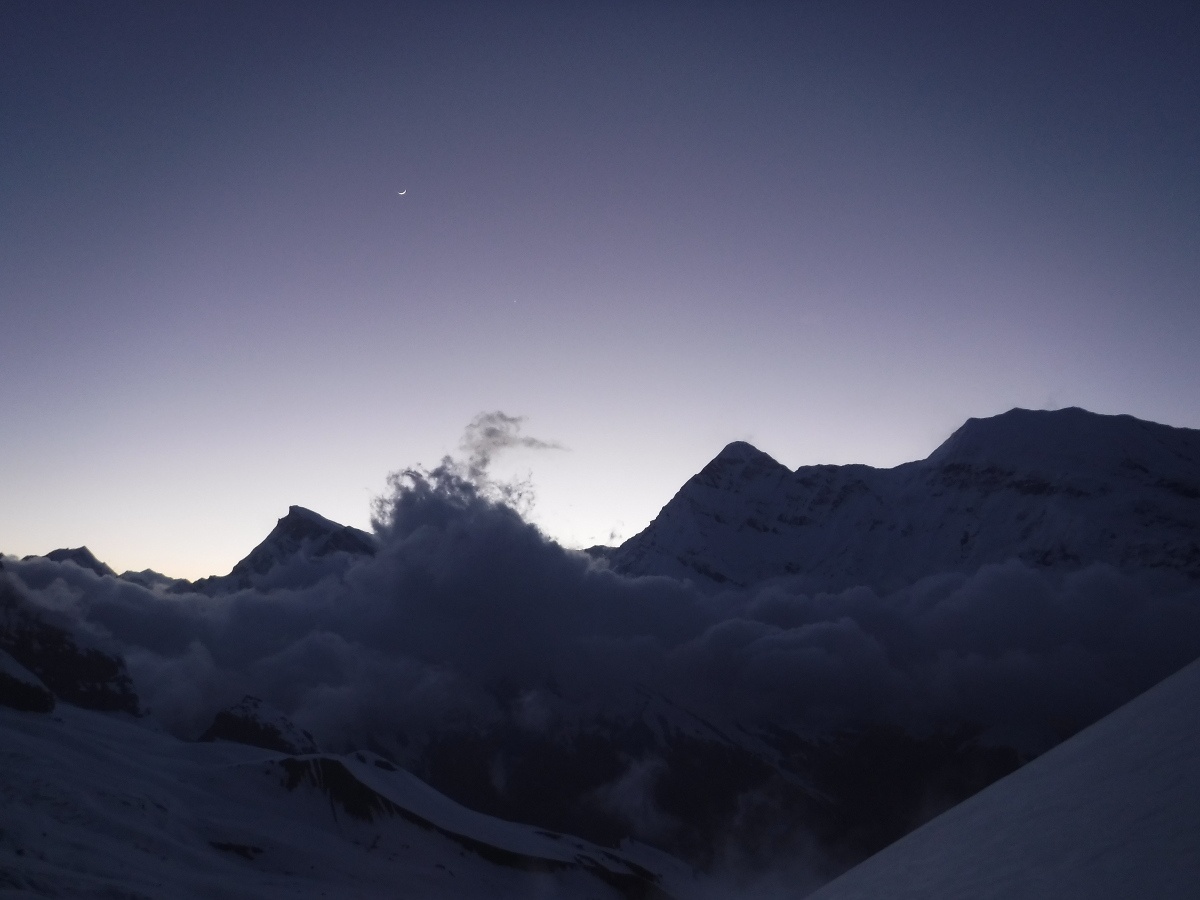 Suddenly, the first golden sunlight landed on the very top of the mountain in the distance, turning it to the color of a city at night. It was surprising how fast the light descended, drenching more and more of the rocky mass until the smaller peaks around were also lit, night-time slipping away into the new morning.
The transition lasted only a few minutes as the pale horizon became a soft, subtle blue. The pinks and oranges of bookstore postcards were no more than hints in the brightening sky.
I stayed on the rock for a long time, watching the shadows of the snowfield and faraway rock faces wander and shift, fading as they were flooded with light. The scale of the place was paralyzing, and the emptiness haunting. A sharp breeze brought flurries of loose snow off the ground, shifting and letting them settle again into frozen ripples. I wondered how such a stunning place could seem so forgotten, and how the view I was taking in would likely go unseen for months at a time every winter. The idea seemed strange, but I suppose the remoteness and solitude were part of what made the place special.
I enjoyed the peace and quiet of that morning. It gave me the chance to reflect on all the learning and preparation that had gone into the previous weeks. Each day had been brimming with effort, and each night sleep had come easily. But instead of feeling tired from the early morning, I felt ready for everything ahead. As the first direct sunlight touched the edge of camp, I stood up and began the day with a renewed sense of appreciation.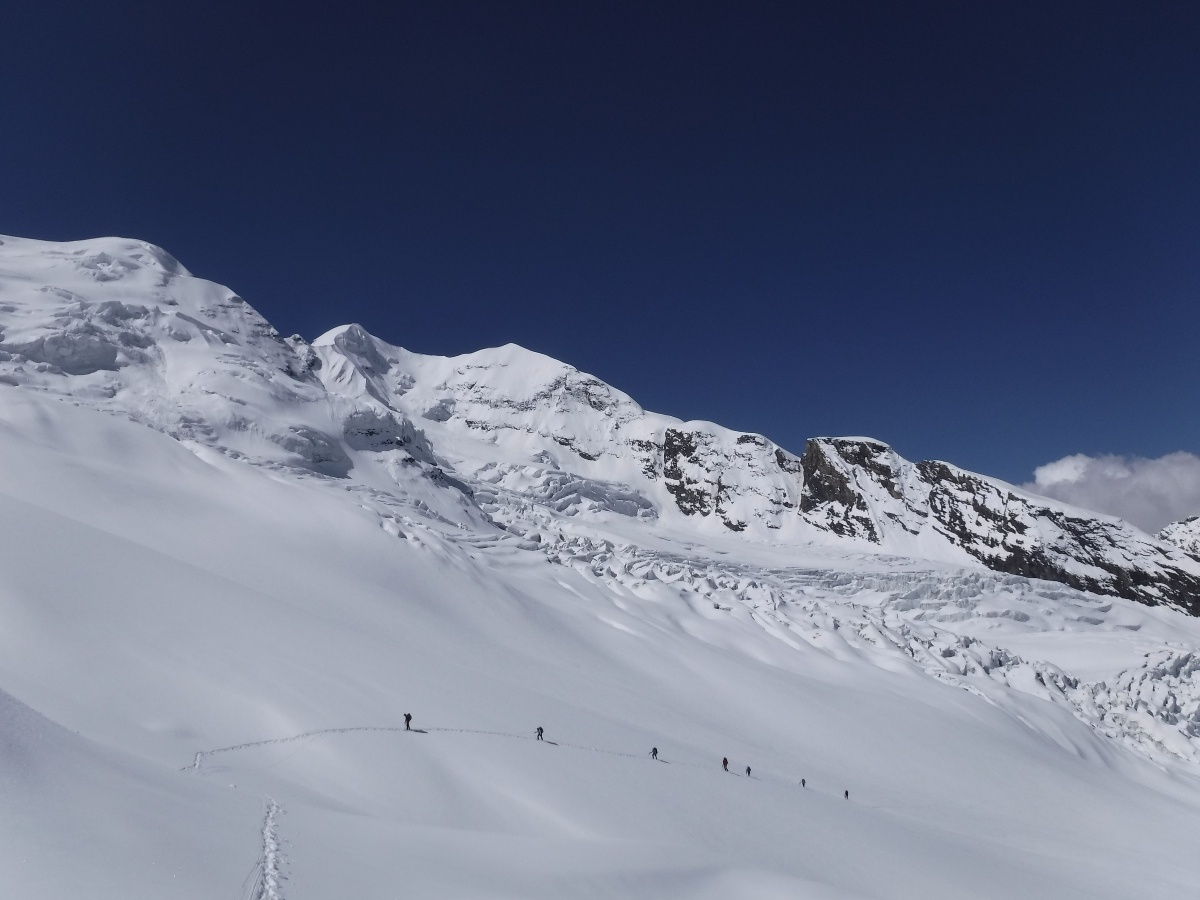 On an expedition, it can be hard to find alone time. Everything is about the team, about working together. Because of this togetherness, the solitary moments are more meaningful.
Thinking back to my instructor's comment, I decided it must have been meant as more than a suggestion to watch a sunrise. He was reminding us to find these kinds of moments every day, no matter where, even at the expense of a bit more effort. He was telling us the effort would be worth it.
I'm back at home now, sleeping in a normal bed with several blankets. I'm studying in college, working part-time, and trying to stay in touch with friends who are doing the same. It's wonderful being home again—two minutes is enough time to make tea here, and I haven't had cold toes in months—but I've also been sure to honor what I learned on the expedition.
By taking some time, every once in a while, to sit down and enjoy the simple views that surround me—my dog scouring the shallows of a pond for fish, or the first red leaves of fall—I've been able to find the same meaning in places that are much less far afield.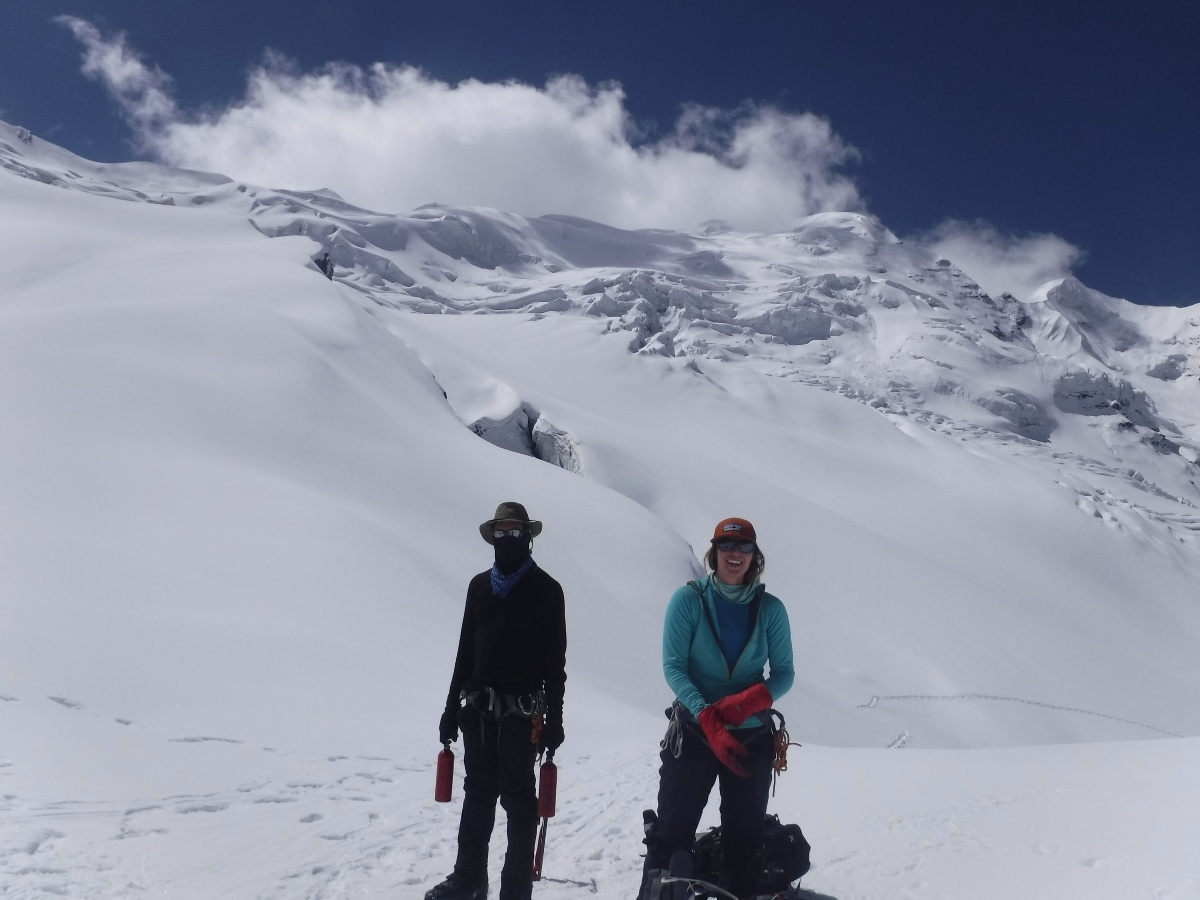 Written By
Chris is a student at the University of Albany in New York and an outdoor activities enthusiast. He enjoys spending time with his two dogs, and likes to play soccer and tennis. His favorite foods are plain chocolate and raspberries.