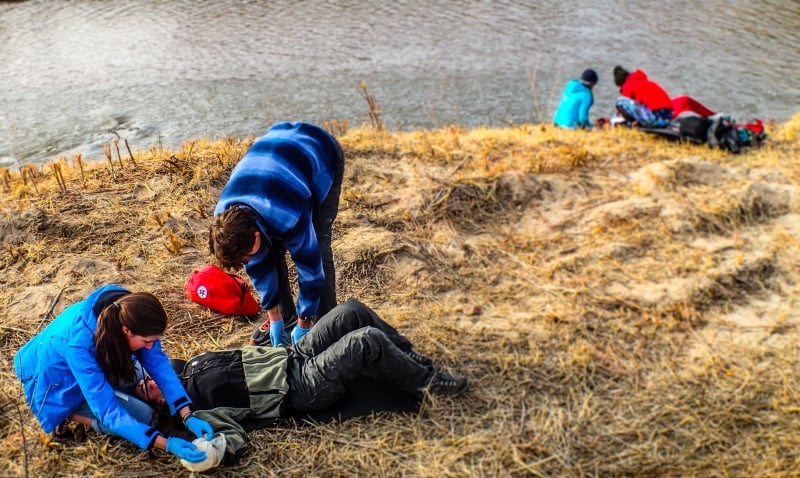 Editor's note: Jared Apperson is a longtime NOLS Wilderness Medicine instructor and former flight paramedic. Here, he talks about the psychological challenges of working in emergency medicine and his mission to raise awareness of post traumatic stress for first responders.
There is an ugly side to working in Emergency Medical Services (EMS). I've always said that when you have a career in EMS you gather a lot of "ghosts" around you: the memories of what you've seen and experienced. Not just the trauma, but also the pain and suffering of others. These are hard things to witness, and nearly impossible to forget. Those memories can create physiological signs and symptoms that can affect your everyday life. I've seen it affect my friends and co-workers, and I've experienced it a bit myself.
I first found NOLS as a Wilderness First Responder (WFR) student at Humboldt State University in 1998. Soon after, I took my wilderness medicine instructor course and had a medical career that spanned nearly 19 years, going on to become a paramedic and then a flight paramedic.
A few years ago, I changed careers and left EMS as a full-time job. During my first week at the new job, I was having dinner with my new boss and coworkers. As we talked during dinner, my new colleagues were asking about my background, where I was from, and what I had done for work before.
I described my job as a flight paramedic to them, and the inevitable question came up: "What's the worst thing you've ever seen?" It's the one question I hate to answer, and it's always the same. I responded, "Why on earth would you want me to re-live the experience that is quite possibly the worst day in someone's life?"
My coworkers were visibly stunned at my response, and as I watched the truth of their understanding sink in, I realized a sad fact—that the idea of first responders having post-traumatic stress (PTSD) is a new one for the general public.
As first responders, we are supposed to be the heroes.
We're not supposed to be susceptible to the emotions that go with tragedy. We're trained to keep a level head, apply our skills without emotion, get the job done, and move on to the next one. But really, we are just normal people who are doing a job and then reacting normally to abnormal situations.
What disturbs me most in my career has been the lack of support offered to first responders for managing the symptoms of post traumatic stress. Some employers offer access to counseling, and for some medics that's a great solution. But for others, it's hard to talk about our experiences with someone who hasn't seen the things we've seen.
Observing the flaws in the support available and the lack of awareness in the public at large, I made it a personal mission to help support other first responders through my nonprofit work.
We create a safe space to talk to others with similar experiences in an environment that offers no judgment.
Walking away from my EMS career was one of the hardest things I've ever done, so recently I've begun looking for opportunities to come back.
Not long ago, I was perusing LinkedIn and saw a post from a mutual connection from NOLS and EMS showing a picture of an air ambulance base in Montana. I sent him a message to say hello and was blown away by his response:
"You taught my WUMP [Wilderness Upgrade for Medical Professionals] in 2005 in Colorado. I was that 16-year-old kid you almost failed because I said lung sounds were clear when you held your breath. That class shaped my career direction in a big way."
I took a look at his profile and saw that he has come a long way—from a young student at 16 to a fellow NOLS Wilderness Medicine instructor and successful flight nurse.
Though the job is challenging, the rewards are many, and I've never felt more grateful and humbled.
Learn more about how to give psychological first aid on a NOLS Wilderness Medicine course.
Written By
Jared Apperson is a longtime NOLS Wilderness Medicine instructor and former flight paramedic. Learn more about his work with first responders and their mental health on his website: www.managingtheghosts.org