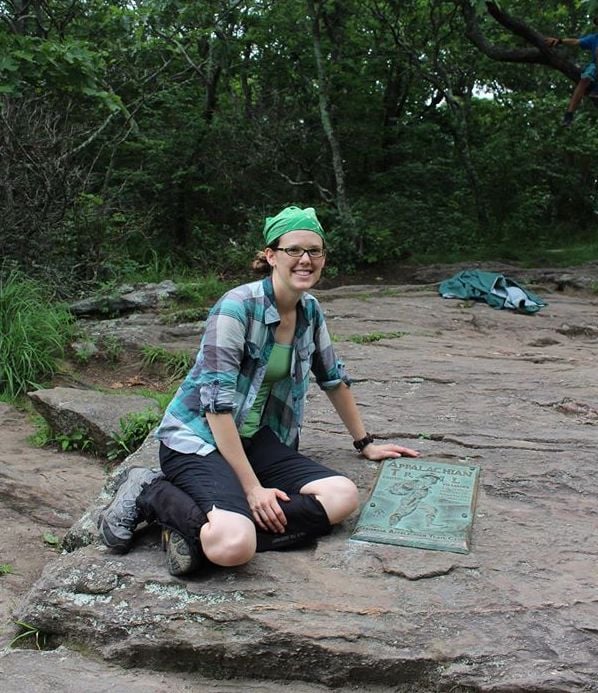 The young man lay there, shivering. The aluminum blanket his trip leader haphazardly tossed on him wasn't helping him warm up from the rain storm. Why wasn't his group paying attention to their friend? Why did his leader let him lie so far from the fire?
I thought my first solo backpacking trip, this adventure through the Great Smoky Mountains, would be that, a solo trip. That night, I'd planned on cooking my own dinner and warming up after getting out of the rain. Yet I couldn't be like the rest of the hiker's group and just ignore his obvious signs of physical distress. I'd learned on my NOLS expedition to step up when uncomfortable. Even though I was ready to cook my own dinner and warm myself up, I approached him.
Finding Confidence Down Under
Flash back to 2013, when I was 25. I wanted to be in the backcountry and find strength in myself that I'd never felt before, and I didn't want to die while doing it. I wanted to be able to navigate conversation with a group of strangers—most social situations, especially with people I didn't know, were out of my comfort zone. I wanted to gain confidence by pushing myself to and past my limits, and I found that when I signed up for my NOLS 35-day backpacking course.
It didn't matter that I'd never been to Australia (and was nervous about its many venomous animals) or on an extended trip in remote wilderness. Nor did it matter that I was navigating this area with strangers, strangers with whom I was learning to communicate so we could reach our backcountry goals.
From my NOLS expedition, and then my subsequent trips, I've realized that my peers and students see me as an outdoor leader. I want to hold myself to my highest standard and set a strong example, which is why I took a Wilderness First Aid course through NOLS Wilderness Medicine. After taking it, I felt prepared for embarking on my biggest solo expedition yet: 600 miles on the Appalachian Trail in a month.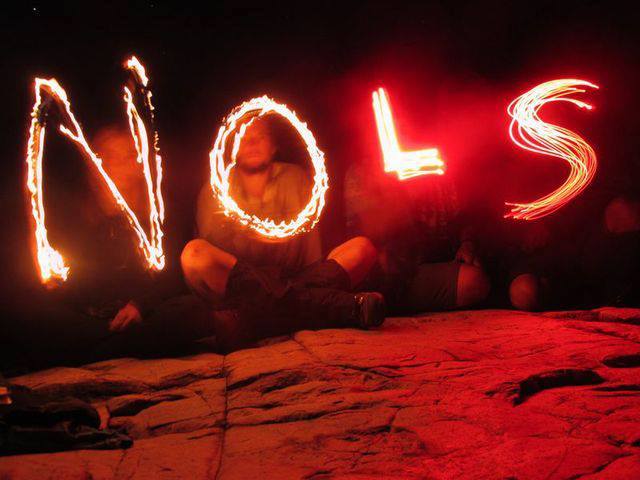 Unexpectedly Stepping Up
Four years after my NOLS expedition in Australia, I started out on my first long-distance solo backpacking trip, a three-week trek on the Appalachian Trail. I was nervous, but from what I learned on my NOLS course, I felt confident I'd survive this well-worn trail.
One evening, while hiking through the Great Smoky Mountains National Park, I barely managed to get to a trail shelter before it started to pour. The temperature was quickly dropping, so another hiker started a fire. An hour later, a group of seven friends came trudging into the shelter, cold and wet. They focused on cooking dinner.
That's when I noticed something odd. Their trip leader tossed an aluminum emergency blanket on a young man who was lying down, away from the fire, wrapped in a wet sleeping bag. The aluminum blanket laid askew across his body and covered more of the floor than him. The trip leader continued to cook dinner. While everyone else was cooking, setting up camp, or changing clothes, he just lay there, motionless.
I had so many thoughts: "Why the emergency blanket? If he was cold, why wasn't he by the fire? Why didn't she better wrap him in the emergency blanket? Why was he in a wet sleeping bag?" I knew something was wrong and approached him.
Me: "Are you okay?"
Him (speaking weakly): "Yeah...I'm...just...Really...cold."
Cold, slurred speech, impaired judgment. I learned about these signs in Australia when we learned wilderness first aid. This man is going hypothermic. I did the first thing I could think of and grabbed my sarong and practically put it in the fire to warm it as fast as I could. I offered it to him and he promptly put it on his chest.
Me: "Okay, I need you to get up now. We need to get you moving and get some food in you. Preferably warm food."
Him: "I...need to...get up?"
Me: "Yes, I need you to get up and get moving."
He confusedly got up, started slowly walking around, and had some warm food to eat. He later re-approached me and returned the sarong.
Him (speaking strongly): "Thank you. I'm feeling much better now."
I remember looking around and thinking, "There are 11 people here. Am I really the only one that noticed that something was wrong?"
Some injuries have blood and everyone sees; some injuries are painful and everyone hears the agony; but this ailment was silently sneaking in. He didn't even realize something was wrong. It was a scary but humbling moment.
If you ever find yourself in a position like Kimberly's, where you are treating a suspected hypothermic patient, NOLS Wilderness Medicine recommends following the below steps for diagnosis, treatment, and possible evacuation.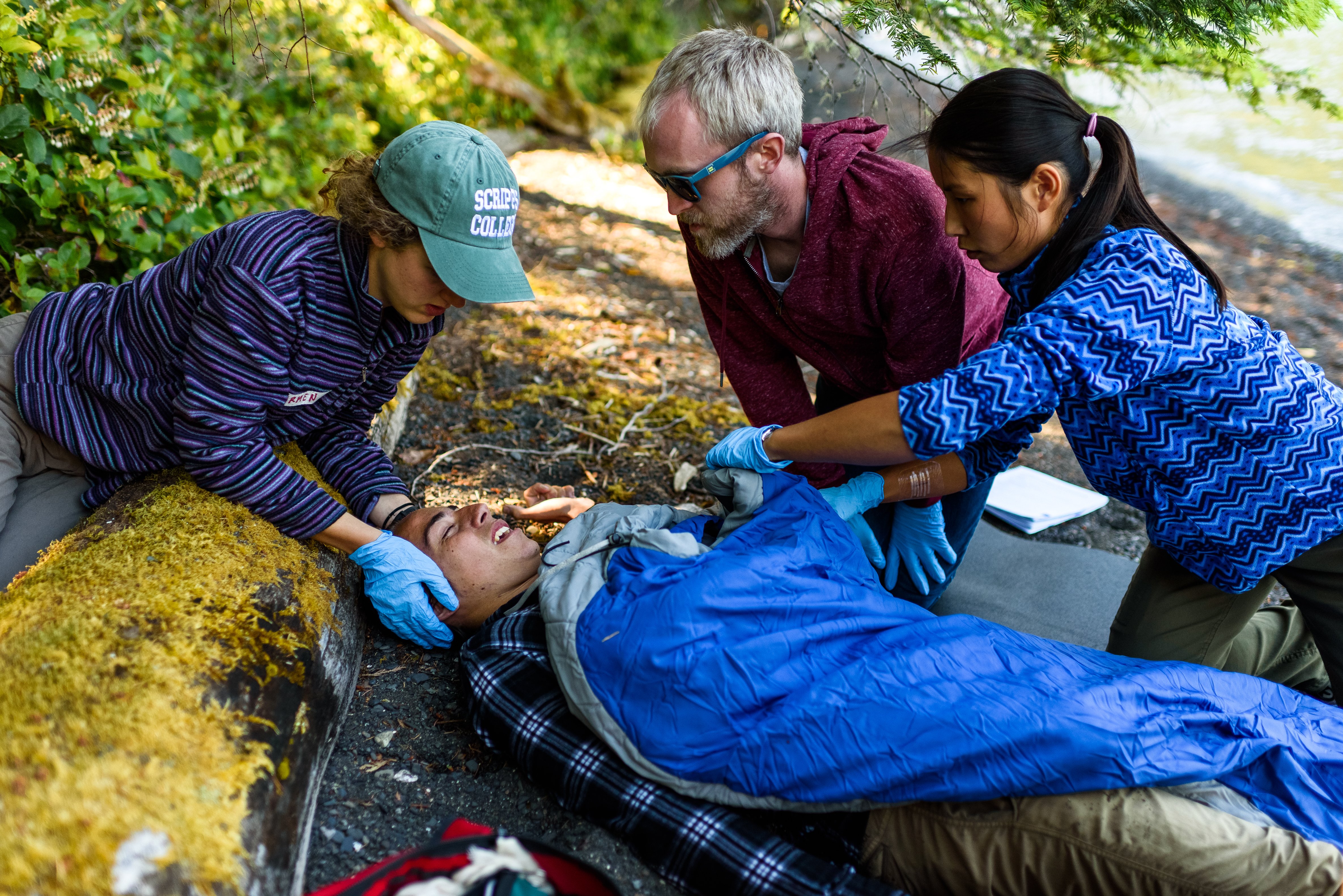 How To Treat Hypothermia
When hypothermia occurs, the body's core temperature lowers to a level where brain and/or muscle function is impaired. If you are suspicious that a patient is at risk of hypothermia, look for these symptoms:
Mild hypothermia symptoms: Impaired ability to perform complex tasks; shivering; apathy; confused and sluggish thinking; slurred speech; "the umbles" (stumbling, fumbling, mumbling, grumbling).
Moderate hypothermia symptoms: Uncontrollable violent shivering; worsening of "the umbles."
Severe hypothermia symptoms: Shivering stops; muscular rigidity; decreasing mental status progressing to unconsciousness; decreasing pulse and respiratory rates, which may become hard to assess.
If your patient is mildly or moderately hypothermic, the first treatment step is to change the patient's environment:
Find shelter. Gently move the patient off snow, cold ground, or out of water.
Replace wet clothing with dry clothing. Dampness in clothing can be subtle. Check carefully. Dress in wind and waterproof layers.
After the patient is in dry clothing, you should add insulation under and around the patient using a ground pad and clothing. You should also insulate the patient's head, neck, hands, and feet. You may want to consider a hypothermia wrap.
If the patient is alert enough and they are in a position where their airway is protected, encourage them to eat something and drink warm, sweet, non-alcoholic, non-caffeinated liquids. Mildly hypothermic patients can typically warm themselves by walking, shivering in a dry insulated environment, and consuming proper caloric intake.
Exercise is appropriate for mildly hypothermic patients who are alert and able to stand, but not those who are severely hypothermic. Follow these steps for treating severely hypothermic patients:
Handle the patient gently. Avoid rough movement. Keep the patient horizontal.
It's unrealistic to warm a severely hypothermic patient outdoors. Prevent further heat loss with a hypothermia wrap. Add well-insulated heat packs at the patient's hands, feet, armpits, groin, and neck.
Rapidly evacuate extremely hypothermic patients.
Learn to treat hypothermia and other common injuries and illnesses in the outdoors on a NOLS Wilderness First Aid course.
Written By
Kimberly is a geologist/geospatial analyst. She loves hiking, backpacking, trail running, photography, planning future trips, and cuddling with her cats. She hopes to achieve the triple crown of hiking, but it's a work in progress.