You're thinking about starting a new career. Your dream job might be working in the mountains. Or as a first responder with Search and Rescue. Or providing medical care in a hospital. Or maybe you want to instruct NOLS courses.
If you're looking to get into one of these fields, getting a wilderness medicine certification such as a Wilderness First Responder, Wilderness First Aid, or Wilderness EMT can help you get started.
Different job opportunities require different levels of training. Here are 7 types of jobs and the certifications you need to apply.
Outdoor Recreation Leader/Summer Camp Staff
Summer camp, recreation center, and resort staff can be responsible for leading daylong outdoor trips for community groups, tourists, and students. At these various sites, your duties may include maintaining participants' safety in locations that are a few hours away from hospitals.
Many organizations, like the American Camp Association, require certifications like Wilderness First Aid for staff working 30 minutes or more from emergency medical services. More advanced wilderness medicine certifications will also meet this requirement.
Wilderness Expedition Leader or Guide
Expedition leaders guide or instruct multi-day or multi-week trips in remote backcountry settings. Along with facilitating activities like outdoor education, backpacking, climbing, paddling, skiing, and more, these leaders are responsible for managing risk and handling medical issues ranging from basic first aid to life-threatening emergencies, in areas that may be days away from advanced medical care.
Most guiding or outdoor education jobs that involve extended trips, including with NOLS, Outward Bound, and the American Mountain Guides Association, require a WFR (shorthand for Wilderness First Responder, pronounced 'woofer') certification as a prerequisite.
Emergency Medical Technician (EMT)
EMTs provide advanced pre-hospital medical care and emergency transportation to people with serious injury or illness. They can work in frontcountry environments like ambulances, or, with a Wilderness EMT certification, in backcountry settings like Life Flight helicopters.
If you're considering EMT jobs, be aware that states set their own standards of certification or licensure for EMTs. Most states use the National Registry of EMT (NREMT) certification, which you get through successful testing.
Ski Patrol
Ski patrollers provide emergency medical and rescue services to snow sports participants, such as cross-country skiers, downhill skiers, and snowboarders. Ski patrollers may operate within a resort ski area or in a backcountry setting.
Ski areas have different first aid certification requirements. Some require an EMT certification, while others need the Outdoor Emergency Care (OEC) certification. People who have WFRs or Wilderness EMTs can get the OEC certification through assessment requests to the National Ski Patrol.
Search and Rescue Volunteer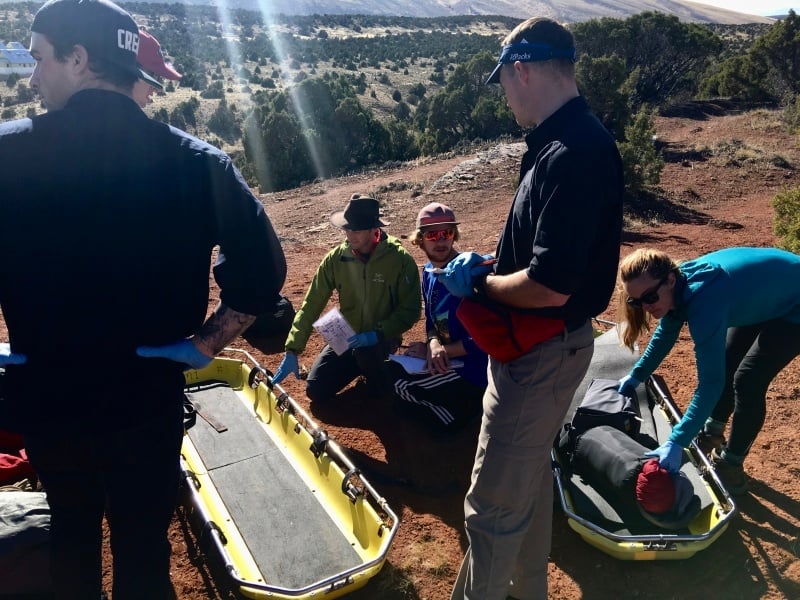 Search and Rescue (SAR) groups are citizens who use their local knowledge to assist emergency personnel in a range of rescue and missing person situations, which can range from locating injured backcountry hikers to rescuing natural disaster victims. SAR activities can require advanced technical outdoor skills or simple familiarity with an area
Minimum certification requirements for SAR teams vary widely, but wilderness medicine training is encouraged for any of them. Most SAR groups are volunteer services, while the National Park Service and other governmental agencies can have paid positions.
Firefighter
Firefighters usually work in teams to extinguish fires and find and rescue victims. Wildland firefighters use water pumps, chemical pumps, or shovels to put out flames and embers. They rescue hikers and other people trapped in fire areas and provide emergency medical treatment.
Requirements for entry-level firefighters vary by department or agency. The great majority of urban departments require an EMT certification, and wildland firefighter jobs may require WFR or WEMT certifications.
Emergency Room Technician
Emergency room technicians are EMTs who provide patient care in hospital emergency rooms. They work with doctors and nurses, and provide routine care involved in treating patients, such as drawing blood and making sure that emergency room equipment is prepared and ready. They work as a critical part of the emergency room medical team.
Emergency room technician jobs require EMT certification. These positions can be first steps towards advanced medical careers, such as becoming a nurse or doctor. Other hospital-based jobs may also be available to EMTs, depending on the regional needs.
Read more on opportunities for Wilderness Medicine certifications
Advance your career and qualify for new job opportunities with a wilderness medicine certification.
Editor's Note: Check job descriptions or with potential employers to confirm required certifications and learn about salary information.
Written By
Ben is the former NOLS Wilderness Medicine Marketing Coordinator and a Wilderness First Responder graduate. He enjoys rock climbing, backpacking, kayaking, and hopes to someday adventure in the mountains on each of the 7 continents.