Southern Chile offers world class sea kayaking. In northern Patagonia, where NOLS is based, the Pacific Coast of South America fragments into a network of islands and fjords that offer some of the most remote, challenging, and beautiful paddling in the world. I had the chance to spend almost five months travelling and working for NOLS in Chile this past winter, and was grateful to receive an IDF grant to attend the South Pacific Sea Kayak Symposium in December.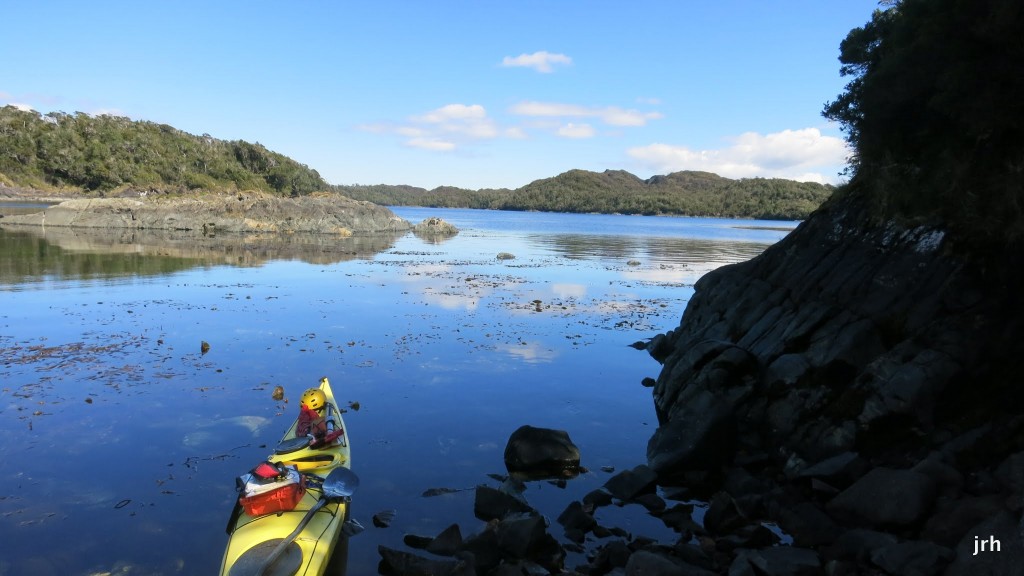 Sea kayak culture is emerging in Chile. As more and more people in the country begin to explore the coastline, interest in technical paddling skills is growing. In 2014 a group of paddlers in Valdivia, a beautiful university city in the Region de Los Rios, began hosting an event that brings world class coaches from around the world to Chile. Now in only its second year, the event provides the opportunity for South American paddlers to connect with one another and build skills through focussed clinics with experts.
My journey to Valdivia included a 24-hour ferry, a handful of bus rides, some crucial French fries and, finally, some late night hitchhiking to arrive in time for a 9:00 am start. With a couple of hundred paddlers in attendance, there was a festival atmosphere as a group of dry suit-clad men and women gathered around the back of a pickup truck to be welcomed by the symposium's organizers amidst a sea of kayaks, spread out across a field at the water's edge.
Over the next three days I had the chance to work alongside some of the world's best paddlers and to connect with an emerging community of Chilean enthusiasts. I worked with Roger Schumann, from California, and observed how he introduces students to the process of learning to roll their kayak. With Roger Chandler and Nick Cunliffe, two coaches from Wales, I got the chance to refine my boat control in challenging terrain as we paddled through broken offshore rocks and reefs in the building swell.
With Gordon Brown, a Scottish icon in the paddling world, I was unexpectedly thrust into the role of assistant coach and translator, as Gordon and I rescued capsized paddlers in the surf zone and I helped to relay tips about body position, blade angle, and wave anatomy. It was good to realize that I had more Spanish up my sleeve than I had realized, and a privilege to work so closely with such experienced paddling educators.
Over home-cooked lunches and a glass or two of local craft ale at the end of the day, I had the chance not only to discuss things like the management of risk on the open coast with seasoned professional paddlers, but also to connect with a community of Chilean paddlers who were excited to learn about NOLS, discuss paddling in Scandinavia, and revisit lessons from the day.
The warmth of the community was a highlight of my visit, and gave me an excellent opportunity to deploy my emerging Spanish skills in a cordial and relaxed environment where a shared appreciation for the water brought us all together. A new friend, a doctor from Valdivia, insisted on giving me a ride back to town and on buying me lunch at his favourite restaurant. We shook hands warmly as our paths diverged, and in the afternoon sun of the southern hemisphere summer, I looked back on a weekend well spent.
Thanks to NOLS for supporting my attendance at the event, to right honourable Gene Trantham for the invitation, and to all of the festival's organizers and participants.
Want to be an outdoor educator? Get in touch with our outdoor educator advisor today.
Written By
Jonny is a NOLS instructor.