NOLS instructor Liz Hardwick writes about learning new tricks on a familiar river.
Jen pokes me awake as I am drifting off, trying to sleep before the moon gets up above the canyon walls. "Do you think I can run Vinegar in a solo boat?" she asks.
We're camped on the Main Salmon River, all white sandy beaches, steep dry mountains and fun, fun rapids. This is the night before we get off the river and Vinegar is downstream of us, the last big rapid and one of the most challenging ones on the river.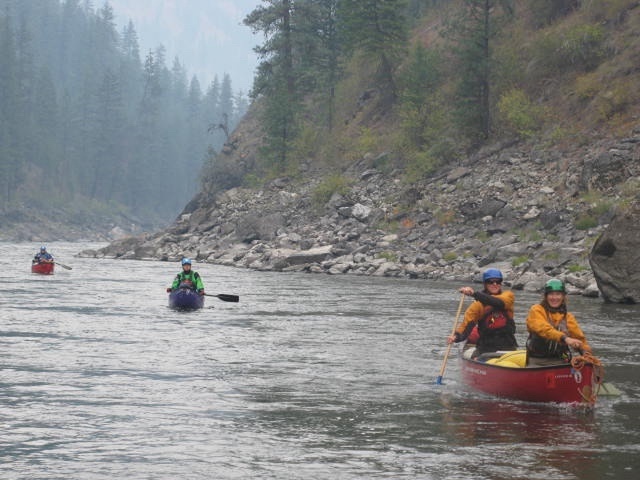 A week ago, Jen drove to the put-in at Corn Creek, passing the churning rapids below. From her vantage point high on the road, she decided the rapids were terrifying and she'd rather drive the shuttle and meet us at the takeout point. The next morning as we rigged the raft and the canoes, she decided she was going to ride in the raft the whole time. A day later, she hopped in a solo canoe and promptly swam through Alder rapid. She bobbed up in the eddy, waterlogged and grinning.
Everything I hoped for on this trip had just happened. Jen was hooked.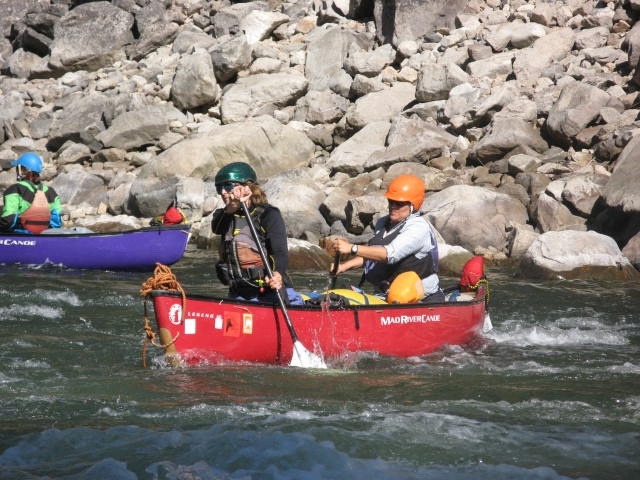 What happens when a group of friends, all female NOLS instructors, go down a river together on a personal trip? There are seven of us: Jen Sall, Janie Ringham, Emily Ledingham, Carolina Cortés, Sarah Harvie, Allison Mulcahy, and me, Liz Hardwick. Some of us are seasoned river instructors, some new to the river. We are out here for eight days, paddling a raft with coolers crammed with kale and avocados, a couple of solo canoes, a tandem canoe and a kayak.
We are running a stretch of the Main Salmon that NOLS often runs with students. Between the river instructors, we've probably been down here at least 25 times. As Jen asked, "Why would you come down this river again if you've already been down so many times?"
Aside from the river being beautiful and fun, I think I have some answers.
Watching my partner, Jen, I learn so much about myself as a boater. I see that she does well when she has space. My overeager coaching, adding tips and tricks and "next time try…" doesn't always work well for her. I'm a better river instructor from watching the person I love most bob through big rapids backwards and not opening my mouth. I'm prouder of her than I want to admit.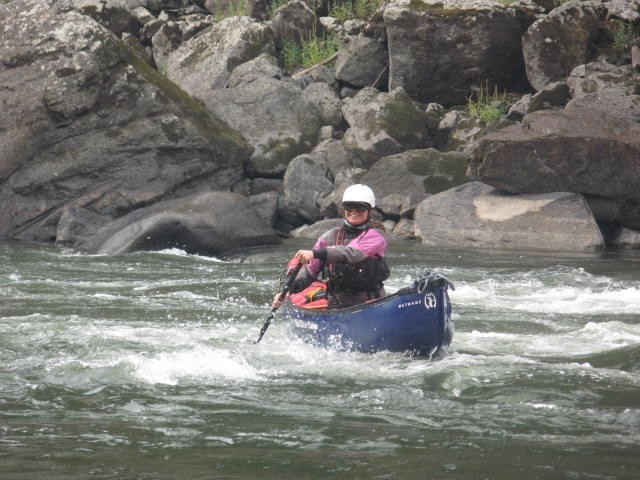 When I first started boating, I never said I was scared. I'd scramble into the bushes and have a nervous poo before a scary rapid, coming back and saying nothing. Jen gives me the gift of talking about fear. And because she is my partner, I listen better when she says she is scared.
How many terrified NOLS students have I slapped on the back and said "you can do it!" at the top of a rapid? Jen, on the other hand, gives me careful coaching about what supporting someone who is truly terrified looks like. Emily would attest to that too, reminding me that saying "an unconscious person could get down this rapid" is not that useful in mitigating fear.
On this trip, we all learned to open ourselves up to new things. Sarah pulled us off the river at 11:11 a.m. one special day to meditate under the blood moon eclipse. We learned about our personality types through daily readings from of the Enneagram personality type book. This will help us understand our future co-workers, and produce more positive instructor team dynamics down the road.
Some of us on the trip would probably say it makes a difference to be on the river with all women, some might say no, or it depends. I remember the first time I was on a river with just women on a NOLS Women's Training Trip. Partway through the trip, I realized I hadn't had a single thought about proving that I was a "good female role model."
Janie came of age as a raft guide on the Ottawa River, learning to row with dudes. She might say it doesn't really make a difference if it's an all-women trip or not, but she also carves a unique space with her presence, calm energy, and super supportive coaching style. She taught Sarah and Emily's instructor courses, and she was one of my first female boating friends at NOLS. Whether she knows it or not, she created space where all of us could thrive as women boaters.
My personal trips with women and the women's training trips at NOLS feed me in ways I can't always put a finger on. I do know that this trip fed our souls in the way that only personal trips with good friends can.
Thanks, NOLS, for supporting our trip down the Salmon. We are better instructors from this, whether we work on the river or not, and Jen is itching for our next boating trip— and she's bringing the solo canoe.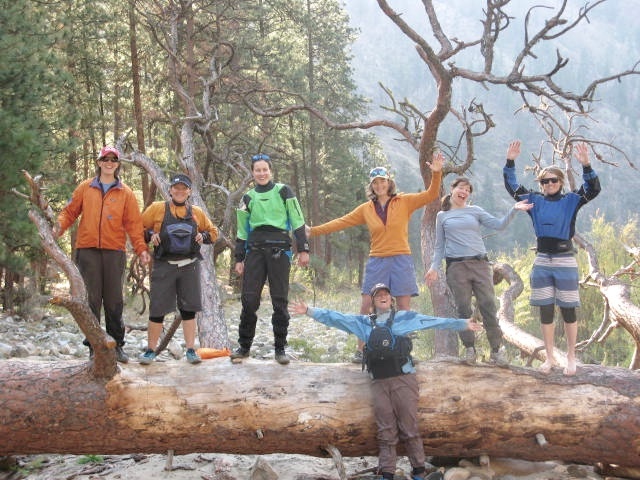 Written By
Liz is a longtime NOLS instructor who works on rivers and in the mountains. These days she spends more time at home, with her partner and her dog Goose, who is quite famous in NOLS circles.