NOLS instructors partner with Honduran firefighters to expand medical training in areas with limited resources.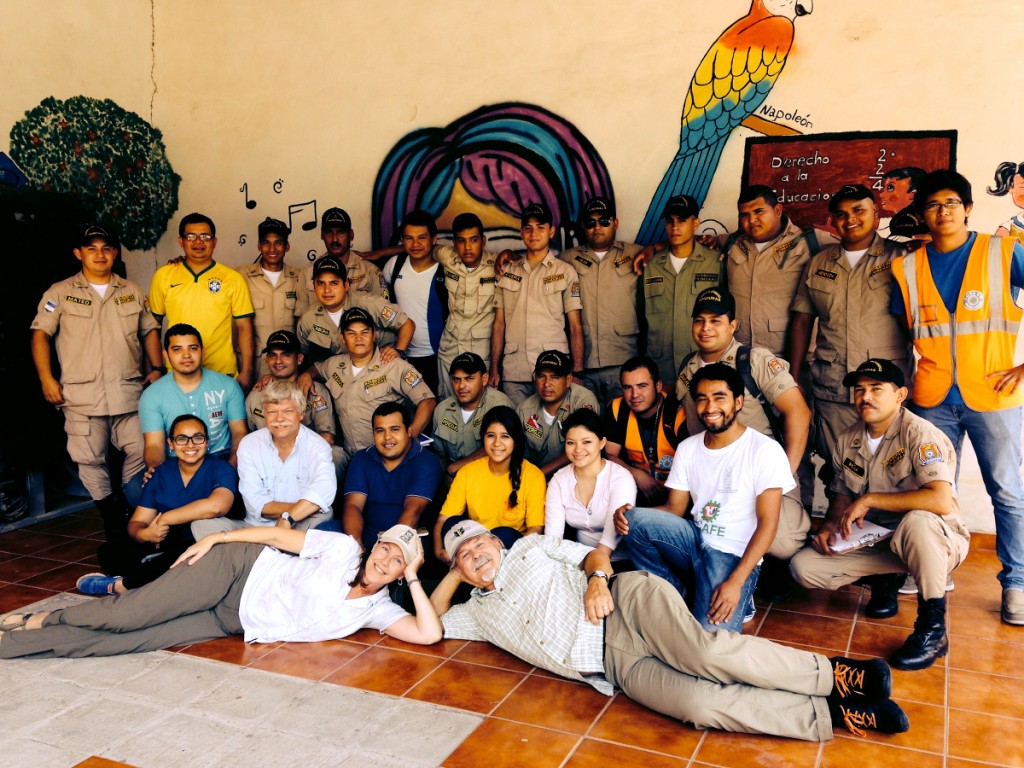 Gracias is the main town of the Lempira department, or region, of Honduras. Honduras is a rugged and mountainous country, but Gracias and the villages of Lempira are some of the most rugged, poor, and isolated in Central America. The Bomberos (firefighters) of Complay 30, based in Gracias, serve the emergency medical needs of a population 180,000 strong, in a district the size of Rhode Island.
The Bomberos are a proud bunch. The emblem on their Land Rover ambulance, donated by the government of Taiwan, displays their watchwords: honor, discipline, and self sacrifice. Their department consists of fifteen full time firefighters and another fifteen volunteers, including two women, notable in a country still working to overcome the notion of conventional gender roles.
The Bomberos already practice wilderness medicine to its true definition: treating patients who are hours, if not days, from definitive care. They perform rescues of lost hikers in nearby Celaque National Park, inspect local businesses for fire safety, and deliver care to rural families in the remote hill country surrounding Gracias.
It would be an understatement to say that the people of Gracias and Lempira need to be independent and find innovative ways to care for each other. The economy is almost all subsistence agriculture. There are few paved roads and minimal public infrastructure exists. A small hospital serves the region, but the closest modern hospital is over 120 miles away along unpaved, switchbacked, steep, and narrow rural roads. There are no helicopters.
NOLS Wilderness Medicine Institute instructors Daniel DeKay, Mike Moxness, and Virginia Plambeck saw a profound need in Gracias for the kind of training NOLS Wilderness Medicine provides. To fill this need, they reached out to the Bomberos and created a partnership to teach the first of a five-course series on wilderness emergency medicine in December 2015.
They communicated knowledge as nurses, paramedics, and wilderness medicine practitioners in the areas of patient assessment, improvised splinting, focused spine assessment, and other interventions designed for those who treat patients far from a hospital.
"My reaction from the students was there was a high practical value in what we were teaching," said DeKay. "These folks are the search and rescue team, the swiftwater rescue team, and the fire department all in one. They were grateful for our training, we were welcomed with open arms, and there was a shared sense of brotherhood."
DeKay and Moxness had previously taught a course to emergency room nurses in Gracias' local hospital, but they still employed a lot of invention to teach these pre-hospital care courses. First-aid items taken for granted in the U.S., such as cravats and Ace bandages, are difficult to find in Honduras.
When Moxness first toured the Gracias Bomberos' facility, he noticed the only equipment in their ambulance was a cot and backboard. He immediately donated four cervical collars and encouraged volunteers from MEDICOS, a nonprofit on whose board he sits, to donate as many bandages, splinting materials, and first aid items as they were able.
When DeKay arrived in Gracias, he went to the local secondhand store to buy used clothes for improvised splints. Using clothing for splints is something WMI incorporates into all wilderness medicine courses to teach students how to use what is in their backpacks to splint broken bones in the backcountry. The difference in Gracias was that, instead of boxing up the clothes at the end of the course, the Bomberos stocked their ambulance with them. They will use this clothing to splint broken bones on actual calls.
To quote WMI's Curriculum Director Tod Schimelpfenig, wilderness medicine is all about a passion for the wilderness and for medicine. Passion is not in short supply among the Bomberos in Gracias—what's lacking are material and educational resources. By pursuing wilderness medicine training, they are able to provide effective care and use these limited resources to the best of their ability.
Learn more about how you can prepare yourself for the unexpected with wilderness medicine training.
Written By
Kevin is a diaspora Floridian who likes climbing rocks, running, reading, and connecting with nature.