In the mountain town of Coyhaique, Chile, Phil Henderson, the NOLS Patagonia Equipment Manager, strips the last rings off of a tent that has just returned from a 30 day mountaineering course in the Andes.
This tent has seen the last of its exploration days—worsening tears spread through its seams, causing water to leak onto unwary sleepers—but this is not the end of its journey.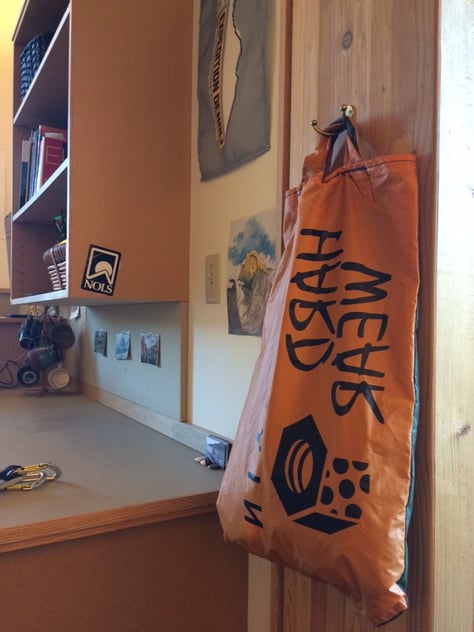 As he works, Phil stashes away tent rings, pins, zippers, buckles, and stakes as replacement parts for other tents. He then takes the remaining tent fabric, sits down, and sews a tote-bag from the material.
One of these shopping bags landed on the Sustainability desk as Phil passed through NOLS Headquarters in Wyoming. This made us ponder, why would Phil make the effort to repurpose the tent fabric? What was the story here?
Reuse: Ethics and Necessity
As Phil and I talked, two themes came out of his drive to reuse: ethics and necessity.
"Growing up, my mother taught me how to sew and my father instilled in me an ethic of reuse. He owned only one pair of work boots for his entire life—one pair." These practices of conservation later developed into Phil's own way of thinking about reuse at NOLS.
When in the wilderness, the concept of recycling and repurposing is particularly relevant. We teach Leave No Trace principles to help maintain the land's ability to sustain us; we observe the checks and balances of ecosystems, and live off of what what we are able to carry. At NOLS, some courses even calculate their ecological footprint to connect their backcountry lifestyle with their in-town lifestyle. Transference of this environmental ethic is achieved by first assessing yourself, then changing yourself, and, finally, by leading others.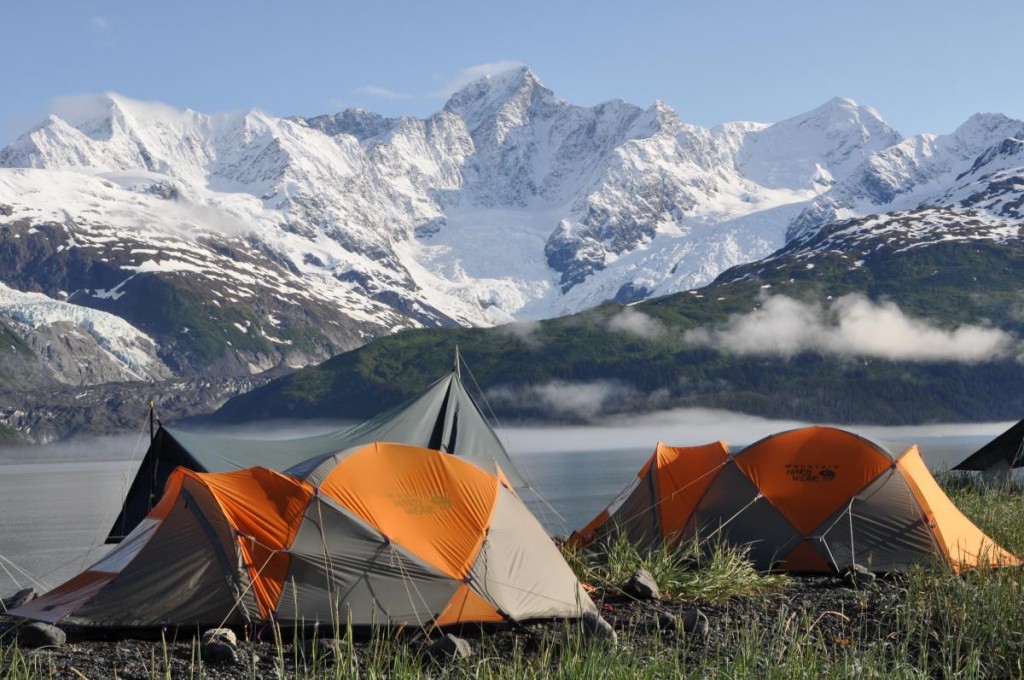 For Phil, reusing items is not only an ethical drive, but also a necessity.
"In Patagonia we don't have access to the luxuries of big outdoor distributors. We receive one shipment per year of all the gear we need. If something goes wrong with the equipment, we must fix it ourselves, so maintaining gear in good repair is key."
The Skills to Reuse
Part of maintaining gear over time is knowing how to fix it. One way Phil instills this necessity in students is by taking the time to teach them to sew the ripped pocket in their wind pants or broken tent zipper. It is through this practice that many interns at NOLS Patagonia become proficient sewing-machine users and gear repairers. Keeping gear in good condition over time reduces equipment costs and the amount of resources NOLS uses to run our courses. Better for NOLS, better for the environment.
Keeping Gear New through Repurposing
There is also a place for repurposing in this equation. When Phil worked whitewater courses at the NOLS base in Vernal, Utah, he noticed that the dry bags that were no longer completely waterproof could serve other purposes. In the rainy, coastal climate of Coyhaique, he uses these same impaired dry bags to protect gear being transported in trucks.
All that was needed to create a cycle of reuse and to perpetuate the life span of the equipment was someone to connect the needs of one location with the needs of another.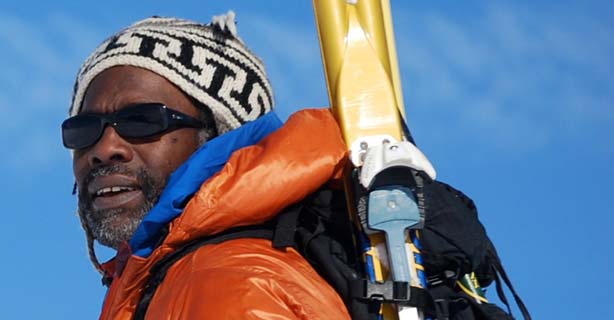 Reuse in the Frontcountry
It can be difficult to live out this ethic of reuse in the frontcountry. We hear that newer technology is better than older technology, even if it still works, and we have countless stores encouraging us to buy something new rather than repair something old.
But it's not impossible. It takes a deliberate choice to take the time to turn a ripped tent into a tote bag. Folks like Phil Henderson make that choice every day. You can bring a reusable bag to the grocery store, patch your shirt rather than get rid of it, or turn it into a dishrag when it becomes unwearable.
Why does it matter? Because resources are not infinite, and that's something you become aware of when you're in the backcountry.
As Phil says, "If students understand why, then that's a lesson they can take home with them."
Visit the NOLS Patagonia page to learn more about this remote, rugged place.
Written By
Kara is the sustainability coordinator at NOLS.