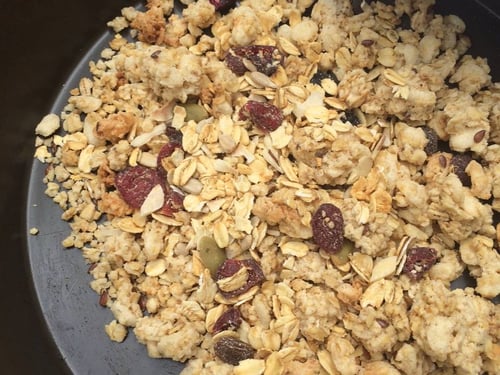 Whether you're heading out to paddle for the day or planning to travel miles by foot, staying satisfied with good food and plenty of water is essential for happy moods and well-fueled bodies.
This granola is a great meal that you can make for breakfast and eat hot or put together ahead of time and eat later as a high-energy snack. You can customize it in a variety of different ways, too, so if you have picky eaters or dietary restrictions to consider, this recipe is flexible enough to handle them (see below for nutritional information).
Simple and delicious, what more could you want?
Ingredients
5 Tbs. butter or butter substitute
3 cups uncooked oatmeal flakes
⅓ to ½ cup brown sugar or honey (depending on sweetness of fruit)
½ tsp. salt (if nuts used are unsalted)
1 cup dried fruit
1 cup nuts and seeds
Directions
Chop fruit and put into a bowl. Add water until fruit is covered.
Melt butter in a frying pan (or fry-bake).
Add uncooked oatmeal and salt, stirring to coat with butter.
Sprinkle brown sugar over the oatmeal.
Drain water from the fruit, then add fruit and nuts to the frying pan.
Keep stirring until oatmeal is fried to a golden brown.
Eat hot as is, pour milk over it, or let it cool and eat in chunks for breakfast or as trail food.
Variations (!)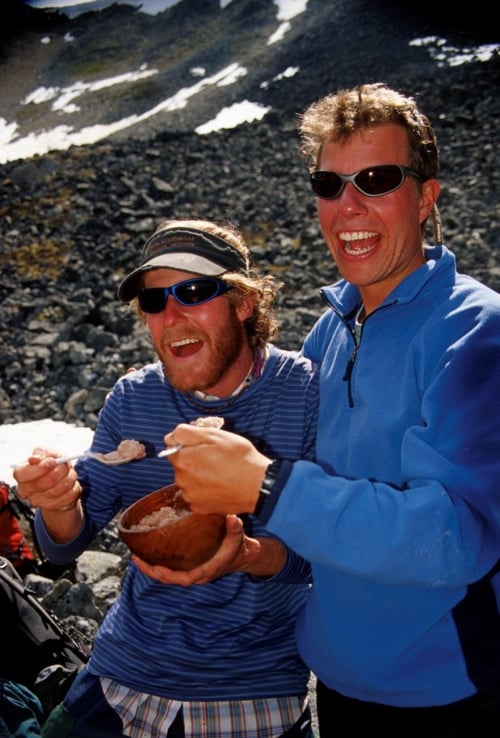 If there are blueberries, raspberries or other fruits in season where you are, add some on top!

Add ½ cup of honey mixed with 2 Tbs. peanut butter for extra calories and yum-factor.
Try adding coconut to the mix.
A NOLS instructor favorite is to heat the butter, sugar, and honey, plus cinnamon and vanilla, in a frying pan. Then add the oatmeal, dried fruits, coconut, and nuts. Fry the whole mix and enjoy.
Note: This granola doesn't keep well in hot weather, so if you are in a hot environment, stick with the breakfast version rather than trying to make it last all day.
Nutritional Information
Granola, 1 serving
Calories: 761
Carb (g): 94
Protein (g): 17
Fat (g): 39
Fiber (g): 11
Granola with Honey and Peanut Butter, 1 serving
Calories: 911
Carb (g): 131
Protein (g): 19
Fat (g): 40
Fiber (g): 13
Nom!
Written By
The leader in wilderness education.