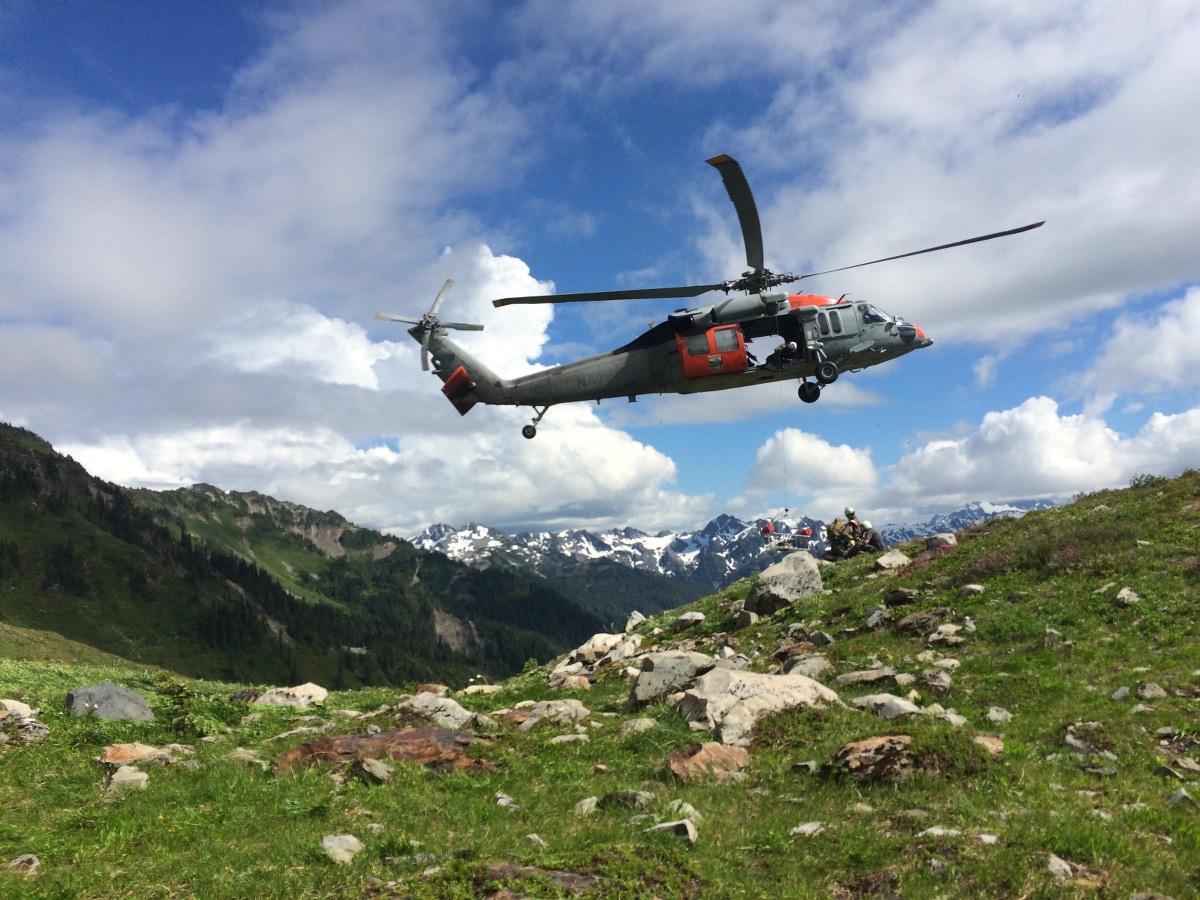 Three days into guiding a nine-day trip—the Bailey Range Traverse on the Olympic Peninsula west of Seattle—my colleagues and I noticed that a 65 year old gentleman was showing more fatigue than we thought normal (even with a heavy pack).
Upon further investigation, he showed the following symptoms:
Shortness of breath at rest
Ataxia (lack of voluntary muscle control) on the trail
Mini blackouts while hiking
Onset of chest pain
High heart rate
High respiratory rate
Family history of heart issues
We were in an area in which the only evacuation possibilities were to reverse course (three days), or finish the route (three days). Luckily, we were in about the only open space we would encounter for the next three days. We made the decision to call a helicopter, hoping that we made the correct decision.
The helicopter responded quickly, destroying two of our tents in the process. We said goodbye to our client, sent him back with some excess gear, and wished him a speedy recovery in the hospital.
We continued our trip, finished the route over the next six days, and contacted the evacuated client once we returned to the front country to check in and exchange gear. We didn't know what to expect with his condition.
Upon reuniting with our client, he proceeded to say that the day after the evacuation he had open heart surgery. They discovered that a quarter of his heart was not receiving blood, and there was a full artery clog. This greatly surprised us, and made us feel extremely glad and fortunate to have made the decision to call for a helicopter evacuation.
I want to thank my NOLS Wilderness Medicine instructors for such a comprehensive, well-run WFR course in Fort Collins, Colorado. The skills they taught and the valuable practice we were able to gain on our course greatly helped me in this situation, and will inform my practice wherever I am in the future.
I passed on a comprehensive SOAP note to the paramedic on scene, and received an email a week later that it was quite helpful in the treatment of the patient! I attribute this to the high quality of instruction I received from NOLS Wilderness Medicine.
Be prepared to respond with training from NOLS Wilderness Medicine.
Written By
Arthur Herlitzka a NOLS graduate from the Semester in Patagonia, also earning his Wilderness First Aid and Wilderness First Responder certifications with NOLS. He was born and raised in Madison, Wisconsin and is currently pursuing a degree from Prescott College. He works as a Mountain Guide based in the Pacific Northwest over the summer seasons, and loves many forms of outdoor recreation, specifically in the snow, ice, and rock realms. He has worked as a shepherd in the Alps of Switzerland, a sea kayak guide in the northeastern U.S., climbed glaciated alpine terrain in Chilean Patagonia, and is always pursuing a life that is whole and well rounded.