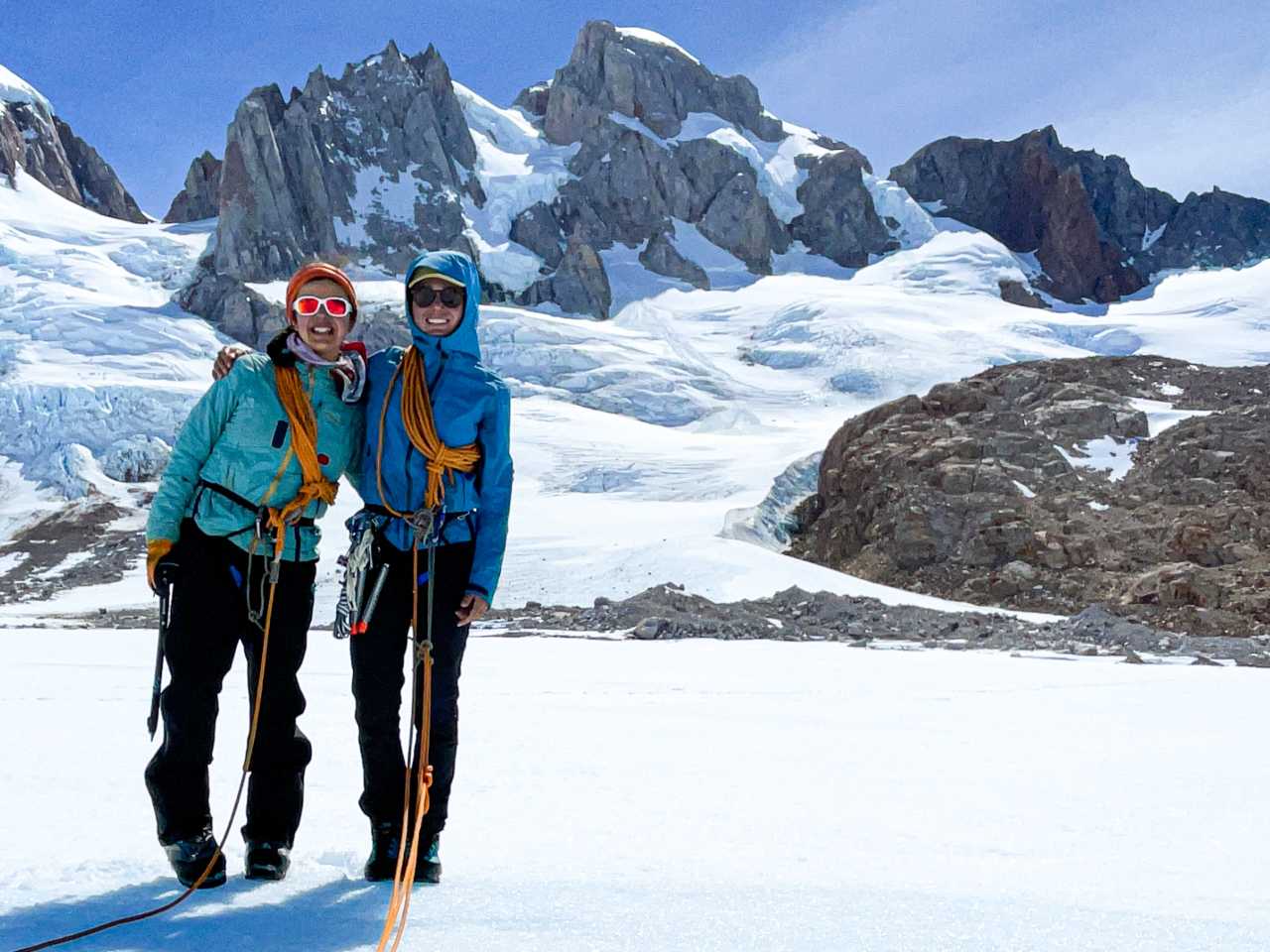 Most expeditions require talking a friend or two into your half-baked scheme, and hoping they don't hate you for the suffering that ensues. Luckily for our Cerro Nora (2,460 m/8070 ft) adventure, no one had to talk anyone into anything: Isidora Llarena and I were each hunting around for a climbing partner we could talk into attempting this unclimbed peak during our less-scheduled Patagonian summer.
Given Cerro Nora's remote location and general obscurity, the overlap of our goals felt like fate.
This glaciated peak lies on the southeastern edge of the Northern Patagonian Ice Field, the second largest continuous mass of ice outside of the polar regions and still largely unexplored due to its extreme weather and difficult access. While beautiful and impressive, most of the ice field's peaks are relatively low-elevation (under 14,000 feet), so have attracted little attention from big-wig alpinists. Thus, Nora remained unclimbed, beckoning us!
Although we'd only spent three days in the mountains together, we blocked "[hold] CERRO NORA!" across most of our January calendars, submitted our proposal for instructor funding (thanks, Mama NOLS!) and created multi-tab spreadsheets.
We learned that we both delight in thorough research and meticulous planning: down sleeping bag: worth the risk? If we want two hot drinks a day, how many fuel canisters do we need?
On January 8, 2021, Isi arrived in Puerto Guadal as a chilly downpour began. Laden with camping, mountaineering and packrafting gear plus thirteen days of food, our packs weighed in at 75 pounds. Daunting, but there wasn't much weight to cut.
We needed the packrafts to cross the cliff-encircled Lago Colonia and waist-deep Cachet Dos river and the mountaineering gear for glacier travel and steep terrain en route to the summit. We'd stripped out all luxury items (goodbye, maté! Kindle! Butt pad!) and carried only a JetBoil, but we brought extra days of food so we could explore the route toward the mighty Cerro Arenales after (hopefully) summiting Nora.
We drove ourselves into Valle Colonia the following morning. When we asked for permission to leave our car at Tres Limones, an old ranch where the road ended, don Evaristo (the ranch's sole resident) plied us with sopapillas, offered theories about the weather, and asked if we planned to die out there. We tried to assure him to the contrary.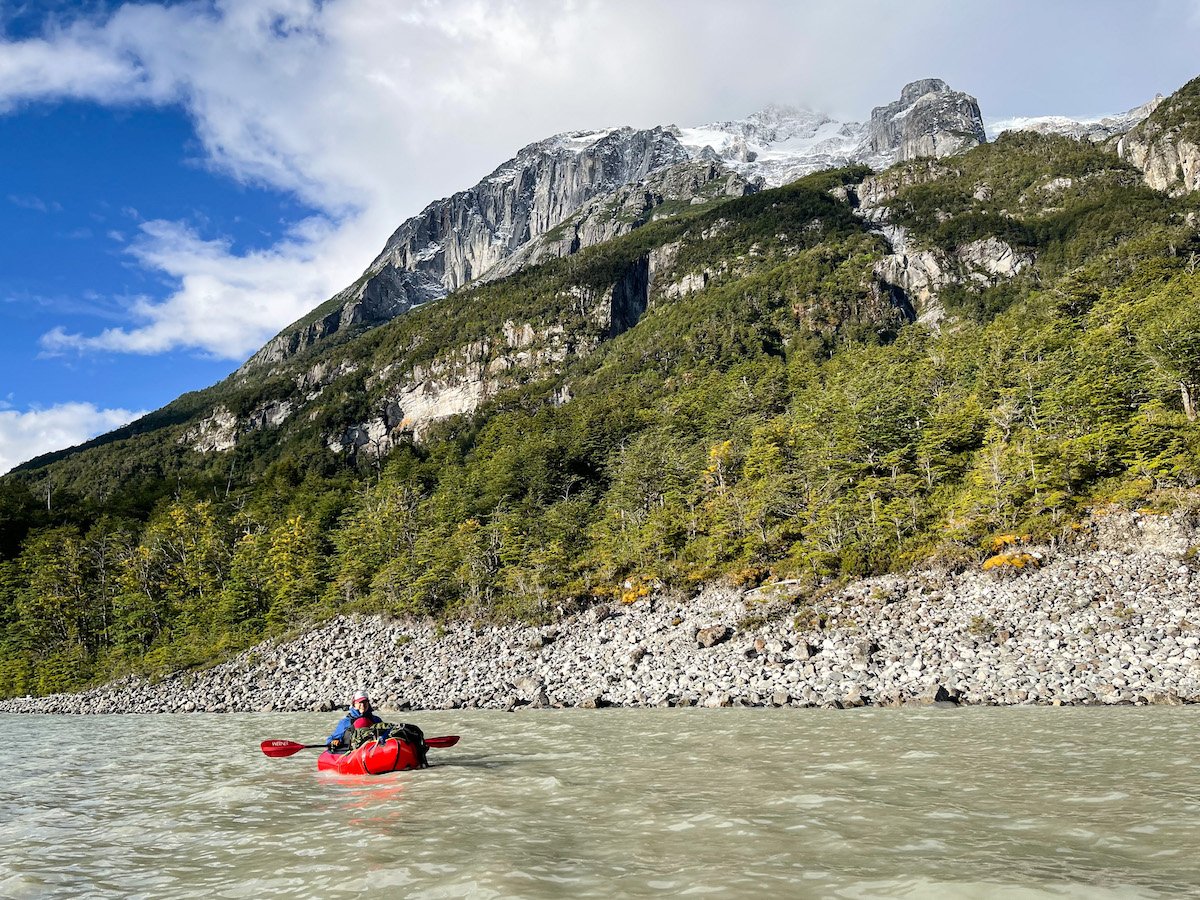 Moving slowly with heavy packs, we made our way to Lago Colonia as the rains broke to show fresh snow stretching down into the trees—and our first views of Nora! A brief nap on the shore gave the lake time to calm down before we launched on a spectacular evening paddle to the northwest end of the lake, around 7km away.
We cached one packraft and hiked northwest toward the Cachet Dos basin, where we used the second packraft to ferry loads (and ourselves) across the river. We continued along the edge of the Colonia Glacier, mostly hiking on moraine but occasionally crossing over to the bare ice; the Colonia Glacier is extremely broken up and makes for poor travel.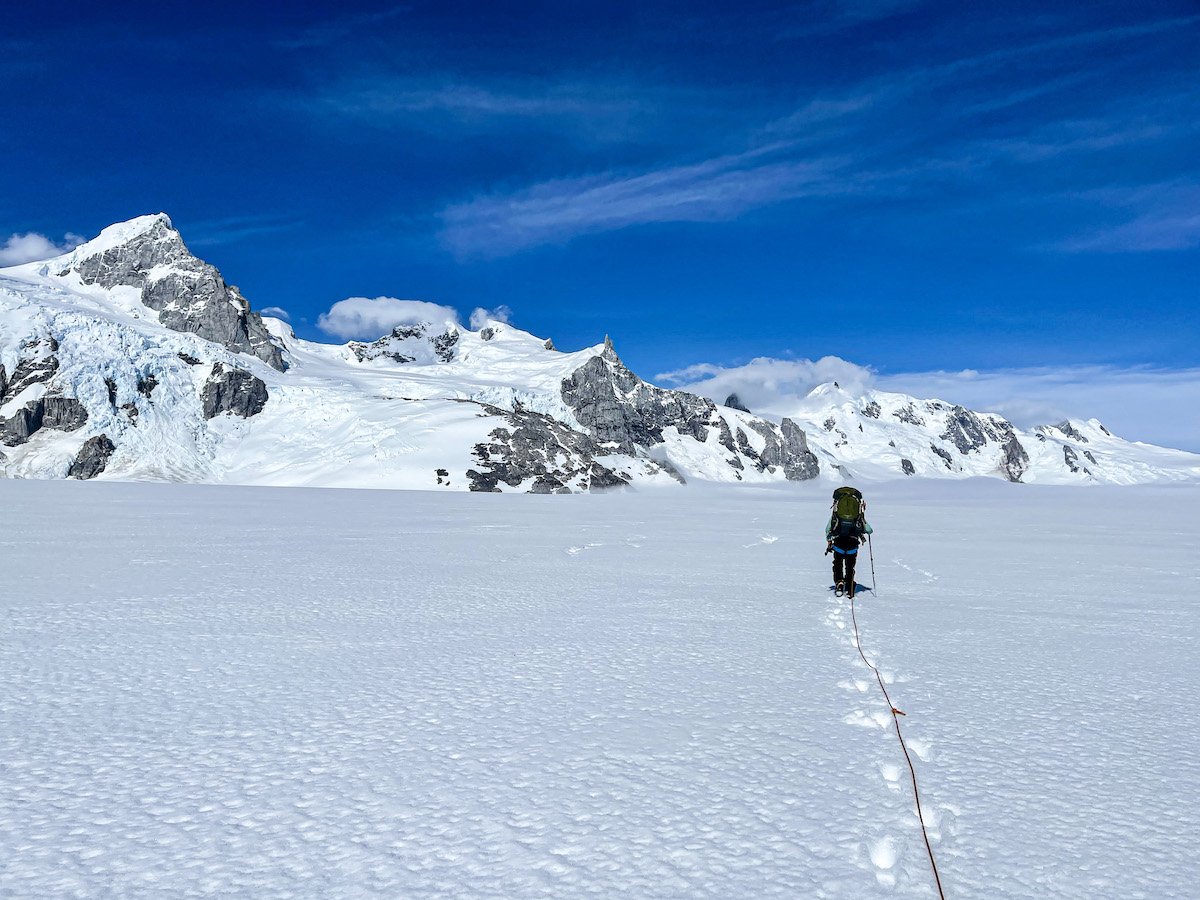 On our third day of travel, we hiked into an open valley of meadow and lenga forests where we thought to establish our base camp for the peak. Although the forecast for the next day looked ideal, we realized that our planned route to the summit looked more arduous than expected—a treacherous scramble, a long ridge walk, and a technical descent from a steep subpeak—and our bodies had taken a beating from long days with heavy packs. After a lazy morning, I set off to scout for an alternative route.
Returning that evening, I told Isi I had a crazy idea. Even though the forecast was iffy, we should pack up right away and move camp to the next valley over, just to open the faint possibility of summiting the next day. To my surprise, Isi 100% liked the idea. So at 7:00 p.m., we started hiking to our new camp.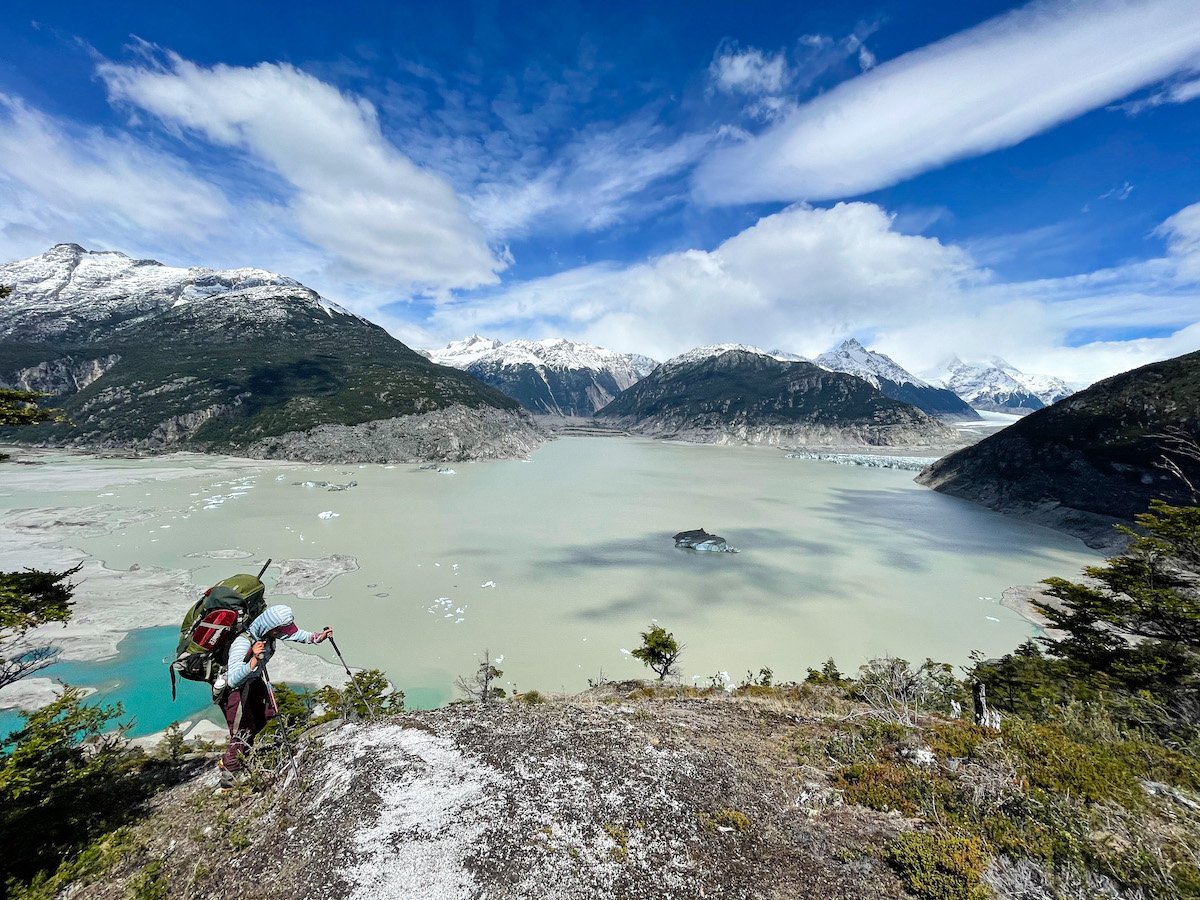 We awoke at 4:15am to clear skies and no wind. To access the glacier, we scrambled through cliff bands, waterfalls, and loose scree, some of the trickier terrain of the day. Once on glacier, we moved quickly into firn zone, then roped up to piece our way through a steeper section of crevasses.
After about three hours, we reached a small cluster of rocks at the start of the expansive summit plateau. As we enjoyed some snackitos, we looked up at our originally-planned route, which looked potentially impassable, and felt grateful for our revised route.
From there, yes, we did wish for skis as we trudged 3km across the gradually ascending summit plateau. Isi expertly led us through one rollover section with large crevasses and set a steady pace as we gained elevation.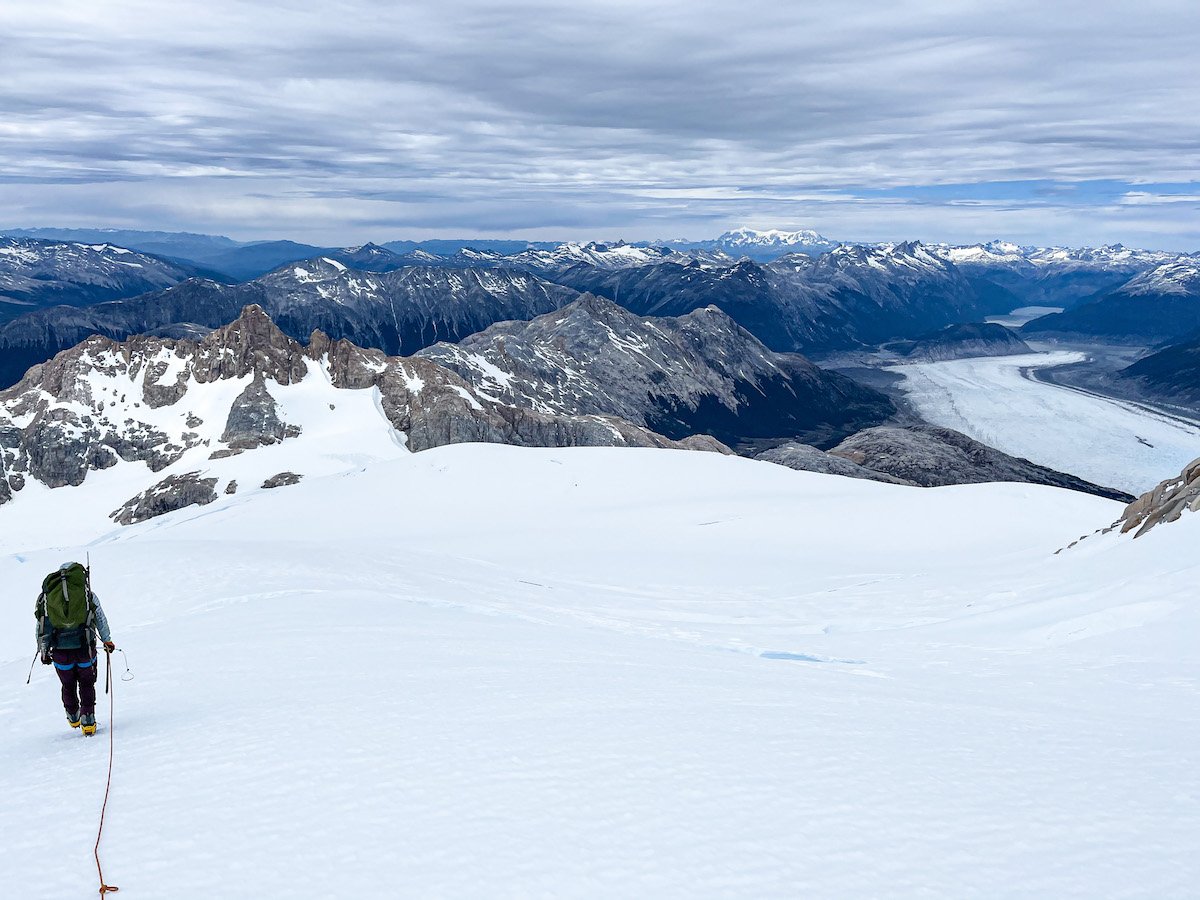 We paused at the base of the steeper summit cone to evaluate route possibilities. The bergschrund looked daunting but passable in a few spots; the main face looked steep (>55°). The left (southeast) ridgeline caught our eye as exciting but more moderate (~45°). Isi let me give it a whirl.
We traversed left, gained the ridge, surmounted the bergschrund, and climbed up a pitch of alpine ice toward the summit.
We laughed as we found a small rime-covered boulder on the summit, a somewhat silly challenge but necessary to reaching the true highest point! We took turns filming each other on the final 2-meter climb, then paused for a moment to take in the views across the ice field to the Aysén Range and even out toward the fjords of the Pacific coastline.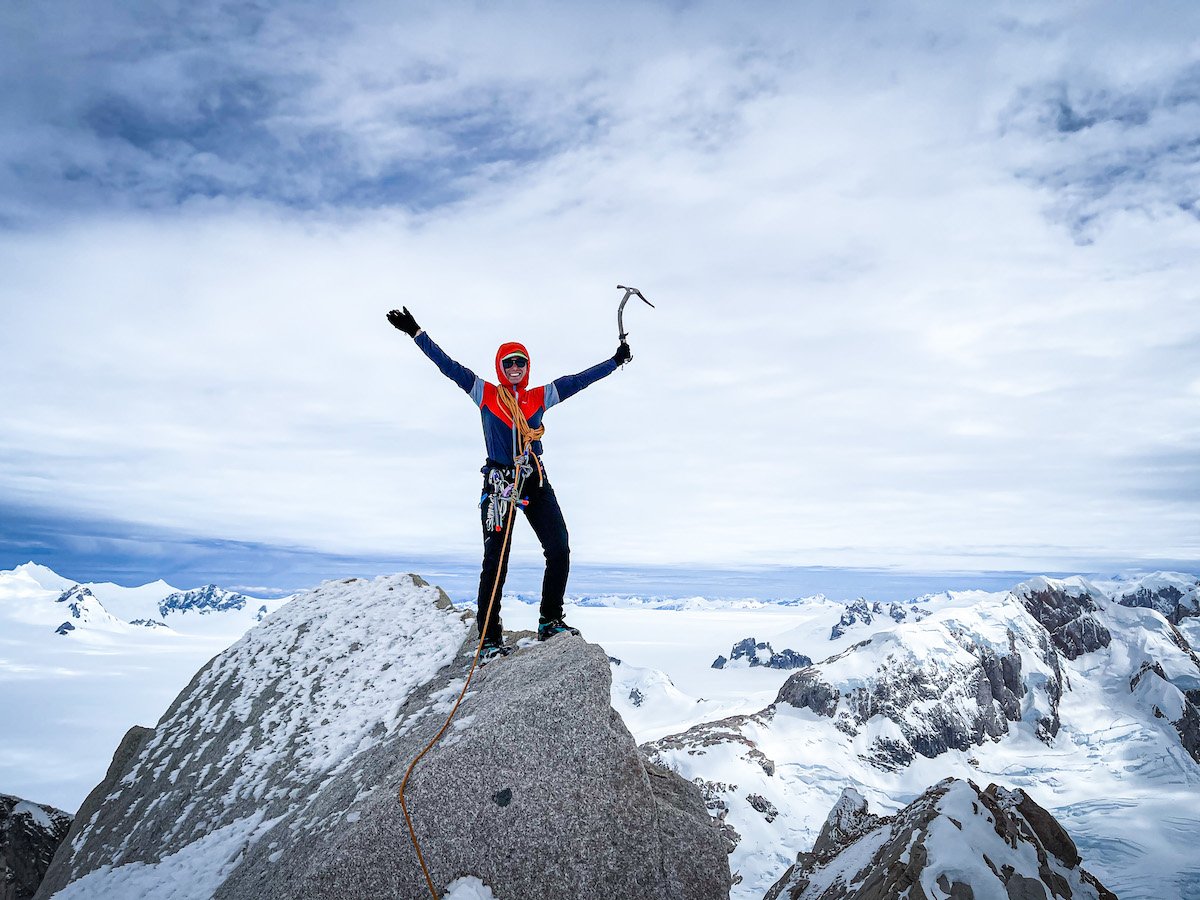 Isi led the exploration of an alternative descent route, through some chossy rock gullies back onto glacier and over the bergschrund. As we retreated across the summit plateau, the sun burned through the cloud blanket, softening the snow.
Isi punched through a few snow bridges and we got to test our two-person glacier travel system, but we made it back to camp safe, tired, and thrilled to have completed the first ascent of this beautiful peak.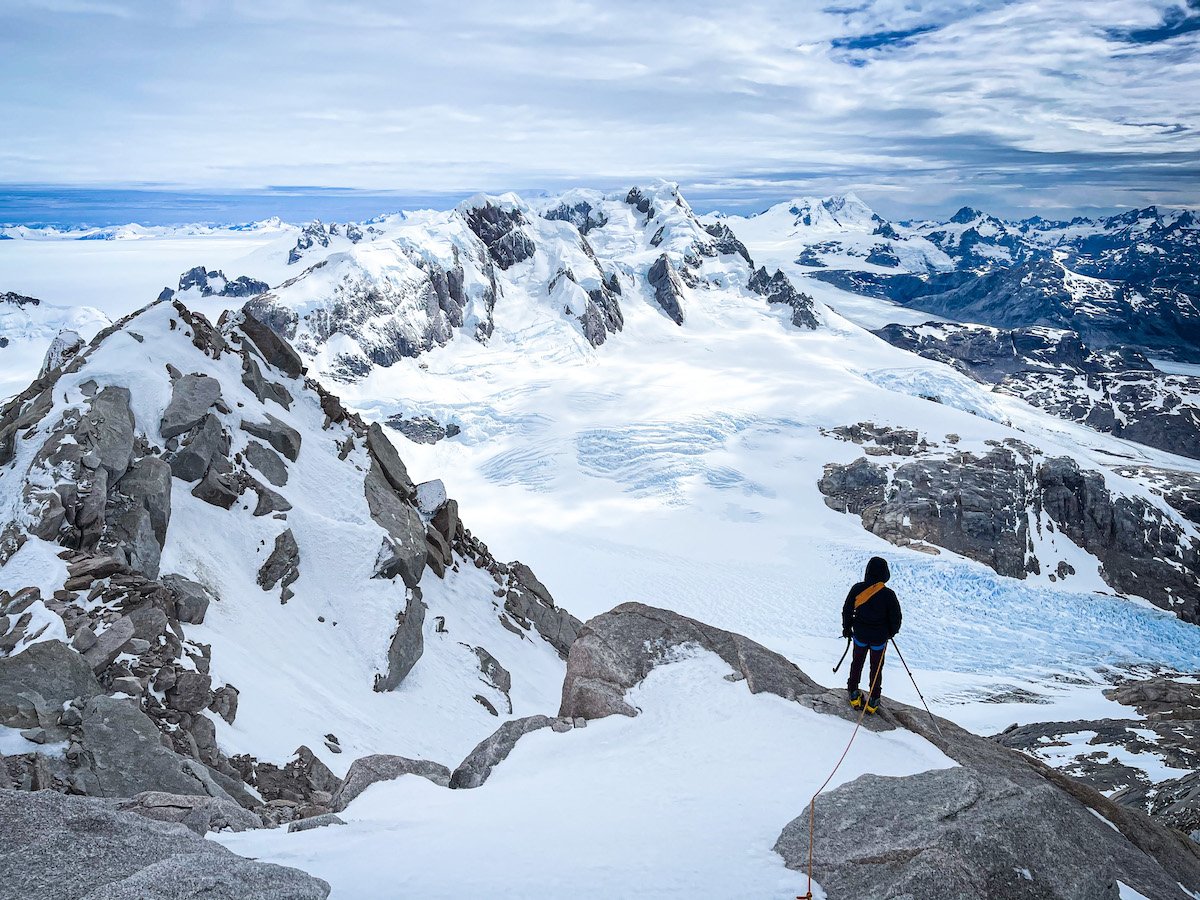 As we checked inReach messages, we learned that we were also (it seems!) the first all-female expedition to the Northern Ice Field! That we climbed one of two peaks there named for a woman felt fitting.
The next morning, a steady drizzle gave us a good reason to sleep in. As the skies cleared, we had to make a decision: should we head home, satisfied with the accomplishment of Cerro Nora, or use our remaining days of good weather and food to explore further onto the ice field?
We counted days, debated plans, hiked back to our first base camp to retrieve our food cache, and ultimately decided to push onwards. The opportunity to see more of this vast, spectacular and remote region—in good weather!—outweighed our eagerness for showers and beer.
We packed up camp, dropped down into the lake-filled valley below, and scrambled and boulder-hopped our way to the edge of the flat "pancake" of the icefield. From there, crossing the Colonia Glacier proved straightforward: while the lower stretch of the glacier is terribly broken up and close to impassable, we had bypassed the last major ice fall and found easy travel.
On the fly, we had schemed Cerro Silvia as our "stretch goal" for this section of the expedition. Midway across the upper Colonia Glacier, after punching legs through a dozen crevasses, we probed out a small "safe zone" to huddle and discuss.
The stretch of sunny weather we had enjoyed meant the snow had not frozen for days. Snow bridges were weak and untrustworthy, and the apparent route to the summit of Silvia had many crevassed sections, even down low on the mountain.
"I don't think Silvia's going to happen," I yelled over the wind.
"You're probably right...but should we keep trying anyway…?" Isi wondered.
Thus far, we'd consistently chosen the harder option—to keep pushing and set ourselves up for doing more. Were we wimping out, or listening to our judgment? We could continue the crossing, establish high camp, see if snow conditions changed, and then retreat the next day. Pros: epic views across the icefield, the satisfaction of completing the crossing. Cons: howling winds, the prospect of a 2:00 a.m. wake-up to cross back across the upper Colonia in cooler temps.
"I'm proud of what we've accomplished, and I'm tired," Isi reflected. So we started the long journey home.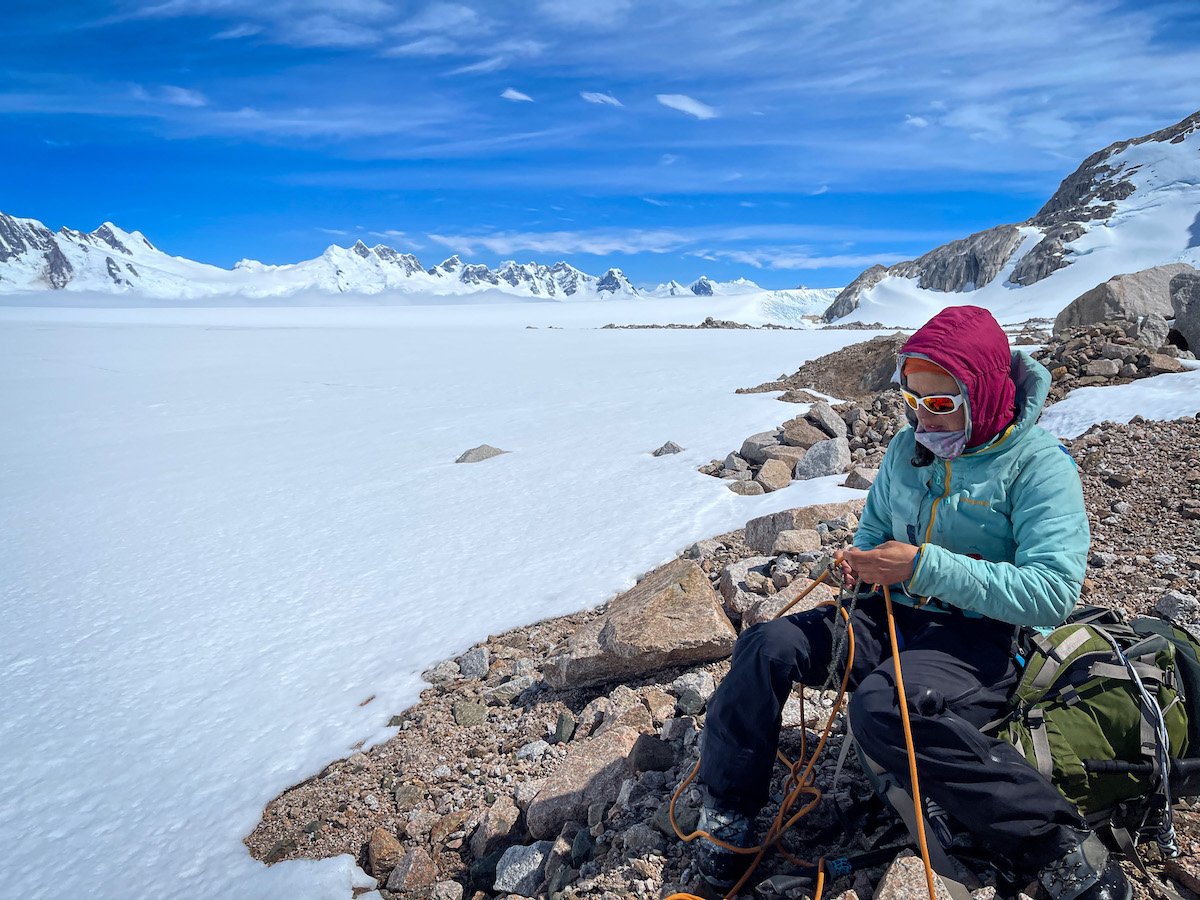 With lighter packs and stronger legs, we covered ground quickly and could devote more mindspace to the beauty of the landscapes.
For a mountaineering trip, our route covered a huge range of terrain, including both lenga and evergreen forests, alpine meadows, river basins, and glacial lakes. We followed trails of the endangered huemul deer and watched a condor dry its wings after a storm. And we enjoyed some good laughs, as well: as we piled both of us and all our gear into one packraft to descend the short river leading into Lago Colonia, as we decided to paddle the somewhat spicy Rio Colonia to avoid the final 10km hike, and as don Evaristo led us on a hunt for chicken eggs hidden in his backyard.
After nine long days, we arrived back to Isi's trusty Hilux, piled wet gear inside, drove across a few sizeable glacial rivers, rivers, brewed pick-me-up coffee on the banks of the Rio Baker, and finally, almost too tired to talk, returned to Puerto Guadal.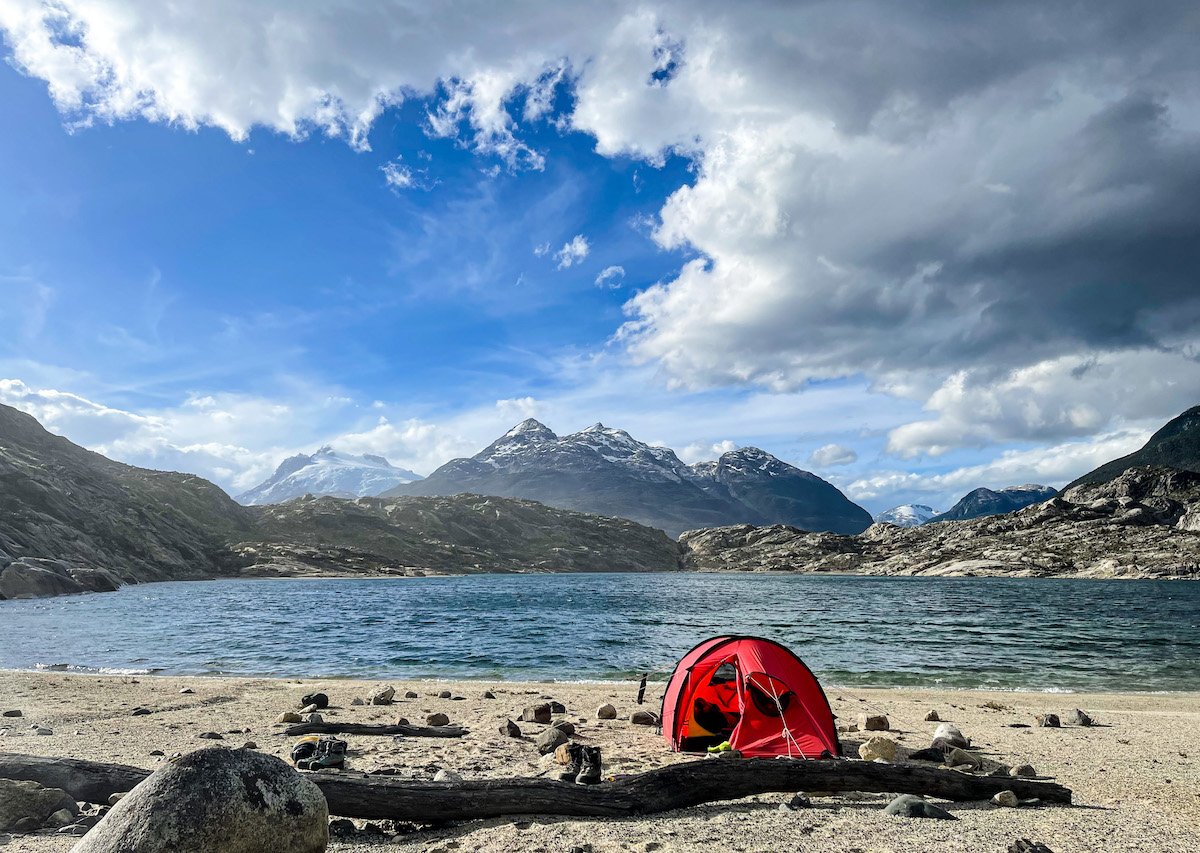 Pushing hard to return quickly gave us little time to digest what the expedition meant to us. But over the next days, as we edited photos, called our families, and cleaned gear, each of us reflected on the gifts of this expedition.
The fact that we were an all-female team felt less important than the easy teamwork and thoughtful style we brought to our expedition. We made space to discuss our hesitations, concerns and fears, and heard each other out without judgment. We counted on each other to push hard physically but happily filled in when the other needed support. We faced unknowns and hiccups despite our careful planning, but used all the knowledge we'd gained to find workarounds and new ideas. We took pride in our fully self-supported expedition, relishing the freedom and independence that adventuring as a duo, fully under our own power, brought.
I've dreamed of an expedition to the Northern Patagonian Ice Field for years, but until recently couldn't imagine having the skills, equipment, and team to take on the daunting challenge. After a year of flux and pause, I needed a tangible and big goal to regain momentum. In the weeks since, I've felt that charge of energy and possibility that a trip like this can bring. We've planned new trips, now able to envision tackling more challenging routes, and set training plans for the intervening months. But the most important effects have little to do with the mountains. Stretching myself right to the limit, day after day, and finding camaraderie in that challenge gave me a new sense of capacity and bravery, not measured against others, but beyond what I expected of myself before.
Written By
Isidora (Isi) and Nadine are both NOLS field instructors based in Patagonia's Aysén Region. Born and raised in Viña del Mar, Chile, Isi first came to NOLS as a Patagonia Year student in 2013, with the goal of entering the Instructor in Training Program (IIT). She took her Instructor Course in 2015, and has split her time between Patagonia and Alaska / the Pacific Northwest, instructing mountaineering and hiking courses. More recently, she started teaching wilderness medicine for NOLS and took a position (her first "desk job!") as a Field Staffing Coordinator, working remotely from Coyhaique, Chile. Nadine grew up in New York City and first experienced NOLS on a Yukon hike/ canoe course in 2004. Since taking her IC in 2010, she's instructed mountaineering and hiking courses while splitting her time between Alaska and Patagonia, where she runs a wilderness travel company (chulengo.org) and lives in the little village of Puerto Guadal, Chile.