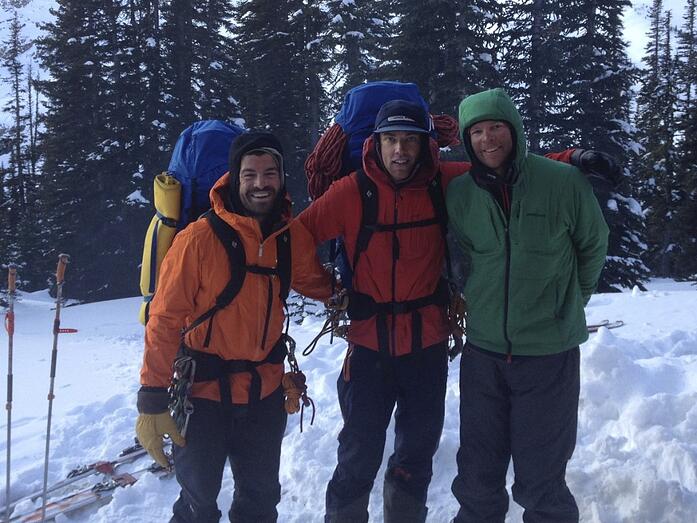 Our intrepid team. Left to right, Willy Oppenheim, Jake Perkinson, and Evan Miller.
Thanks to the generous support of the NOLS Instructor Development Fund (IDF), I recently had the privilege of completing an ambitious ski traverse in southeastern British Columbia along with two fellow NOLS instructors, Evan Miller and Jake Perkinson.
Over the course of eleven days in late March and early April, the three of us skied roughly 85 miles through the Bugaboos, Purcell, and Selkirk mountain ranges, gaining (and skiing down!) over 30,000 feet in elevation and steadfastly living "the good life": a precious alchemy comprised mostly of strong coffee, hot lunch, powder skiing, hard work, mountain air, and old-fashioned camaraderie.
First pioneered in 1958, the Bugaboos–Rogers Pass ski traverse follows a somewhat legendary route that is attempted a handful of times per year but still feels pretty wild and committing. As skiing, climbing, and mountaineering instructors for NOLS, each of us began the trip with significant past experience traveling on skis, camping in the winter environment, and negotiating the hazards of glaciers and steep terrain—but none of us had combined these overlapping skill sets in such a rigorous and sustained fashion. Being able to do so on this trip was an incredible opportunity for professional development: it allowed us to practice and refine our technical skills, but also, and more importantly, it fanned the flames of our shared love for adventures in the mountains, and there is no doubt that our future NOLS students will feel the heat of this fire.
Our trip was full of challenge and good fortune right from the start: the night before our scheduled 8 AM helicopter flight into the mountains, we realized our stove pump was broken—but the situation resolved itself when we managed to score a new pump from a local bartender at nearly 2 AM. The next afternoon, suddenly alone in the mountains, I tore a hole in the fly of our tent, rendering it useless in the deteriorating weather. We took this setback in stride and resolved to make it work by digging snow shelters and using our tent as a makeshift tarp. The next several days presented us with consistent snowfall and poor visibility, and we made slow progress. Soon enough, though, the weather improved, and after several long days of travel we managed to catch up with our projected timeline.

On to the next adventure.
From that point forward, "the good life" just kept getting better, with highlights including many long descents in north-facing powder, cozy nights in improvised snow shelters, a bottle of Glenlivet gifted to us by a passing helicopter, the successful recovery of some gear that had been stolen overnight by a mischievous weasel, the discovery of fresh grizzly bear tracks along our route, and a serendipitous encounter with five Canadian women at the International Basin hut.
After nine days of travel and two rest days, we skied down the Illicilleweat Glacier and arrived joyfully in the parking lot at Rogers Pass where we had left my car. Aside from some minor sunburn and sore legs, we were in good health and high spirits. We bathed that night in the cold Columbia River on the outskirts of Golden, and slept happily in Evan's trusty Sprinter van. The next morning, we parted ways—grateful to each other for the companionship, to NOLS for making our adventure possible, and to the mountains for their unyielding vastness.
Watch Our Adventure
Explore NOLS courses in the stunning ranges of the Pacific Northwest
Written By
Willy Oppenheim has been playing in the mountains all his life, and has been working in the mountains since 2009, when he began leading mountaineering, rock climbing, and skiing courses for NOLS. Willy has led numerous mountaineering expeditions in the North Cascades and the Waddington Range of British Columbia, and has also worked in India's Kumaon Himalaya and the Wind River Range of Wyoming. His personal climbing trips have brought him to locations including Ecuador, Chile, France, Morocco, and Pakistan. When he is not climbing or skiing in the mountains, Willy spends his time leading an international education non-profit, Omprakash (www.omprakash.org) and enjoys playing guitar, baking bread, running, and fly fishing.