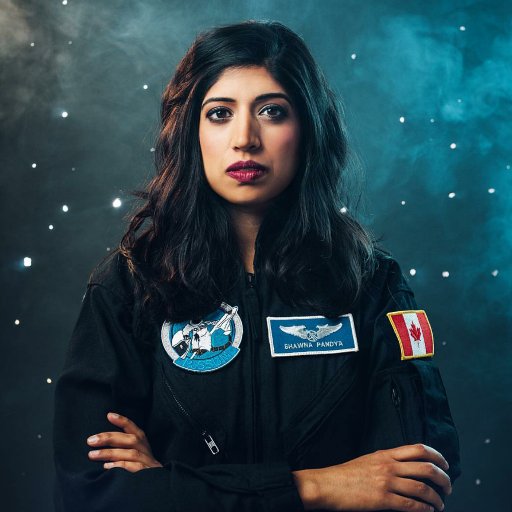 When I asked Canadian astronaut candidate Shawna Pandya about which of her many roles she identified with first, she said,
"It really depends on the day."
Given the number of roles she has, this answer isn't a surprise. Pandya's a resident physician finishing her residency in family practice, training as a citizen science astronaut and aquanaut, and is a competitive martial artist—just to name a few.
Despite the resume, you'd never catch Pandya saying she's exceptional. When she describes how she pursues her accomplishments, she focuses on her decision making and commitment to her goals.
Lately, that commitment has been directed toward her dream of going to space and setting herself up to be a competitive citizen-scientist astronaut candidate. Pandya is driven by "the discovery … and the opportunity to give back and do science in a locale where not many people have been before, and to push the boundaries on our knowledge and discovery and what we've achieved as a race."
Plus, if she were selected, Pandya said it'd "feel like Christmas morning every day for the duration of the mission."
To be a well-rounded candidate, Pandya has devoted herself to training across various fields, from piloting to scuba diving to refining her medical skills in remote environments. For that, she took the Wilderness Upgrade for Medical Professionals course with NOLS Wilderness Medicine, a course designed for medical professionals to practice their skills in remote environments with few resources.
Pandya chose the wilderness medicine course because she wanted to learn more about providing care in "extreme" environments—the type of medicine that happens in remote settings with scarce resources. For her, the appeal is in "putting yourself in situations where you really need to push yourself to think and be a medical MacGyver."
Because Pandya needed so many varied experiences to be a competitive astronaut candidate, I wanted to know how she managed to get these things done and stay balanced. Surprisingly, or maybe not, the answer wasn't complicated.
She said: "Keep things very specific, short term, and enlist other people."
Keep things very specific, short term, and enlist other people.
For example, Pandya talked about recruiting her friends for thirty day challenges, like completing 10,000 sit ups in a month. She said, "Getting more people on board makes it that much more fun—you're competing with yourself, you're encouraging each other, and if you're the one organizing the challenge, you don't want to let other people down!"
For bigger, long-term goals, Pandya emphasized focus and organization. She explained that she thinks about "What has to be done tonight, what has to be done in the next few days, in the next week, in the next month … it really helps to keep things balanced and in perspective."
One thing you notice when you talk with Shawna is that, in the middle of all of her tasks and goals, she keeps up her commitment to people. People always were at the center of our conversation, whether that included admiring the abilities of the other astronaut candidates to describing the support of her family and friends to emphasizing the way space exploration benefits humanity as a whole. I suspect this outward focus is one secret ingredient to how she's been able to stay motivated over the years she has spent building her skills to prepare for space travel.
Helping people isn't just a vague notion for Pandya, either. She has spent much of her time, and still does despite her full schedule, mentoring girls and women in STEAM topics (an increasingly popular term that evolved from STEM, which refers to Science, Technology, Engineering, Arts, and Medicine).
When she talks about what makes a quality leader Pandya emphasizes being attuned to the group: "You know, being a leader doesn't always mean being at the head of the pack barking out orders. It means stepping back and seeing how things play out and … really knowing your team inside out."
She added, "Knowing when to lead and when to follow, and then knowing your teammates, are two of the biggest aspects of leadership that I've learned."
Knowing when to lead and when to follow, and then knowing your teammates, are two of the biggest aspects of leadership that I've learned.
She added that this is key for space travel, laughing as she said that "it becomes really awkward [for a long mission] when you're all giving each other the cold shoulder or saying 'I think this person should sleep outside!'"
At the end of our conversation, Pandya returned to the topic of how others can turn their goals from ideas into reality. She said, "There's always a first step you can take. Sometimes the first step is figuring out what that first step is, but you're not going to get to your goal until you take that first step."
With a goal that's large or might take years to accomplish, even the first step can seem out of reach. But Shawna Pandya didn't spring out of the ground as an astronaut candidate, or a physician, or a competitive martial artist. She had to take her own challenging first steps, too. Yours will probably look different because your goals are unique, but what you'll share with this aspiring astronaut is that you had the drive to get started.
Watch Shawna's TEDxTalk, follow her on Twitter, or learn about her project for 2018, Project Poseidon, when she and her team spent a record 100 days in an underwater research station off the coast of Florida.
Written By
Molly is a NOLS instructor and writer. She loves the smell of her backpack and does her best writing before 7:00 am. When she's not scouting the next post for the NOLS Blog, she's running and climbing on rocks in Wyoming. Follow her on Instagram @mgherber