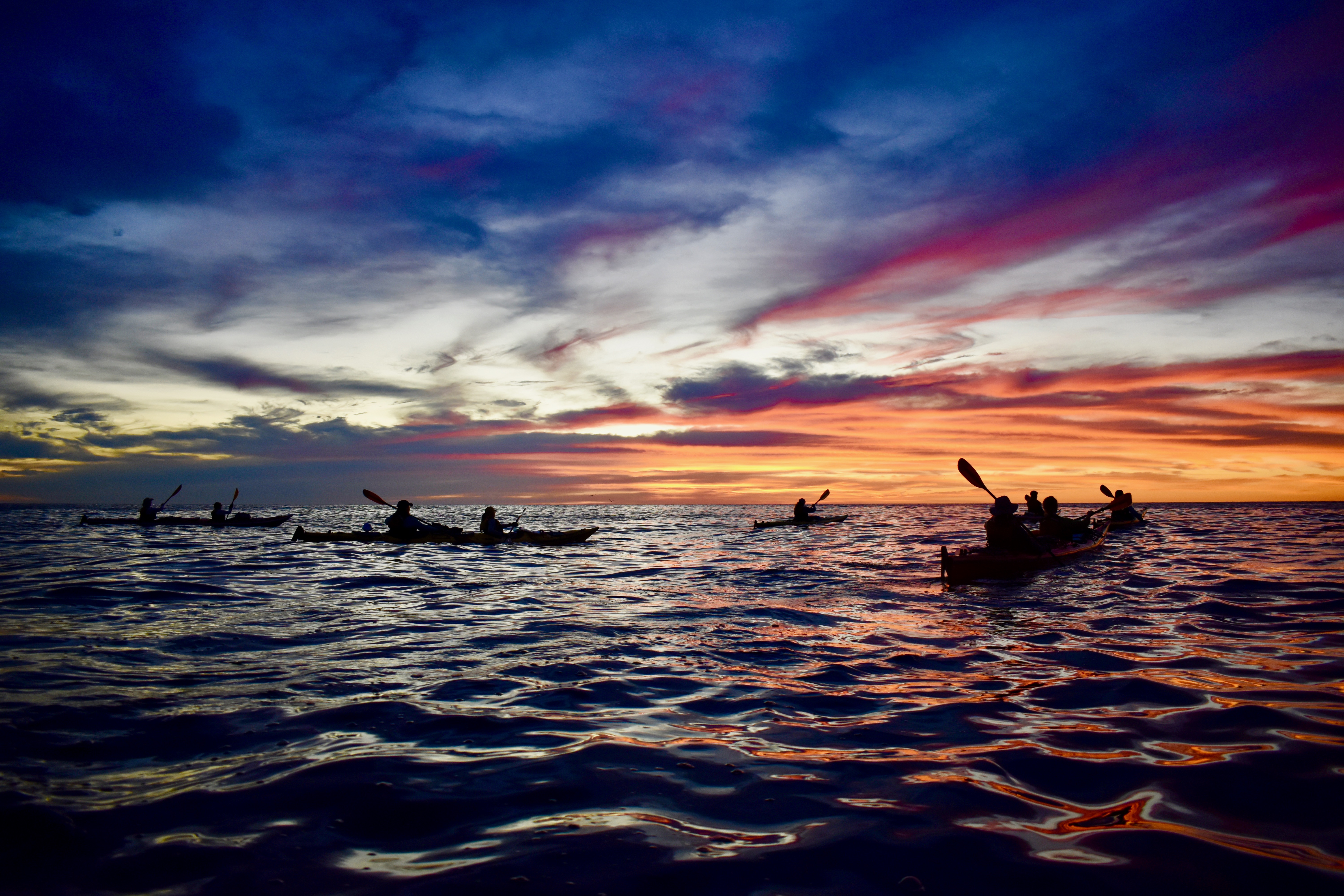 Jessey shares rhythm and memories from the spring 2019 Women's Baja Sea Kayaking - Adult course.
I have always been a dreamer. As a kid, I would perch myself on our hard living room floor, nestled in front of the heat-vent, and longingly riffle through the heavy Encyclopedia Britannica.I was hopelessly enchanted by colorful maps, intricate reports, curious photographs, and foreign tableaux of faraway places and mysterious landscapes.
My pop always recognized the escapist gaze in my eyes. He would inspire adventure and risk by inviting me on jaunts to the garage to fix the car, or sojourn to the lumberyard to bargain for wood. My mom and pop were kind souls with hearts of gold, but burdened with many health hardships. My sisters and I spent many days in and out of hospitals, as my pop had four heart attacks and five open heart surgeries by time I was 20. Even with all that, our family weekends and holidays included stopovers at county, state and national parks so we could inhale the fresh air.
My first introduction to NOLS' educational programs was on a college bulletin board. I caught sight of a picture with a trekker on a snow-capped mountain, with a quote saying something about taking leadership beyond the crag.
My eyes darted over my shoulder—with no one in sight, I snagged the flyer and stuffed it into my backpack. When I arrived in my dorm, I pasted the flyer into my "dreams" scrapbook that included clippings, sketches, and articles of things I would accomplish in my life when the resources presented themselves.
Fast forward twenty-some years. I was 42 and my son was struggling in college, so I got to thinking about that NOLS flyer. He enrolled on the semester in Patagonia. The experience changed his life: he came back with greater confidence, insights and skills, and a new lease on life.
Then, at age 44, I knew it was my time.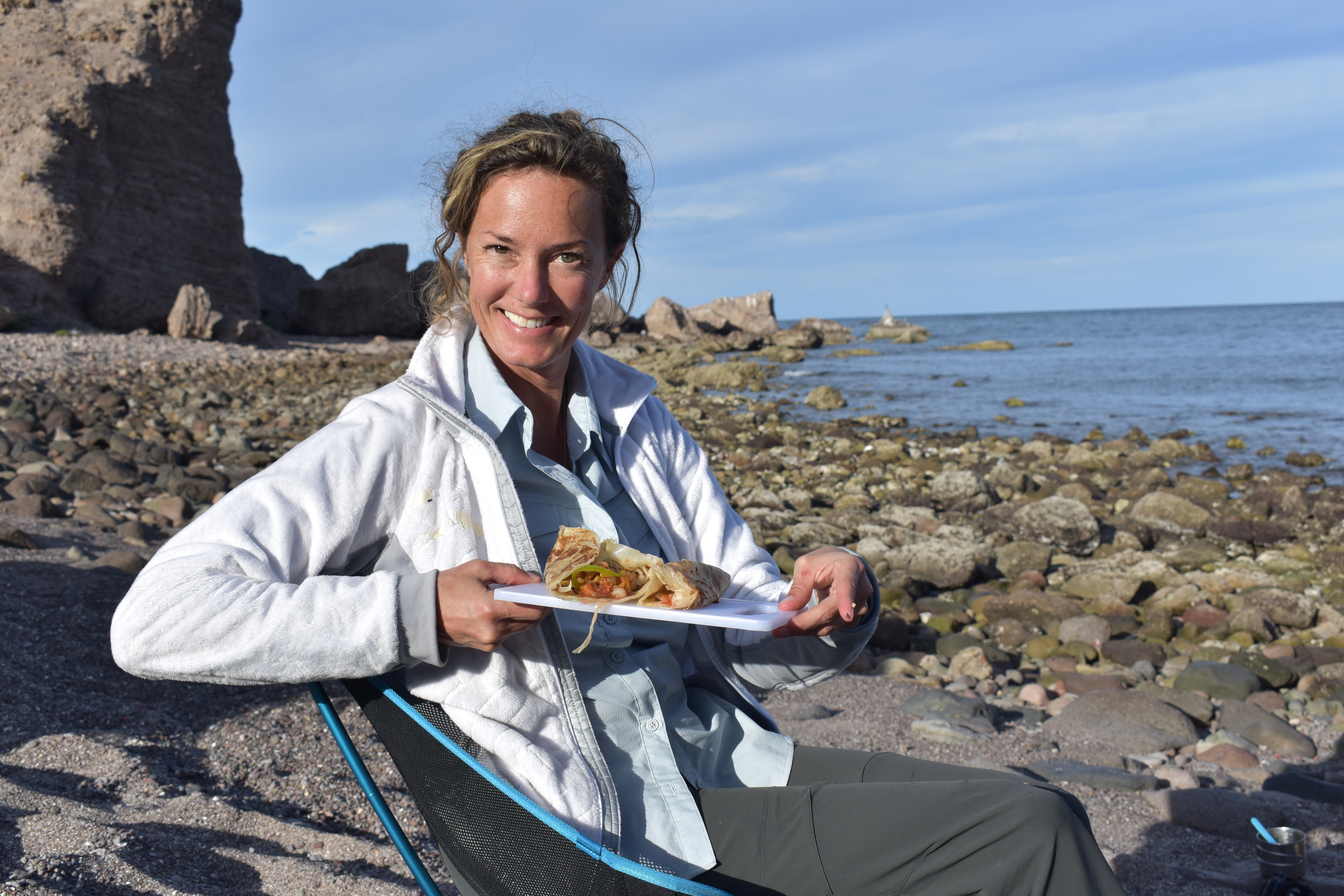 I was in a bit of a rut and needed to challenge myself both personally and professionally. In my professional life, I am the founder and manager of a grassroots music label in Tanzania called Voice of Maasai. This work is tremendously rewarding but it can be very independent and at times isolating, so I am always looking for ways to improve my leadership and communication skills.
I was 100% confident a NOLS course was the perfect adult learning opportunity for improving myself.
I spent a half day keying through the NOLS online programs and nervously enrolled in my first-ever course, the Women's Baja Sea Kayaking - Adult expedition.
I selected this course because I felt it checked all my boxes—not too long, warm climate, water immersion, peer-to-peer learning, communication focus, wilderness and leadership training, and all in the company of other like-minded women.
From the moment I met my first expedition companion in LAX airport, as we exchanged greetings and creative musings I knew the experience was going to be worthwhile.
As the group made our way to the NOLS Mexico campus, you could feel an air of apprehension, excitement, nervousness, and mostly wide-eyed curiosity in our group.
When we arrived, we got straight to expedition business and started to let the journey ahead unfold. In the hubbub of activity I learned that one of the course's instructors had also spent time in Tanzania, which opened yet another door of enthusiasm and connection with my group.
Then, we headed out on the expedition.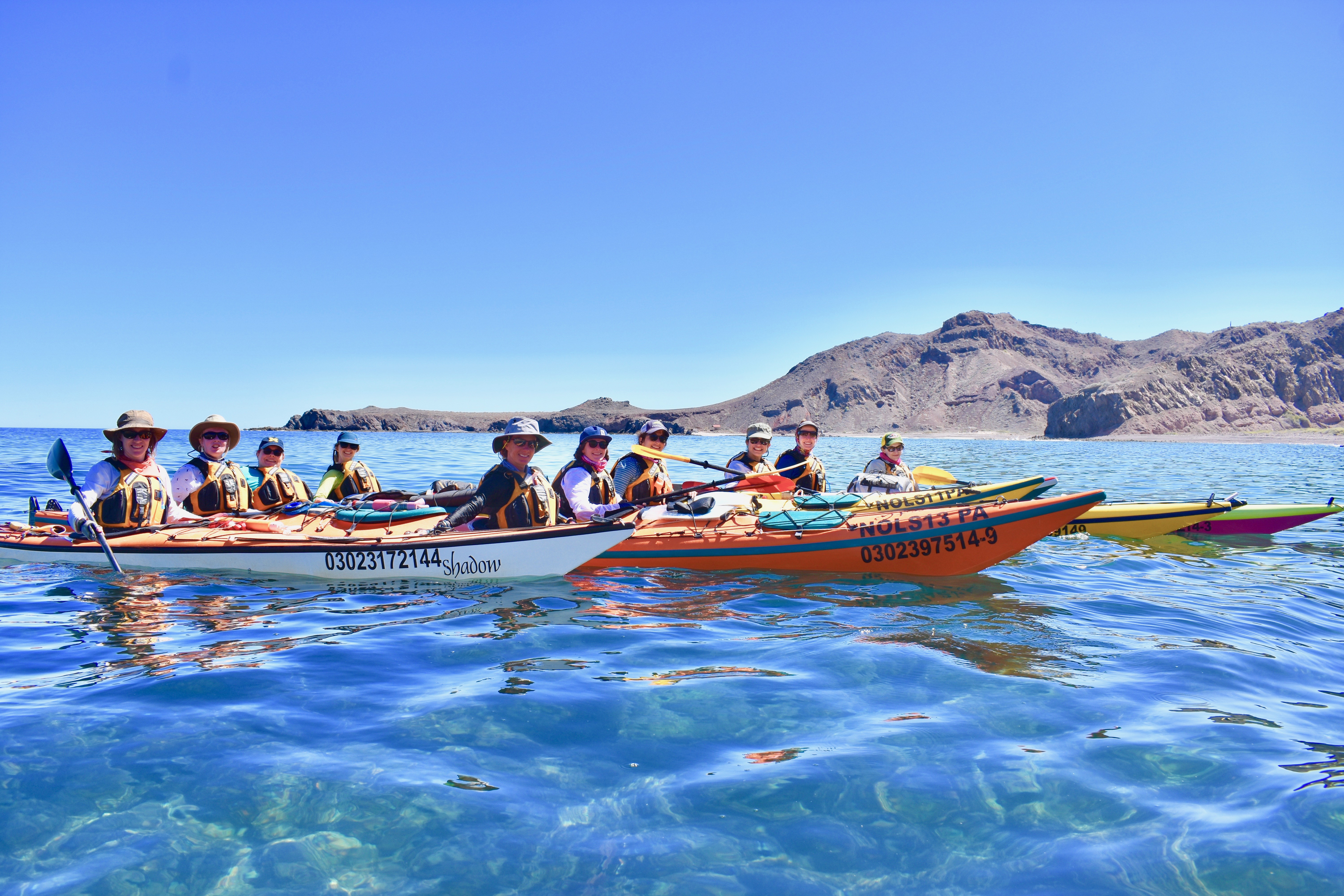 Our mornings included the kiss of the breeze as the salty sea sprayed, the twinkle of the stars as the night-sky faded to day, the twitch of a muscle as we explored the way and the high-five of a comrade that offered a hooray. The days became harmonized as our strokes fell in line; buzzed with newness as our bonds started to tie.
Our minds became fragile and muscles sluggish, but the voice of our leaders kept us from anguish. We tapped into courage while covering many miles and pushing to get to the sea. Followed by sweet recovery as we beached in glee. The early sunrise paddles to enjoy the sublime hues and sounds of the sea. A quickly formed squadron, we took a final silent paddle in reflection of our triumph and new victory.
As night fell upon us our debriefs hummed along, feedback from the day, personal stories in sway and a song extolled in Swahili that I learned while hiking Kilimanjaro in 2016:
Jambo, Jambo bwana,
Habari gani,
Nzuri sana
Wageni, Wakaribishwa,
Tanzania yetu
Hakuna Matata
By the end of the week, everyone sang along with the customized lyrics:
Jambo, Jambo bwana,
Habari gani,
Nzuri sana
Wageni, Wakaribishwa,
Baja Mexico yetu
Hakuna Matata
The NOLS expedition was one of my highlight experiences in life. It offered countless valuable lessons, the insight of NOLS leadership principles, the individual strength and perspectives of our leaders, the challenge of comfort zones, the camaraderie of the group, the positive reinforcement of new friendships, the contagious energy of all our comrades and most of all, the shared courage to dream with eyes open.
Learn more about Jessey's course, Women's Baja Sea Kayaking - Adult.
Start Planning Your Sea Kayaking Adventure
Explore the beauty of coastal waters and ignite your spirit with NOLS Sea Kayaking Expeditions. Embrace the power of female camaraderie, strengthen your kayaking prowess, and create memories to last a lifetime. Take the leap and make your dreams a reality - sign up today!
Written By
Jessey Jansen has 20+ years' experience in fine arts, graphic design, project management and social entrepreneurship. She is the Founder of Voice of Maasai music label out of Tanzania. Responsible for scouting talent, management, sales, distribution and everything in between, Jessey builds the talent team and then allows the creativity to be unleashed. Currently residing in Austin, TX, she divides her time between the music capital of the world and the Kilimanjaro Region of Tanzania. Please visit www.voiceofmaasai.com or www.jesseyjansen.com to learn more and become involved.