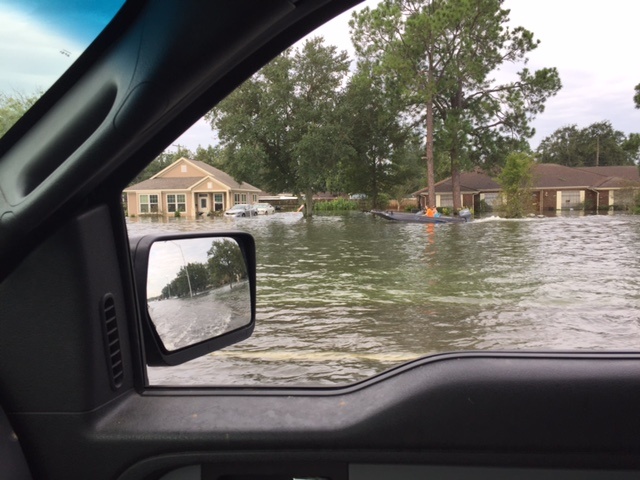 We found ourselves in our boat pulling away from the only dry land we could see. It looked as though a normal city neighborhood, with older homes lined up in rows covered by large shade trees, had been built in the middle of a shallow lake.
By this point the rain had stopped. The water was still two to four feet high inside many homes, but lower in others. As we motored past an abandoned city fire engine that had been caught in the rapidly rising floodwaters, it was evident that not even the local rescuers knew the impact that the Hurricane Harvey would bring to their community.
You could hear boats of all types and sizes running up and down the city streets in all directions. The need to rescue flood victims was not restricted to one area of town; they were everywhere. Overhead was a steady flow of up to 10 helicopters in view at any one time, trying to keep up with the victims being brought out by the boats below.
Between the whirling sounds of helicopters and the collective hum of the boats were moments of silence. There were no dogs barking, no neighborhood kids playing, and, oddly enough for a coastal community, no seabirds to be seen or heard.
How we came to the scene of the hurricane: Houston and Port Arthur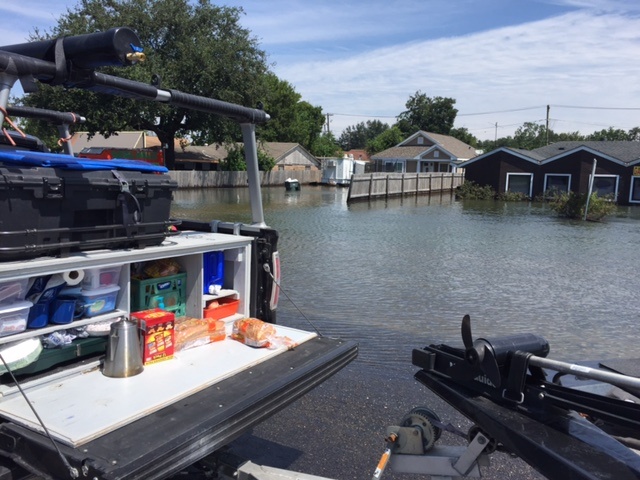 I live in central Texas in what is known as the Texas Hill Country, and work for our rural county's all-volunteer fire department. We are no strangers to flash flooding and have worked many floods over the years. In addition to my firefighter training and various other certifications, I am a certified EMT. Two years ago I received additional training through a NOLS Wilderness Upgrade for Medical Professionals (WUMP) course. After being surprised to learn that the fire department was called out for medical issues, I felt that more medical training would allow me to avoid the feeling of helplessness when a patient had an accident far removed from a road or the convenience of ambulances and helicopters.
Seeing people suffer is never easy, but seeing my neighbors suffer was not something I could watch on the news. With rain being measured by the foot, it was obvious that they needed help. The news already was reporting that small boat crews were going in to attempt to rescue as many as possible. My friend Shane, the fire chief for our local fire department, and I loaded up my truck, secured a boat that was suited for shallow water rescues, and headed east from our town, Medina, on the 300-mile journey to Houston.
We planned on being self-sufficient for many days, so we packed in our own food, water and fuel. We would sleep in the cab of my truck when we could.
---
After negotiating what few roads were open to Houston, we pushed onward on one-lane country roads to Port Arthur, a coastal town where we continued to hear about the need for boats. At times, we drove through up to two feet of standing water that went on as far as I could see.
In Port Arthur, we found a city submerged. No building seemed tall enough to be spared from the floodwaters.
Without access to basic amenities, the buildings and roads that help define an urban environment were now empty, leaving this coastal town to feel like an abandoned shell of the bustling, modern city it had been only 48 hours before. Despite the large number of people around, both victims and rescuers, my mindset had to shift quickly to backcountry thinking.
Preparing to provide medical care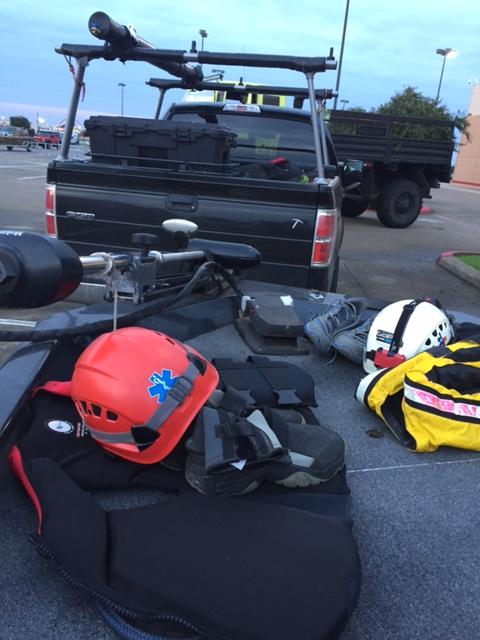 When venturing off the grid and into wilderness areas, I know I will be on my own, with only my personal resources or those of my group to rely on. I found myself feeling the same way in parts of Houston and Port Arthur.
What dry areas that were available were full of trucks with empty boat trailers. The evidence of the "Cajun Navy" and "Texas Navy" was all around. As members of a volunteer fire department, we tried to maintain some chain of command, so we sought out whatever form of incident command we could find. We were fortunate to meet with the US Coast Guard commander for that area and were told that the Coast Guard did not condone "citizen rescuers." After this message was relayed, we were given some basic advice for communication and instructions on where to bring flood victims so that the Coast Guard could assume care.
Once we finally had the boat in the water we had to make critical decisions based on the need for medical gear, like an airway bag (with oxygen), trauma bag, AED, glucometer, and blood pressure cuff, weighed against the need for space for potential victims. Since we were running in shallow water with debris underneath, Shane and I both scaled back the gear we were planning to throw onto the boat in order to save precious space and limit weight.
My NOLS Wilderness Medicine training gave me confidence in the EMT skills I already had as well as provided me with more skills to implement in what became an austere environment overnight. I felt comfortable heading into the flooded unknown having been trained to deal with situations without the luxury of medical equipment.
I did laugh to myself several times as we were making our way up and down flooded neighborhood roads as I would see an unusual piece of debris and start thinking of how it could be used to fashion a splint or a sling. That type of thinking was instilled in me during my NOLS course.
Going into the neighborhoods
There were many groups and individuals organizing resources early on. We spent a few hours with another group of volunteer firefighters from our home county delivering food and other needed items to an impromptu shelter at a local hotel. The hotel guests were flooded in and needed to be ferried supplies, but the building itself was not under water.
I was constantly swiveling my head to determine if the environment was safe, using the leadership and prevention parts of my wilderness medicine training to avoid becoming rescuers in need of rescue ourselves. This was sometimes a fine line as we piloted our small motor craft on the shallow waters of Port Arthur's streets—for example, many residences still had power, presenting the possibility of electric shock to both rescuers and families. Fortunately, we were able to manage scene safety and stay out of trouble.
Advice for other rescuers
Beyond being prepared with basic needs such as food, water, and plans for communication, a piece of advice for potential rescuers in any situation would be not to act beyond your training or skill level. This rings especially true in high-stakes situations when the adrenaline is pumping.
Most of the "Cajun Navy" and "Texas Navy" citizen rescuers had their own boats that they use regularly and were more skilled in navigating shallow waters than were the Coast Guard boat crews. Similarly, the first responders were working within the parameters of their training and skills. There were, however, some citizen rescuers that became victims and needed rescue because they pushed themselves beyond what they or their watercraft were capable of. This speaks to the importance of continually training, so in any situation we can always be an asset and not a liability.
The experience was a whirlwind from start to finish. Most of the Port Arthur residents I spoke with thanked us for our efforts and shared stories of not being prepared to be "victims" of such a catastrophic, weather-related event. In a way, I could relate. A few days prior, I would not have envisioned myself floating down city streets as a "rescuer" in a boat looking for residents of a submerged neighborhood.
While the logistics of our trip may have been thrown together along the way, I didn't doubt my ability to handle whatever situations we would encounter. Because of my training and experience, I feel ready to help people, no matter when the situation arises.
To contribute to charities working in Port Arthur and other areas affected by recent hurricanes, click here.
Prepare to meet the unexpected with NOLS Wilderness Medicine.
Written By
Brad is an occupational therapist, volunteer firefighter/EMT, and a NOLS WUMP alumni. His passion is traveling to provide therapy in developing nations around the world. He has volunteered in Mexico, China, Costa Rica, and Rwanda, and plans to explore more clinics in the future.