On a recent camping trip, I saw a group of young boys using sticks as swords, throwing rocks, and flinging algae from the tiny creek that ran adjacent to the campground—not ideal Leave No Trace behavior. I went over to their trip leaders and introduced myself as a naturalist and expressed my discomfort with what the boys were doing. I wasn't sure how the leaders would react—would they ignore me, a black woman, and let "boys be boys"? Instead, one of the leaders called the boys over and told them to have a seat because they were about to learn a lesson on stewardship.
I was invited to talk to the boys about respecting habitats. I compared how they might feel if someone came into their homes, without permission, and jumped all over their furniture and stomped on their Xboxes, to their effect on the frogs and plants in the creek. They all looked startled; they connected this analogy to their own actions. We talked further about the Leave No Trace principles, and a few boys even offered ideas for how they could contribute to keeping the environment healthy. I encouraged them to explore again with new awareness, being more observant and showing care for other living and nonliving things.
My journey to becoming a naturalist has not been traditional. My "aha" moment didn't happen until my mid-30s, after spending nearly 15 years as technical writer creating user manuals and documenting policies. I was working behind a desk, staring at multiple monitors and having little to no interaction with people. It was after a company layoff that I found my passion in the wilderness. I remember reading an article that said spending time outdoors was good for the soul, and mine was in serious need of uplifting.
Growing up in Detroit, Michigan, my family often went fishing on Lake Erie, and I attended residential summer camps. As a small child, I remember gathering insects in the backyard and using Frisbees to make mud pies with berries from our neighbor's tree that hung over our yard. After relocating to Los Angeles at the age of 30, I joined a hiking group. During my first hike into the foothills of Southern California's San Gabriel Mountains, I became fascinated with all of the wildlife and felt so invigorated and curious. I wanted to touch and smell every plant, investigate anything moving, and photograph each moment. After going on several hikes, I decided to take a Naturalist Certification course through Los Angeles County Parks and Recreation Department, officially initiating my second career in the outdoors.
I'll never forget my first experience as an outdoor instructor. Even though I was only familiar with a few coastal plants and birds, I was given my own group of 12 kindergarteners to lead on a 20-minute interpretive walk. I was so nervous, but I slowly walked the kids around the nature park, pointing out the things I did know and observing anything and everything. It turns out the five year olds knew even less than me about insects and plants, plus their attention spans only lasted about 15 seconds.
After that, there was no turning back: working outdoors and taking school groups on interpretive walks daily was an easier transition from office life than I imagined. Now, I am familiar with my leadership role. I create fun, exciting, and educational outdoor experiences for the kids. Sometimes that means encouraging them to explore, pick up coyote scat, or search for animal remains.
Teaching gives me the ability to transfer knowledge, and with it, further understanding. I can show you an Artemisia californica (California sagebrush, aka cowboy cologne), but if I don't allow you to touch it, smell it, or give you its history and uses, what can you do with the information? Interacting with the natural world like this allows the people I teach to take away something meaningful and make this knowledge relevant to their own lives.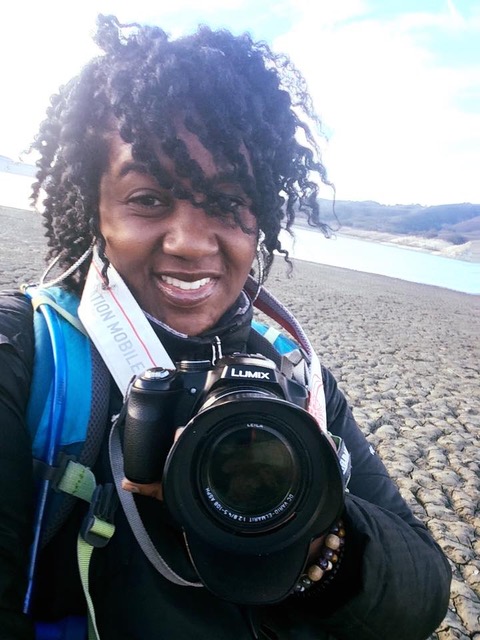 To continue my own learning, I took a Wilderness First Aid course as part of an outdoor leadership training. I noticed that as I studied the materials and practiced head-to-toe exams and splints on friends, it felt natural.
I wanted to learn more, so I completed Wilderness First Responder (WFR) training with NOLS at the Teton Science School near Wyoming's Teton Range in the summer of 2017. Being able to provide patient care and practice compassion for another soul in their time of need makes me feel empowered.
About eight weeks after I received my WFR certification, I had an opportunity to be the medical lead for an overnight wilderness trip in the San Gabriel Mountains. The first thing I did to prepare myself was review each participant's medical form. I then acquainted myself with the first aid kits and made sure each one was properly supplied. Adding the medical component to an outdoor trip made me feel a bit nervous. It was a huge responsibility, but I was confident in my skills. I am happy to report that there were zero injuries on the trip.
In my career as a naturalist, I found that spending about three hours with the groups on field trips was not enough time for the youth to really explore the beautiful, preserved land right in their backyards. So, in 2016 I started a nature day camp for elementary school children. It was the most invigorating, challenging, and rewarding experience I've ever had.
It was a huge responsibility, but I was confident in my skills.
I researched, developed, and planned for five months. The first series of day camps were a complete success. I was so touched that parents had left their children in my care that I actually cried after the very first day of camp…and I was absolutely exhausted.
Developing and implementing a summer day camp is by far the greatest accomplishment on my journey. Not only did it allow me to reach a milestone in my abilities as a leader, it also awakened me to shift my focus and work with environmental organizations that serve youth and families from underserved and underrepresented communities, like Outward Bound Adventures based in Pasadena, CA.
Most of the time, in the outdoors I am the only person of color in the group, whether it be at a training, conference, boardroom, etc. When I first started in the environmental field, I used to immediately notice the lack of people of color and feel slightly intimidated because I attracted a lot of attention—for example, people would ask me about my hair, which I usually braid or wear in a curly Afro, or wonder where I came from.
When we first meet, I've also noticed that students and teachers on field trips are frequently surprised by the color of my skin. I wonder if they have ever seen a person of color in this profession. I take these experiences in stride; the students and teachers both always walk away having learned something new, and to me that's the most important part of my role as an educator.
Adventuring in nature has the ability to open our hearts and interpretive learning opens our minds. As an environmental leader, I take pride in being a role model for youth and adults, encouraging them to take good care of our mountains, trails, and creeks. And the best perk of working outdoors, I get a chance to embrace my passions and practice love, care, and kindness to others and our precious environment.
Written By
Day is a Naturalist, Outdoor Leader, and NOLS Wilderness First Responder graduate. She enjoys exploring the wilderness, botanizing, and wildlife photography. In the future, she hopes to expand her technical skills for more adventuring and become involved in Wyoming conservation efforts.