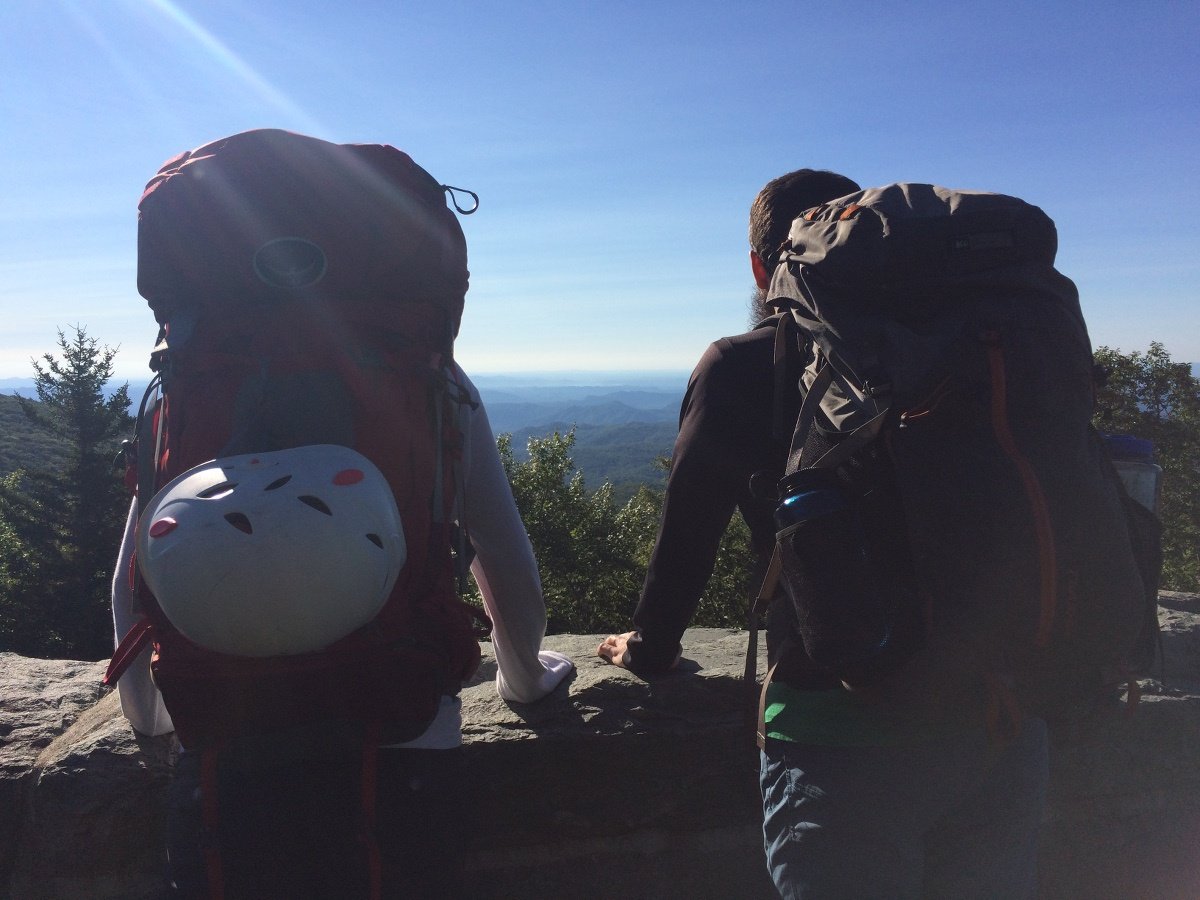 It started out like any other fall weekend climbing trip. Driving to North Carolina, my friends and I were excited to explore the Linville Gorge Wilderness and escape our weekday realities for a while. We were cruising down the Blue Ridge Parkway singing to our new favorite song, "Genghis Khan," and talking about all the cheese fries we would consume after our day of climbing.
We got an early start, scrambled up the rocky approach to the base of the climbing area, and got to the business of climbing. Around lunchtime, my friends and I were sitting on a warm rock in the sun when we heard someone cry out. We went to investigate and learned that a woman had taken a fall navigating the rocky approach trail. She was conscious and alert but in a lot of pain. Her partner had called 911 for assistance and was trying to keep her comfortable.
After a patient assessment, it appeared she had broken her left wrist and most likely dislocated or fractured her patella. While we waited for the EMT and fire department to arrive, we determined it was safe to administer an NSAID (nonsteroidal anti-inflammatory drug) and did our best to keep both the patient and ourselves comfortable and hydrated. There were actually several other climbers there who had been trained by NOLS Wilderness Medicine and everyone was ready to play their part. Two people went down to meet the EMT and fire department at the trailhead off the Blue Ridge Parkway, as it was not an obvious entrance.
In the meantime, I got a Sam splint, gauze, elastic wrap, and triangular sling from my first aid kit to help stabilize her broken wrist. At first, she was hesitant to let me do anything, worried it would make the pain worse. It was hard to blame her, but even harder to see her cry out whenever her swollen wrist or knee were adjusted. I tried to explain that stabilizing her wrist would prevent the pain she felt when the joint moved, and finally she agreed.
After the EMT arrived, one of the first things they did was administer an IV opioid to help keep our patient comfortable as we discussed how best to get her out. It was hard for all us of to listen to her cries of pain, even after multiple administrations of the IV opioid.
Extracting her from the base of the climbing area meant a difficult hike over a rocky scramble to the road. I could imagine the dread our patient must feel knowing that, to get out, she was going to have to move over rough terrain and inevitably feel more pain, despite our best efforts.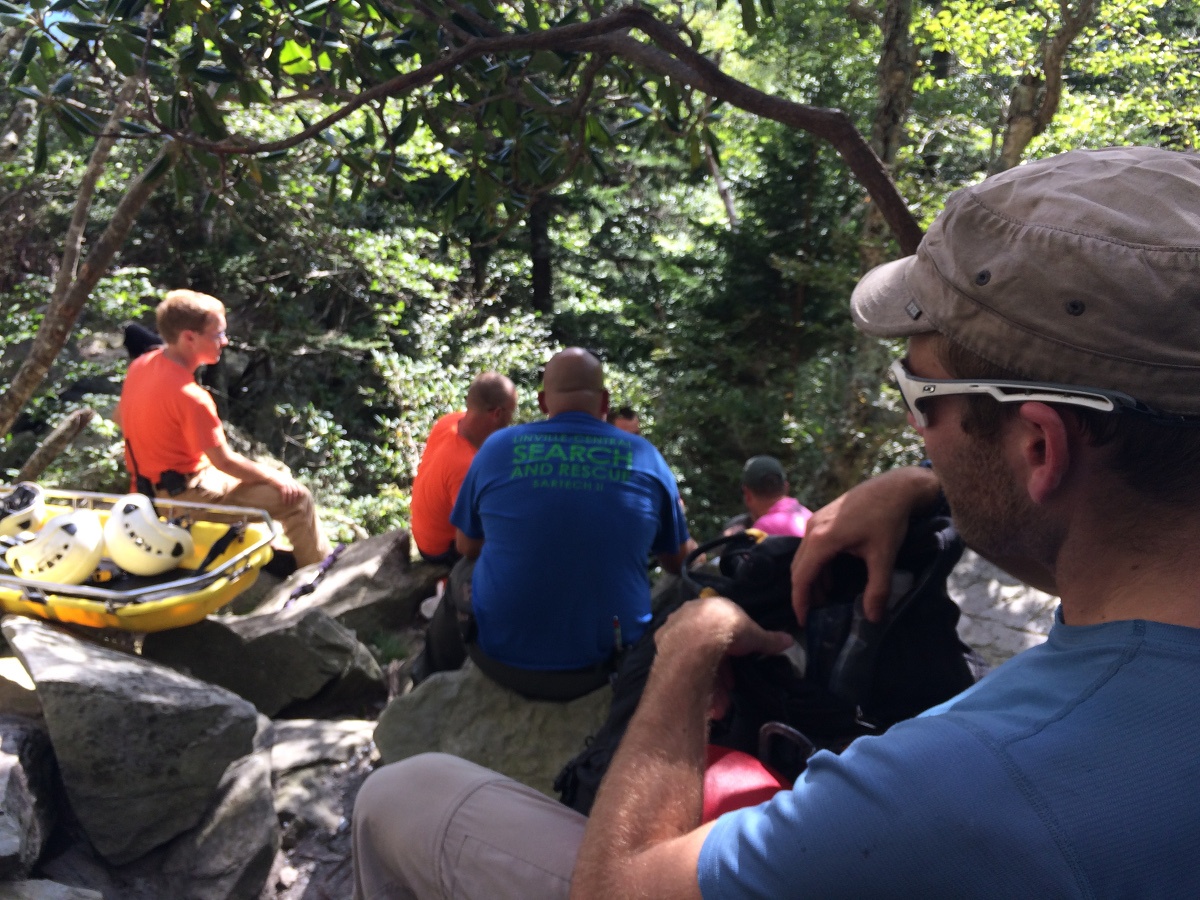 The fire department brought a litter, anchor system, and webbing. It took everyone available to help lift her into the litter and then move that litter hand over hand down the rocky approach. The fire department used the anchor system and webbing to gradually let out slack and belay the litter down and between the two rows we volunteers formed.
There were several obstacles along the trail that reminded us we needed to prioritize our own safety as well. One person was allergic to bees, and by the time we passed the litter through, the beehive in the trail was none too happy about all the commotion. We sent the allergic person down first and then worked through that section as quickly as possible. Making sure we had good foot placement was also key when taking our part of the load from the litter. Leaves made the trail slippery and the rocks and downed trees made finding good footing challenging. Making sure the weight of the litter was evenly distributed was also important to ensure a smooth ride for the patient. We took the time to space people appropriately before moving the litter down the line.
It probably took about two hours to get her to the ambulance waiting on the road, where she was quickly driven to more advanced care. The whole process was much more physically taxing than I had imagined. I can't speak for the rest of the climbers, but as for our group, we were physically and mentally done for the day.
Afterwards, we headed back to our campsite, took a chilly dip in the lake, and talked about the incident around the fire. As we gratefully ate way too many cheese fries, we discussed what worked well and what could have been better, and how easy it would have been for any of us to slip on that trail.
We were lucky that so many people in this scenario had received wilderness first aid training and that there were a number of climbers available to help with all aspects of the rescue. The professional responders did an excellent job of organizing everyone for a coordinated effort to get the patient out while also making sure no one else got injured along the way. We were lucky the weather was sunny, that we had cell service, that we were reasonably close to the road, and that we had daylight for the entire rescue. Even though the situation was far from ideal, I'm grateful for the advantages we did have.
My NOLS Wilderness Medicine training helped to make me feel as though I had an action plan to rely on. The NOLS Alumni WFA course I took this past August with my father in the Wind River Range also inspired me to revamp my first aid kit. While I completely forgot to pack a pen and paper to record the time and vitals, the phone calls and texts we made served as a rough estimate of time elapsed. There is always room for improvement. I am grateful to my Alumni trip leaders Marco Johnson and Mark Hamlin for preparing me to handle a variety of situations with the inevitable variables. They taught us in a realistic, pragmatic, and memorable way that I will always be grateful for.
Our role ended at the ambulance, but I do think of our patient often, and hope her recovery was as smooth as possible. Her story is a good reminder for me every time I head out. Even if it is "just" for a short hike, I should be prepared for life to intervene.
You can prepare for the unexpected, too—see wilderness medicine courses here.
Written By
Jenny Jenkins is a veterinarian and a recent NOLS Wilderness Medicine First Aid graduate. She is enjoying all that life has to offer on the Front Range with her husband Erik and their cat Angus.