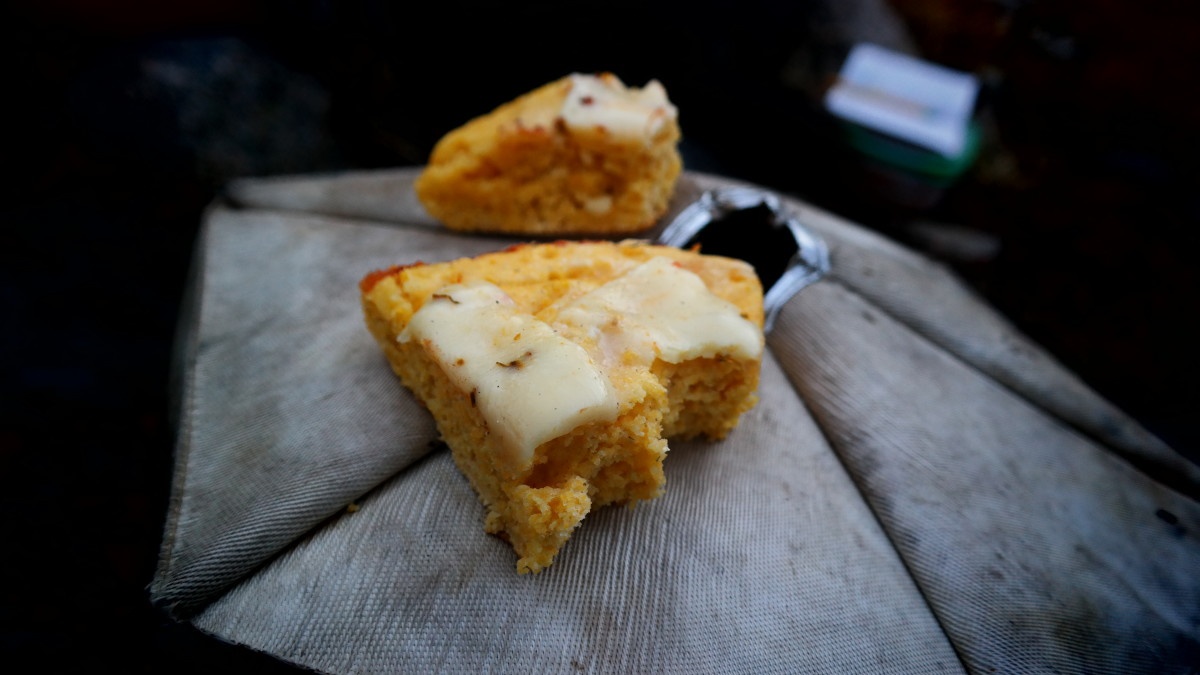 If I'm totally honest, when I go camping I sometimes worry less about what the weather will be like and more about what I'm going to make when it's my turn to cook.
To help with my cooking stress, I've focused on making just a few simple recipes and doing them well. That's why I love this cornbread recipe. It adds excitement to a meal like rice and beans or bulks up a soup, and it works well for breakfast or dinner. It's a simple recipe, so you don't have to be an expert baker to make it delicious (plus it's forgiving in terms of measurements).
Ingredients (Makes about 4 Servings)
1 cup cornmeal
½ cup whole wheat flour
⅓ cup white flour *You can experiment with ratios of flour types to cornmeal as long as they're roughly even
⅔ cup powdered milk (regular, soy, coconut, or nido)
1 Tbs. baking powder
1 tsp. salt
1 ½ cups water
1 tsp. vanilla
3 Tbs. honey or brown sugar
Directions
(Total Prep + Cook Time: 30 Minutes)
Grease a pan with butter or oil (we use a Fry-Bake)
Mix flour, cornmeal, powdered milk, and baking powder. *Pro tip: Use a large plastic bag rather than mixing bowl or pot to make your batter for easier cleanup.
Add sweetener and vanilla.
Slowly add water. *Pro tip: You can always add more water, but you can't take it out. You're aiming for a batter that's the consistency of thick gravy and isn't too soupy.
Pour batter into the pan.
Cover and bake using a twiggy fire for about 15 minutes until done. *If you're hesitant about using a twiggy fire, you can also heat the lid and cover the cornbread. You can also flip the cornbread for the last few minutes of cooking if you're worried about the bottom overcooking before the top is ready.
You'll know the cornbread is done when the bread springs back if you touch it in the center.
Serve with rice and beans, chili, refried beans, topped with cheese, honey, butter, brown sugar…
Variation: Mexican Cornbread
Reduce sweetener to 1½ Tbs. and add: 1 cup crumbled or diced jack cheese, ⅛ tsp. hot sauce, 1 tsp. cumin, ¼ tsp. cayenne, and 2-3 Tbs. dried peppers (rehydrate in hot water and drain first). Bake as above.
When you're done with dinner, try making Peanut Butter Truffles for dessert. Find this recipe and more in the NOLS Cookery.
Written By
Molly is a NOLS instructor and writer. She loves the smell of her backpack and does her best writing before 7:00 am. When she's not scouting the next post for the NOLS Blog, she's running and climbing on rocks in Wyoming. Follow her on Instagram @mgherber