Editor's note: Caroline took a gap year between high school and college to spend a year learning and living with NOLS in Chilean Patagonia. This is the story of her home stay with a Chilean family during her course.
My journal read February 24, PY Day: 112, Cultural Day: 6. We were halfway through our cultural stay living with a poblador family on their campo, or ranch, and coming up on the last lap of our Year in Patagonia. My group-mates and I had been together since October; the ten of us had crossed icy rivers and hunkered through snowstorms, tackled windy peaks and windier glaciers, paddled on the Pacific Ocean, and raced against squalls together; we shared campfires, adventures, laughs (lots of laughs), and of course, mate. We had become a family. And now, for one of our last adventures, we paired off to immerse ourselves in a different aspect of Patagonia, the poblador community.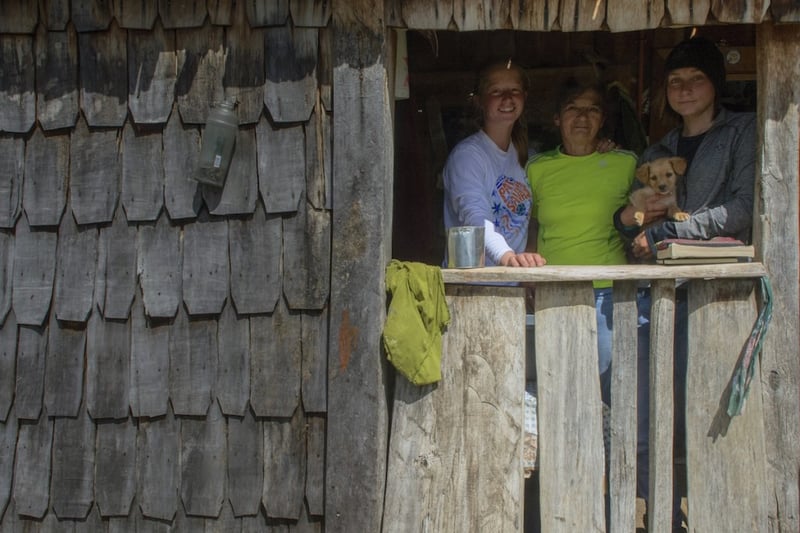 With Norma and the puppy Porka. Photo by Bea Kruse.



For the past week, my friend Bea (20, from Örebro, Sweden) and I had been welcomed into the home of Gavino and Norma Diaz. We lived and worked with our family on their campo, a ranch that sprawled over Andean foothills along the Rio Baker, Patagonia's largest river.

They owned and cared for roughly 200 cows, over 20 tamed and unbroken horses, about 30 sheep, a handful of chickens, and two roosters. They had several pets: four obedient working dogs, an adorable two-month old puppy, Porka, the size of my Nalgene, a black cat that ruled the couch, and Pepe, the adored orphaned sheep adopted as a pet (and ever since has believed he's one of the dogs). Each day, Gavino and Norma manage this campo and while we were living with them, they introduced us to their daily routine.

We unzipped our sleeping bag cocoons and reluctantly crept out of our tent into the frigid mountain air waiting for us. Crossing the lawn to our family's home, we called out "Permiso!"—proper etiquette before entering any poblador home—and opened the door to begin our day.

The familiar scene centering around the wood-stove greeted us. The fire was warming the single room, heating water and milk on the stove. Norma stoked the fire and served mate, a traditional Patagonian hot tea, and Gavino was rising to wish us good morning. We kissed our host-parents good morning, joined their mate circle, and prepared ourselves breakfast—pancitos (freshly baked bread rolls) with cheese and butter that Norma makes herself.

The radio was turned on, and we sat passing mate, warming up and listening to the chatter between nearby campos. Most pobladores don't have phones and rely on these radios to communicate with each other and town. Just after 8:00, we heard the familiar voice of our instructor come on, calling off each of our names and respective campos; this was roll call. Down the line, we'd hear each one of our group-mates, miles away, come on the air letting everyone know they were alright. Bea and I would chuckle each time at the familiar voices we hadn't seen in a week. Once everyone chimed in, we turned down the radio and finished breakfast.

When Gavino started to lace up his boots, it meant the working day was beginning. Bea grabbed the buckets and bottles while I walked over to the barn to take the lassos off the hook. Then the four of us walked up the hill to the cow corral, where eight sleepy calves were waiting.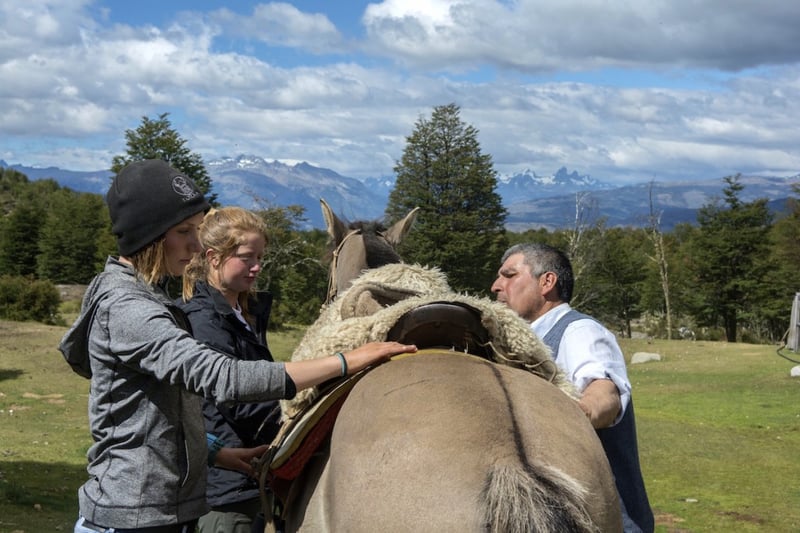 Learning how to put on a gaucho saddle. Photo by Marcelo Mascareño.



First task of the day: milking cows. On day one, we were clueless, but now after milking each morning, we could lasso the mothers, bind their hind legs (note: cows kick), knew each calf by name and who they called mom, and could milk with ease—nowhere near the expertise of Norma, but at least it wasn't coming drop by drop anymore. After we finished milking, we let the cows loose to roam and graze all day. And in the evening we would herd them home again. We hauled the milk back for Norma to make into butter and cheese, and followed Gavino on to the next task: finding our horses.

At the beginning of our stay, Gavino picked us up on horseback and told us the horses were ours to take care of and ride while we lived there. Bea and I quickly fell in love with the mode of transportation, riding them several hours each day. We found our caballos grazing in a usual pasture, bridled them, and led them back to the barn to saddle.

Today's job was finding the sheep and herding them to the corral, so we could lasso a few to shear. Other jobs this week were finding young bulls and horses for Gavino to sell in town, herding the non-milking cows to a different grazing pasture, and riding to a neighbor's campo to help harvest hay for the animals for the winter.

We would work jobs like these until lunch, when we washed up and helped Norma set out our meal: Delicious lamb, cut from a sheep we slaughtered the day before—an incredible experience that taught us gratitude and respect for a life—potatoes and fresh greens from the greenhouse, and bread Norma baked in the morning. Just like every meal, Norma would joke with Bea, a vegetarian, asking, "Are you going to try meat today, my girl?" and Bea would tease her back.

After eating we sat with full bellies in the warm house, and eyes would get heavy. This time of day was reserved for siesta, two hours of rest and relaxation, giving our bodies a break from work. Bea and I retreated to our tent with Porka in tow, who had become our daily nap companion. We spent the siesta napping, reading, journaling, or just laying in the sun with Porka.

Around 4:00 it was time to work again, and the first job of the afternoon was always finding Pobrecito ("Poor thing," a nickname we had given an injured horse). Gavino had found the horse a week ago with its leg caught and torn up in a barbed-wire fence. A vet had visited the campo and since then we cleaned and bandaged the mangled leg and gave Pobrecito shots of antibiotic every day. After treating him and smothering him in love, we released him back to his private grazing area for the night.

A quick trip to cut up lenga (lumber) for stove fuel and then we were back on our horses to look all over the property for the milking cows. This was our favorite time of day. We roamed the entire property looking for the moms and their calves, galloping and racing each other, laughing and teasing about caterpillars falling from the trees, calling out for the vacas, and cheering the work dogs on as they chased rabbits while we trotted along.

Once we found the herd, Bea and I called out our best gaucha yells and turned our horses toward herding them together. Gavino would call out commands to the dogs to make sure the orphans didn't fall behind, or to separate the alpha bull. Whooping and galloping, we all worked together to rush the cows and calves back to the cow corral near the house.

We put the calves to rest, and afterwards the horses too. The work day had come to a close, and we retired to the house for some relaxation before bed. The four of us sat around the fire, just an average family talking over dessert and mate con leche and listening to Gavino play his accordion for us. These moments were perfect; I felt so happy and warm and part of this family, and of course there was a tiny puppy asleep in my lap. Eventually, our eyes would get too heavy and we'd wish Gavino and Norma good night and return to our tent in the yard. We crawled into our sleeping bags and welcomed a night of sleep after a day of work. Repeat, repeat, repeat.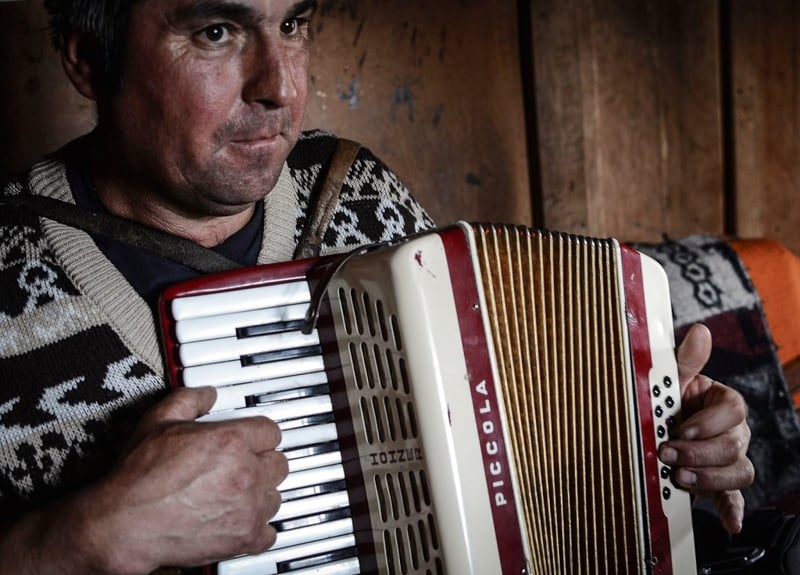 Gavino with his accordion. Photo by Marcelo Mascareño.

The Diaz's home was an hour's horseback ride from the nearest road, which, in turn, was a 45-minute drive from the nearest town. Horses were our transportation, a single radio was communication, and a two-roomed house with a wood burning stove was the most welcoming home we could've asked for. Life on the campo was removed, but simple. The distance from the buzz of cities freed our family from distractions and gave them a valuable connection to the surrounding world, a lifestyle Bea and I fell in love with during our cultural stay.

There's something satisfying about riding horses each day, and working directly for the food you put on your table, about living outdoors in fresh air, making a connection to the land we lived on. In a lot of ways, it was the reason we loved expeditions with NOLS—life felt important and authentic. It had us dreaming about living on a ranch, that's for sure. Bea and I won't forget how this felt so real and so right for us. We're just so thankful for Gavino and Norma welcoming us into this lifestyle that meant so much to us while we lived with them. And now, even with thousands of miles separating us, we'll always miss our family.
Written By
Caroline took a gap year after high school with NOLS Patagonia and is now a student at the University of North Carolina, Chapel Hill. During the school year she studies dead languages, and during her summers she introduces kids to the wilderness by guiding canoe adventures in northern Minnesota and Canada. She likes sleeping outdoors and wouldn't turn down a hot bowl of cheesy pasta. The Earth is her favorite planet.