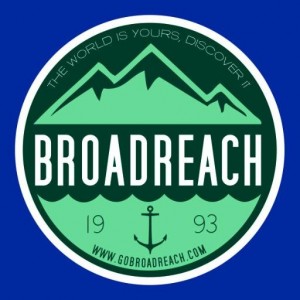 With the 22nd Wilderness Risk Management Conference (WRMC) right around the corner, we are excited to highlight the organizations that attend the conference year after year and make it possible.
Broadreach, an organization that believes global education and adventure not only enhance a student's life but also have the potential to change it, will discuss how the WRMC has influenced their organization's risk management practices.
We were able to catch up with Kate Farthing, Program Director at Broadreach, and highlight different aspects of the Broadreach organization. Kate discussed how the WRMC conference has provided Broadreach with lessons allowing their organization to evolve and improve. Perhaps you will see similarities to your own program and discover how the WRMC community can help you.
WRMC: Who are your participants?
Kate: Our participants are middle school, high school, and college aged students from all over the United States and the world, who come together in small groups to travel and learn as a team. We also develop partnerships with school and organizations to design customized programs that use our expertise to create inspiring, hands-on learning opportunities that match their learning objectives.
WRMC: What do your participants gain from the wilderness/remote setting at Broadreach?
Kate: Participants learn hard-skills and earn certifications, college credit, and community service hours. While earning these achievements our participants gain invaluable perspectives that they will carry with them throughout their lives. We use remote settings, wilderness travel, and strikingly unfamiliar environments to encourage participants to develop a greater sense of themselves and the world, and go beyond the preconceived notions and norms of their daily life. Broadreach allows participants to leap outside their comfort zone with the positive support of a community that inspires them to take advantage of new opportunities.
WRMC: Why does Broadreach send employees to the WRMC?
Kate: The WRMC is a vital part of our year. The perspectives, stories, and community at the WRMC provide us a forum to share and learn, just as we do with our participants on program. It is always reassuring to hear common struggles and triumphs shared by other organizations that attend, and I feel I learn as much from fellow attendees as I do from the presenters. It is in the small side conversations before and after presentations, sparked by the passion and knowledge of those who present, that real questions begin to find their answers and we move forward with confidence and many plans to implement in the coming year.
WRMC: How has attending the WRMC helped you provide a better experience for your participants?
Kate: Broadreach returns to the WRMC each year for many reasons. We typically choose to send a veteran office staff member with a new staff member. By doing this, we maintain relationships and continuity of knowledge, and simultaneously foster new perspectives. A fresh mind at the WRMC absorbs such different things than those who have been around for longer, and both perspectives are incredibly valuable. I believe the moment we stop listening to new ideas and forget to breathe fresh air into our organization, we will stagnate. In a similar vein, the history and experience of others can help funnel ideas into new areas of growth. Attending the WRMC conference connects us to a community that shares our energy for improvement. Our participants benefit from the improvements we make to our programming, and hopefully assimilate some of the risk management mindset into their daily lives.
WRMC: How has attending the WRMC changed the way you manage your program?
Kate: The WRMC has made us think in depth about our approach to training, program management, and data collection. Broadreach strives to evolve and improve, and lessons from the WRMC conference have challenged us to continue to push our processes to become better. From data collection and program evaluation, to the tools we give our instructors, we look to the WRMC for emerging industry research and ideas for our community for ways to improve.
We are thrilled to have Broadreach in attendance at the WRMC, and would like to thank them for sharing their knowledge and experience.
If you are an organization looking to gain practical risk-management skills, network with others in the industry such as Broadreach, share field and administrative techniques, and much more, then join us at this year's WRMC in Portland, Oregon, October 14-16, 2015.
Click here to register for this year's conference.