As we continue to highlight organizations that attend the Wilderness Risk Management Conference (WRMC), we had the opportunity to catch up with Matt Osgood, the Summer Program Manager at Summer Search. Matt was able to answer questions regarding Summer Search's p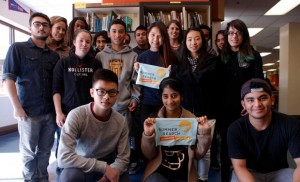 rogram, students, and how this organization has been impacted by the WRMC.
Who are your participants?
Matt: Summer Search participants are resilient, caring, determined high school students who qualify for free or reduced lunch according to federal income guidelines. They are short on opportunity and long on potential to become leaders and chart their own course in life. Being a Summer Searcher is a 6-7 year (arguably a lifelong) journey that begins during the sophomore year in high school, continuing through college graduation, when students stay connected through our alumni program. While in high school, our students connect weekly with their Summer Search mentor to discuss challenges in life at school and at home, highlight moments to celebrate as personal success, develop leadership skills, look ahead to their summer experience, and towards college on the distant horizon.
What do your participants gain from the wilderness/ remote settings?
Matt: For one of our participants, a summer in the wilderness is like taking a trip to Mars – it is a significant leap outside of her/his comfort zone. There are many first-time experiences that challenge our students and provide them with the opportunity to step up as leaders, and these include getting on an airplane, seeing wildlife up close, meeting peers from diverse backgrounds, being the leader of the group for a day, or looking up at night to see a sky full of stars. To our students, the wilderness is a test of personal achievement, and it pushes our students to strengthen the skills we have been working to develop within them, such as adaptability, self-reflection, problem solving, service to others, verbal communication, empathy, and follow-through.
Why does your organization send employees to the WRMC?
Matt: Physical and emotional safety are paramount to our students' success in the wilderness, and we partner with about 30 wilderness programs, so we feel as though it is due diligence to stay up-to-date with trends in the wilderness industry, especially as it relates to risk management.
How has attending the WRMC helped you provide a better experience for your participants?
Matt: We strongly value the ability to be real with our students, and WRMC workshops have helped us create talking points to review with students and parents so that they have a realistic expectation of their upcoming wilderness course. Again, since this is the first time for many of our students and their families, we want to hear about their fears, validate what is real and what is rumor. While we may not be able to guarantee that they will be 100% safe, we describe the precautions our wilderness partners take to create an environment of healthy risk taking, and help families confidently move forward with their decision to have their child participate.
How has attending the WRMC changed the way you manage your program?
Matt: Several workshops that I've attended have helped our organization strengthen risk management practices, from language in our Memorandum of Understanding and requiring Certificates of Insurance from every summer partner, to our correspondence with partners about our students, and talking points for our staff to review with students and parents.
We are looking forward to seeing the Summer Search staff this year in Portland from October 14-16 and discussing risk management and so much more. If you would like to connect with outdoor educators like Matt Osgood then sign up today for the WRMC.
---
Related Posts