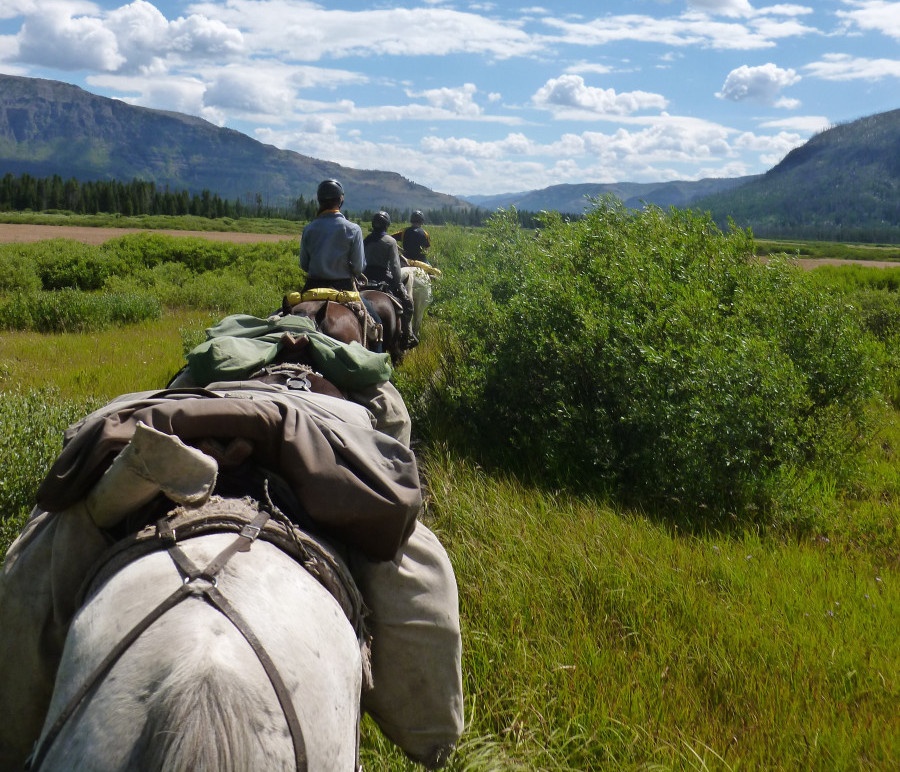 Photo Credit: Kelsey Wicks
The Setting
You and a companion, both proud and confident Wilderness First Responders (WFR), are hiking a wilderness trail when you are passed by a horse pack string led by a young cowboy. You exchange pleasantries and fishing tips.
Suddenly, one horse nips at another, a horse kicks, and then horses seem to be going everywhere. The rider's horse rears and bucks; he falls off and lands on his head and shoulder.
You find yourself in a ritual chant—the scene size-up. "The scene appears safe. The weather is warm and sunny. The horses are milling about, no longer in a rodeo. There is one patient. He is on his back. He doesn't look badly hurt, although he appears to be unresponsive." You think about gloves, realizing you don't have a pair handy. You begin your assessment.
Your patient doesn't respond to "Hi, I'm a Wilderness First Responder, can I help?" You assume consent and conduct an initial assessment.
The patient's airway appears clear and he is breathing without distress. There is no obvious bleeding and he has a strong radial pulse. You protect the spine because of the mechanism of injury (MOI)—falling on his shoulder and head. There are no obvious injuries to expose and investigate.
SOAP Report
Subjective
The patient is a 25-year-old who fell off the back of a horse and landed on his head and shoulders. He was not trampled by the horse. Initially unresponsive for a few minutes, he is now awake and alert.
His chief complaint is the pain of embarrassment from falling from his horse. He requests that you allow him to stand, wrangle his horses, and continue on his way. It's hard to keep him from moving and looking for his horses.
Objective
Patient Exam
No injuries are found other than a small bruise on the back of the head. The patient is moving his arms and legs, denies pain on palpation of the spine, and has good circulation, sensation and motion (CSM) in all 4 extremities.
VITAL SIGNS
| | |
| --- | --- |
| Time | 10:15 pm |
| Level of Responsiveness (LOR) | A+Ox4 |
| Heart Rate (HR) | 72, strong, regular |
| Respiratory Rate (RR) | 12, regular, easy |
| Skin Color, Temperature, Moisture (SCTM) | pale, warm, dry |
| Blood Pressure (BP) | strong radial pulse |
| Pupils | PERRL |
| Temperature (T°) | not taken |
HISTORY
| | |
| --- | --- |
| Symptoms: | Patient states he has a headache. |
| Allergies: | Denies. |
| Medications: | Patient denies medications. |
| Pertinent Hx: | Patient has a history of several fractures, none recent. |
| Last in/out: | Patient reports he drank several cups of water this morning, ate breakfast, and had a normal bowel movement. |
| Events: | None other than falling from the horse. |
---
STOP READING!
What is your assessment and plan? Take a few minutes to figure out your own assessment and make a plan. Don't cheat—no reading on without answering this first!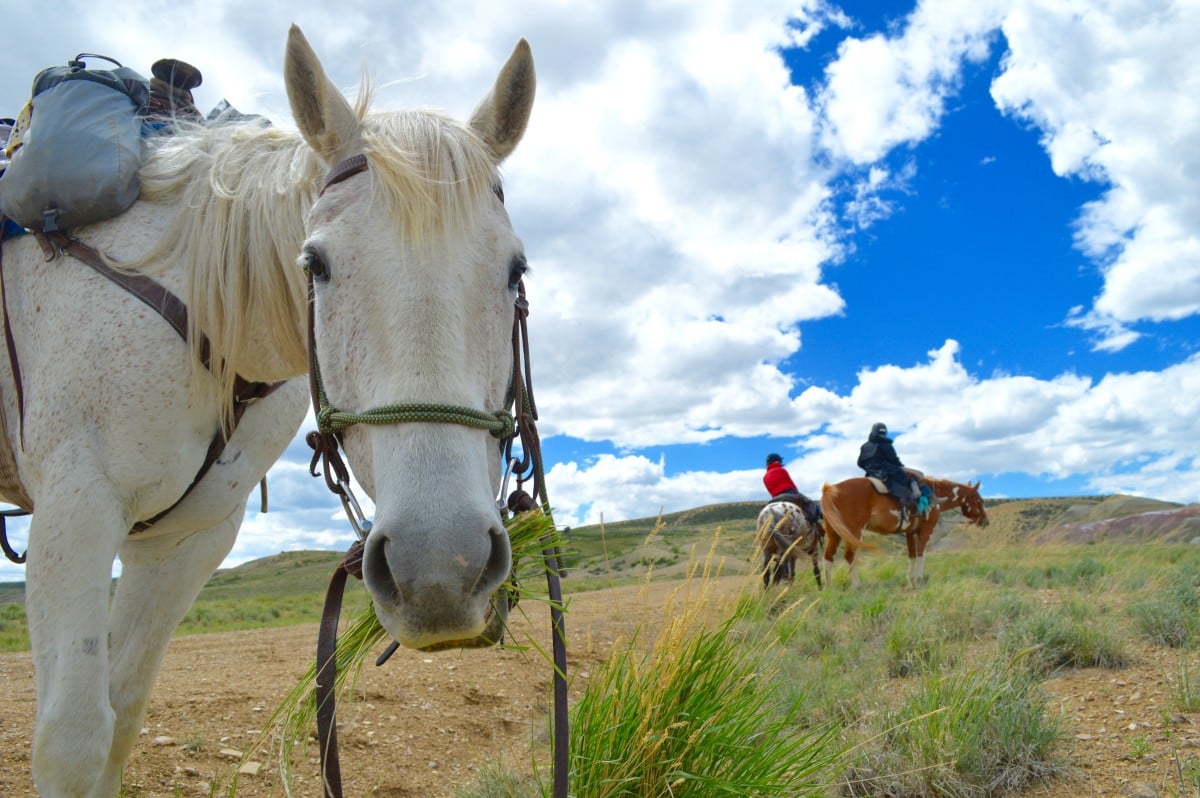 Photo by Nicholette Hilbrich
Assessment
Patient has a possible mechanism for a spine injury.
Possible closed head injury.
Plan
We will perform a focused spine assessment (FSA) and make a decision on the need for further spine protection. Our evacuation plan depends on the result of the assessment and decision.
Anticipated Problems
The FSA may reveal that we need to maintain spine protection and arrange for evacuation.
Patient may develop signs of a brain injury and need evacuation.
Pause
You are about to make an important medical decision. What information are you considering? Where did you get it? How accurate is it?
Knowing about confirmation biases—our tendency to see what we want to be there—you and your companion review your patient assessment to make sure you were thorough.
review your decision making
1. Assessing the Injury
You remember that landing on your head increases your risk for a spine injury, but this patient landed partly on their shoulder as well. The heuristics for spine injury mechanisms are more educated guesses than hard science. This could lure you to dismiss the chance of a spine injury; instead, you resist the temptation and follow the conservative approach you learned in your WFR.
2. Plan & Response
You plan to use a FSA, a tool to help decision-making when there is a spine injury mechanism. Where does this protocol come from? Is it accurate?
Indeed, it is based on a large study identifying criteria for evaluating a spine for risk of unstable injury.* A number of wilderness and urban emergency medicine experts say it's a good decision tool. You have a memory aid to remind you how to do it. You understand that it is double checking your observations and findings from your initial PAS.
Other factors that may be influencing your decision:
Are you eager to release spine protection because it would be inconvenient to deal with a spine injury?
Are you feeling time pressure to make a decision because of the patient's insistence that they are fine and need to wrangle the horses?
Are you skeptical about the FSA because of the emotional influence of an unsubstantiated tale you heard about someone who fell from a horse, got up to walk and was paralyzed?
Are you tentative because this is the first time you are actually performing this assessment and making the decision on your own?
These thoughts are real. It's good to be aware of how you are making this decision; evaluating the quality of the information you have available, the protocols you are using (PAS and FSA), and the influence of your emotions on this decision. It's called mindful practice—thinking about your thinking. It supports the important and often under appreciated wilderness medicine skill of decision-making.
This brief case study is only the tip of the iceberg of the study of decision-making.
The End of the Tale
You use the FSA protocol to confirm the findings in your PAS: that there are no signs or symptoms of spine or spinal cord injury in this patient; the patient is reliable, sober and not distracted, his CSMs are normal in all extremities and there is no pain or tenderness when the spine is palpated. You report this to the patient, who quickly agrees with your conclusion. The patient sits up and heads off to gather his pack string.
You are still worried about a possible head injury and follow the horses to the trailhead, where you check in with the cowboy. The bruise on the head has begun to turn a nice shade of purple. He denies a headache, says he is fine, thanks you for the help and heads into the sunset.
You take some time to reflect on your experience and the decision you made. You are proud of your work, yet wise enough to know your experience is now one real patient. There is much still to learn.
*Editor's note: The devil can be in the details when we evaluate science. This study was hospital and physician based. There are several follow-up studies that show that EMTs and paramedics can perform the protocol correctly. There are none we are aware of on WFRs or other laypeople performing the skill, and one that shows that WFA trained people (not WFR) are inconsistent with their performance of the protocol.
Written By
As a NOLS Instructor since 1973 and a WEMT, volunteer EMT on ambulance and search and rescue squads since the 70s, Tod Schimelpfenig has extensive experience with wilderness risk management. He has used this valuable experience to conduct safety reviews as well as serve as the NOLS Risk Management Director for eight years, the NOLS Rocky Mountain Director for six years, and three years on the board of directors of the Wilderness Medical Society, where he received the WMS Warren Bowman Award for lifetime contribution to the field of wilderness medicine. Tod is the founder of the Wilderness Risk Manager's Committee, has spoken at numerous conferences on pre-hospital and wilderness medicine, including the Australian National Conference on Risk Management in Outdoor Recreation, and has taught wilderness medicine around the world. He has written numerous articles on educational program, risk management and wilderness medicine topics, and currently reviews articles for the Journal of Wilderness and Environmental Medicine. Additionally, he is the author of NOLS Wilderness Medicine and co-author of Risk Management for Outdoor Leaders, as well as multiple articles regarding wilderness medicine. Tod is currently the Curriculum Director of NOLS Wilderness Medicine.