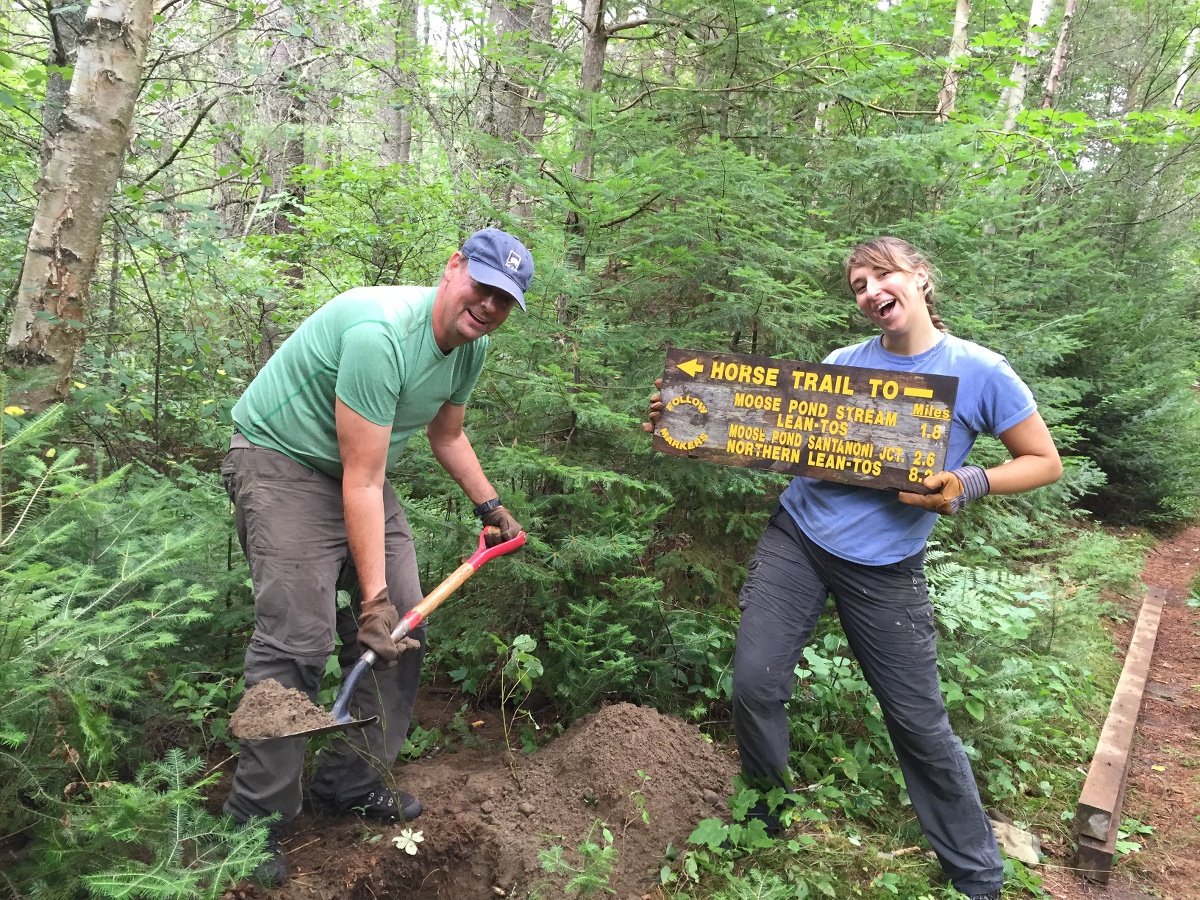 On the first day of the 2016 Alumni Service Trip in the Adirondacks, I remember thinking that our motley crew of highly motivated yet enormously unskilled laborers had quite an impossible mission before us. It was our goal to revamp a bridge and, looking at the bridge spanning across Moose Creek, it looked like a daunting task.
NOLS alumni usually have a lot of traits in common: being hardworking, resilient, eager to learn and, of course, fun loving. I saw all these traits and so much more from the eight other alumni on the trip with me. We came from all over the country and ages ranged from 26 to 77, but we were there for a shared purpose: a love for the outdoors and service.
We started the trip like all NOLS courses: with a gear check and the ABCs of proper pack packing. Since we were all alumni, we were able to fly through it quickly and head to the trailhead the first afternoon. A wilderness ranger escorted us into a remote area of the High Peaks Wilderness, and we hiked a few miles into our home for the week. We were sheltered in the dense forest but right along the river, so we could hear the gentle rushing from anywhere in camp. Home base was a lean-to that would serve as our hangout-in-the-rain spot, and our four cook groups spread out and set up camp around the area.
The last time I used a "Megamid," a tent used on many NOLS backpacking courses, was probably on my first NOLS trip, backpacking and rafting in Idaho ten years ago, so I was thankful to have my tentmates there to re-teach me the ropes. This first task would serve as a good lesson for the rest of the week: even though we all had at least one NOLS trip under our belt, our experiences since then had been varied. Everyone had different skills on the trail and in camp and we all taught each other something.
After a great first night's sleep in the perfectly set-up tent, we hiked back to the trailhead to meet Tate, our New York State Department of Environmental Conservation supervisor, and his crew, who we'd be helping that week. They loaded us up with tools and we trekked to the project. We would be working on the Moose Creek Suspension Bridge on the Northville-Placid Trail between Shattuck Clearing and the Cold River. The plan was to replace all of the decking, stringers, braces, and a whole bunch of other things that I had never heard of.
As daunting as this task was, we were set up for success from the beginning. Tate and his crew were extremely knowledgeable and helpful. Lew, one of our non-NOLS instructors, had a ton of knowledge in all aspects of backcountry building and also was an inspiring teacher. Of course, our two NOLS instructors, Julie and Bob, provided immense guidance and support.
As expected, there were many tasks to be done. Throughout the four days of work we carried what seemed like hundreds of long,heavy wooden beams up and down the riverbank to each side of the bridge for supports. We rebuilt the bridge's entry ramp and did lots of brushing and general trail maintenance. Everyone pitched in, smiling and supporting each other the entire time.
In the evenings, many of us would take a post-work dip in the Cold River just below our campsite. It was a great spot to watch the sunset and soak our weary muscles. We created delicious meals and, by the light of our headlamps, entertained each other with attempts at ghost stories. In the middle of the week, we took a day off from building the bridge to relax around camp or explore. I went with some others to check out artifacts at the Rondeau Hermitage, the site of an old homestead where local legend Noah Jean Rondeau lived off the land for thirty years. It was a great day of adventure and relaxation to break up all the hard work we had been doing.
By the time we hiked out, our project on the bridge was complete. As the sun rose, we walked across the bridge and relished our accomplishment with each step. It felt like an important moment personally, but even more for the team as a whole. We came together as strangers and were able to rebuild this bridge for generations of hikers to enjoy, as well as build new friendships and lifelong memories.
Written By
From the coast of Maine, Haley Cushing is a NOLS graduate. She has worked as an outdoor educator, wildland firefighter and currently works as a ski patroller in Park City, Utah.