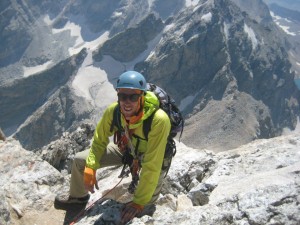 [Editor's Note 2/25/21: The WMI SOAP Note app is currently unavailable, but many similar apps can be found through the app store or feature on your smart device.]
Earlier that year, he had been working in Baltimore as a developer for Eye Byte Solutions. After taking a Wilderness First Responder (WFR) course in January, Rogers decided it was time to leave his job, head west, and spend more time outdoors.
"That opened the gates for me of really wanting to get out on bigger adventures, which just weren't possible for me in Baltimore" Rogers reflected.
He left the East Coast to be a trail crew leader before taking his second course, a Wilderness EMT in Jackson, Wyoming, using funds from the Veterans Association (Rogers served 8.5 years with the Army and National Guard). Within a month of his course ending, he was working for the WMI office in Lander, Wyoming.
While he loved the West, Rogers couldn't deny his passion for the tech industry or the renewed persistence of Eye Byte. A perfect solution was in the making.
Rogers left WMI and started a satellite office of Eye Byte in Jackson. He now lives and works in Teton Valley as Eye Byte's UX and Web Development Director. When he isn't working, he is in the mountains.
"It's one of the best balances I've ever had, really. I'm able to still do what I'm passionate about, while being based here in the Tetons," Rogers noted.
Rogers and WMI never lost contact. He had made a good name for himself at NOLS, and when WMI was looking to build an app for students, Eye Byte got the contract and Rogers was the developer.
"Really being able to understand where users and WMI staff were coming from, how the process works and how SOAP notes work, having filled out a million of them myself," the WFR and WEMT grad noted, made the project a success.
The app, now available for iPhones and Android phones, is a great tool to help students and first responders alike document thorough patient assessments. Using the SOAP (Subjective, Objective, Assessment, and Plan) approach to recording information, the app allows users to save findings, attach photos, and share the report via email when connected. The app can operate offline, offers helpful information windows and tools, allows users to record multiple sets of vital signs, and more.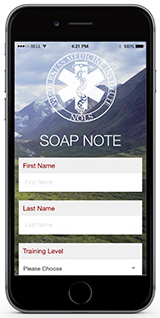 Written By
NOLS is a nonprofit global wilderness school that seeks to help you step forward boldly as a leader.