It's 5:55am and my alarm starts going off. The light of dawn is just beginning to light up the inside of my tent, but I am already wide awake. Today is my first day of being a DL during the canyon section of my NOLS semester and I'm so nervous and excited that I woke up way before my alarm.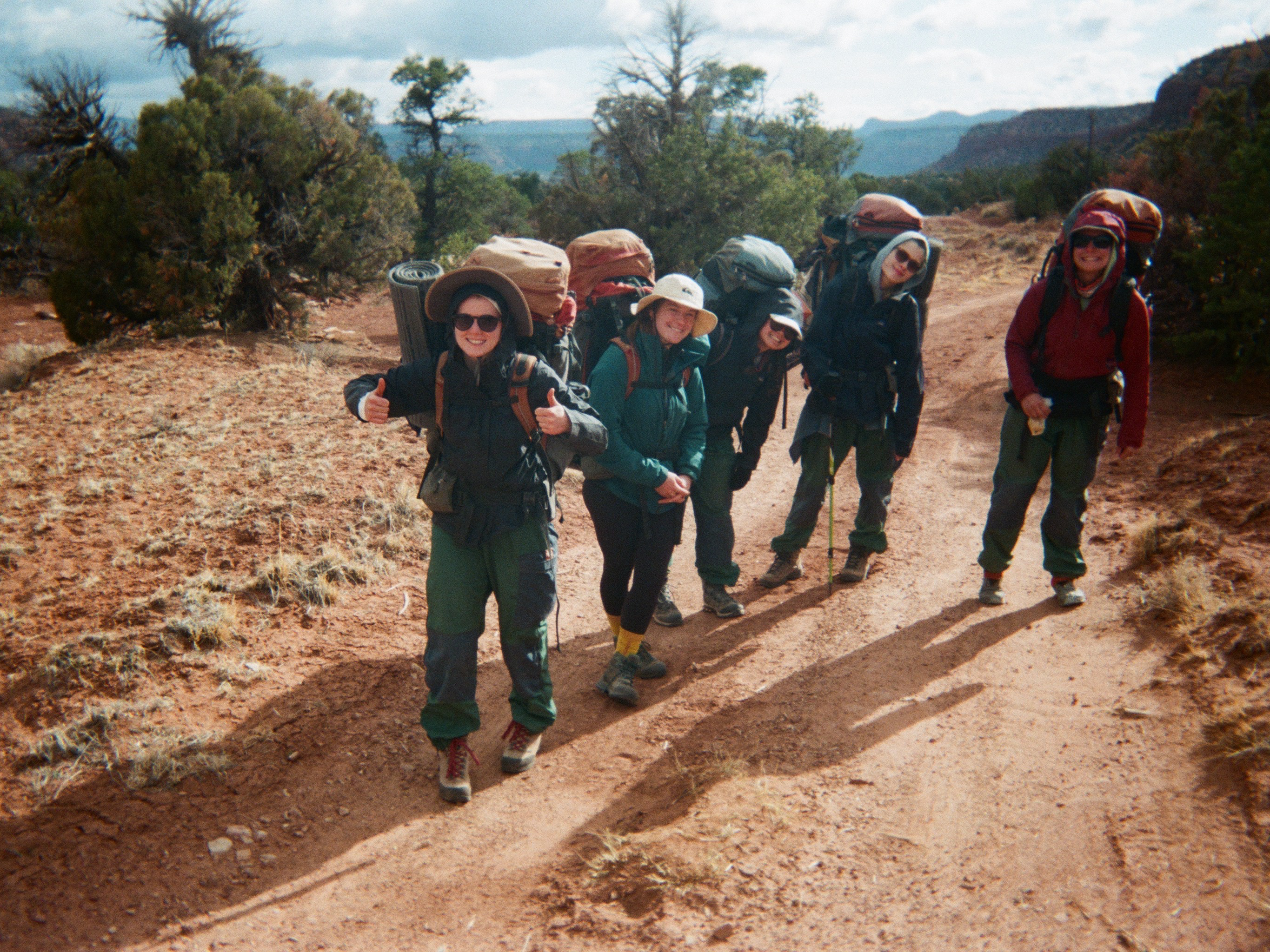 Photo by Bella Drake
Being a DL, also known as a Designated Leader, is a NOLS leadership position where you become the leader for the day and are charged with making group decisions on navigation, risk management and camp set up with guidance and support from your instructor. And for me, that means being the first one up and out of the tents to wake everyone up.
After waking up, getting breakfast done and getting hiking groups arranged and organized, our group is off with me leading the way down the canyon, surrounded on both sides by vast canyon walls. Today we are doing an all-girls hiking group (with Alec as well), and so all of the girls from my semester are in my group. Although it's nerve wracking to be the one making all the decisions, my group supports and encourages me, giving me the courage to step into this new leadership role even though I feel uneasy about it.
Our group of six traverses down the canyon, stopping to check our map, eat snacks and figure out how to safely navigate more difficult terrain. After many miles, we are all exhausted, but we keep pushing forward, navigating our way up the steep canyon walls to find our campsite up on the mesa where we'd agreed to meet the other hiking groups. And finally, not only do we find our camp site, but we are the first ones there for the day! We all gather in a circle and eat a coveted pop-tart to celebrate. Although the day was long and wasn't without its challenges, as we stood there dancing and singing and eating a glorious pop-tart, I felt capable of being a leader for the first time.
Photo by Bella Drake
Before NOLS, I had never gone backpacking in my entire life. After my freshman year of college, I decided to take a gap year. I found myself on the NOLS website, looking into their semester courses, and a week later I was signed up for their Spring Semester in the Rockies. Before I knew it, I was boarding a plane to Wyoming, about to start my 90-day expedition into the backcountry of Utah and Wyoming.
After meeting our instructors, we organized all our gear together and piled into a yellow school bus to travel nine hours south to start our first section and spend three weeks backpacking and canyoneering through the winding canyons of Southern Utah. At the end of that section, I felt like I could live in the backcountry forever, and headed confidently into our next section, where we traveled down the Green River by raft, kayak, and canoe with the most amazing all-women led instructor team. After that, we headed west to the House Range and Ibex to spend two weeks at a climbing base camp, where every day we'd climb somewhere new, run down the never-ending two-track roads and make elaborate dinners on our exquisite Coleman Stoves. From there, we drove back up north, to the NOLS Horse Ranch to get acquainted with our horses and new gear before we set out to go horse packing through Wyoming's Red Desert, facing all sorts of crazy weather and unpredictable challenges, including our horses running away.
By the end, it felt like my semester helped show me who I want to be and what I want to choose to prioritize in my life. I pushed myself to try new things, to learn how to overcome hardships when things didn't go as planned, and to be confident in my own leadership style. My incredible proctor, Amanda, and my other female instructors helped me to believe that I was capable of being a leader in an industry typically dominated by men. Every day with my little NOLS semester group was filled with so much adventure and love, and I left with a newfound sense of excitement for my future.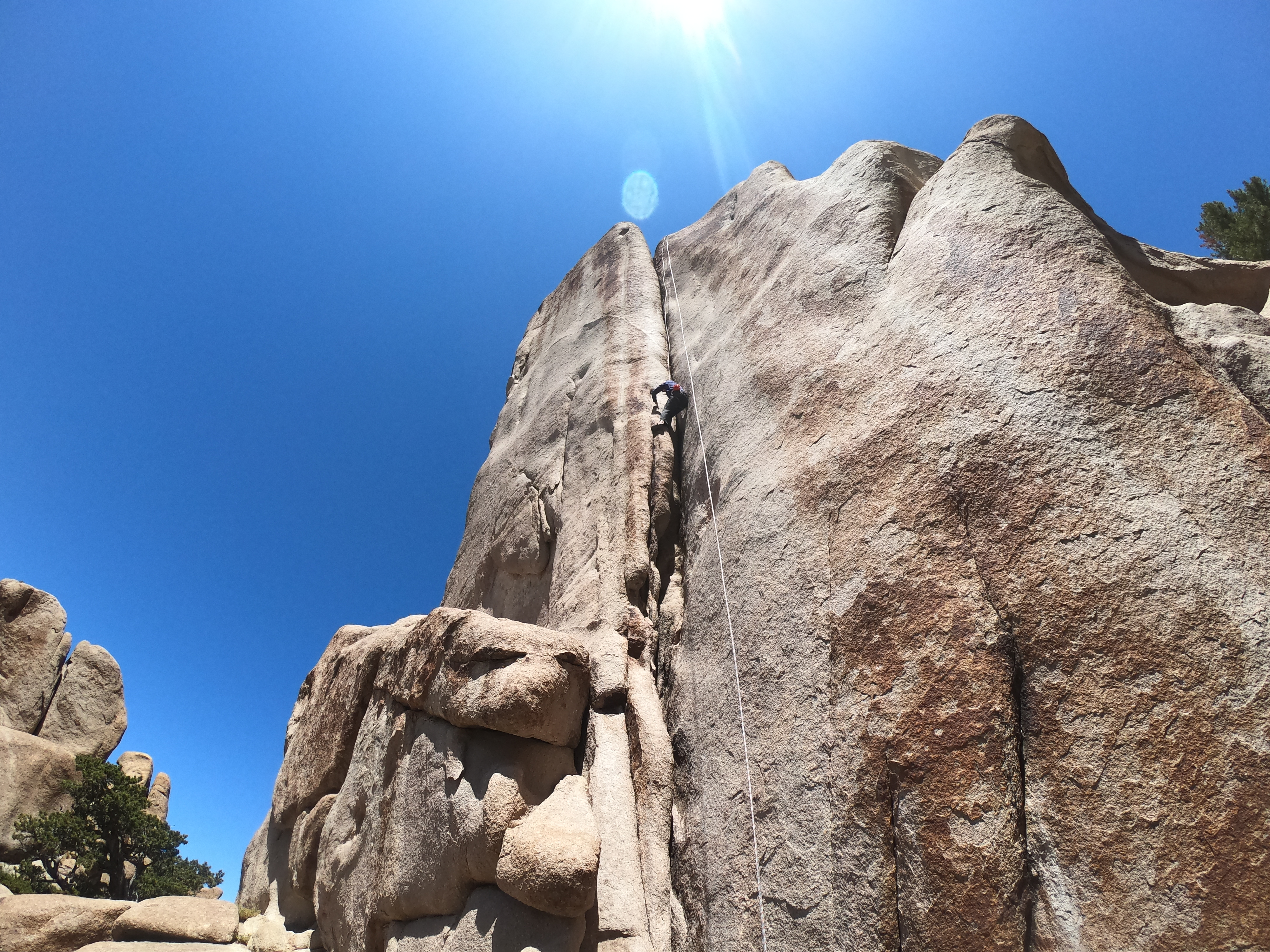 Photo by Bella Drake
Now it's 8pm on a Friday night and I'm laying on my floor calling Oona, a close friend from my semester. It's been 8 months since our semester has ended, and we reminisce and laugh about all the wild moments. We talk about how we weirdly miss being covered in dirt in the middle of the Utah desert, while eating every dehydrated carb ever invented. We remember all of the crazy moments of bad weather, or unforeseen challenges and changes of plans, and how those hard moments always led to the best memories and most entertaining stories. We miss the quietness of the canyons, the roaring power of the river and the vastness of the high desert. And we miss our little community we built out of our semester group, and how we all understood each other in such a close, and personal way.
All the time I ask Oona, how do you move on from something that changed your life in such a monumental way? How do we continue to carry what we've learned from NOLS into a world so driven by technology and so disconnected from nature, and from each other?
I still don't have the answers, but what I do know is what you learn on a NOLS course never leaves you. The places I went, the people I met, and all of my experiences from my semester have changed how I see the world and what I want to do with my future. I went into my NOLS course expecting to learn how to live in the backcountry and become a leader, but I came out learning more about myself than anything.
Written By
Bella currently lives in Bellingham, Washington and is finishing her degree in Environmental Science from Western Washington University. In her free time, she enjoys trail running, bouldering, baking and yoga. She hopes to work in outdoor education after graduating.