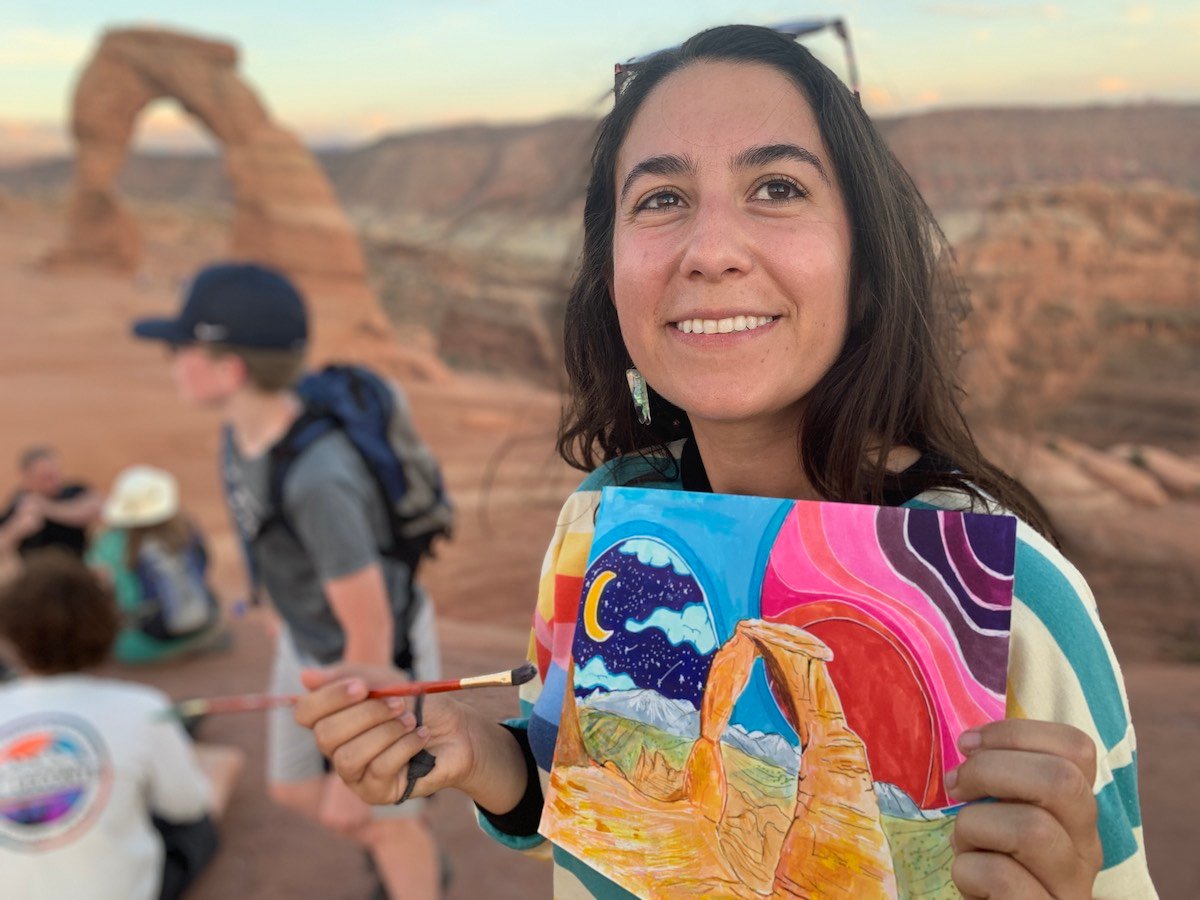 Tell us about how you came to learn about NOLS and how you became a DE&I Fellow at NOLS Teton Valley
From a young age I have been passionate about learning how to be self-sufficient in the backcountry, not just a participant on a guided trip. When I was a teenager I did a wilderness trip in Yellowstone with another outdoor organization in which both my instructors were NOLS alumni. After learning more about NOLS from my counselors, I knew that if I wanted to feel fully confident in the outdoors, a NOLS program would provide me with those necessary skills.
Around the same time I discovered the book and movie "Into The Wild." My obsession with this story naturally instilled in me the dream of spending time in the wilderness of Alaska. It took A LOT of persuasion to convince my parents to let me spend a month in the backcountry of Alaska with NOLS. And even more persuasion to get them on board with the concept of independent student expeditions that culminate longer NOLS courses, given that I was only 16 years old. Once my mother saw the word grizzlies, the begging ensued.
While I had done a few other hiking trips prior, my NOLS course challenged me in ways I would never have imagined. My pack was almost half my body weight at the time, it incessantly rained for the first two weeks of the trip, and our group had to frequently backtrack as we learned to route-find off-trail.
Just as I was about to curse this "sufferfest," the skies cleared, double rainbows framed the glacier in front of me, and wild blueberry scones were on the menu every night. I returned home to Center City, Philadelphia with a full understanding of "Type 2 Fun" and never stopped backpacking.
As a Latina woman from the inner city it didn't take long for me to realize that my passion for the outdoors, given my background, was a bit of a novelty in the hiking community. I went on to study sociology in college with an emphasis in racial inequality. During this time I learned about the barriers to access for minorities across many fields.
Since I went to a super outdoorsy college, it didn't take long for me to start asking myself why I was staying on campus during the weekends while many of my white friends were going skiing and staying at family homes in Vail. I didn't need a degree in sociology to see the dramatic demographic gap in who spent time recreating outside.
When I got an email from NOLS my senior year of college about a job posting for DE&I fellows, I instantly knew this was my dream, post-grad job. I started drafting a cover letter as soon as I closed the email window. My NOLS course had been one of the most impactful experiences of my life and I loved the idea of helping NOLS achieve their strategic vision of having more students and staff of color.
What responsibilities did you have as a NOLS fellow?
As a NOLS fellow in the Teton Valley I had a lot of freedom to choose what responsibilities I took on. I spent the majority of my time assisting in the rations department with logistics and packing for upcoming trips. I also rotated through the kitchen, gear room, and wherever else help was needed. Additionally, I created educational material about historic examples of diversity in the outdoors and posted this content around the campus. It was my hope that when students from underrepresented groups landed at NOLS Teton Valley, they could see themselves in the stories I posted. I felt this was super important given that the majority of the staff at the campus were white.
Lastly, I was able to go out on a trip as an instructor-in-training for the final two weeks of my fellowship. I got to teach a few classes and get a full feeling for what it is like being a NOLS instructor in the field.
What were your biggest takeaways from your time at NOLS Teton Valley?
An understanding of how much work goes on behind the scenes to enable a successful outdoor education organization
That I most certainly want to live in a yurt again
That before I continue working in outdoor education I wanted to spend more solo time in nature. I felt that I could be a role model to other women of color by pursuing my own dreams, such as "thru-hiking" the Appalachian Trail. Post-fellowship I went on to hike the entire Appalachian Trail, 1,800 miles of the Pacific Crest Trail and the Negev desert section of the Israel National Trail.
What's your opinion of NOLS' role in representation and inclusion up until today? And, what would you like to see other outdoor leaders, and NOLS specifically, do more of, or differently, in the future?
I feel very fortunate to have worked for NOLS in a position related to DE&I before it became a "hot topic." I admire that NOLS addressed this as a concern before diversity in the outdoors was a trending hashtag, and this is exactly why I picked NOLS as the recipient for my "Kula for a Cause" (Kula Cloth's program to donate proceeds from specific designs to a cause chosen by the artist). It is my hope that the funds from my Kula can help continue supporting this fellowship and other DE&I initiatives.
That being said, I think working as a fellow post-college for NOLS was only feasible due to my own economic privilege. While I got to live on the NOLS campus and have my food subsidized, the stipend for the fellowship is significantly below minimum wage. This was surprising considering the fact that the position required a college degree and was in a location that required a car to come and go.
I don't believe that the outdoor field will become more diverse until staff make a livable wage. From my experience working in outdoor education, it feels as if many organizations function due to the willingness of young, educated people to work at a very low rate. This looks like hiring staff who already have cars that they are willing to live out of and staff who can financially weather the instability of seasonal trips and work availability. For NOLS, in terms of retention, even if it means hiring fewer fellows, being able to pay a few fellows a reasonable stipend would go a long way.
Tell us more about your artwork, your inspiration, and what you hope your followers and fans get from your work?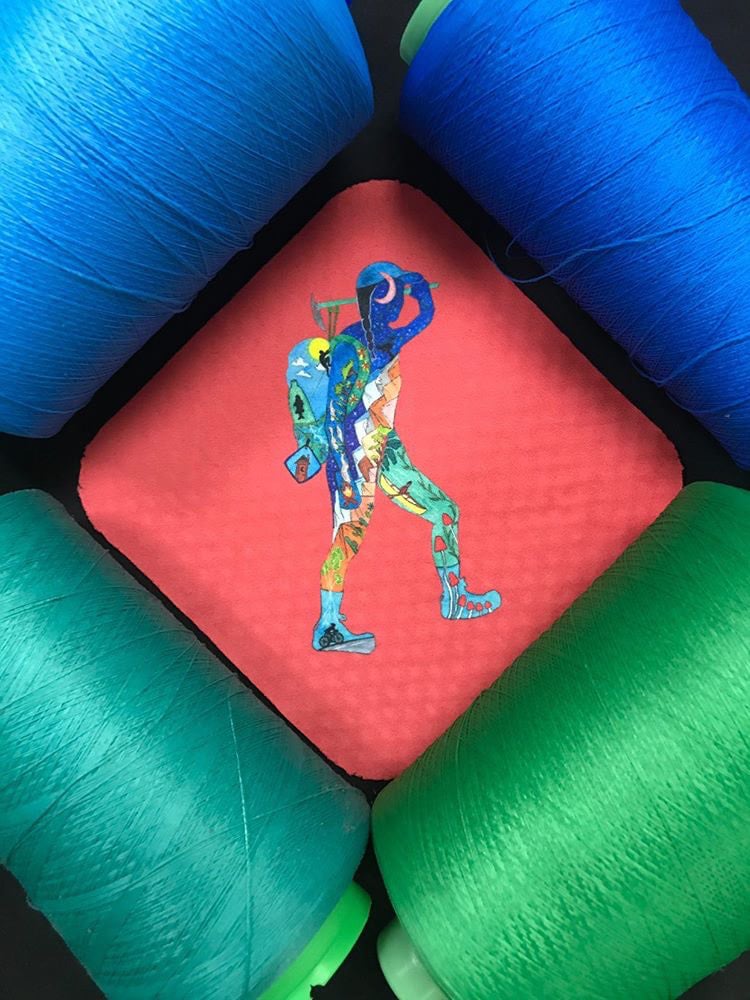 I have been an artist since I graduated college, primarily creating large abstract works. I actually made a series of collages depicting my yurt at the Teton Valley that were published in The Leader in 2016.
While I always made art on the side, it very much took a backseat to my thru hiking adventures. It wasn't until COVID-19 that life slowed down enough to where I could pursue this passion full-time. Given that thru hiking and the outdoors have been my main sources of inspiration and purpose throughout my early 20s, it is not surprising that what emerged out of my quarantine art is a celebration of the hiking community and the simplicity of living out of a backpack.
I am a mixed media artist and primarily work with watercolor, acrylic, illustrator markers and ink. It is my hope that my art creates a portal to the "trailverse" for people during these tough times. Additionally, I hope that people see themselves in my art and reflect on how their own journeys in nature have molded them physically and spiritually. My silhouette series, such as my Kula design, are meant to contain all the memories and splendor of hiking thousands of miles within a single backpacker's form.
Can you tell us a little more about Kula Cloths? Have you used one before?
Kula Cloth is an antimicrobial pee cloth designed as a great LNT option for peeing outside. It is made to easily snap onto a backpack and the designs are often created in collaboration with a variety of artists. Beyond the pee cloth product, Kula is also a platform for social change and offers many online courses as part of their "Kula Academy" (they even offer scholarships for all the courses for BIPOC participants).
I started noticing their product along the Pacific Crest Trail and began asking other women if they actually worked (my partner would often complain about my not-so-pleasant smelling pee bandana when he walked behind me on trail.). I ordered one from the trail and am a total convert. They have truly revolutionized peeing in the woods for a lot of backpackers.
How did you come to work with Kula Cloth?
As I began sharing my art on social media, a stranger commented that I should check out Kula Cloth's design competition. I was familiar with their product since I used one on the Pacific Crest Trail and was excited to submit a design.
However, once I looked into the competition I saw that a winner had already been announced. I really loved their mission and that they were a female-run gear company so I decided to reach out anyways. Before I knew it I was designing a Kula Cloth! You can take a look at it here.
Why did you choose NOLS as the recipient of a portion of your limited edition Kula Cloth sales?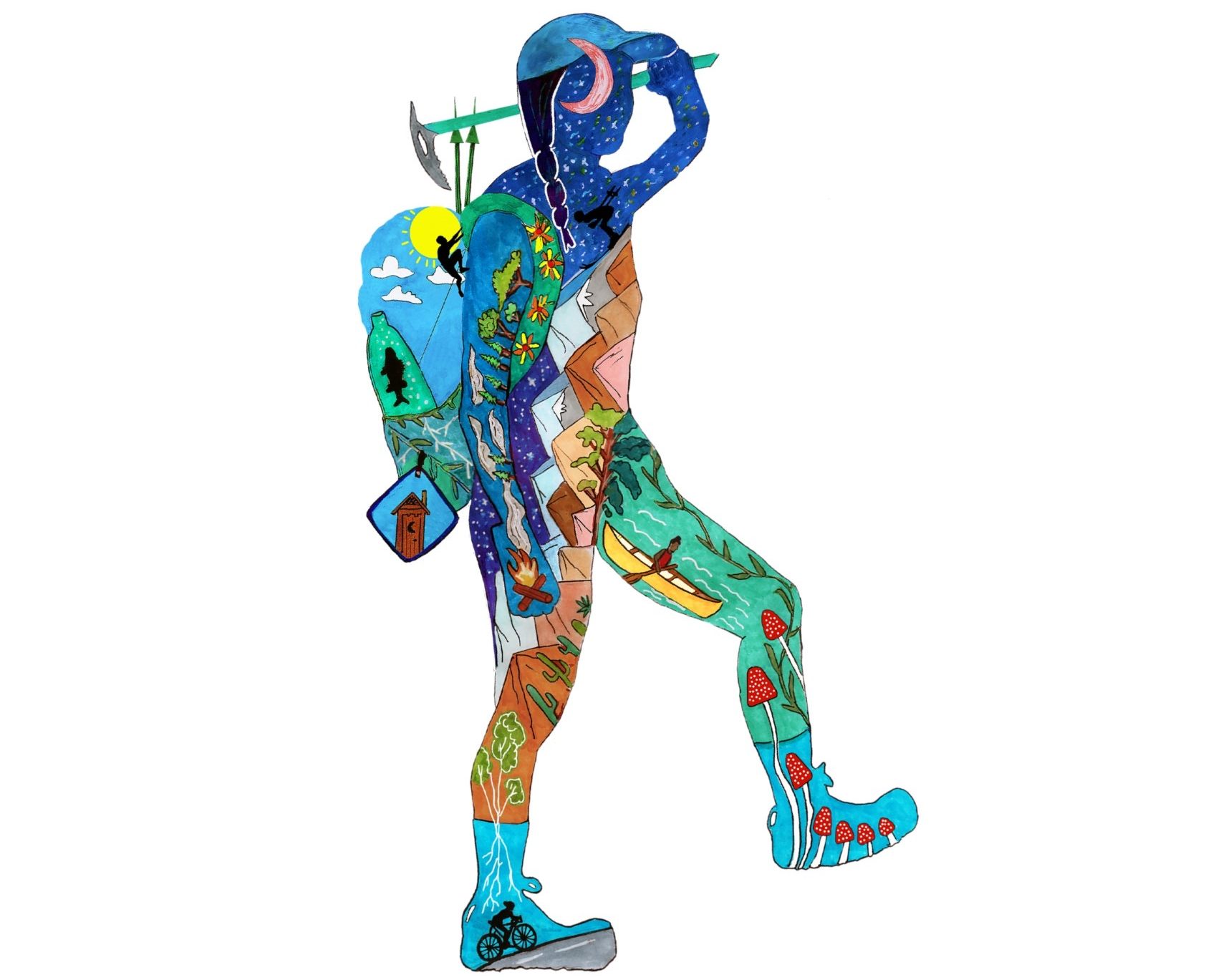 I chose NOLS as the recipient since I truly believe NOLS played a pivotal role in my confidence in the outdoors. This confidence has trickled down to so many facets of my life. While I'm on trail, I may not see many other Latina women or people that look like me, but NOLS gave me the skills so I always feel like I belong in any outdoor setting.
Secondly, I admire the work NOLS has been doing in regard to DE&I and want to give back to these initiatives.
What advice do you have for other People of Color in creative fields?
My biggest piece of advice is "JUST ASK" for any opportunities or collaborations you desire. This isn't any novel advice, but worth restating. I started creating hiker art 3 ½ months ago when I lost my job due to COVID-19. Within those 3 months I have built a foundation for a sustainable career in the arts. While opportunities and projects have come to me in the past month, the first two months consisted of doing a lot of work for free and consistently reaching out to other people and organizations in order to get my art out there. The worst anyone can say is no, and a no to me just means ask again in another year when you're more established.
Any last words, thoughts or reflections surrounding the remainder of 2020 and the future of DE&I efforts in the outdoor community?
I believe that the current lack of diversity in the outdoors is a problem of access NOT interest
"gear culture" can perpetuate access issues if people believe they need fancy and expensive gear to spend time in nature
I have seen the gender gap on trail close significantly since I started long distance backpacking and I really hope to see a future where the trail more closely resembles the demographics of the country.
Keep up with Alina:
Written By
NOLS is a nonprofit global wilderness school that seeks to help you step forward boldly as a leader.