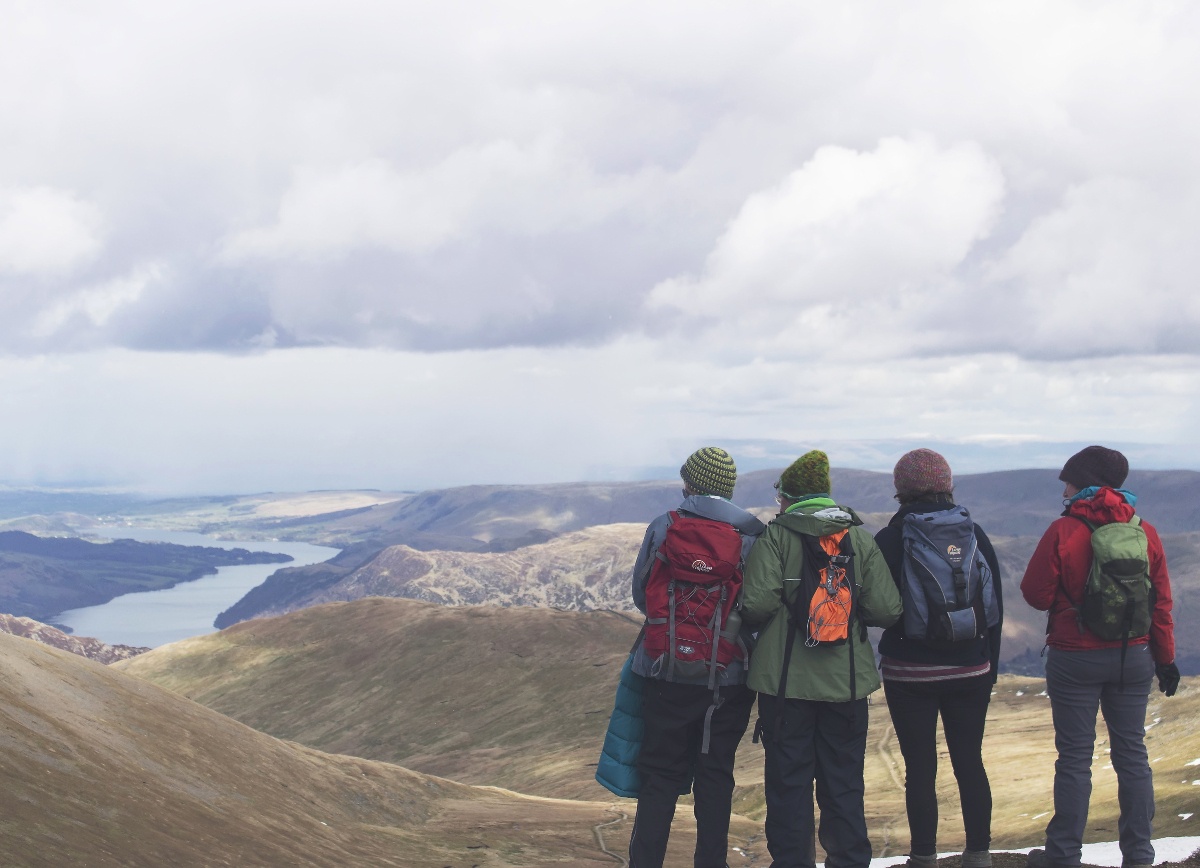 Photo by Matt Heaton
The Setting
You are the leader of a hiking group at a summer day camp. Today, you allowed some of your campers with good navigation skills and expedition behavior to walk 3 miles back to your camp on a well-marked trail without a camp leader present.
When the campers arrive, you notice one of them has a bandage on their forehead. You learn that about an hour ago and a mile back on the trail this camper tripped, fell, and knocked their head. You move the group off the trail and conduct a patient assessment. First, you focus on initial care, which means slowing the patient's very fast breathing. This takes 20 minutes with focused coaching. Then, you move into a more in-depth assessment.
SOAP Report
Subjective
The patient, a 15-year-old male, tripped and fell while hiking. He struck his forehead on a log. Group members report he did not talk for a few minutes. They say he was "knocked out." The patient states he remembers the fall and was stunned, but did not lose responsiveness.
At present, the patient is breathing quickly and says his hands hurt. He is alert and oriented to person, place, time, and recent events (A+Ox4), calm, and not distracted. Except for the pain in his hands, he has good circulation, sensation and movement (CSM). The patient walked a mile from the incident site to this location.
Objective
The patient has a golf ball sized hematoma (local swelling) on his forehead. No other injuries found. The initial pain in his hands has resolved. Patient specifically denied spine pain, has no distractions, has normal mental status, and CSMs in all 4 extremities.
Vital Signs
| | |
| --- | --- |
| Time | 1:30pm |
| Level of Responsiveness (LOR) | A+Ox4 |
| Heart Rate (HR) | 72, strong, regular |
| Respiratory Rate (RR) | 30, shallow, regular |
| Skin Color, Temperature, Moisture (SCTM) | Pink, warm, dry |
| Blood Pressure (BP) | Radial pulse present |
| Pupils | Equal, round, reactive to light |
| Temperature (T°) | Not taken, patient states he is warm and comfortable |
History
| | |
| --- | --- |
| Symptoms: | Headache has persisted since the fall, rated as a 6 out of 10 for pain. Nausea, but patient denies vomiting. States he is very tired and that he saw "stars" for several minutes after the blow to the head. Reports normal vision at present. |
| Allergies: | Denies. |
| Medications: | Patient takes Adderall (10mg every morning) for ADHD and Prozac (10mg every morning) for social anxiety and panic attacks. Trip leaders observed him taking these this morning. |
| Pertinent Hx: | Patient has no history of head injury, no significant medical history. |
| Last in/out: | Ate breakfast and trail snacks and drank about 2 liters of water with flavored electrolyte mix today. Urinated normally before his fall. Normal bowel movement this morning. |
| Events: | Nothing unusual before his fall. |
---
STOP READING!
What is your assessment and plan? Take a few minutes to figure out your own assessment and make a plan. Don't cheat—no reading on without answering this first!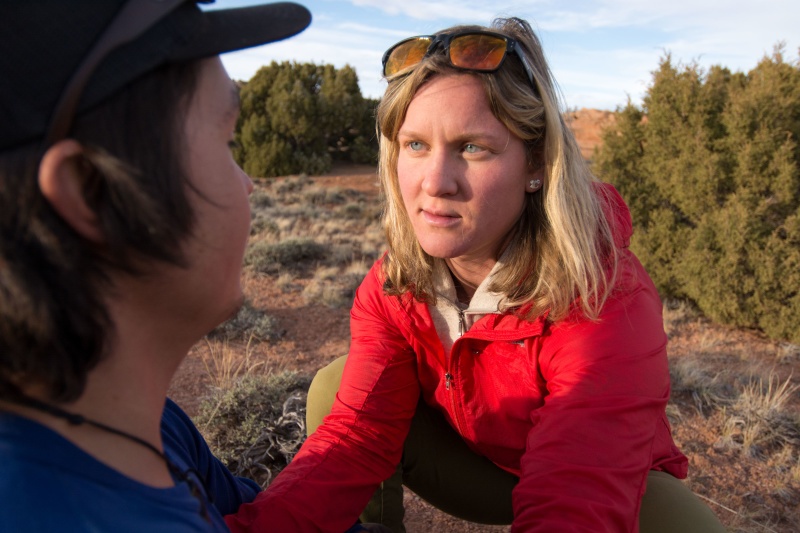 NOLS Wilderness Medicine students practice giving patient care. Photo by Jared Steinman
Assessment
Low risk mechanism for spine injury. Patient has been ambulatory for a mile and meets criteria for no spine protection.
Possible mild brain injury/concussion.
Hematoma on forehead.
Possible hyperventilation and an anxiety episode.
Plan
Calm the patient and slow breathing.
Monitor patient for signs and symptoms (S/S) of worsening head injury.
Have patient walk, without pack, the 2 miles to the parking lot, then drive to clinic for evaluation.
Stop and seek assistance if patient's condition deteriorates.
Notes from NOLS on Evaluating and Responding to Minor Head Injuries
Ruling Out Spinal Injury
In the evolving approach to spine injury management, a simple fall from a standing height is not a mechanism for spinal cord injury. Also, walking a mile, as the patient did, strongly suggests there is no significant spine injury.
The pain in the hands could indicate spine injury, but the rescuer's careful assessment showed the CSMs were otherwise normal. If you have reason to suspect a spine or spinal cord injury, then a Focused Spine Assessment is a good decision-making tool.
Responding to Hyperventilation
The patient was breathing faster than normal (hyperventilating), which probably explains the pain in his hands (hyperventilation can cause tingling and cramping as well). This very uncomfortable side effect of hyperventilation can be resolved by slowing the breathing, although this may take some time and focused coaching.
Symptoms and Decision-Making Tools for Head Injuries
It may be unclear, as in this scenario, whether someone was unresponsive after a blow to the head. Those present on the scene may not have the skill to make this determination and the "stunned" patient may appear to be unresponsive.
If you are unsure what might have happened, you can make your treatment decision based on the patient's present mental status, which in this case is A+Ox4.
A blow to the head with subsequent headache, nausea, and fatigue indicates a possible concussion.
Not every head injury requires evacuation. There are situations in the wilderness where signs and symptoms following a blow to the head are minor. In those situations, an appropriate response can be simply to monitor the patient for developing signs of a serious head injury instead of evacuating. This may be reasonable from a medical perspective and practical from a wilderness perspective, especially if location, terrain or weather complicate the evacuation.
With the symptoms observed in this patient, it's practical to try to walk to patient to the closest road with a backup plan of requesting evacuation support if the patient's condition deteriorates.
End of the Tale
The patient's condition does not change during the walk to the road. He urinates once (yellow, not dark) and is able to drink a liter of water and eat some trail mix.
The patient is then driven to a medical clinic for evaluation, diagnosed with a possible concussion, and referred to his family physician for follow-up.
Keep your skills fresh: Recertify with NOLS.
Further Resources for Minor Head Injuries
Signs and symptoms of a mild head injury include:
Brief change in Level of Responsiveness (LOR)
Temporarily blurred vision or "seeing stars"
Nausea and/or isolated vomiting
Headache, dizziness, and/or lethargy
Personality changes, emotionally volatile
Amnesia
Signs of a more serious or worsening head injury include:
Worsening headache, vision disturbances, protracted vomiting, lethargy, excessive sleepiness, ataxia (loss of balance) and seizures
LOR: disoriented, irritable, combative, unresponsive
HR: decreases and bounds
RR: hyperventilation, erratic respirations
SCTM: warm and flushed
BP: increases and pulse pressure widens
Pupils: unequal
Evacuation Guidelines for Head Injuries
Observe patient for 24 hours if:
The patient is A+O x 3 or 4
only S/S of mild head injury are present
Evacuate the patient if:
The patient had a loss of responsiveness or obvious altered mental status, even if they recover to A+O x 3 or 4
Headache, nausea/vomiting, irritability, or other S/S of mild head injury are not improving after 24 hours
Rapidly evacuate the patient if:
The patient is not A+O x 3 or 4
There are distinct changes in mental status (disoriented, irritable, combative)
There are S/S of serious head injury.
Written By
As a NOLS Instructor since 1973 and a WEMT, volunteer EMT on ambulance and search and rescue squads since the 70s, Tod Schimelpfenig has extensive experience with wilderness risk management. He has used this valuable experience to conduct safety reviews as well as serve as the NOLS Risk Management Director for eight years, the NOLS Rocky Mountain Director for six years, and three years on the board of directors of the Wilderness Medical Society, where he received the WMS Warren Bowman Award for lifetime contribution to the field of wilderness medicine. Tod is the founder of the Wilderness Risk Manager's Committee, has spoken at numerous conferences on pre-hospital and wilderness medicine, including the Australian National Conference on Risk Management in Outdoor Recreation, and has taught wilderness medicine around the world. He has written numerous articles on educational program, risk management and wilderness medicine topics, and currently reviews articles for the Journal of Wilderness and Environmental Medicine. Additionally, he is the author of NOLS Wilderness Medicine and co-author of Risk Management for Outdoor Leaders, as well as multiple articles regarding wilderness medicine. Tod is currently the Curriculum Director of NOLS Wilderness Medicine.