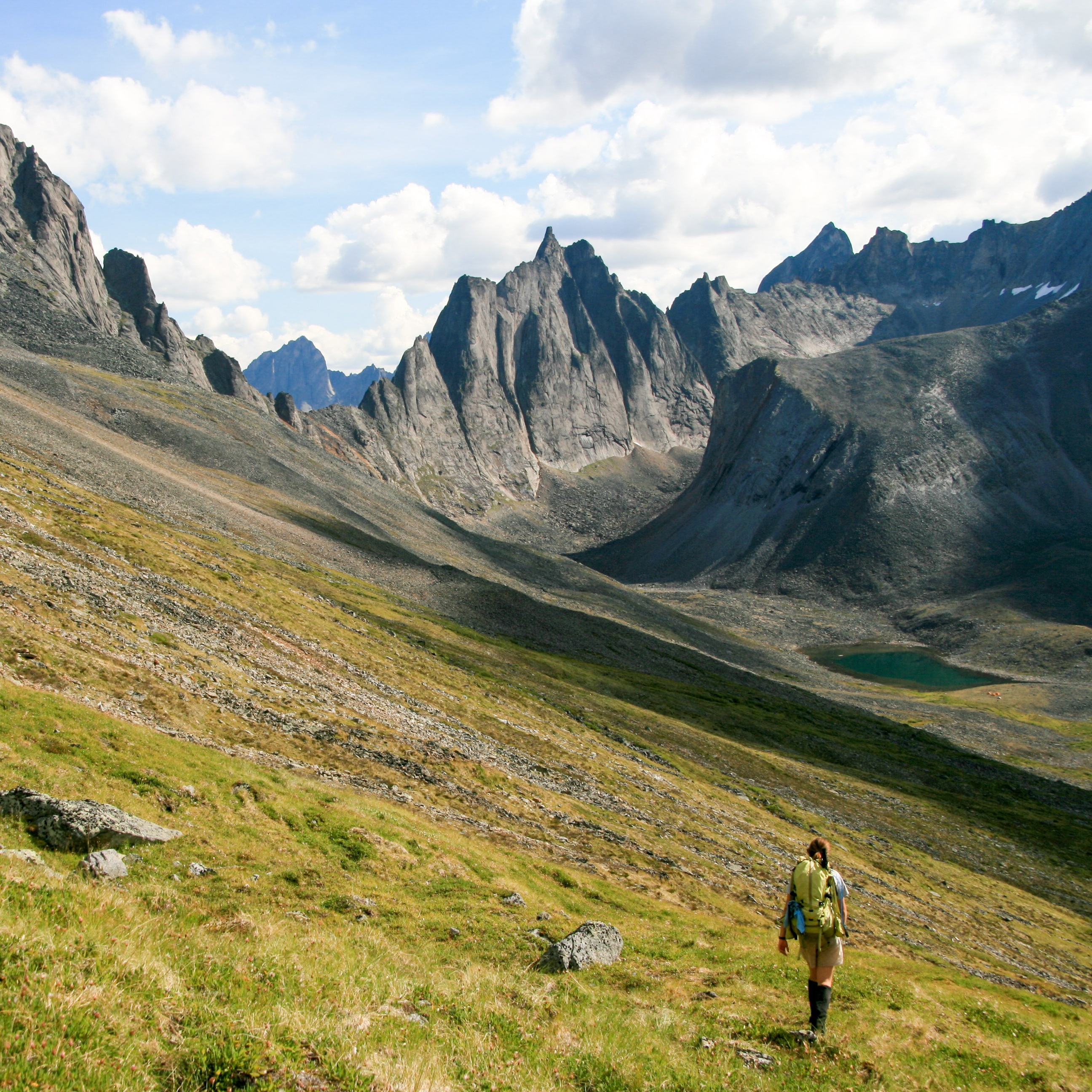 Photo by Ashley Wise.

The Setting
You are a Search and Rescue (SAR) volunteer working with a team to sweep a trail in the central Rocky Mountains in response to a vague cell phone report of an ill person somewhere on the trail. Eight miles from the trailhead at 8,800 ft. (2,680 m) you find the patient sitting on a log. After introducing yourselves, and with the patient's permission, you and the SAR team members begin an assessment.
SOAP Report
Subjective
The patient is a 38-year-old with a chief complaint of weakness and fatigue. They report coughing a lot over the past few days, and think they have the flu. They have only been able to walk 4 miles over 8 hours today on a level or downhill trail while carrying a light backpack.
Objective
Patient Exam
The patient denies recent injury, fainting, dizziness, or falls. You find nothing of note on the head-to-toe assessment. There are rales (abnormal lung sounds) throughout the patient's lungs which you find by stethoscope, but there are no audible abnormal breathing noises. The patient is not coughing at the moment. The patient was sitting comfortably, not in any apparent distress, and speaking in sentences. They can stand and walk along a straight line in the dirt without ataxia (loss of balance).
Vital Signs
| | |
| --- | --- |
| Time | 5:00 p.m. |
| Level of Responsiveness (LOR) | A+Ox4 |
| Heart Rate (HR) | 100, regular, strong |
| Respiratory Rate (RR) | 24, regular, unlabored |
| Skin Color, Temperature, Moisture (SCTM) | pale, warm, dry |
| Blood Pressure (BP) | radial pulse present |
| Pupils | Pupils equal, round, responsive to light (PERRL) |
| Pulse Oximeter Reading | 74% (percent oxygen saturation of the blood), before oxygen treatment |
| Temperature (T°) | 99°F (37.2°C) oral |
History
| | |
| --- | --- |
| Symptoms: | Weakness, fatigue at present. Headache, nausea, no appetite, lethargy over the past 48 hours. |
| Allergies: | Denies |
| Medications: | Acetaminophen 500mg every 3 hours for the past two days for headache. Denies any other regular medications. |
| Pertinent Hx: | Patient states they have hiked at this and higher altitudes several times previously without illness. They deny any significant medical history or breathing problems, and state they are very physically fit and cannot understand the fatigue they are experiencing. |
| Last in/out: | Patient has been drinking 4 liters a day with clear urine and normal bowel movements. They have eaten some food, but less than normal. |
| Events: | The patient states that this is their fifth day in the mountains. On the first day they traveled from their home at 3,000 ft. (915 m) above sea level to the trailhead at 8,000 ft. (2400 m). On day 2, they backpacked 8 miles to 10,200 ft. (3100 m). On day 3, they backpacked 7 miles to 10,400 ft. (3200 m) and that evening began to feel ill with headache, nausea, weakness, and coughing. They slept poorly that night and stayed in camp the next day (day 4). Symptoms did not improve so they decided to leave the mountains today. By noon, the patient was even weaker and concerned with their lack of progress. A companion initiated the SAR response. |
---
STOP READING!
What is your assessment and plan? Take a few minutes to figure out your own assessment and make a plan. Don't cheat—no reading on without answering this first!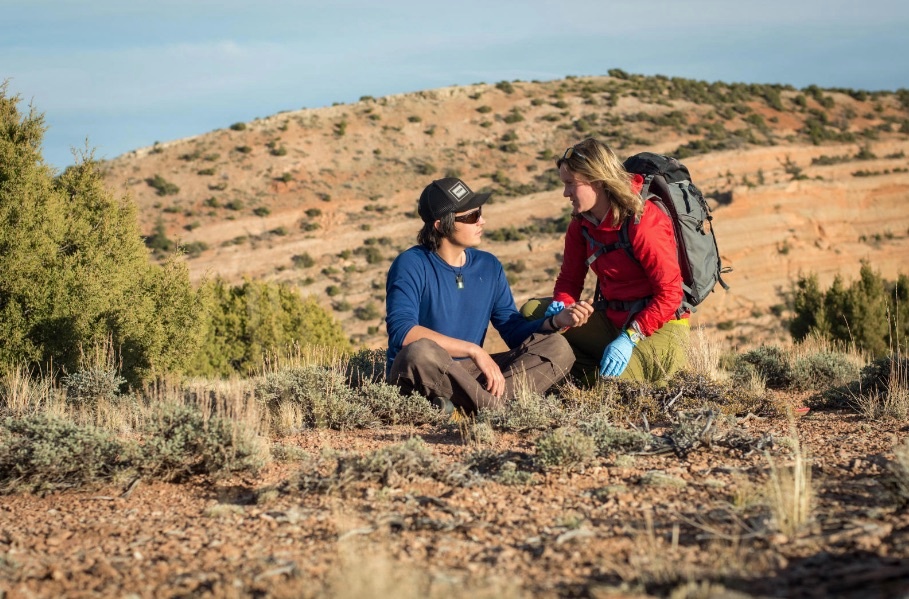 Practicing giving patient care. Photo by Jared Steinman.
Assessment
Possible altitude illness with high altitude pulmonary edema (HAPE).
Weakness and inability to travel.
Plan
Request a helicopter evacuation.
Walk patient with oxygen downhill on trail to a meadow 1/4 mile away for helicopter evacuation.
Request backup ground team mobilize with ability to carry the patient to the trailhead.
Administer oxygen at a rate of 4 liters per minute via nasal cannula. Additional oxygen requested as soon as possible.
Anticipated problems
Altitude illness or lung problem could worsen.
If a helicopter evacuation is not possible, the patient will need to be carried to the trailhead.
Notes from NOLS on Altitude Illness
This is based on a real case. Despite what the patient hoped for, fitness and previous altitude experience do not provide immunity from altitude illness.
Risk factors for altitude illness include rapid ascent, overexertion, and sleeping at an elevation higher than you are acclimatized for. This patient had all of these risk factors.
The three main forms of altitude illness are acute mountain sickness (AMS), high altitude cerebral edema (HACE), and high altitude pulmonary edema (HAPE). AMS is common and unpleasant. HAPE and HACE are uncommon, but life-threatening.
Symptoms of AMS include:
headache
lack of appetite
dizziness
nausea
insomnia
lack of energy
These initial symptoms can lead to many possible diagnoses, like dehydration, exhaustion, carbon monoxide poisoning, viral syndromes, migraine, and hypothermia. As a rescuer, you must be vigilant to recognize AMS. The setting is an important clue: the patient's rapid ascent to an elevation beyond their acclimatization level should make you suspicious.
AMS is treated by stopping your ascent to acclimatize, and descending if the symptoms do not resolve.
Ataxia, or loss of balance, is an indicator of HACE, along with altered mental status. If HACE is suspected, then immediate, rapid descent is necessary.
HAPE, the cause of most deaths from high altitude illness, can develop gradually and be hard to recognize. Be suspicious of a decreased ability to exercise, shortness of breath, unanticipated fatigue, and elevated heart rate and respiratory rate. Cyanosis (bluish skin) or audible wet lung sounds are dangerous and obvious signs. HAPE is also treated with immediate, rapid descent. Administering oxygen if available can also be helpful.
The Tale Continues…
You and the other SAR folks consider that this might be a flu-like illness or pneumonia, but the lack of a fever suggests otherwise. It doesn't appear the patient is dehydrated or has carbon monoxide poisoning. The story of unexpected fatigue and the noisy lung sounds makes you suspicious of HAPE.
At first the patient wants to continue walking, and initially requests to be evacuated via a horse rather than helicopter. Eventually they agree that a helicopter is the best option for a quick evacuation. The patient insists on at least walking to the landing zone, but you know that physical exertion with HAPE could make matters much worse and voice your concerns. You and the other SAR team members begin administering oxygen from a small tank you are carrying, which you know will only last an hour. This helps the patient to walk, albeit slowly.
End of the Tale
The patient is able to walk to the meadow that has been designated as the helicopter landing zone and arrives simultaneously with the sound of the rotors. The patient is loaded and flown to the hospital. Once there, the patient is diagnosed and treated for HAPE, admitted overnight, and released the next afternoon when their lungs are clear of fluid.
Keep your skills fresh: Recertify with NOLS
Written By
As a NOLS Instructor since 1973 and a WEMT, volunteer EMT on ambulance and search and rescue squads since the 70s, Tod Schimelpfenig has extensive experience with wilderness risk management. He has used this valuable experience to conduct safety reviews as well as serve as the NOLS Risk Management Director for eight years, the NOLS Rocky Mountain Director for six years, and three years on the board of directors of the Wilderness Medical Society, where he received the WMS Warren Bowman Award for lifetime contribution to the field of wilderness medicine. Tod is the founder of the Wilderness Risk Manager's Committee, has spoken at numerous conferences on pre-hospital and wilderness medicine, including the Australian National Conference on Risk Management in Outdoor Recreation, and has taught wilderness medicine around the world. He has written numerous articles on educational program, risk management and wilderness medicine topics, and currently reviews articles for the Journal of Wilderness and Environmental Medicine. Additionally, he is the author of NOLS Wilderness Medicine and co-author of Risk Management for Outdoor Leaders, as well as multiple articles regarding wilderness medicine. Tod is currently the Curriculum Director of NOLS Wilderness Medicine.