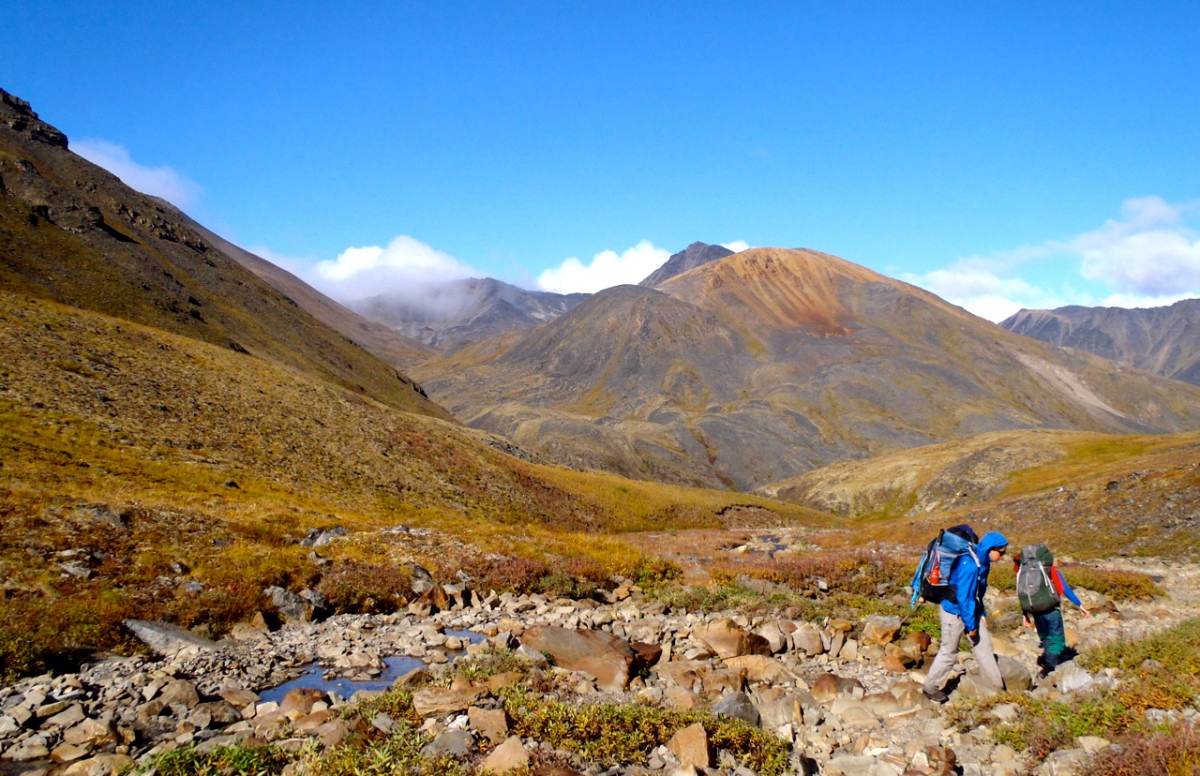 Before my first NOLS course, I got a lot of advice. For example, my brother told me to "Remember that you always have a way to get warm and dry," and gave plenty of advice on how to be a good teammate (mainly, don't complain).
But a lot of the little things I had to learn on my own—like, for example, the fact that your scalp can get sunburned. Ouch.
To help you prepare for the little things (which, in the end, usually aren't so little, especially when it comes to blisters or the flu), a group of experienced NOLSies shared some of their favorite advice to help you be as prepared as possible before hitting the trail.
Layer Properly to Stay Warm
—Dan Chell, Admissions
Having different layers gives you options if the weather changes. A common setup is to wear a short-sleeved shirt or tank top under a long-sleeved shirt, with a wind breaker on top (plus a fleece or other insulating layer if the weather's really chilly). Remember to bring a bag to store the layers you aren't wearing.
Treat Hot Spots Early
—Molly Herber, NOLS Faculty & Creative Department
Hot spots are the points of friction that form before you get a blister. Our advice? "Don't be afraid to be the one to speak up to stop and take care of those hot spots! Even if you just put on your pack and took 5 steps." (Erica Nelson, Marketing)
Also, wear your boots before you head out backpacking and make sure they fit properly. (If you do get blisters, we have this handy blister pack to help).
Don't Slack on Water Treatment or Doo-Doo Hygiene
—Dan Kenah, Development Department
This means washing your hands often, especially before handling food and after going to the bathroom. It's easy for illnesses to spread to a group, especially if you're all cooking together, so paying attention to handwashing and water treatment are a great habit to help keep you—and everyone else—healthy.
Eat When You're Hungry, Drink When You're Thirsty
—Dan Chell, Admissions
Hungry, thirsty people tend to be grumpy and to tire more quickly. Staying on top of your hydration and snacking is a good way to keep both morale and energy high.
Avoid Sunburn in Unexpected Places
—Nina Gioia, Marketing
An easy way to remember sunscreen is to put it on before you even leave home. It's a good idea to wear lip balm with sun protection, since your lips can burn too, and if you're particularly delicate or going to be in high-intensity areas, zinc oxide is a great option. Remember aloe to soothe burned skin!
Scalp: Wear a hat or bandanna. If you like wearing a visor, have a way to cover the top of your head.
Top of your ears: Wear a headband over your ears.
Pad Against Pack Sores
—Molly Herber, NOLS Faculty & Creative Department
These are the tender spots some folks get on their hips when they wear a heavy backpack that has hip straps. Erica Nelson recommends you "Wear [the pack] with weight get a feel before the expedition" if you can, so you can get a proper fit.
You can also tuck in your shirt and, if the sores get more tender, add a bandanna or two around your pack's hip straps for more padding.
Each place and each person are different—some of these tips might work for you, and some might not. Our best advice is for you to get outside and learn from your own experiences.
To prepare for the unexpected, consider a Wilderness First Responder or Wilderness First Aid course.
Special thanks for contributing go to: Erica, Nina, Zane, and Dan in Admissions & Marketing, Justin from the NOLS Store, Andy from NOLS Rocky Mountain, Dan in Development, and Kristen and Kim in the Creative department.
Written By
Molly is a NOLS instructor and writer. She loves the smell of her backpack and does her best writing before 7:00 am. When she's not scouting the next post for the NOLS Blog, she's running and climbing on rocks in Wyoming. Follow her on Instagram @mgherber