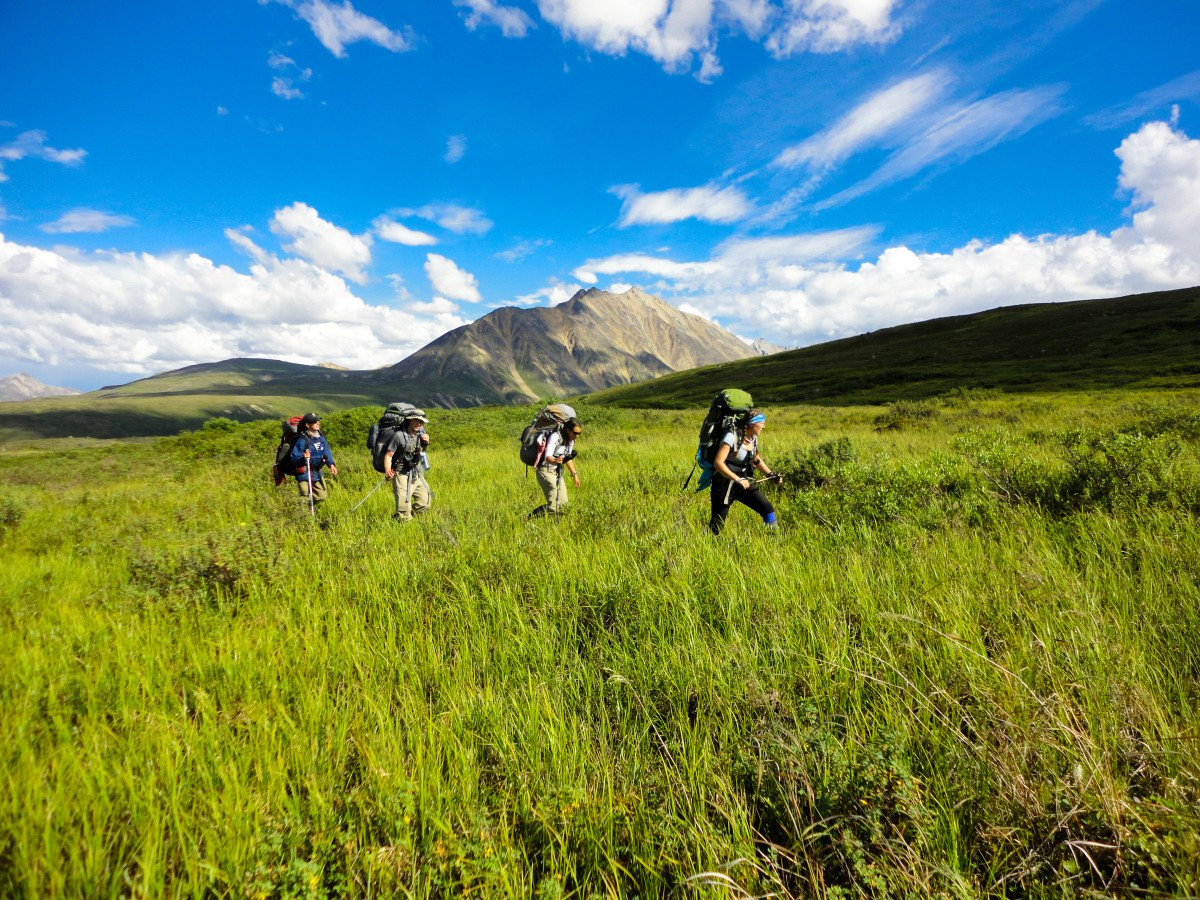 I took my first NOLS course, Alaska Backpacking, the summer before my senior year of high school. Many things I learned in the backcountry made me better prepared for my final year of high school and starting college.
If you're thinking about taking a gap year, that's a perfect time to hone your leadership skills. The value of travel, work experience, or service during a gap year isn't just in activities—it's also in the intangible skills like teamwork and self-reliance.
Here are five skills that served me especially well after my time in the backcountry:
Self-Leadership
In college, no one hollers at you to get out of bed in the morning or get your assignments done. You have to do that for yourself, and getting practice at it will help you start setting your own goals and work on achieving them.
A great way to develop self-leadership is to choose experiences where you have to be self-reliant. On my course, we learned to organize all our gear and take care of ourselves so we could be ready to work on group goals (and be on time!). During my first semester of college I had an 8:00 a.m. calculus class three days a week, and I'm proud to say I made (almost) every one.
Working Well with Others
Good communication skills, peer leadership, and practice leading others are necessary for successful group projects or being part of a team or club. Being in a group, as a member or a designated leader, is an important way you can learn to lead and work well within a group.
On my NOLS course, we practiced working as a team a lot—often in challenging conditions, like bushwhacking in the rain and still liking each other by the end of it. At school, being able to drive a group toward a goal was always helpful during group projects, especially in those inevitable situations where no one wants to step up or a deadline is fast approaching!
Decision Making
College is a time when you make a lot of key decisions. What should you major in, which clubs should you join, should you skip class today? Your gap year is a great time to practice making decisions in situations that will give you quick and honest feedback.
In Alaska, every day was full of decisions for us—what route to take, what campsite to choose, what to cook for dinner. Each one of those decisions had an impact—on how hard we worked, how tired we were, how full our bellies were. Knowing that I was capable of making decisions, learning from them, and, most importantly, adapting when things didn't go my way, helped those big decisions in school seem less intimidating.
Self-Care
Taking care of yourself is key to succeeding in your next steps. On your gap year, you'll gain the self-awareness to know when and how to take care of yourself. Maybe that's having a snack, taking a break, or putting on more sunscreen. These skills are often overlooked in the frontcountry, but are no less valuable!
After my time with NOLS, I really paid attention to the difference that getting enough sleep, eating right, and taking a break outside made for me.
Tolerance for Adversity and Uncertainty
This skill will serve you well in college and beyond. On any NOLS course, you'll deal with adverse weather conditions, uncertainty in finding your way, and long days full of different challenges. One day on my course we expected to have a short, easy day. Instead, the terrain turned out to be rough, with dense brush and trees. In the end it took us 12 hours to hike around six miles. It was frustrating, but our attitude made all the difference. We sang pop songs and ate chocolate and kept pushing on. What could have been a terrible day is now one of my best memories, and one that I look back on in challenging times. If I could make the best of that situation, I could certainly make the best of tough class or a challenging group project.
Explore NOLS Gap Year Programs today!
Written By
Katherine is an Alaska Backpacking graduate and was the NOLS Social Media Coordinator. When she's offline she enjoys running, backpacking, hiking, and cooking.