"Wilderness has no handrails, no telephones, and no simple solutions for complex emergency situations. It does have dangers. Some are obvious: rock fall, moving water, stormy weather, avalanches, crevasses, and wild animals. Others are subtle: impure water, dehydration, cold and damp weather, altitude illness, and human judgment." -Tod Schimelpfenig, NOLS Wilderness Medicine
The importance of wilderness medicine knowledge and protocols in disaster zones is tenfold. When resources are depleted, emergency access is delayed, and safely functioning environments become austere, an urban setting ultimately transforms into a modern-day wilderness.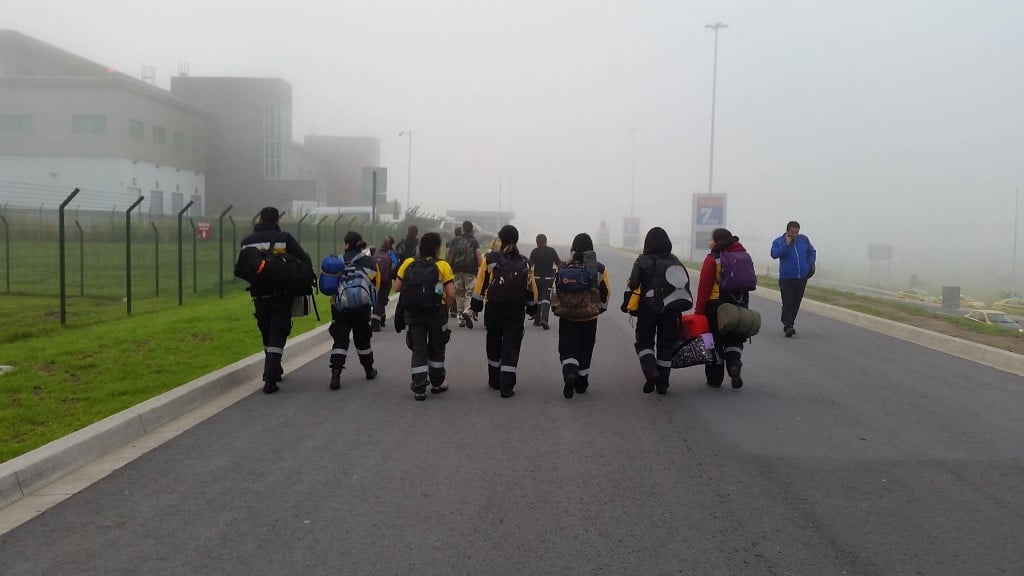 Going to places in need
April 16, 2016, Ecuador was struck with a 7.8-magnitude earthquake, causing substantial destruction. The next day Felipe Jácome, NOLS Wilderness Medicine instructor and director of the Mingai Foundation, received a call to organize a medical team to be sent to the coast.
Mingai is an affiliate of NOLS Wilderness Medicine and Landmark Learning that specializes in teaching first aid courses with special protocols for remote areas. They've been working in Ecuador since 2007. The foundation offers first aid assistance for outdoor sport events and organizes medical brigades in small, isolated communities. By Monday, April 18th, Felipe's team of 13 paramedics and 2 physicians headed to Manta, a city on the coast with over 200,000 inhabitants, that had been affected heavily by the earthquake.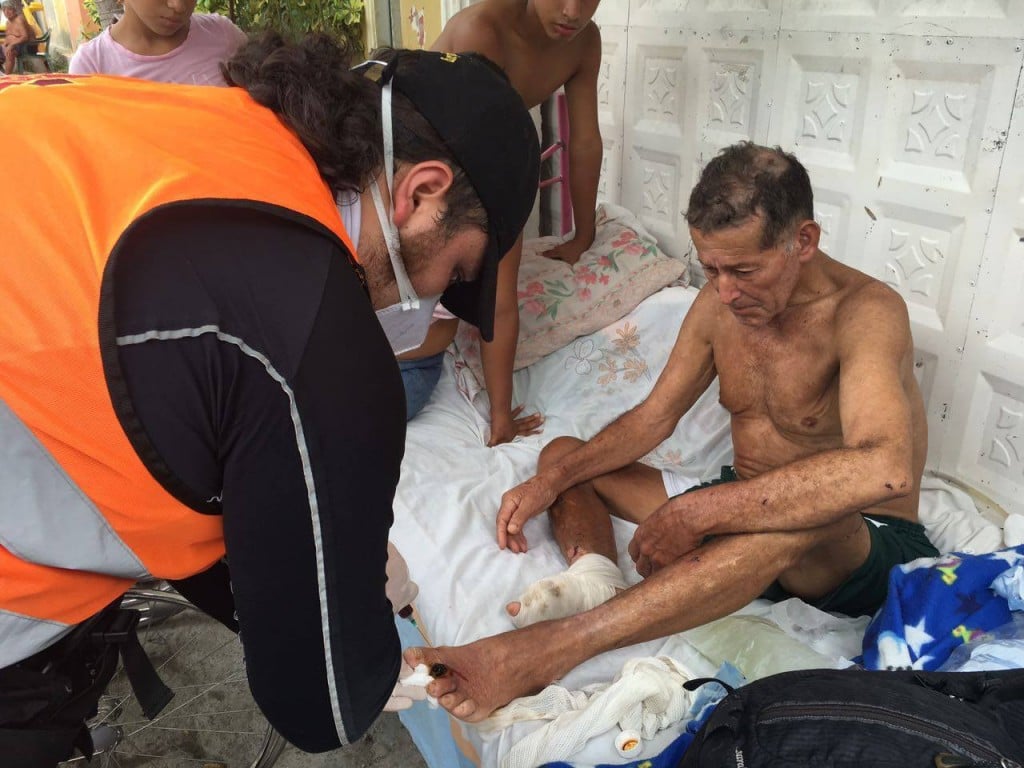 "Electricity is down as a result of the disaster. Communication is difficult, roads are impassable and many regions are cut off. Resources are scarce and the ability to be resupplied is limited. This area has been effectively transformed from an urban environment to a 'remote' one, meaning that the techniques of wilderness medicine must now be applied," said Felipe of the situation when he and his team arrived.
While there were a lot of people ready to help at the improvised medical headquarters when Felipe and the rest of the Mingai crew arrived, no medical supply was provided for two days. All they had was the small amount of supplies they were able to bring with them and the materials they were able to improvise from the gear they packed.
Providing care and education in a disaster zone
"It was a learning experience to adapt to limited supplies and lack of sterile environment. I taught [the paramedics] to clean wounds carefully with purified water, sterilize tools and to use supplies sparingly. In another event we encountered a patient with wound dressings that haven't been changed for days, so we taught volunteers to boil tissue and dry it in the sun to get clean dressing … In general, a lot of people with big hearts and willingness to help rushed towards the coast, but were not prepared (psychologically or physically) for what they were confronted with. Many ended up creating more problems converting themselves into more victims, adding the the number of the injured and consuming limited resources."
"As a rescuer, it is hard but necessary to stay in a safe place and allow qualified people to get the patients out of the fallen structures," said Felipe.
It is imperative in emergency situations to take time to remember NOLS Wilderness Medicine's five-step approach to any scenario:
I'm number 1. Will intervening be helpful or will I become part of the problem?
What happened to you? Can you see any clues right away as to what's going on?
Don't get any on me. Body substance isolation. Don't contract a patient's diseases or share any of yours with them through blood or other bodily fluids.
Are there any more? Are there more patients who need assistance? Is there anyone on the scene who is going to put you in danger or prevent you from assisting your patient?
Dead or alive? Be prepared for the worst but hopeful for the best before you approach your patient. Take a deep breath, center yourself, and go to work when you deem the environment safe and suitable.
A vital part of Mingai's mission is to not only tend to the injured and the ill, but also to educate people about how to help themselves—how to clean their own wounds, how to store food properly, how to get rid of water pools where mosquitoes are breeding, and how to construct compost toilets.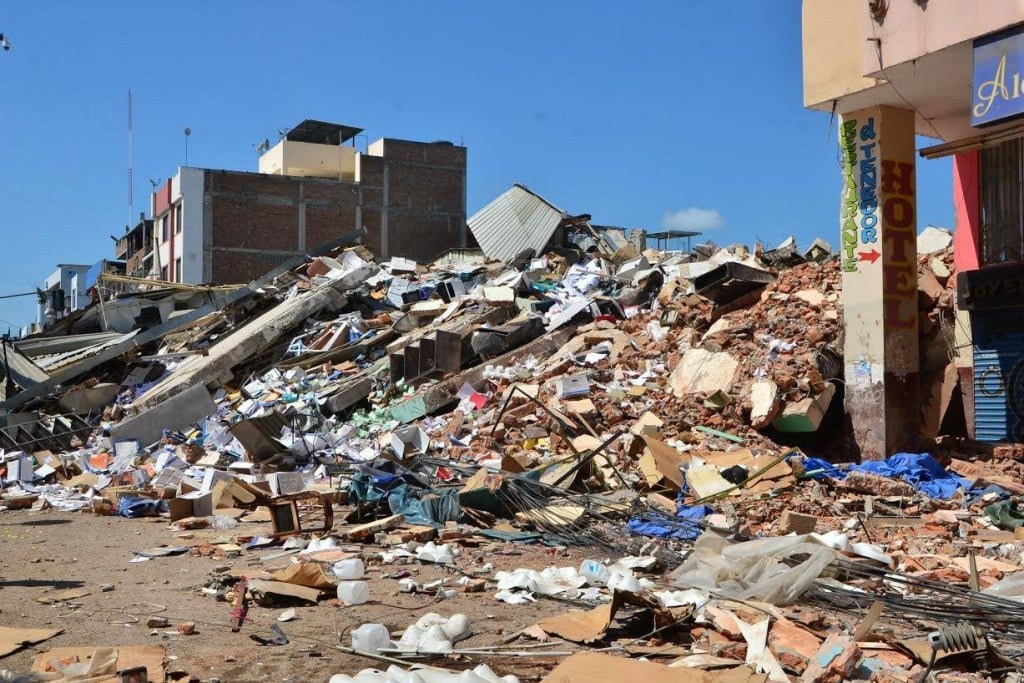 Offering psychological, not just physical, support
In addition to caring for the wounded and sick, the Mingai team has needed to give psychological support to the residents of Ecuador.
The psychological impact of tragic events is always an important factor to take into consideration. Whether these responses manifest themselves as stress responses, anxiety responses, manic episodes, or PTSD, being aware of common mental health conditions can be very beneficial to both a responder and a patient.
"In the first days, the team mainly dealt with trauma patients, wounds, bruises, dislocated joints, fractures, but I knew how important it was to prepare them to deal with stress management, leadership and communication in the disaster."
For mental health concerns in emergency situations, NOLS Wilderness Medicine suggests the following:
Evaluate risk to yourself, the patient, and others. Inform the patient—don't surprise them. Make a decision about whether you can manage the patient—are they a danger to yourself, their self, or others?
Complete a patient assessment (there may be a physical cause to the problem.)
Listen carefully. Use a calm voice, slow breathing, eye contact, and patience. Be respectful of your patient and protect their dignity.
Remain calm and reassure the patient. Focus on their strengths and try to instill hope that they will get better.
While we don't expect wilderness first responders to be mental health professionals, application of our patient assessment system and thoughtful and compassionate care can help defuse these situations.
Preparing for the future
There is much to consider when it comes to patient care in disaster environments. The sudden lack of resources where they once existed in abundance can be overwhelming. As first responders, all you can do is know that you're there to help, remember your training, and do the best you can with what you have—just as if you were in the backcountry.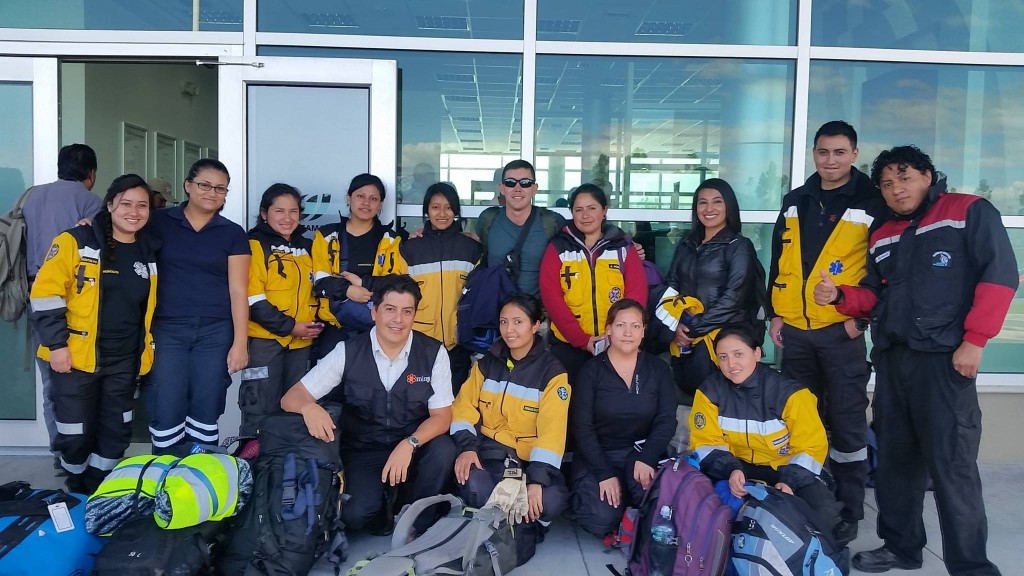 The journey may be just beginning for Felipe Jácome and Mingai, but they have shown up to take the first step towards a solution where many others don't dare to venture—that's what wilderness first responders are trained to do, and they've stepped up to the task. All of us here at NOLS Wilderness Medicine applaud their dedication to their cause and the people of Ecuador.
If you would like to participate as volunteer in one of the brigades or learn more about how you can get involved, please contact Mingai at info@mingai.org. You can also check them out online at www.mingai.org or on Facebook at Fundación Mingai.
Learn more about getting your Wilderness First Responder or Wilderness EMT certification with NOLS Wilderness Medicine to be prepared in case of a local disaster.
Written By
Sarah is a Wyoming native, Wilderness First Responder graduate, and former marketing coordinator for NOLS Wilderness Medicine. When she's offline she enjoys running, singing and playing guitar, and playing in the mountains