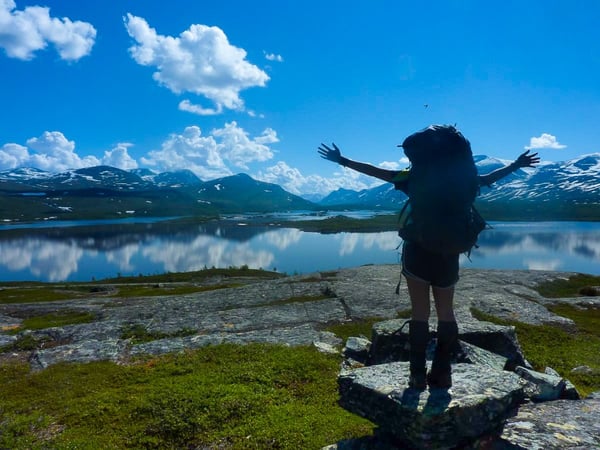 Why go into the wilderness? The natural world can be hard work, frustrating and uncomfortable, but we go nonetheless. What pulls us there, to a place we may perceive as unwelcoming? For me, and maybe for you too, there is a very real tugging at the soul, a deep-rooted desire to find something, to achieve something, a metaphysical fix of some sort.
The oppressive influences of modern society keep many of us from being our real selves. We continually react not to mother nature, but to mother culture, and we take on identities and personalities not our own. But when we step into the wilderness, we temporarily liberate ourselves from those influences. Perhaps we begin to discover a little bit more about our real selves. Maybe we'll get some reassurance that there's something behind it all, and that it's good.
I spend up to 30 days at a time in the wilderness, instructing for an outdoor school, and many of my fellow travelers are new to the grand experience of wilderness travel. They'll often excitedly voice their observation: "We're in the middle of nowhere!" "There's nothing out here!" "You know, back in the real world…" I have learned that it's impossible to be nowhere, much less in the middle of it. Where you are, and most especially in the wilderness, you are—quite definitely—somewhere. In the backcountry, you are surrounded not by nothing, but by lots and lots of something, an amazing variety of the interlocking everything! Don't look over the distant horizon for some place called the real world. That is the illusion. Wherever you are, any place your feet are planted on this fabulously complex and beautiful earth, you are, most assuredly, in the real world.
—Mike Clelland, former NOLS instructor
---
Related Posts
Free Gap Year Guide
8 Steps to a Successful Gap Year
| | |
| --- | --- |
| | A gap year is the perfect way to empower yourself, gain focus, and seek exciting and valuable experiences as you prepare for college.Get the information you need to make sure your gap year is a meaningful experience that will prepare you for your future. Download "8 Steps to a Successful Gap Year" now. |
Written By
The leader in wilderness education.