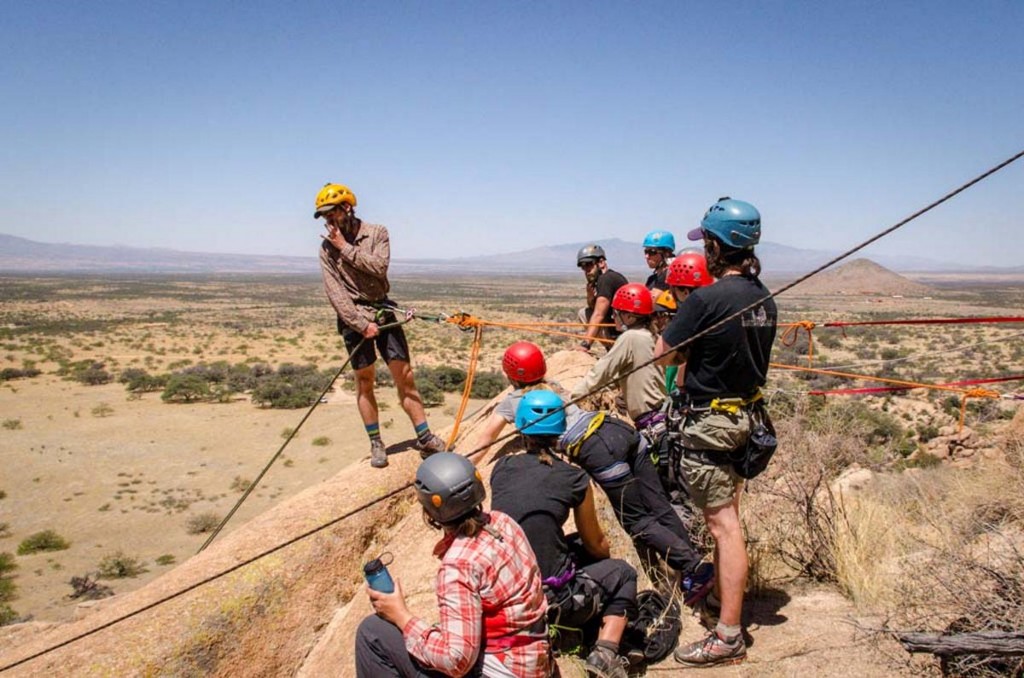 The Setting
You're leading a team building day for a group of business people. Today's plan includes rappelling practice.
One participant, fearing the heights and exposure, is reluctant to participate. It took convincing from his co-workers to get him on the rappel over the cliff edge.
He is now 15 feet below the lip of cliff and looks awful. He's red, sweating, breathing hard, and says he is going to pass out. You engage the belay line to take control of his lowering, and try to get him to release the death grip he has on his brake line. This triggers drama: you hear swearing from below as he grabs the main line above his rappel device with both hands. Eventually he lets go and you lower him to the ground.
SOAP Report
Subjective
The patient is a 49-year-old male lowered to the ground after failing to rappel a short cliff. There is no mechanism for spine injury. He complains of dizziness, numb and painful hands, and thinks he's going to vomit. He says he "can't breathe." He is pacing rapidly.
Objective
The patient has superficial abrasions on his hands that look like rope burn. He has tingling and numbness in hands and lips. CSMs in feet are normal. Circulation is good to his hands. No wheezes or coughing while breathing. He denies chest pain.
Vital Signs
Time

10:30 a.m.

Level of
Responsiveness (LOR)

A+Ox4 (Awake & Oriented)

Heart Rate (HR)

100, strong, regular

Respiratory Rate (RR)

40, regular, deep, unlabored

Skin Color, Temperature, Moisture (SCTM)

Flushed, warm, moist

Blood Pressure (BP)

radial pulses present

Pupils

PERRL (Pupils Equal, Round, & Reactive to Light)

Temperature (T°)

Not taken
History
| | |
| --- | --- |
| Symptoms | Patient is emotionally agitated, lightheaded, and dizzy. Patient states he feels "wired," that his heart is racing/pounding in his chest, and his "stomach is a mess." |
| Allergies | He denies allergies. |
| Medications | He apparently takes several medications but is unwilling to discuss details. |
| Pertinent Hx | He is unwilling to discuss his medical history. |
| Last in/out | Patient ate breakfast today, is well hydrated, urine has been clear and bowel movements normal. |
| Events | Patient developed symptoms while rappelling. |
STOP READING!
What is your assessment and plan?Take a few minutes to figure out your own assessment and make a plan. Don't cheat—no reading on without answering this first!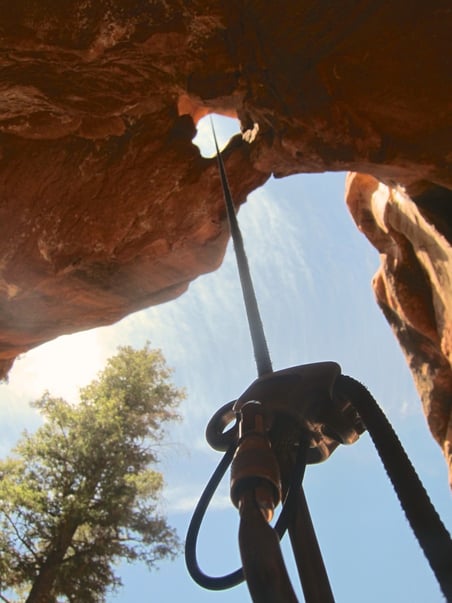 Assessment
Hyperventilation.
Anxiety attack?
Cardiac?
Abrasions on hands
Plan
Calm the patient. Try to get him to slow his breathing.
Clean and dress the hand abrasions.
The Tale Continues...
It's 10:50am, about 20 minutes after you started treating your patient, and he's breathing easier. The tingling and numbness in his hands has abated, but he is still agitated and will not sit down. He continues to complain of a pounding heart, while his radial pulse is regular and 84 beats per minute (bpm).
You have the group return to the camp to give the patient privacy and help him feel more comfortable. He say that he's worried about his performance affecting his employment. He denies a history of heart disease and describes a series of panic attacks 3 years ago. He does not want his supervisor to learn of his panic attack history.
Vital Signs
| | | |
| --- | --- | --- |
| Time | 10:30 a.m. | 10:50 a.m. |
| LOR | A+Ox4 | A+Ox4 |
| HR | 104, strong, regular | 84, strong, regular |
| RR | 40, regular, deep, unlabored | 20, regular, deep, unlabored |
| SCTM | flushed, warm, moist | flushed, warm, moist |
| B.P. | radial pulses present | radial pulses present |
| Pupils | PERRL | PERRL |
| T° | Not taken | Not taken |
Notes from NOLS on Stress Responses
This scenario has possible physical and mental health components. First aid for stress and anxiety responses is to calm the patient, try to address their fears, and complete a patient assessment. However, you also can't overlook a physical problem in the midst of an emotional event. Patients whose stress responses abate might be able to stay in the field. An anxiety or stress response that is unpredictable or persistent usually requires evacuation.
In this case, you can't rule out a heart problem, a potential life threat. Your evacuation guidelines say to evacuate any patient with chest pain that is not clearly musculoskeletal. The patient does not complain specifically of chest pain, but the overall picture is suspicious for a heart problem, and not all cardiac events present with classic squeezing, sub-sternal, radiating-to-the-left-side chest pain
End of the Tale
Because you can't rule out a cardiac problem, you decide to make the conservative decision and evacuate your patient for further evaluation. Luckily, you have cell reception and are able to call for EMS support. While waiting, you continue to try to calm the patient and help him maintain a normal respiratory rate.
A short while later, local EMS arrives with an off-road vehicle to transport the patient on the dirt road to the ambulance waiting in the closest paved parking lot. You brief the EMS crew, and they take the patient to a hospital.
That evening, the patient returns to the group feeling much better and excited for the next day's activities, which won't involve leaving the ground.
Keep your wilderness medicine skills fresh: Recertify with NOLS
Written By
As a NOLS Instructor since 1973 and a WEMT, volunteer EMT on ambulance and search and rescue squads since the 70s, Tod Schimelpfenig has extensive experience with wilderness risk management. He has used this valuable experience to conduct safety reviews as well as serve as the NOLS Risk Management Director for eight years, the NOLS Rocky Mountain Director for six years, and three years on the board of directors of the Wilderness Medical Society, where he received the WMS Warren Bowman Award for lifetime contribution to the field of wilderness medicine. Tod is the founder of the Wilderness Risk Manager's Committee, has spoken at numerous conferences on pre-hospital and wilderness medicine, including the Australian National Conference on Risk Management in Outdoor Recreation, and has taught wilderness medicine around the world. He has written numerous articles on educational program, risk management and wilderness medicine topics, and currently reviews articles for the Journal of Wilderness and Environmental Medicine. Additionally, he is the author of NOLS Wilderness Medicine and co-author of Risk Management for Outdoor Leaders, as well as multiple articles regarding wilderness medicine. Tod is currently the Curriculum Director of NOLS Wilderness Medicine.