Wyoming's expansive forests are exceptional. For more reasons than one may realize, the state's forests play an important role in our lives and future. Whether it be environmental, economic, or recreational value, these areas represent something that every Wyomingite can identify with.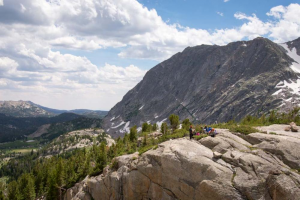 Hiking, climbing, fishing, hunting, skiing, and observing wildlife are just a few of the activities that take place in Wyoming's forests. In addition to these lifestyles, the forests generously provide us with clean air and drinking water, as well as habitats for fisheries and wildlife. It is for these reasons, among many others, that NOLS has a special relationship with these wild places.
With damaging wildfires, invasive non-native species and residential development, forests within Wyoming have been facing more challenges in recent years. The Governor's Task Force on Forests, a group of representatives from various organizations in Wyoming, came together under Governor Matt Mead to highlight the most important aspects of the state's forests. The Task Force was created to proactively manage issues concerning forests in Wyoming by highlighting their attributes and implementing recommendations to help maintain and protect them.
Recommendations made by the Task Force were finalized and approved earlier this month and the result is worthy of recognition. The final report addresses issues pertaining to fire and other disturbances, resource management, and economic opportunity. Many of the recommendations are important to NOLS because they help to ensure that the unique outdoor classrooms in Wyoming are not compromised. By taking preemptive action against threats to forests in Wyoming, we can continue to enjoy and appreciate their supreme resources and beauty.
Written By
Becca is the spring 2015 Stewardship and Sustainability intern at NOLS.