On November 29, 2022 our group of six NOLS Alumni and three instructors gathered in the city of Mendoza, Argentina. We had a shared mission to walk up a big hill with heavy packs, together. This first meeting will be familiar to anyone who has done a backcountry trip with NOLS, we needed to check equipment, meet each other, and get oriented for the climb that we were building towards.
It was difficult to imagine the need for a minus-40-degree sleeping bag and winter parka as we endured the 90-degree weather in town. Mendoza is a beautiful city surrounded by wine vineyards and vibrant plazas of people enjoying ice cream and strolling around in shorts, flip-flops, and their ubiquitous Messi jerseys. The World Cup was happening and Argentina needed a win that day to stay in the running. Like us, they were nervous and focused on the big objective ahead.
The excitement of our own team was palpable. The trip was years in the making, having been derailed by the pandemic like so many other things. NOLS hadn't attempted a climb of Aconcagua in at least 25 years. Everybody was ready to get into the mountains and clearly, the Argentines were prepared to have some climbers back as we were welcomed with open arms everywhere we went.
Aconcagua is often described as a high-altitude trek because of the fact that it does not require ropes to get up. My co-instructor Evan regularly guides the mountain and calls it the greatest climbing adventure without a carabiner. At nearly 7,000 meters (~23,000 feet) Aconcagua is the tallest peak outside of Asia. Its stature ranks it as the second-tallest mountain on the coveted list of Seven Summits (the highest peaks of the seven continents) and it draws thousands of aspiring climbers every year.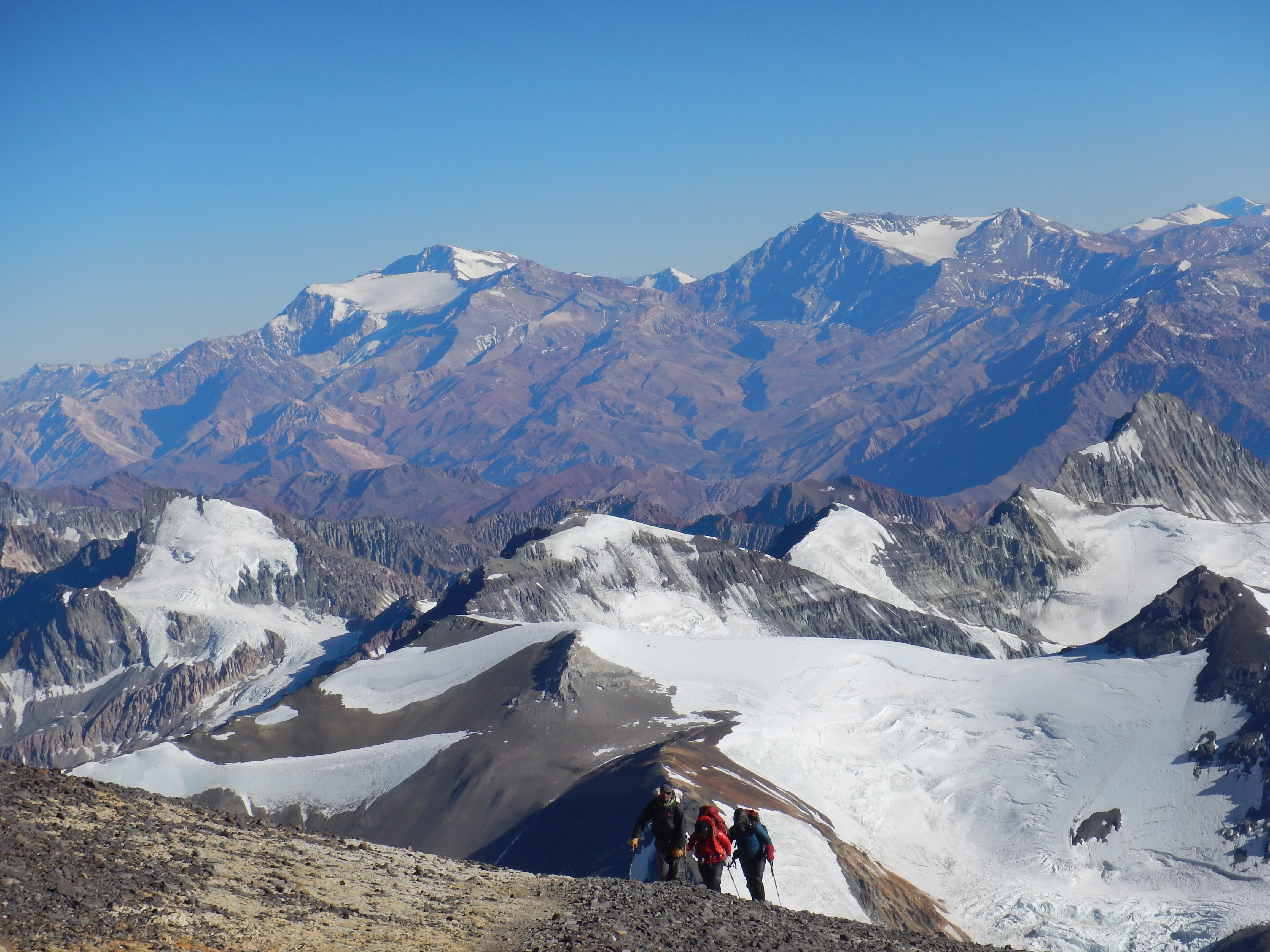 Our 21-day route known as the Polish Traverse began at 8,000 feet. It was opening day for the Park and our group was the first to enter. As is common for NOLS trips, we opted for shoulder season bad weather over peak season crowds. We enjoyed the scarcity of people and the excitement of being at the front. With the help of some mules, we spent the next few days moving our gear, food, and fuel up the Vacas Valley to get to Plaza Argentina base camp at 13,000 ft. We stayed 4 days there adjusting to the altitude and shuttling loads to Camp 1 at 16,400 feet. We were graced with good weather on the lower mountain but the extremely dry environment required constant self-care. The local guides joked that good weather low means bad weather high. We hoped they were wrong.
Even with our slow staged approach, the altitude took its toll on the group. One of our participants, Becca, a young woman who had climbed Denali (20,300 feet) a few years ago was not acclimating well and was diagnosed with moderate AMS (Acute Mountain Sickness). Unfortunately, due to the climbing schedule and days ahead, this meant we had to evacuate her from the tripe. Her evacuation was heartbreaking as she exemplified good EB (Expedition Behaviour). Fortunately, she was able to catch a ride down the mountain via helicopter where she quickly recovered.
The next 8 days would be spent slogging our way up the mountain. Our packs were much heavier now without the support of mules and porters. Our pace was slow and methodical allowing us to breathe and giving time for our bodies to adjust to the ever-harsher environment. All of us suffered to some degree due to the frigid temperatures and lack of oxygen. As we advanced we started to get weather reports of a windstorm that might last for days. We eventually made it to our high camp, aptly named Camp Cholera. Here there was no running water and little protection from the wind. The thin air made everything harder. The views of the summit above and the Andes below were surreal and humbling.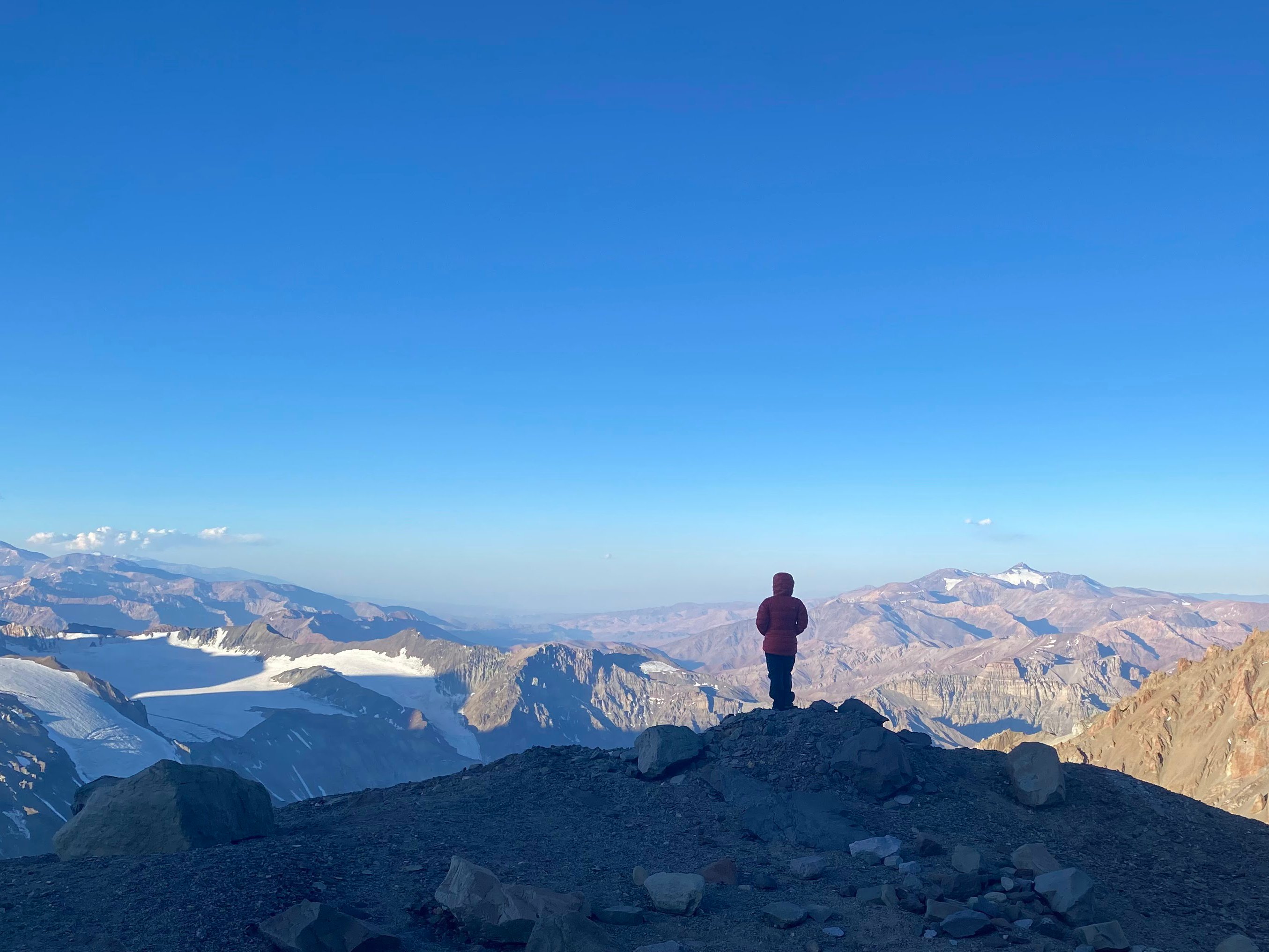 As we settled into camp and started melting snow for water the skies darkened and the winds increased dramatically. Our hopes of summiting the following day were fading and we were not relishing the thought of being tent bound at 20,000 feet to wait out the storm. The viento blanco howled outside of our kitchen tent and brought with it waves of frozen graupel and whiteout conditions. Nonetheless, we prepared our summit packs, fitted our crampons, and made sure our headlamps had fresh batteries and fit over our helmets. Before we went to sleep my other co-instructor, Berta, made an incense offering to the mountain and expressed gratitude for the privilege of being there.
The alarm on my watch went off at 4 am. Evan was already up heating water. I could see the southern constellations through the tent window and the wind was gone. I could feel a wave of relief and anxiety hit me simultaneously. Time to suit up!
Our team set out at 6 am by headlamp in our efforts to gain the remaining 3,000 feet to the top. An hour and a half into the climb we had to take a break to warm-up feet and toes of some of our climbers by holding them skin to skin on warm torsos. Fortunately, this happened about the same time the sun crested the ridge and offered us some reprieve from the frigid shade. We continued on in what we called the "zombie conga line" for what seemed like an eternity. Berta best described our experience when she said each step feels like a monumental challenge above 20,000 feet -- it's like molasses going uphill through slag and talus.
Eight hours later we humbly stood on the summit together. The sense of accomplishment shared by all was palpable. We paused for photos and hugs and took a moment to remember our evacuated team member Becca. She was with us still in spirit.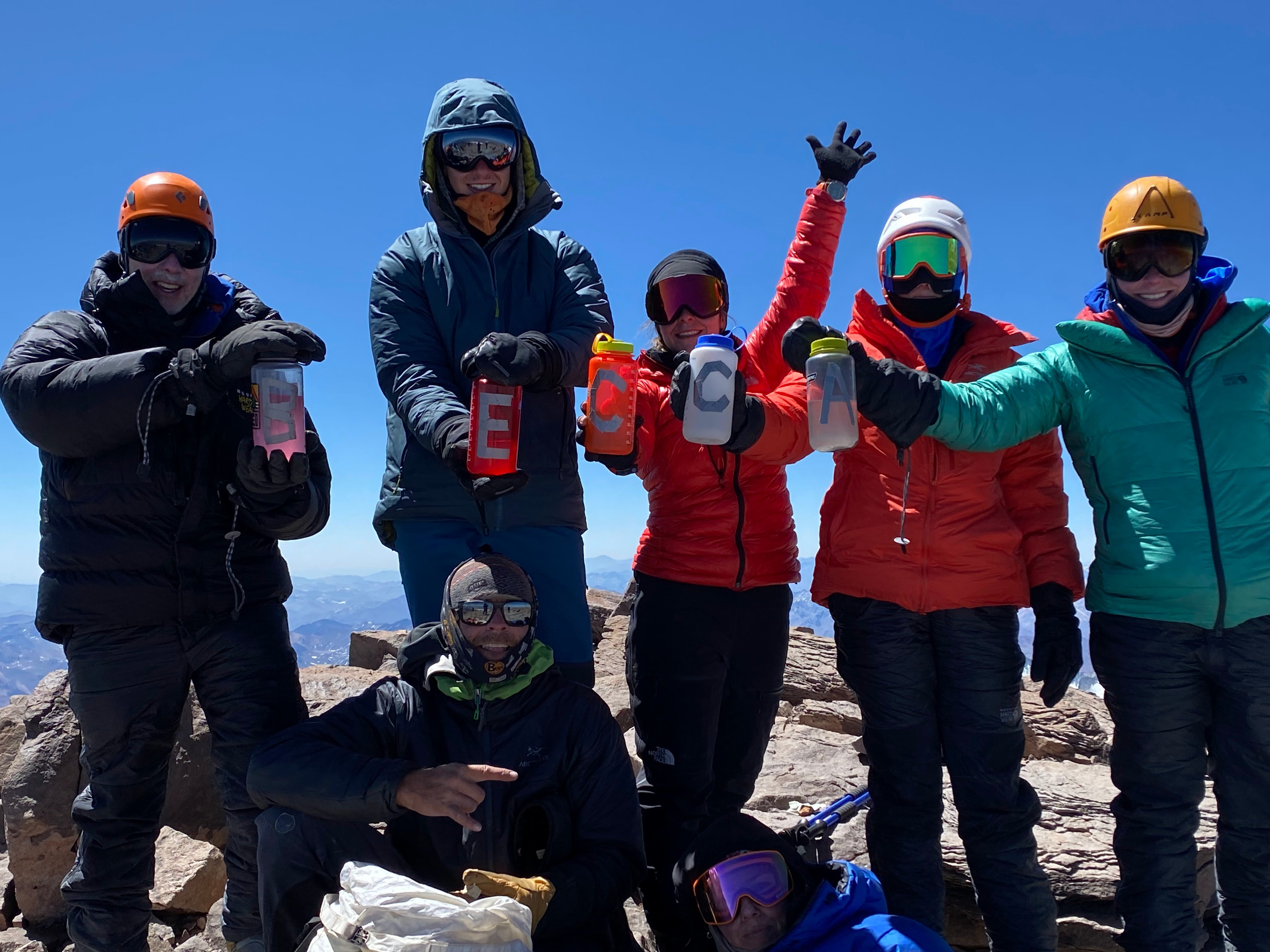 For the next several days we worked our way down the mountain. Each day we felt stronger as the oxygen levels and temperatures rose. Soon enough we found ourselves back in the blissful warm city of Mendoza enjoying a lavish dinner and a glass of good wine. As luck would have it the Argentines continued to advance in the World Cup while we were away. We all watched the final game together and cheered along with millions of Argentine fans as Messi led his team to victory. It seemed like a fitting end to our experience.
A month later at home in Lander, Wyoming I am planning for the 2023 climb. There is something special about suffering on mountains with fellow climbers that will keep me going back.
To join this year's Aconcagua expedition, sign up here!
Written By
Judd Rogers is a 4th generation Wyoming native who discovered NOLS when he received a scholarship for a Wind River Mountaineering course in 1989. It must have made an impression because he has worked for NOLS ever since. Judd works as a mountaineering instructor and helped found our location in Patagonia, where he was the director from 2002 to 2010. He returned with his wife and two children to Lander where he worked for NOLS Development until 2020. Judd is an avid runner and mountain biker.