At NOLS, a gap semester or gap year abroad is not just a pause in your traditional academic journey — it's a bridge between where you stand now and where you aspire to be.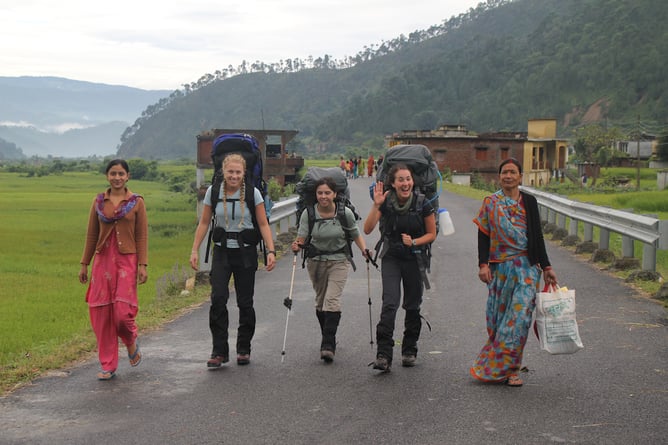 Photo by NOLS
Are you eager to learn how to sail a keelboat in the Marlborough Sounds while honing your leadership skills? Or is it your dream to bushwhack your way through the rainforest to Kilimanjaro's summit while tapping into the environmental wisdom of the Maasai people?
Whether you wish to take a gap year in New Zealand, East Africa, India, or Patagonia, with NOLS you can rest assured that your international adventure will be more than just an opportunity to travel abroad.
Get ready to gain international experience, build real-world skills, and expand your education through experiences that you certainly won't get in a traditional classroom.
NOLS gap year programs offer you the opportunity to venture beyond the ordinary in once-in-a-lifetime locations, develop wilderness skills that will weave adventure into your life no matter where you end up, and embrace challenges that help you expand your approach to leadership, collaboration, risk assessment, and problem-solving.
You'll do this all while gaining a greater appreciation for the environment around you, learning more about yourself, and developing a deeper cultural understanding that will allow you to interact with all sorts of people.
Get ready to step out of your comfort zone and embark on an adventure full of personal growth, community development, cultural exchange, and experiential learning that you won't experience anywhere else.
Key Takeaways
The

best gap year programs

bridge the gap between where you are and where you're going.
A balanced gap semester should include both adventure and learning experiences to fuel personal growth and develop valuable life skills.
Gain new skills related to leadership development, cultural understanding, risk management, environmental stewardship, and wilderness skills through gap year programs and gap semester programs at NOLS.


Combining Adventure and Education through Experiential Learning Opportunities
When you embark on a NOLS gap year, you're not just signing up for a typical travel experience — you're entering a world of extraordinary locations that serve as both outdoor education classrooms and wilderness adventure playgrounds.
Our gap year programs use an innovative experiential learning model to expand beyond the knowledge that our gap year students have gained in a traditional classroom. A NOLS education involves immersive, experiential learning opportunities within a combination of culturally rich communities and remote wilderness locations around the world.
Leadership development, risk assessment and mitigation, environmental stewardship, and practical wilderness skills take center stage with NOLS gap year programs and gap semester programs, as you:
Master Practical Skills: Your educational adventure will include acquiring essential skills like backpacking, wilderness navigation, sea kayaking, sailing, mountaineering, wilderness first aid, route finding, and teamwork.
Navigate Risks with Confidence: Develop invaluable qualities such as adaptability, critical thinking, problem-solving, and resilience as you learn to identify and manage risks in remote wilderness settings.
Deepen Your Connection with Nature: Immerse yourself in the unique ecology, natural history, and environmental conservation practices of diverse climates around the world.
Explore Extraordinary Locations: Venture into once-in-a-lifetime destinations that lie beyond the typical tourist trail.
Cultivate Personal Growth: Foster growth in areas like communication, leadership, and self-awareness.
Our gap year programs are designed to push you outside your comfort zone in ways that offer opportunities to develop your critical thinking and problem-solving skills in out-of-the-box ways.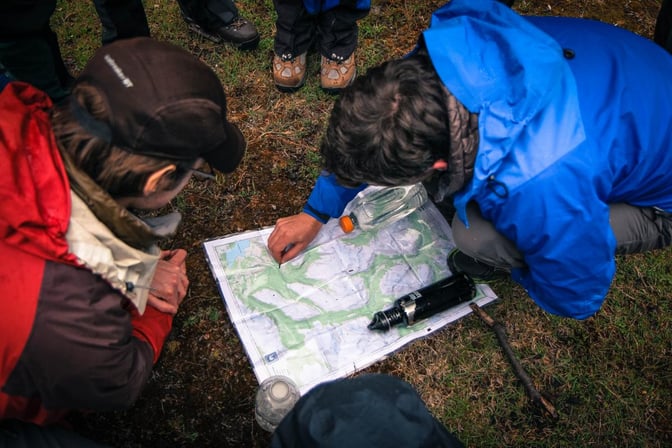 Photo by Alex Chang
The Immersive Outdoor Classroom
Whether you're navigating the savannahs of East Africa, scaling snowy peaks in the Indian Himalayas, or paddling along the coast of New Zealand, you'll encounter obstacles that demand teamwork, problem-solving, and leadership during NOLS gap years. These experiences will uncover your hidden reserves of resilience, adaptability, and leadership skills, which will serve you well throughout your life. NOLS gap years invite you to plunge headfirst into a world of practical skills and real-life applications.
Practical Wilderness Skill Development
Each NOLS gap year program grants you the opportunity to develop awesome outdoor recreation skills like sea kayaking, backpacking, sailing, river rafting, or mountaineering. In addition to these, your instructors will also aid you in developing fundamental wilderness skills related to minimal-impact camping, cooking on a camp stove with limited resources, and how to manage risks in the field.
The beauty of these skills lies in their immediate applicability and enduring impact. Everything you learn during your NOLS gap year is transferable and becomes a part of you, enriching your self-sufficiency and enhancing your problem-solving abilities in everyday life. Whether it's crafting a makeshift shelter, purifying water, or building a fire, these practical abilities become invaluable tools that empower you in various situations beyond the wilderness.
For example, imagine yourself by a camp stove, preparing meals from scratch in the great outdoors. Beyond satisfying your hunger, this practical skill deepens your connection with the natural world. As the flames crackle and the aroma of cooking food mingles with the wilderness air, you'll discover the satisfaction of self-reliance. This newfound resourcefulness extends far beyond the camp stove, shaping your approach to life's challenges in meaningful ways.
Or consider the transformative power of enduring grueling hikes through rugged terrain, conquering demanding climbs up towering peaks, or navigating challenging sea kayaking expeditions that push your limits.
During these moments of challenge, you'll unearth hidden reservoirs of strength within yourself. These trials not only build resilience but also elevate your self-confidence to new heights. Each summit conquered and each obstacle overcome becomes a testament to your capabilities, instilling an unwavering belief in your ability to confront and conquer life's challenges, both big and small.
Uncovering Your Leadership Style
Problem-solving in remote environments, navigating unfamiliar terrain, and making crucial decisions in high-stress situations are integral parts of the adventure. Through these experiences, your instructors and fellow gap year students will help you discover your own leadership style and step into your ability to adapt, collaborate, and lead with confidence.
As you trek through the remarkable landscapes of New Zealand, traverse the Indian Himalayas, or explore the diverse ecosystems of East Africa, your instructors and fellow gap year students become your companions on this transformative journey. Together, you'll grapple with the complexities of remote environments, where the ability to adapt, collaborate, and lead with confidence takes center stage.
In these remarkable settings, you won't just sharpen your adaptability, you'll mold it into an integral aspect of your leadership identity. The unpredictable nature of the wilderness in these regions stands in stark contrast to scripted scenarios, offering an immersive experience in navigating unforeseen situations that demand swift adjustments and the ability to thrive amid ever-changing circumstances.
Moreover, it's in these high-stress situations, unique to a NOLS gap year abroad, that your decision-making abilities are meticulously honed. Whether it's strategizing in New Zealand's wilds, making crucial choices in the Himalayan heights of India, or managing unexpected challenges in East Africa's diverse terrains, the skills you acquire extend far beyond the rugged trails. They empower you to approach life's multifaceted challenges with unwavering confidence and a steadfast sense of purpose, equipping you to lead and adapt in a rapidly changing world.
Environmental Awareness, Appreciation, and Stewardship
While practical skills and leadership development are central to NOLS gap year programs, they are seamlessly intertwined with a profound commitment to environmental awareness, appreciation, and stewardship.
This harmony between personal growth and environmental consciousness is a fundamental part of the NOLS experience, making your journey both enriching and meaningful.
As you venture into new environments and remote wilderness settings during your NOLS gap semester or gap year, your connection with nature deepens organically.
Through the lessons of our expert instructors as well as local community leaders, you will learn about the natural history, the local agriculture and conservation practices, and the ecology of the region of your NOLS course. You'll also learn essential Leave No Trace principles, which are essential when living, camping, and traveling in any outdoor setting.
The very practical skills you acquire become a conduit for deeper interaction with the environment, promoting harmony between human activity and the natural world. This interconnectedness between your newfound capabilities and the wilderness reinforces the importance of treading lightly and respecting the delicate balance of these ecosystems.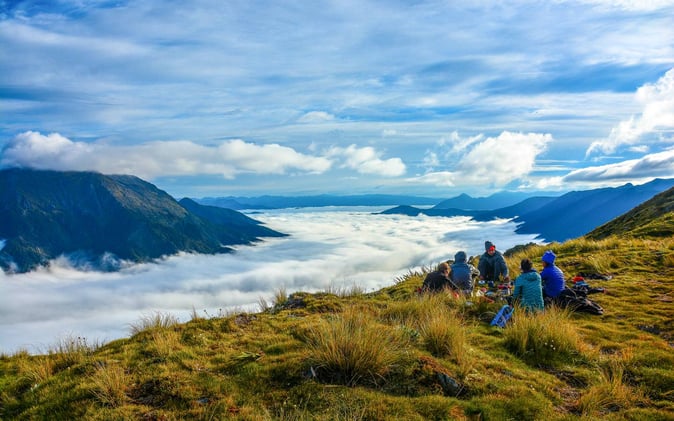 Photo by Nick Garrett
Cultural Immersion and Global Awareness
While adventure and outdoor skills are at the forefront of NOLS gap year travel programs, cultural immersion experiences are just as significant.
Engage with Local Communities
Whether you choose to embark on a NOLS gap semester in New Zealand, East Africa, or India, one constant prevails—the opportunity to engage deeply with local communities. These interactions go beyond surface-level encounters, allowing you to connect with people from diverse backgrounds and gain insights into their culture, traditions, and values.
These interactions foster a deep appreciation for cultural diversity and promote empathy in our gap year students.
Gain Global Awareness
Additionally, in today's interconnected world, the global awareness that you will develop during your NOLS gap year or gap semester abroad is an invaluable asset. Your experiences during a NOLS gap year allow you to gain a broader perspective that makes you more attuned to global issues.
For instance, as you navigate New Zealand's stunning landscapes, you'll become aware of the unique challenges faced by indigenous communities, like the Maori, in preserving their cultural heritage and environmental sustainability, while in East Africa, you'll gain insights into the complex issues surrounding conservation and human-wildlife coexistence. Or in India, you may witness the intricate interplay of tradition and modernity, considering how it is shaping the nation's future. These experiences equip you with the knowledge and sensitivity needed to navigate an increasingly interconnected and diverse world.
The Best Gap Year Programs and Gap Semester Programs for International Experience and Cultural Immersion
The following NOLS courses offer a unique blend of experiential learning, leadership development, environmental stewardship, and cultural immersion in some of the most remarkable international wilderness locations.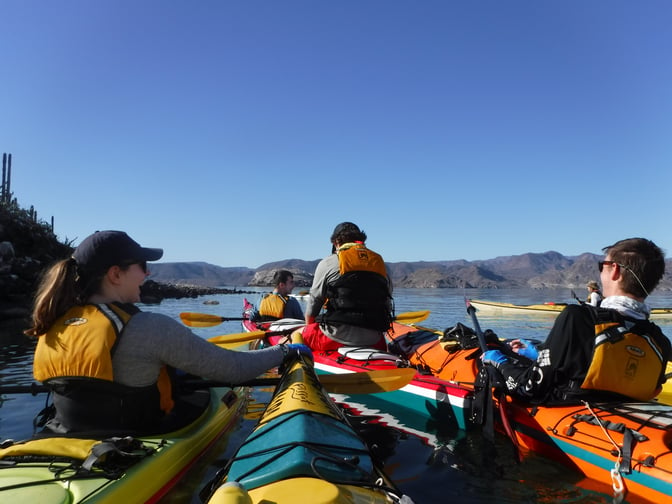 Photo by Lucy Eichenauer
NOLS Gap Semester in New Zealand:
Picture yourself hiking through the rugged mountains of New Zealand's South Island, sea kayaking or sailing in the Marlborough Sounds, and delving deep into the local community, the natural history and ecology of the region, and the traditional practices of the Maori culture. With NOLS, you're not just a spectator; you're an active participant in the rich tapestry of New Zealand's natural history and local culture.
New Zealand, celebrated for its awe-inspiring snowy peaks, lush meadows, and rugged coastlines, is a haven for adventurers, and with NOLS, you'll have the opportunity to fully embrace its extraordinary natural treasures. During this semester, you'll learn Leave No Trace principles that you'll use to live and travel with minimal impact while exploring a diverse range of landscapes, from high mountain passes and craggy peaks to lush rainforests and serene coves. You'll also develop wilderness adventure skills like sea kayaking, backpacking, canoeing, and mountaineering.
As you gain confidence on water and in the mountains, you'll have the chance to identify and refine your personal leadership style. Trying new activities like sea kayaking may uncover hidden talents and passions while leading your team through challenging terrain will teach you effective communication and resilience amid the ever-changing weather and landscapes of New Zealand. By the end of this course, you'll return home with enduring friendships, lifelong memories, and the skills to lead not just in the wilderness but in all aspects of life.
Explore Courses Offered: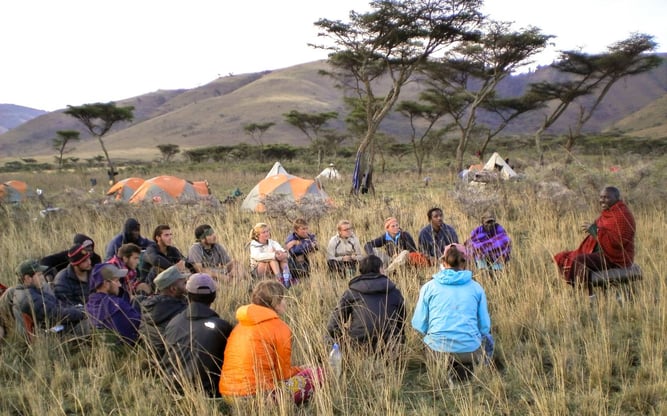 Photo by Will Wamaru
NOLS Gap Semester in East Africa:
For those with a passion for wildlife conservation and cultural immersion, a NOLS Gap Semester in East Africa offers an unforgettable chance to explore the rich biodiversity of the region and engage with local communities.
One of the highlights of this gap semester is the opportunity to bushwhack your way through the lush rainforests leading to the summit of Mount Kilimanjaro. This is no ordinary trek; it's a journey that pushes your physical limits and offers unparalleled views of the African wilderness. Along the way, you'll tap into the environmental wisdom of the Maasai people, who have coexisted with this land for generations.
Living in a tent for most of the semester, you'll master Leave No Trace skills, sustainable tourism, and campfire cooking, gaining a profound appreciation for conservation efforts and learning about the delicate balance between preserving nature and supporting local livelihoods. You'll also develop leadership skills as you navigate the challenges of an expedition in a remote and diverse environment.
In addition to your wilderness adventures, you'll also have the chance to become part of the local community. On courses with a homestay element, you'll be fully immersed in your host family's day-to-day life. This could involve going to school with their children, assisting with daily tasks, and participating in community service projects. You'll even have the opportunity to explore the local cuisine, which will likely introduce you to new and exciting flavors. You'll learn to cook dishes such as ugali, a staple corn meal, and uji, a porridge made from millet and sorghum.
Some days will test your resilience as you navigate rugged terrain, while others will demand quick decision-making as you adapt to changing weather conditions and environmental circumstances, helping you to develop leadership skills. Interactions with the local people will sharpen your communication and cultural competence, preparing you to be a leader in our increasingly interconnected world. By the end of this course, you'll emerge as a thoughtful international traveler, a skilled wilderness explorer, and a community leader ready to make a meaningful impact.
Explore Courses Offered: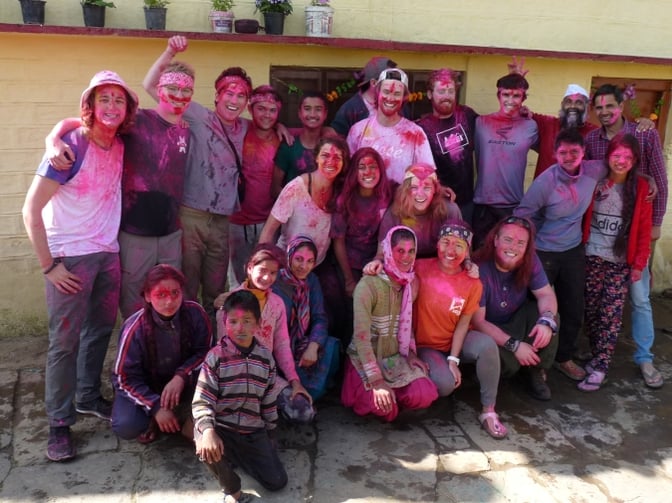 Photo by NOLS
NOLS Gap Semester in India:
Leave the tourist trails behind and dive deep into the remote corners of northwest India. Backpack through alpine villages and gain language skills by practicing conversational Hindi with the locals. Develop essential mountaineering skills on high-altitude glaciers and conquer the roaring rapids of the Kali River during exhilarating whitewater rafting expeditions. With a NOLS semester in India, the Himalayas become your classroom and the local community members become your mentors.
During your time in India, you'll gain valuable insights into leadership, cultural understanding, and environmental stewardship. This course offers you the opportunity to live with Indian families through a homestay option, experience the synergy of teamwork as you navigate a raft to the tune of the River Kali's mighty roar, and delve into local ecology and history, enhancing your cultural competence and understanding of this unique region.
Explore Courses Offered:
Plan Your NOLS Gap Year Travel Experience Today!
NOLS offers gap semester and gap year programs that go beyond the ordinary, providing you with a chance to explore remarkable international wilderness locations while developing essential life skills.
Whether you choose New Zealand, East Africa, India, or any other NOLS program, you'll embark on an adventure that fosters personal growth, community development, cultural exchange, and experiential learning like no other. It's time to step out of your comfort zone and embrace the world of possibilities that await you with NOLS.
So why wait? Seize this opportunity to balance adventure and education, and pave the way for your personal and academic success. Apply for a NOLS gap year program today and embark on a journey that promises the perfect blend of wilderness exploration, outdoor education, and personal development.
Step out of your comfort zone, challenge yourself, and embrace the extraordinary – your adventure begins now.
Frequently Asked Questions
How can I combine travel and learning during my gap year?
Combining travel and learning during your gap year is easier than you might think. Start by researching gap year programs that focus on your areas of interest and offer hands-on learning experiences. For instance, NOLS offers gap year programs that emphasize personal growth, leadership development, and environmental stewardship in unique locations around the world.
What are some exciting gap year programs with an educational focus?
NOLS gap year programs provide an unparalleled combination of adventure and learning in breathtaking environments, as participants develop valuable skills, including risk management, leadership development, and environmental stewardship.
How can I plan a well-balanced gap year experience?
Planning a well-balanced gap year involves a combination of adventure, learning, and personal growth. Start by identifying your goals and interests, then research opportunities that align with those goals. Seek out programs that emphasize leadership development, risk management, environmental stewardship, and personal transformation like NOLS gap year offerings.
Written By
NOLS is a nonprofit global wilderness school that seeks to help you step forward boldly as a leader.