Investing in your future doesn't have to mean breaking the bank. At NOLS, we never want cost to be a barrier for our gap year students, which is why we offer financial aid and scholarship opportunities that make our gap year and gap semester programs more accessible to folks of all financial backgrounds.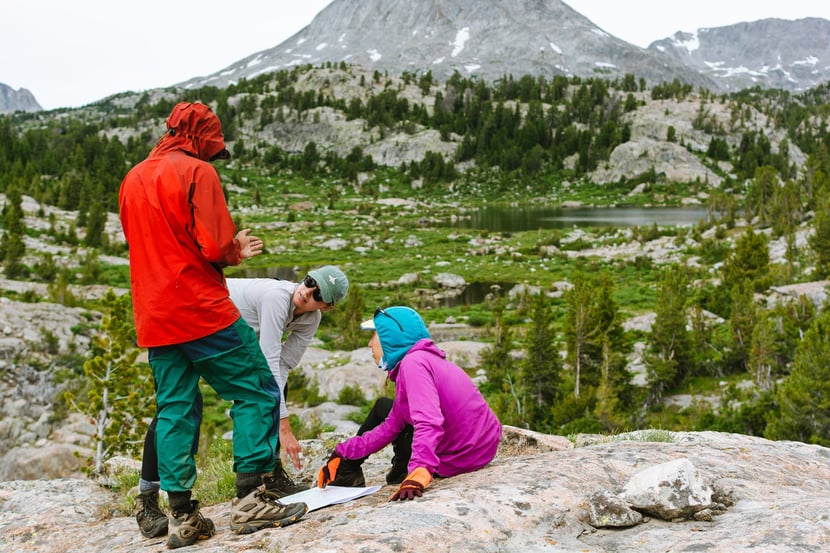 Photo by Daniel Lay
We believe that your journey toward self-discovery, leadership development, and environmental stewardship should be within reach, regardless of your financial situation.
Don't let the price tag stop you: learn more about gap year funding opportunities, learn how to access scholarship applications, and start down the path of turning your dream of taking a gap year into a reality.
Gap Year Scholarship and Financial Aid Opportunities at NOLS
Taking a gap year can be expensive. Considering the price of tuition for a program, travel expenses, and gear costs, we strive to make our gap year programs as accessible as possible through various gap year scholarships and financial aid options.
Leadership Scholarships and Grants
While NOLS does not offer a full-tuition scholarship for gap year students, the scholarships that we do offer can cover a portion or a substantial part of the course expenses, although they rarely exceed 50% of the tuition price.
We're committed to ensuring that financial constraints don't stand in the way of your wilderness adventure, making outdoor education accessible and affordable.
Annually, we award need-based scholarships to students who fill out one of our three scholarship applications:
NOLS Expedition Semester Scholarship Application

: Ideal for those embarking on our semester-length programs, this application ensures you're considered for financial assistance during your extended wilderness experience.

NOLS Expedition Non-Semester Scholarship Application

: For individuals planning on participating in NOLS expeditions that don't follow the traditional semester format, this application offers a pathway to securing the support you need.
Fremont County & Wind River Reservation Scholarship Program: If you're part of these communities, NOLS has a specialized scholarship program dedicated to supporting your educational aspirations in the great outdoors.
We embrace a rolling scholarship application process, encouraging early submissions since awards are granted on a first-come, first-served basis.
For courses starting between September 1, 2024, and August 31, 2025, our review process will commence in April 2024.
529 College Savings Plans and AmeriCorps Education Awards
In addition to filling out the gap year scholarship applications listed above, one way to save money when financing your gap year is by utilizing your 529 College Savings Plan or AmeriCorps Education Award to offset a substantial portion of your course expenses through our partnership with Western Colorado University.
This collaboration opens up a world of possibilities for prospective gap year participants, making gap years, gap semesters, and study abroad programs with NOLS much more accessible.
If you're an AmeriCorps Education Award recipient, you can put these funds toward any NOLS expedition course that spans five days or longer, including gap year, gap semester, and study abroad programs.
What's even more exciting is that for courses spanning 61 days or longer, NOLS will match your AmeriCorps Education Award, contributing up to $2,000 to support your adventure. Plus, the flexibility doesn't stop there – AmeriCorps awards can be combined with other funding sources like scholarships or additional 529 Plan contributions.
Please follow this link for more details about this process and what you can cover using your funds: Registration for 529 and AmeriCorps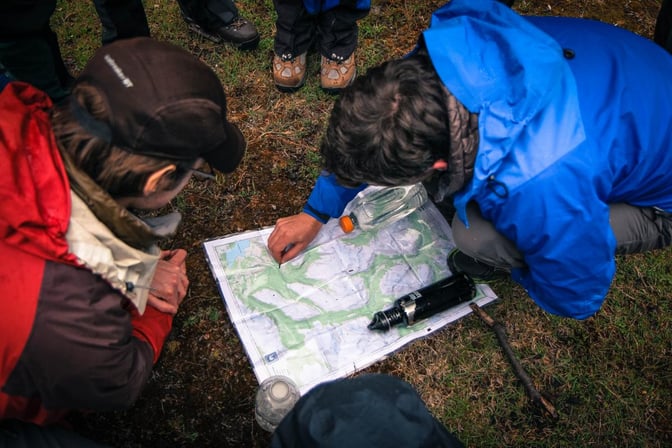 Photo by Alex Chang
Veterans Benefits
For U.S. military veterans interested in taking one of our Wyoming-based courses, such as the Wilderness Medicine and Rescue Semester, you may be eligible to use your veterans benefits to help fund your course according to the Title 38 United States Code.
Please follow this link for more details about using your Veterans Benefits with NOLS: NOLS Veteran Affairs Benefits
Federal Aid and Consortium Agreements
Another avenue to explore in securing financial assistance for your NOLS gap year or gap semester is through federal aid and consortium agreements.
If you are an undergraduate student relying on federal aid or loans to fund your college education, you may be able to use a consortium agreement to transfer those funds to NOLS to cover your course expenses.
Here's how to find out if this is a viable option for you:
Contact Your School's Financial Aid Office: Start by contacting your school's financial aid office to inquire about their participation in consortium agreements. While these agreements are allowed by federal regulation, schools are not obligated to provide them.
Consult Your Academic Advisor: If your school confirms its involvement in consortium agreements, consult your academic advisor. Share information about your NOLS course, the University of Utah college credit details, and syllabi for the University of Utah credits available on your NOLS course. This will help determine if the credits you earn at NOLS will transfer to your college or university.
Inform Your School's Financial Aid Office: After getting approval from your academic advisor, inform your school's financial aid office about your plan to utilize a consortium agreement with NOLS, not the University of Utah.
Send The Consortium Agreement to NOLS: Complete your portion of the consortium agreement and send it to the NOLS Financial Aid Coordinator, who will finalize the agreement and arrange the transfer of funds with your college or university.
Get Written Verification If Necessary: If your funds won't be available by the course's tuition due date, you'll need written verification from your college or university's financial aid office, confirming the total aid available and when it will be transferred to NOLS. It's important to note that you'll be responsible for any course expenses not covered by your financial aid or loans.
By exploring the gap year scholarship and financial aid options available to you through NOLS you can unlock a valuable source of financial support for your NOLS gap year or gap semester, making your wilderness adventure more accessible than you might have thought.
How to Apply for Financial Aid Through NOLS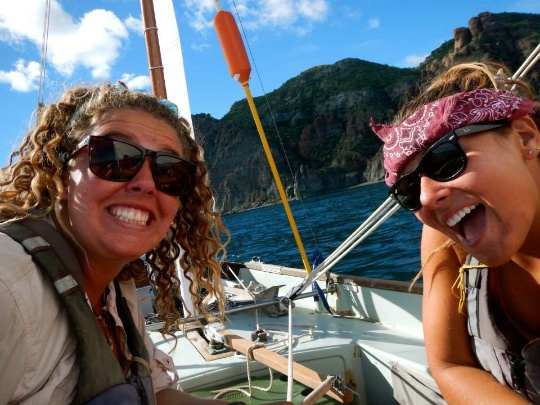 Photo by NOLS
Explore NOLS Gap Year and Gap Semester Programs: While you can apply for our gap year or semester scholarship before applying for your desired semester to help inform your expedition decision, it can help to get an idea of which gap year or semester you would like to take. If you've already enrolled on a semester or year-long expedition, don't worry: you can still apply for a scholarship!
Gather Financial Documents: As part of the scholarship applications, you will need to submit your most recent 1040 tax return form, or, if you're considered a dependent, you will need your parent or guardian's most recent 1040 form. Make sure you have these before you begin filling out the scholarship application because you must fill it out in one sitting.
Choose the Right Scholarship Application for You: Explore our gap year scholarship options and select the scholarship application that matches your specific interests and needs. Complete the application by providing information about your estimated financial need, covering tuition, equipment, and travel expenses. Remember, scholarships are awarded on a first-come, first-served basis, so the earlier you apply the better!
Follow Steps for Other Financial Aid Options: We encourage you to use all of the financial aid and scholarship resources available, so make sure to find out if you are eligible to use your 529 Plan, AmeriCorps Education Award, or federal aid via a consortium agreement.
If your circumstances change before or during your gap year, we understand that your financial need might change as well. Don't hesitate to reach out to us if you experience a significant change in your financial situation or if you receive an education award from another organization.
Our Gap Year and Gap Semester Advisor Can Help
To ensure that you make the most of your gap year experience, our gap year advisor, Kary Sommers, is available to help you choose the right program, funding options, and scholarship opportunities for you.
Our gap year advisor can work with you to provide personalized support and guidance on program comparisons, transferable college credit, and gap year scholarship opportunities. If you have questions about NOLS gap year scholarship applications, need help utilizing your 529 plan or AmeriCorps Education Award, or want to learn more about the consortium agreement process, you can make an appointment to speak with our gap year advisor.
Invest in Your Future with a NOLS Gap Year or Gap Semester Program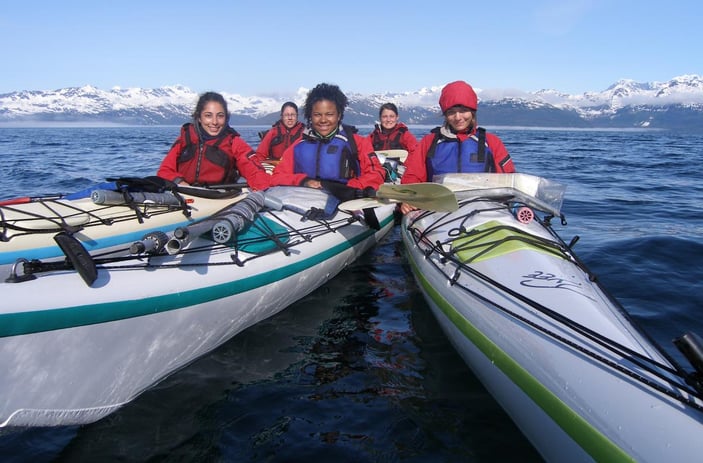 Photo by Tracy Baynes
NOLS gap year programs offer a unique opportunity for students like you to develop essential life skills while exploring the most unforgettable locations.
Our gap years focus on experiential learning, allowing you to engage in hands-on activities that help you grow personally and professionally while gaining valuable experience related to environmental stewardship, leadership development, and risk management skills.
Instead of being a mere observer, you'll be an active participant in the landscapes and cultures you encounter. Our gap year and gap semester programs offer a level of depth and immersion that traditional travel experiences simply cannot provide. Because of this, deciding on a NOLS gap year is not just an adventure, it's an investment in your future.
Earn College Credit and Professional Certifications
One crucial facet of investing in your future through a NOLS gap year is the chance to earn transferable college credit and professional certifications.
More than 400 colleges and universities across the U.S. accept University of Utah credits obtained from NOLS courses, and many offer their own credit options. Whether you want to enrich your education or bolster your academic record, NOLS provides a pathway to academic recognition while fostering personal growth and experiential learning.
To learn more about earning college credit during our year and semester-long programs, check out this page.
Additionally, some NOLS gap year and semester programs include opportunities to earn professional certificates such as:
WEMT Certification: This certification prepares students to work as Emergency Medical Technicians (EMTs), particularly in urban areas.
Avalanche 1 Training Certification: Ideal for individuals interested in the skiing and snowboarding industry, this certification equips you with valuable skills and knowledge related to avalanche safety.
Swiftwater Rescue Certification: This certification, often required by rafting companies, offers practical and marketable skills essential for wilderness settings, making it a popular choice among outdoor enthusiasts.
Building a Strong Foundation for Success
Whether you're interested in a year or semester-long program, our gap courses are meticulously designed to equip students with a wide range of skills and knowledge that go beyond wilderness adventure.
Here's a glimpse of what you can expect to achieve:
Leadership Development: You'll develop leadership skills that are applicable to all aspects of your life. Through an emphasis on teamwork, communication, problem-solving, and decision-making, our gap years are designed to instill leadership qualities teaching you how to develop resilience and adaptability while taking on different roles within a team. You'll learn how to serve as a self-leader, peer leader, designated leader, and active follower in various settings.
Wilderness Skills: You'll acquire essential wilderness skills, such as setting up camp, managing gear, and navigating unpredictable weather and terrain, as well as wilderness adventure skills like sea kayaking, rock climbing, mountaineering, or backpacking, depending on the course you choose.
Risk Management: One of our primary focuses is risk management. Not only are our instructors trained in the industry standards of risk management, but they will also teach you essential problem-solving and critical-thinking skills that will help you identify hazards, assess risks, and create contingency plans in wilderness settings.
Environmental Stewardship: With NOLS gap years, you'll connect with nature on new levels. Whether trekking across the lowland savannah in East Africa or paddling along the coastline in the Sea of Cortez, you'll gain a deeper appreciation for the unique ecology of the region, helping you to cultivate an environmental ethic. You'll also become versed in Leave No Trace principles.
These skills not only serve you in the wilderness but are applicable in various aspects of your personal, academic, and professional lives, making you a more well-rounded, adaptable, and capable individual upon completing your trip.
By investing in a NOLS gap year, you're investing in personal growth, academic accomplishments, and an enhanced career trajectory.
Frequently Asked Questions
What types of financial aid are available for NOLS gap year programs?
At NOLS, we offer a variety of financial aid options to make our gap year programs accessible. These include NOLS scholarships, consortium agreements for federal financial aid, veterans' benefits, and AmeriCorps awards. This ensures that you can pursue a meaningful gap year experience without financial barriers.
How can I apply for NOLS scholarships?
To apply for NOLS scholarships, visit our Financial Aid page and follow the detailed application instructions provided. Our team is committed to working with you every step of the way to make your course a reality.
Do semester courses at NOLS qualify for financial aid?
Yes, semester courses at NOLS qualify for needs-based financial aid. Just like with our gap year programs, we offer needs-driven funding options, such as NOLS scholarships, to assist you in financing your semester course.
Can I access my 529 plan for NOLS gap year programs?
Yes, you can use your 529 savings plans to help fund your NOLS gap year program. This option allows you to invest in an unforgettable and educational experience with us.
Are there any age limitations on participating in NOLS gap year courses?
Our gap year courses cater to high school graduates and college students, typically between the ages of 17 and 22. However, we welcome interested candidates of various ages to join our expeditions, and we encourage you to explore our gap year programs to find one that suits your interests and needs.
Written By
NOLS is a nonprofit global wilderness school that seeks to help you step forward boldly as a leader.