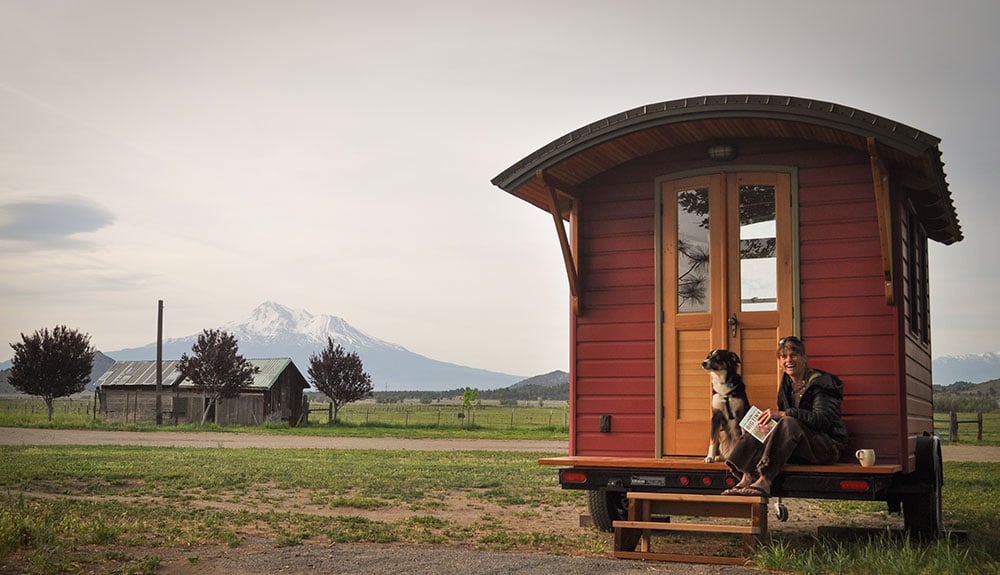 Twelve years ago, Dee Williams decided to radically downsize. With excessive work hours, a hefty home loan, and a period of poor health, she realized she couldn't pursue her real joys. "I wanted to have time and energy and resources to offer to other folks and other issues that were important to me," she said.
Inspired by an article she read about a tiny house, Dee decided to build her own, an 84-square-foot home on wheels.
Tiny houses, the latest movement sweeping the nation and the Home and Garden channel, are simply homes built on a small scale—typically between 100 and 400 square feet. "Tiny living" is the accompanying social movement, one that claims the values of living simply, traveling more, and spending less. Though not everyone participating in the movement sticks to these values, Dee Williams has become a leader and author in the tiny house movement—without all the hoopla. Now, she is looking to "retire" into an even tinier house and pass on her current home to her nephew Jonathan, a newly-certified NOLS river instructor.
For Jonathan, living in a tiny house creates the perfect balance between putting down roots and pursuing adventure while living on an instructor's budget: "I couldn't imagine a more wholesome or cool way of living, and inheriting it from someone I love a ton … lined up really well."
When I asked if he saw a connection between teaching students and the tiny house lifestyle, Jonathan said "For sure. Just the simplicity aspect of it."
Dee added that she appreciates the closer connection to nature a tiny house offers: "I've never been so close to nature as living in a tiny house with a skylight right over my bed … it's given me a perspective of how magnificent and funny and wacky and mysterious nature is."
Dee has never taken a NOLS course, but she remembers the NOLS folks who introduced her to the outdoor world as some of her favorite people: "The NOLS instructors I knew in the '90s were some of the funniest, most irreverent and knowledgeable people in my life."
Critics of the movement often rightly bring up the fact that those with little money or resources have lived in "tiny homes" for centuries—in the form of mobile homes, shacks, and temporary housing—without being praised for the simplicity of their lifestyle or celebrated by the media. But for Dee and Jonathan, tiny house living isn't about getting praise for their lifestyle or advertising it on social media. It's about community and the awareness that "having any kind of a home is a privilege," Dee stated.
In a culture that pushes constant upgrades and whatever is "bigger and better," living simply all year round can be a challenge. With a simpler home, whether it's on wheels like Dee and Jonathan's or planted firmly in one place, we can put our time and energy into the things that really matter: our communities and the big, wild world that surrounds us.
Find your next adventure on a NOLS course.
Article originally published in the Fall 2016 edition of our alumni magazine, The Leader.
Written By
Molly is a NOLS instructor and writer. She loves the smell of her backpack and does her best writing before 7:00 am. When she's not scouting the next post for the NOLS Blog, she's running and climbing on rocks in Wyoming. Follow her on Instagram @mgherber