I am a field instructor in the NOLS whitewater program, and recently I received a grant from the Instructor Development Fund to grow my skills in teaching and whitewater paddling. I am continuously looking to develop my paddling technique and coaching abilities and have been searching for a unique whitewater learning experience for a long time. In the past year, my experiences working with NOLS students on river expeditions motivated me to seek out a course to further develop my skills.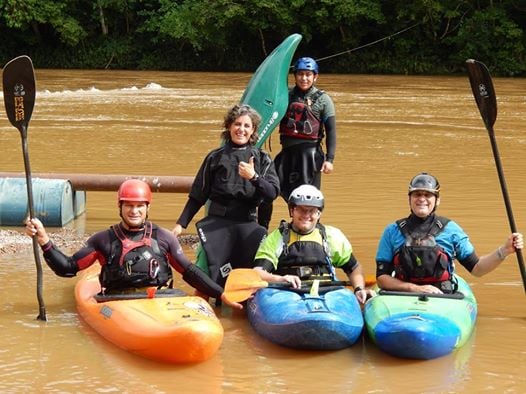 The course took place on the Cubatão do Sul River in the south of Brazil, my home country. It lasted five days and had ten participants, all with different skill levels, and it was really cool to watch everyone's learning process and development throughout the course.
Both the teaching style and the learning progression of the course were perfect. We started with the basics, then moved on to more complex strokes. The roll class was my favorite part. We filmed ourselves rolling our kayaks, and I learned some great tools and tips for coaching my students. It was inspiring to watch one of my fellow students learn how to roll for the very first time. After class, he took his kayak and his camera to the river to practice over and over until he was successful. It was amazing to see him in the next day showing us his video and saying, "Yes, I can roll my kayak!"
The course was valuable to my career as an instructor, and I am very excited to share my learning with my future NOLS students. The IDF grant made it possible for me to get my Instructor Certification In Whitewater Kayaking Level IV with the American Canoe Association (ACA). Since the ACA course was based in Brazil and had an American instructor, we had excellent opportunities to exchange information about our different cultures and river experiences. It is important to build a strong whitewater community with good techniques and safety, and adding a bit of cultural diversity to our courses is great for the paddling community.
Thank you, IDF Grant! Buenas Lineas :)
Watch Ana master her kayak roll here!

Written By
Ana has been a river guide since 2007, following the rivers in North and South America and Europe with joy and passion. She is a NOLS kayak, canoe and rafting instructor in the United States and India. She loves to challenge herself and represent her native country of Brazil in international and national rafting competitions. She always feels inspired by her students, who often point out that her positivity and laughter contribute to their personal growth as much as to their outdoor passion and knowledge.