"Now what do you think each one of those people who voted for you needs to learn?" "And what do you think you need to learn?"
These are two questions Kit DesLauriers was asked by her NOLS instructor when selected by her coursemates to lead a small group through a three-day backpacking journey in Alaska. Over 20 years later DesLauriers says, "Of course both of those questions were largely rhetorical but they remain relevant to this day."
DesLauriers, a NOLS Semester in Alaska '91 graduate, who currently resides in Jackson, Wyoming, is one of the most well-known ski mountaineers around the world and a nominee for the 2015 Adventures of the Year Award. This award is presented by National Geographic and selected by readers. It recognizes people who have helped make our year in adventure that much better. Through exploration, adventure sports, conservation, and humanitarianism DesLauriers has shown her dedication to her passion in life.
You can vote for DesLauriers every day until Jan. 31.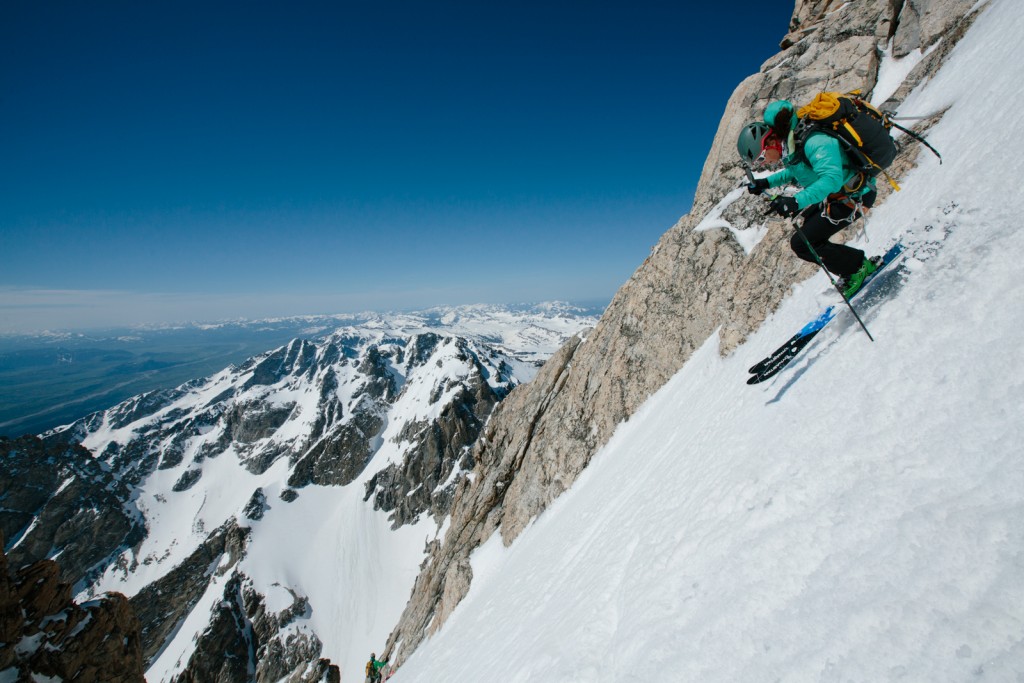 Andy Bardon photo
From early childhood, DesLauriers remembers having had a passion for the outdoors, whether it was hiking in the desert or canoeing down a river with her family. By the age of 19, DesLauriers was ready to take her adventure abroad and traveled to France to study at the University of Marseilles. Once October break came about, she took advantage of her location and traveled to Switzerland to backpack through the Alps.
"I realized that with some formal training to supplement my desire to see the world, I, too, could go to these far off places," she said she realized while reading through some books at a local's cabin. Little did she know, NOLS was going to give her this opportunity.
After returning to the states, DesLauriers earned her degree from the University of Arizona and was encouraged by a NOLS graduate to take a course.
"I wanted as much experience in as adventurous of a location as I could possibly get," she stated.
After some research and reading through a NOLS catalog, DesLauriers found the Semester in Alaska which, "fulfilled my dream and opened many doors."
Since her course, DesLauriers has pursued numerous expeditions, many back in Alaska.
"In between that moment on the Chickaloon during my Semester in Alaska '91 and my first expedition to the Brooks Range in 2010, I made four other trips to Alaska including two heli-skiing trips on Thompson Pass, a climb and ski descent of Denali, and a boat- based ski mountaineering adventure based in Prince William Sound (which was also inspired by my NOLS course experience)," DesLauriers said. "That first trip to the Arctic National Wildlife Refuge in April 2010 won my heart, however, and I went back to the Arctic Refuge in 2012 and again in 2014."
Also, DesLauriers has teamed up with Dr. Matt Nolan to conduct studies on the McCall Glacier. During this time she was able to climb and ski Mount Isto and Mount Chamberlin.
Today, you can find DesLauriers taking her family on vacations from Yosemite to Jackson Lake.
"I believe that if you make the choice to lead a life inspired by the outdoors, your kids are likely to follow by example," she said.
We think she's setting a great example, and she has our vote. Vote for DeLauriers! (Voting is now closed.)