Thursday, afternoon, Sept. 22, the buzz at NOLS Headquarters slowly rose as 3 p.m. approached, then all went silent as a number of staff members were bussed to the new Wyss Campus groundbreaking.
Approximately 40 people from NOLS, the media, and the community attended the event on the parcel of land south of Lander, which was made available to the Wilderness Medicine Institute (WMI) of NOLS through generous donations of land and fiscal support.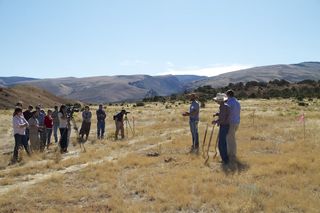 Lindsay D'Addato photo
A short introduction to the building plans kicked off the groundbreaking. Melissa Gray, WMI director and John Stoddard, project manager, addressed the crowd before former landowners Mary Ann and Dr. Charles McMahon and building planners spoke.
All focused on preserving the Red Canyon's ecosystems and rangeland. The ceremonious first shovelfuls were dug by Gray, Randy Hafer of High Plains Architects, Zac Filmore of MBA Construction and Dr. McMahon.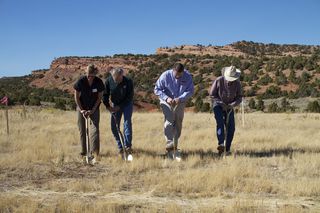 Lindsay D'Addato photo
Construction will begin Oct. 1, and the new WMI education facility is expected to be complete next fall.
WMI is the largest provider of intensive emergency medical technician (EMT) training and month-long wilderness EMT courses in the country. And it is growing. Last year, 12,350 students graduated from 550 wilderness medicine courses.
"It is imperative that we have our own facility that provides student housing, classrooms, and open space available for wilderness medicine scenarios," said Gray.
Student cabins, a main education facility, and a caretaker residence have been planned for 20 of the 238 donated acres. The location in the Red Canyon provides a prime training environment for WMI students, as realistic scenarios are essential to providing wilderness medicine training.
The rest of the land, which was made available to NOLS largely by its namesake Hansjorg Wyss, will be protected under conservation and sportsmen's easements to safeguard animal and plant habitat.
"Hansjorg's commitment to medicine and land conservation coincides well with our mission to continue developing wilderness medicine, training professional caregivers and caring for the land," said NOLS Executive Director John Gans.
The facility models NOLS' dedication to sustainability and Leave No Trace; plans are for low impact through sustainable systems and highly efficient buildings. Rainwater and grey water will be collected for irrigation, toilets will be composting models, solar panels will supplement the power source, geothermal heat pumps will help warm the floors, all appliances will be high efficiency, and fixtures will be low flow.
It is expected the state-of-the art campus will host about 430 students and 35-40 instructors in its first year of use.
Written By
Casey worked as a writer and PR specialist for NOLS.