On January 25, 2011, over 30 NOLS employees carried 8,500 pounds of solar panels and equipment up two flights of stairs and helped assemble a solar array on the roof of NOLS' Noble Hotel.
Thanks to the generous Rocky Mountain Blue Sky Grant of $99,868, the historic Noble Hotel, which houses NOLS students, instructors, interns, and administrative offices, was outfitted with a 24.8-kilowatt solar panel array. When paired with the 14.3-kilowatt array at NOLS Rocky Mountain, it is the third-largest array in Wyoming.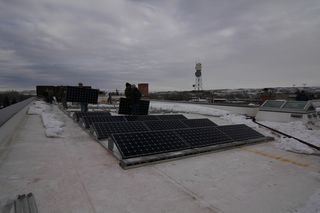 Creative Energies, a Lander based renewable energy company, was in charge of the installation. They are responsible for the photovoltaic systems at NOLS Rocky Mountain and NOLS Teton Valley, improvements on NOLS Mexico's battery-based solar array, and the NOLS Patagonia geothermal system.
The Noble Hotel is the second largest consumer of electricity at NOLS. This array will generate 37,406 kilowatt-hours per year or approximately 10 percent of the Noble's annual electricity use. This will help NOLS take a big leap forward toward the goal of reducing its carbon footprint by 30 percent before 2020. By adding solar panels to the Noble Hotel, NOLS is leading by example, practicing backcountry Leave No Trace ethics in the front country.
---