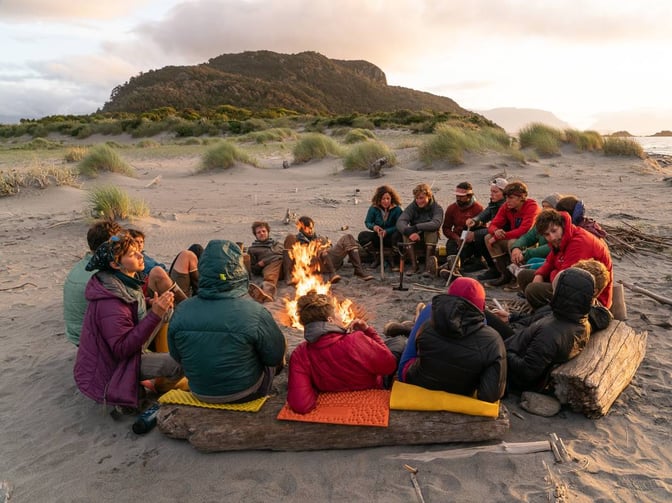 As we collected stories from alumni to celebrate our 55 years, we were reminded the value of NOLS is about more than the diploma: it's about the way these skills inspire and empower our graduates to action for their entire lives
We are inspired and grateful for these stories of resilience, problem-solving, and care, and hope you enjoy them, too.
Passing on Skills, Knowledge, and Curiosity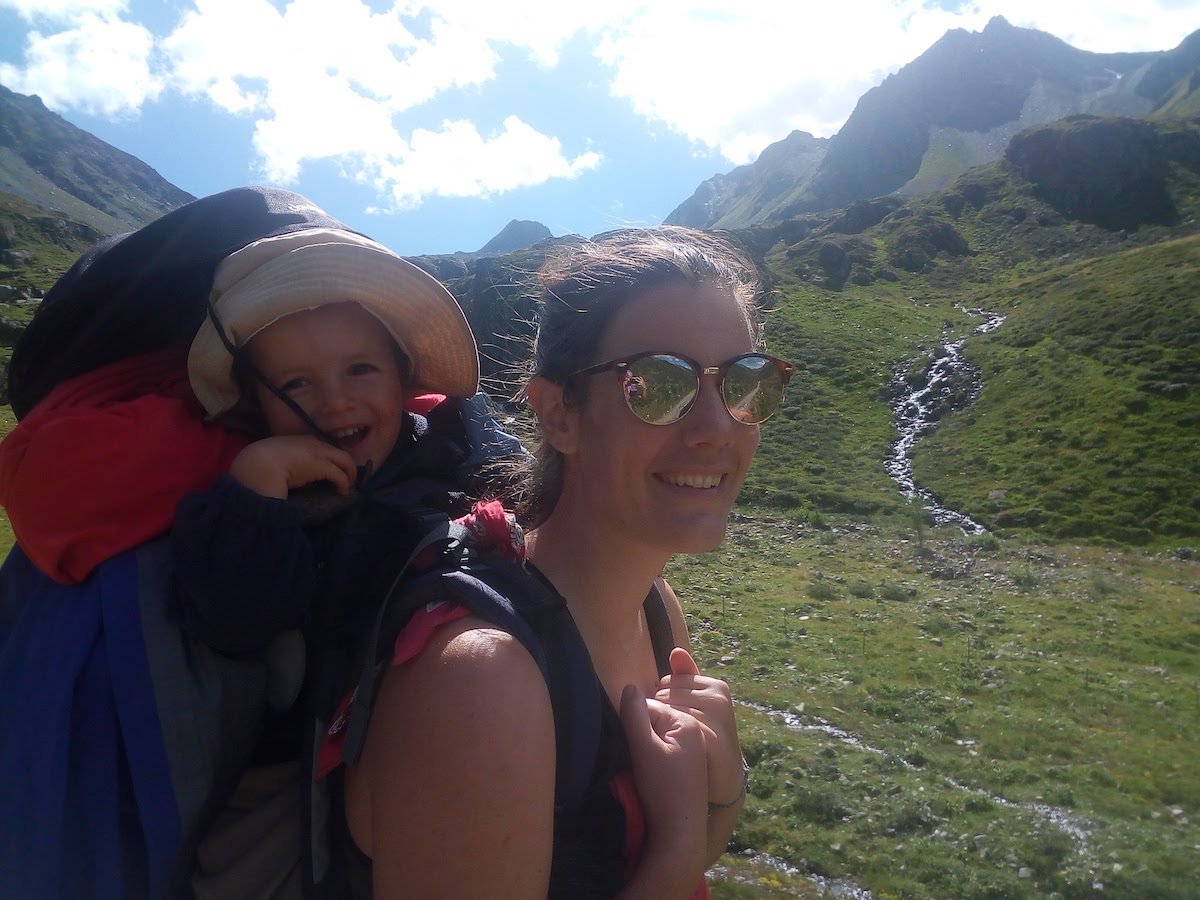 Hi there, dear NOLS team,
You asked for pictures or stories and here's a quick snapshot from my life and NOLS' impact on it: I have a toddler now, something I would never have seen coming when I was doing my NOLS course five years ago. I'm now back home in Switzerland and my experiences from the time I spent with a group of lovely people in northern Scandinavia are a big part of my motivation for bringing the little one outside as much as possible.
I grew up in the Swiss Alps, so being outdoors is nothing new for me. But the confidence, leadership skills, first responder knowledge, and the certainty of simply knowing I have what it takes to spend a whole month in the backcountry (and love most of it) give me a sense of total ease and comfort in nature—as well as in everyday life.
I am very grateful that the resilience I developed during and after my NOLS course has, amongst others, helped me along my journey of single motherhood and as a graduate student. And I am even more grateful that I have the skills, curiosity, and knowledge to teach my son how to appreciate and explore the outdoors, himself, and his community while staying safe and happy.
Also: Happy birthday NOLS!
Best,
Silva Lässer
---
Did I Make a Difference?
As an instructor, some times you wonder "Did I make a difference? Did I influence anyone or any thing?"
A short time ago I got an email from a student that I had back in the late 70's. He said that he still remembers the course vividly, he still spends a lot of time outdoors, and now he's teaching his kids the things that we taught him............I did make a difference!
Skip Clements
---
Tolerance for Adversity: Not just for the Outdoors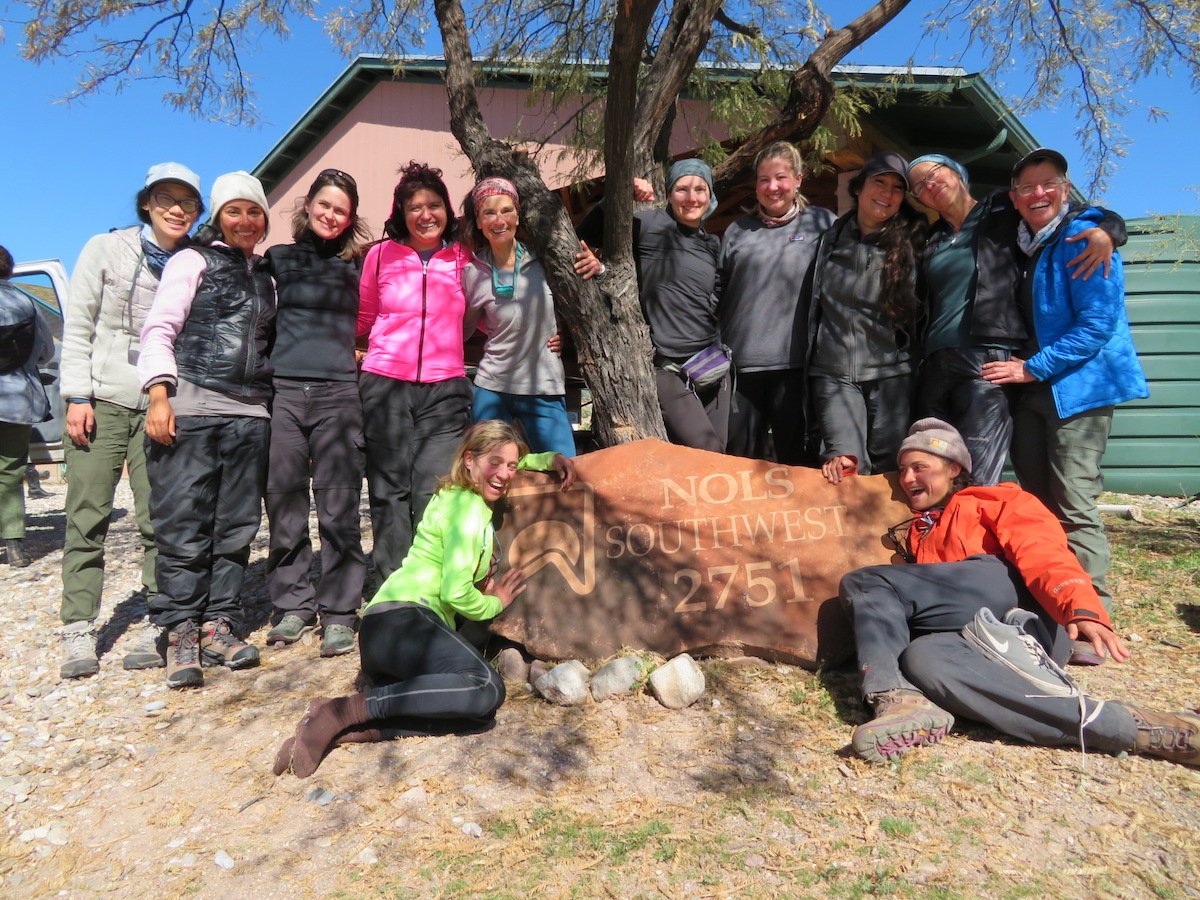 The NOLS Women's Southwest Backpacking Expedition in February of 2020 changed my life in ways I never thought it would.
I signed up for the course hoping to hone my backcountry navigation skills. I left this course with a group of new lifelong friends and the experience of a lifetime underneath my belt. This course challenged me in ways that I didn't know I could be challenged, and ultimately shifted my entire perspective on what I am capable of.
Coming home to the throes of a global pandemic, I needed my "tolerance for adversity and uncertainty" then more than ever. You never know what incredible things you are capable of til you try!!!
Kayla Logsdon
---
Being a First Responder... On an Airplane
A few years back I was heading to Ecuador to do some climbing when on the plane a person went unconscious. He was brought to the floor in the aisle.
It seemed all was under control until I heard someone say, "I think he is a diabetic, does anyone have insulin?"
Well, we know you don't give insulin to someone when you aren't sure what their diabetic emergency is, especially if it isn't in your scope of care. I told the flight attendant this was not the correct procedure and he immediately asked, "How do you know?"
I said I was a Wilderness First Responder. He grabbed me and said "We need your help."At this point, all we could do was give oxygen and take vitals, including blood pressure. It was low. I don't remember how much, but he slowly came into consciousness at about A+O 3. Enough to ask the SAMPLE questions. Turned out he had taken a sleep aid and a blood-pressure medication. When his blood pressure dropped, he was unconscious.
The flight attendant asked me, "What should we do?" I said to land the plane. An hour later we were on the ground and EMS had transported the patient.
While not wilderness, being on a plane was also very similar. We were away from EMS and had limited medical supplies, difficult treatment environment and evacuation.
Thanks,
Ted Lenzie
---
When Parents Become Patients
I got certified in Wilderness First Aid a few years ago, and recertified last fall, primarily to help out with running and volunteering at trail and ultra races. It's been fantastic for that, but in the last couple of months it's been invaluable for a totally different scenario.
My mother has cancer and is undergoing chemo, and needs more or less full-time home health care right now. My father is blind and has his own health issues so needs care as well, to a lesser degree.
My NOLS training in assessing the scene and the patient, laying out supplies in an orderly manner, and being rigorous about sterility have come in handy for setting up the nightly total parenteral nutrition, wound assessment and care, and generally remaining calm. My mother has nurses coming in for complex procedures a few times a week, but her doctors were happy to send her home under my basic care due in part to the NOLS training.
This isn't a scenario I trained for or ever expected, but it's a little easier than it would be otherwise, due to the training I do have.
Thanks,
Christine Barton-Holmes, WFA 2016 & 2019, central Texas
---
Managing a Seizure on an Airplane
Leaving my Wilderness First Responder course, I was flying out of Vermont. Our plane taxied out onto the tarmac, and the man behind me placed his foot up on my arm rest. I turned around to ask him to place it down, to see that he was having a seizure.
The plane was small with only a handful of people, and I was the only one with any medical experience. I had the pilot ground the plane, and I made sure the patient's airway was safe until he finished the seizure and the airport paramedics arrived, when I gave them the patient's vitals and a quick SAMPLE history. The patient was ultimately fine, and we carried on with the flight. So surprised to have a medical scenario the same day of my WFR graduation.
George Sarbinowski
---
A Long Hike Out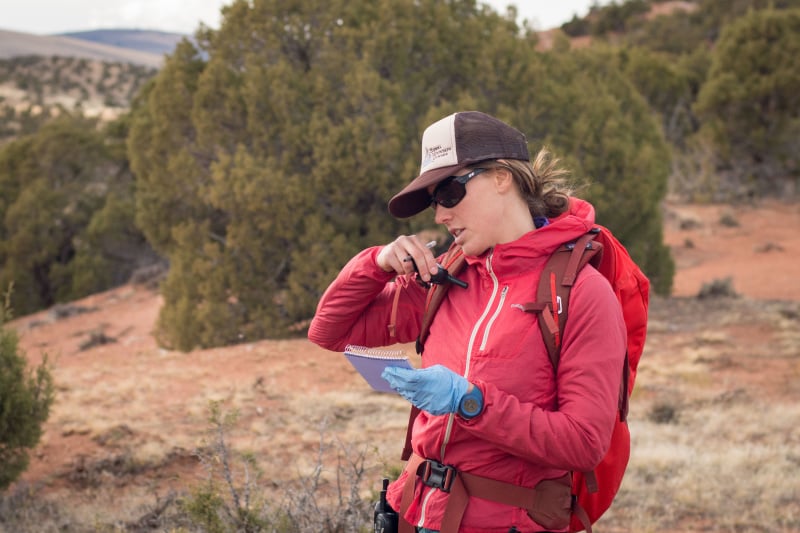 "Where is your orange?" CHP rescue helicopter pilot Jimi Hendrix asked me. I actually had it with me the whole time but didn't know the significance of it until afterwards.
My friends Tom and Eric and I were backpacking in the Sierras out past Grouse Lake. We knew a potential snow storm was due to come in that afternoon, so with ten miles to the trailhead and our vehicle, we decided to start our hike out early.
A mile into the return, Tom, who was a couple steps ahead of me, stepped off a granite slab and onto what he thought looked stable, a one-foot diameter big rock. As it was, the rock twisted underfoot.
There was a firecracker explosion. Eric yelled to me, "What was that?" I instantly knew, TROUBLE!
Before Tom fell, he explained to us later, he knew, "Oh f—-, I just broke my leg!" Then he collapsed. Time for my WFR training.
Eric and I sized up the scene right away. I would take care of Tom, and Eric would run for help. First, we had a few obstacles to consider. Help was 9 miles away to the vehicle plus another ten miles to phone reception. We didn't know what type of help would be available and how and when it might arrive. The storm was due late in the afternoon as well.
Eric set off running after he helped me initially assess and then splint Tom's leg and finally position him for the possible onset of shock. What to do next: monitor and evaluate Tom. Unfortunately, we were in a rock garden, and keeping Tom comfortable was problematic. We conversed about child rearing, our past adventures, future desires.
Two and a half hours later, nothing coming our way so far. I kept encouraging Tom; we both knew Eric was a terrific runner and could cover the 9 miles in no time, even in hiking boots, and we even laughed at the thought of him breaking his 10k personal best.
Meanwhile I was thinking about where and how am I going to build a shelter at the same time as monitoring Tom.
Then three hours later, I hear a whopping sound; immediately I look up but see nothing. I grab my bright blue jacket and run over to a clearing. A minute later a helicopter was circling overhead. Once, twice, then it starts to leave. All this time I am waving my jacket overhead frantically. At the last minute it swings back and I hear over the loudspeaker, "Looking for a landing spot."
The onboard medic had me help him run the emergency supplies over to Tom. The pilot couldn't risk getting hurt here, so he didn't help. After we finished attending to Tom, Eric showed up in time to help us move Tom to the 'copter, about a hundred yards away. Round trip for Eric, 18 miles.
Tom had been given morphine, though he initially refused. The pilot, Jimi Hendrix, told him to take it or we don't fly. One doesn't argue with the pilot! The 'copter landed right on the edge of the lake in a clearing that Jimi told me was the smallest he could have landed safely on, otherwise he would have had to abort the mission.
When Jimi and I were alone he asked me "Where is your orange?" At first I didn't understand, then it hit me. He said that even the brightest blue blends in with fall colors. He said "We were leaving when the medic finally saw you!" You need to have orange to wave for a pilot to see.
With Tom all set, Eric and I had to hike out—three backpacks, two people, one who just completed an 18-mile round trip run in hiking boots, and the other, me, who cared for a wounded hiking partner, were worn out from some of that.
Tom was lifted to a hospital in Auburn, and when Eric and I arrived there three and a half hours later, he had just come out of surgery and we found him flirting with the nurses in recovery.The drive home took another three and a half hours.
One year later we returned to the same hike and showed Tom the "rock" that did him in. Tom has since recovered and even runs marathons and continues to break his personal bests from time to time. Eric has since completed the Pacific Crest Trail and my wife Michele and I have moved up to Filucy Bay in Longbranch, WA. Me, I always make sure that I bring my orange and gray sleeping, because one never knows.
Phil DiGirolamo, Wilderness First Aid, 2015/2017
---
Who My Wilderness Medicine Skills Served
In the 24+ years since I initially became a proud WFR, I have not only stayed current (12 re-certs!); I have also utilized the skills and mindset in countless emergency situations. Without a doubt, my wilderness medicine education has significantly affected my life and others.
I'll never forget the 12-year-old girl with the broken clavicle and the compliment from the ER doc on my splinting skills. Then, there was the anaphylaxis patient who swears I saved her life, even though it was the paramedics who gave her multiple doses of epi. The cardiac arrest guy was bonafide; my CPR saved him against all odds, and I became an adopted brother to his family.Of course, my own heart never jumped as much as when I witnessed a climber fall 50 feet onto his back and I had to try to convince him that walking out would not be wise!
I've become a pseudo expert with wound closures (including on my daughter's head), and I've put on gloves hundreds of times—from car accidents to adventure races, and about a dozen times in the air. The most surreal experience was in the cockpit of a 747 over Africa, as the pilot asked me (a lowly WFR!) if we should divert based on the condition of the patient.
Here's to another few decades of slowly, methodically, and confidently approaching emergency situations knowing that I'll do whatever I can to help.
Sincerely,
Shawn Dunning
Have your own story to share? Send it to us at alumni@nols.edu
Written By
NOLS is a nonprofit global wilderness school that seeks to help you step forward boldly as a leader.