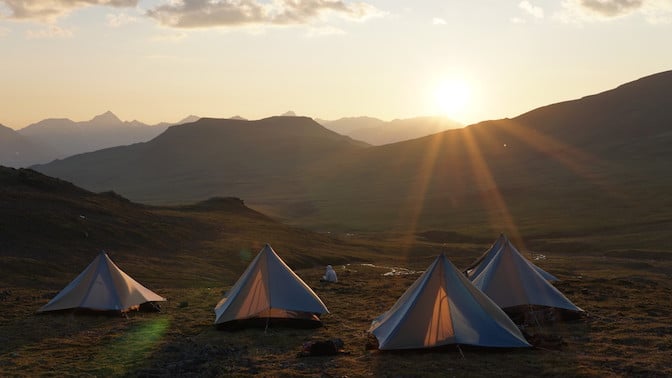 One of the first things students learn on a NOLS expedition is how to practice Leave No Trace—the golden rules of minimum impact camping. Poop responsibly (yes, there's a whole procedure). Don't leave wrappers behind. Camp on durable surfaces. And so on...
That's LNT on the trail.
But what if LNT also meant taking it a step further and trying to reduce your impact before you even set foot in the wilderness?
Planes, Trains, & Automobiles
Many outdoor trips, including NOLS courses, require significant travel to reach remote destinations. To go paddling in Baja or climbing in Chile, you have to get there first. And, for most of us, that means planes, trains, and automobiles: transportation that's powered by fossil fuels and contributes to global carbon emissions.
Carbon Brief reports that, in total, passenger flights produce between 2.4% of global energy-related carbon dioxide emissions each year.
According to the Bureau of Economic Analysis, the outdoor recreation industry contributed 2.2 percent ($429.2 billion) to the U.S. economy in 2017. Of that, $62.2 billion was spent on transporting people greater than 51 miles from their homes to recreate in the outdoors.
Travel-related emissions account for a large portion of the greenhouse gas emissions associated with outdoor recreation. Although manufacturing gear like GoreTex jackets and plastic kayaks also contributes to global emissions, these indirect impacts are dispersed and spread over an item's lifespan. For an individual trip, transportation is the primary source of emissions.
At NOLS, students and instructors regularly travel internationally to reach the wilderness classrooms. These wild places form the foundation of NOLS' values and curriculum, but accessing them often requires considerable carbon-intensive travel.
Already, NOLS locations around the world are experiencing the effects of climate change: glaciers are melting, wildfires are increasing in severity, and natural disasters are becoming more intense and frequent. On the world's current emissions trajectory, these trends will continue.
As a global school, travel is an inherent part of how NOLS currently operates—but that doesn't mean we can't all take steps to reduce our carbon footprint and invest in a more sustainable future.
(And while most people aren't traveling frequently right now, there is plenty of food for thought for your future travels.)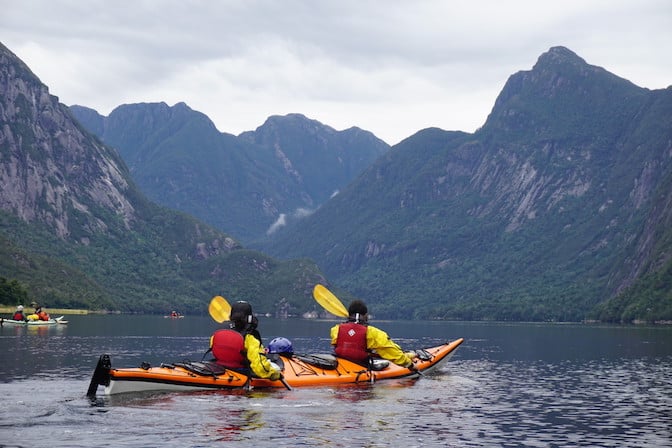 What is a carbon offset?
Carbon offsets create a reduction of greenhouse gas emissions or increase in carbon storage that compensates for emissions elsewhere. A carbon offset credit is a recognized, transferable unit representing an emission reduction of one metric ton of carbon dioxide (or greenhouse gases' equivalent).
The concept of carbon offsets rests on the principle that, in terms of global emissions reductions, the effects of mitigating emissions at the source versus elsewhere has the same outcome.
For example, if you're traveling to NOLS Patagonia from the continental U.S. (and back) for a backpacking expedition, you could buy a carbon offset credit to compensate for the emissions associated with flights and motor vehicle travel, and this credit could go toward investing in a program in Nicaragua, Germany, or New Zealand.
Common types of carbon offset projects include:
Sequestration (carbon is stored, for example, by planting trees or preserving existing forests under threat of development)
Capturing and destroying methane (think landfill gas as well as gas from coal mines and livestock) and other high-potency greenhouse gases
Funding renewable energy projects that wouldn't otherwise be viable (i.e., not measures required by law that a company would have to implement regardless of carbon offset funding)
Support strategies that improve people's lives and that result in less carbon emissions: for example, providing access to more efficient, affordable cookstoves in rural locations
How do carbon offsets work?
Rather than focus on any one technology to limit carbon emissions, NOLS supports a wide variety of carbon offset programs, recognizing that there's no "silver bullet" able to halt climate change in its tracks. Carbon offsets are a way to invest in a future that strives for a healthy environment and considers the needs of people and communities from around the planet.
NOLS recommends Cool Effect as a verifiable and intuitive way to invest in carbon offsets. Cool Effect is a nonprofit that facilitates crowdfunding for verified carbon offset projects, ranging from installation of biogas digesters in Vietnam to peat swamp preservation in Indonesia and supporting Native American Methane Capture in Colorado.
Cool Effect defines carbon offset projects as any initiative that verifiably* decreases the amount of greenhouse gases entering the atmosphere. That might mean reducing the amount of fuel required to cook dinner or heat homes, protecting a forest under threat of development, or supporting wind- and solar-powered energy infrastructure.
*Organizers must demonstrate that their project is reducing greenhouse gas emissions, at which point it is awarded carbon credits and permitted to sell those credits to support project growth.
All of Cool Effect's projects are triple verified, meaning that they're 1) certified by the world's highest standards, 2) undergo an independent third party review, and 3) are subject to Cool Effect's extensive internal assessment.
Each project must demonstrate additionality, meaning that the emissions reductions achieved couldn't have been accomplished without that project. For example, an organization won't be awarded carbon credits for complying with legal requirements for operation, even if those requirements include reducing emissions. In contrast, a project that invests in providing families in rural Honduras with more efficient cookstoves—and creates jobs producing those cookstoves—has additionality. Without investors helping fund this greenhouse gas-reducing project, the associated emissions reduction wouldn't have been achieved.
Can carbon offsets "solve" climate change? If not, what else is needed?
The short answer is no (sorry, friends). In order to curb the most dramatic potential effects of climate change, global emissions must be reduced substantially—and quickly. Working toward "net zero" as an organization or an individual is certainly a worthy goal, but at some point, we cannot all net out using someone else's reductions. That doesn't mean that carbon offsets don't have a purpose, though.
Done responsibly, carbon offsets are a way to invest in a more sustainable future, though they aren't a panacea for global climate change. Choosing to support carbon sequestration and emissions reductions efforts may not be enough to "solve" climate change, but it's a step toward a future that's good for people and the environment.
What can I do to help?
If you're looking to offset the carbon emissions associated with traveling to and from your next trip destination, here are some rough estimates from Cool Effect to get you started. (Keep in mind that these numbers are estimates.)
| | | | | |
| --- | --- | --- | --- | --- |
| | Flight | | Car | |
| Trip Length (Round Trip) | Tons of Carbon | Suggested Donation | Tons of Carbon | Suggested Donation |
| 0-3 hours | 0.31 | $2.44 | 0.08 | $0.62 |
| 4-6 hours | 0.78 | $6.14 | 0.16 | $1.24 |
| 7-9 hours | 1.32 | $10.39 | 0.24 | $1.86 |
| 10-12 Hours | 1.89 | $14.87 | 0.32 | $2.48 |
| 13+ Hours | 2.12 | $16 | 0.39 | $3.10 |
Note: Estimates provided by Cool Effect. Check out their travel emissions calculator here.
The point isn't whether you contributed 1.89 or 2.11 kg of greenhouse gas emissions while traveling to and from your course. It's about being aware of how your travel impacts the environment—and finding ways to take meaningful action and making outdoor recreation more sustainable.
Check out carbon projects supported by Cool Effect and consider donating to offset your next trip.
Written By
Brooke is a runner and writer who enjoys finding adventure in the everyday. True to her island roots, she loves sunshine, that salty ocean smell, and the sound of waves against the shore.